Asparagus Prosciutto Pancakes – a classic Dutch baby pancakes with savory and tasty fillings. This makes a fast and easy breakfast full of deliciousness!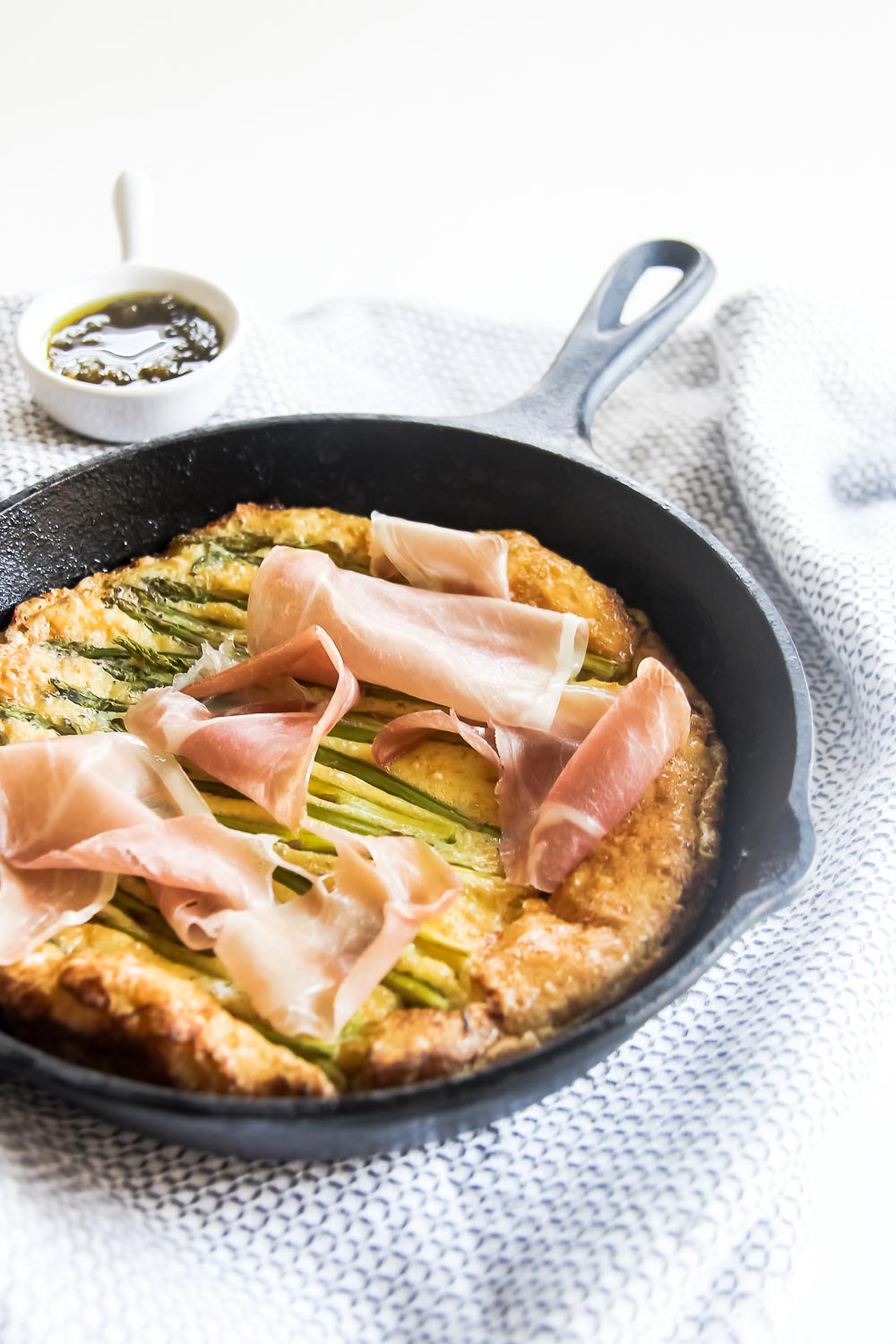 It was last November when we spotted Melon Prosciutto Pizza in Downtown Disney. The place was crowded and packed as it was a long weekend and a marathon weekend. We were thankful because that pizza was a great choice that night because that's how I got inspired to make this Asparagus Prosciutto Pancakes.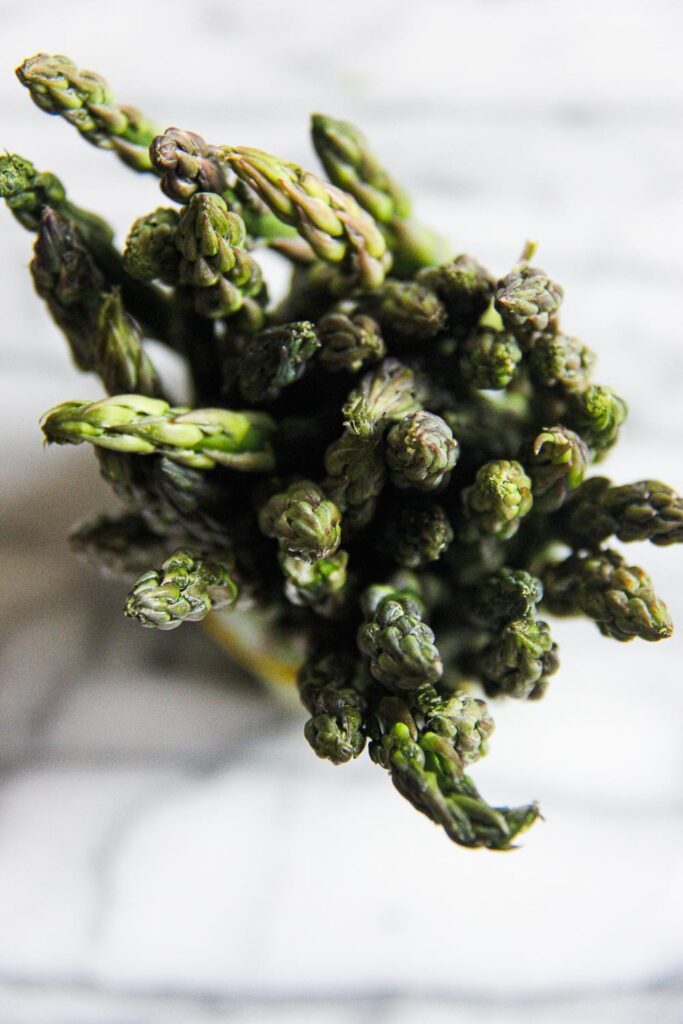 So what's the connection with today's recipe? I've been on a hunt for savory breakfast items. As much as I love sweets and almost anything sugary, I've been craving savory breakfasts. Basically, I just can't let go of that Melon Prosciutto Pizza from my mind. Yeah, it was so good! I'll be sure to go back to that place for sure. Until then, this Asparagus Prosciutto Pizza has stolen my heart.
Remember the Dutch Pancake (Puffed Pancake) I made?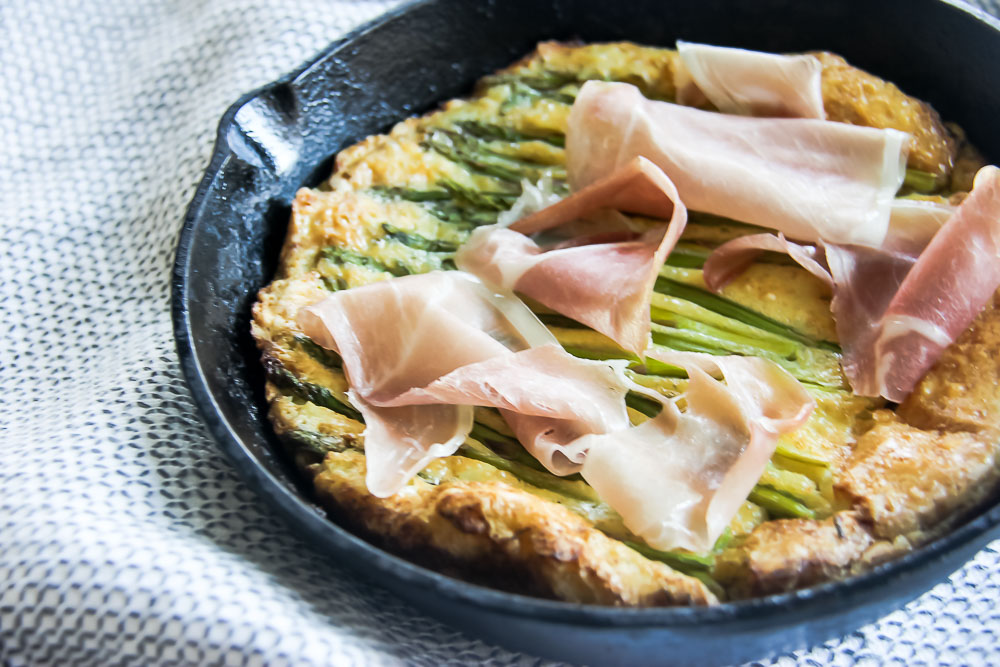 I love this hybrid of pancake and popover. Dutch Pancakes are a quick and easy breakfast, lunch, or dinner option. Most people add sweet ingredients to them, such as fresh fruits, ricotta, powder sugar, or maple syrup. And that's what I previously did. But today I'm sharing a slightly different filling for Dutch Pancakes. It has a savory palette instead of sweet. I'm also adding pistachio pesto on top of my pancake to make it taste even better. I am using this pesto recipe that I made for this pasta. This pesto recipe is a must-make at home. It's healthy, delicious, and a perfect solution for cooking quick & easy meal. Just be sure to use fresh ingredients in it so your pesto brings out the best flavors in your dish.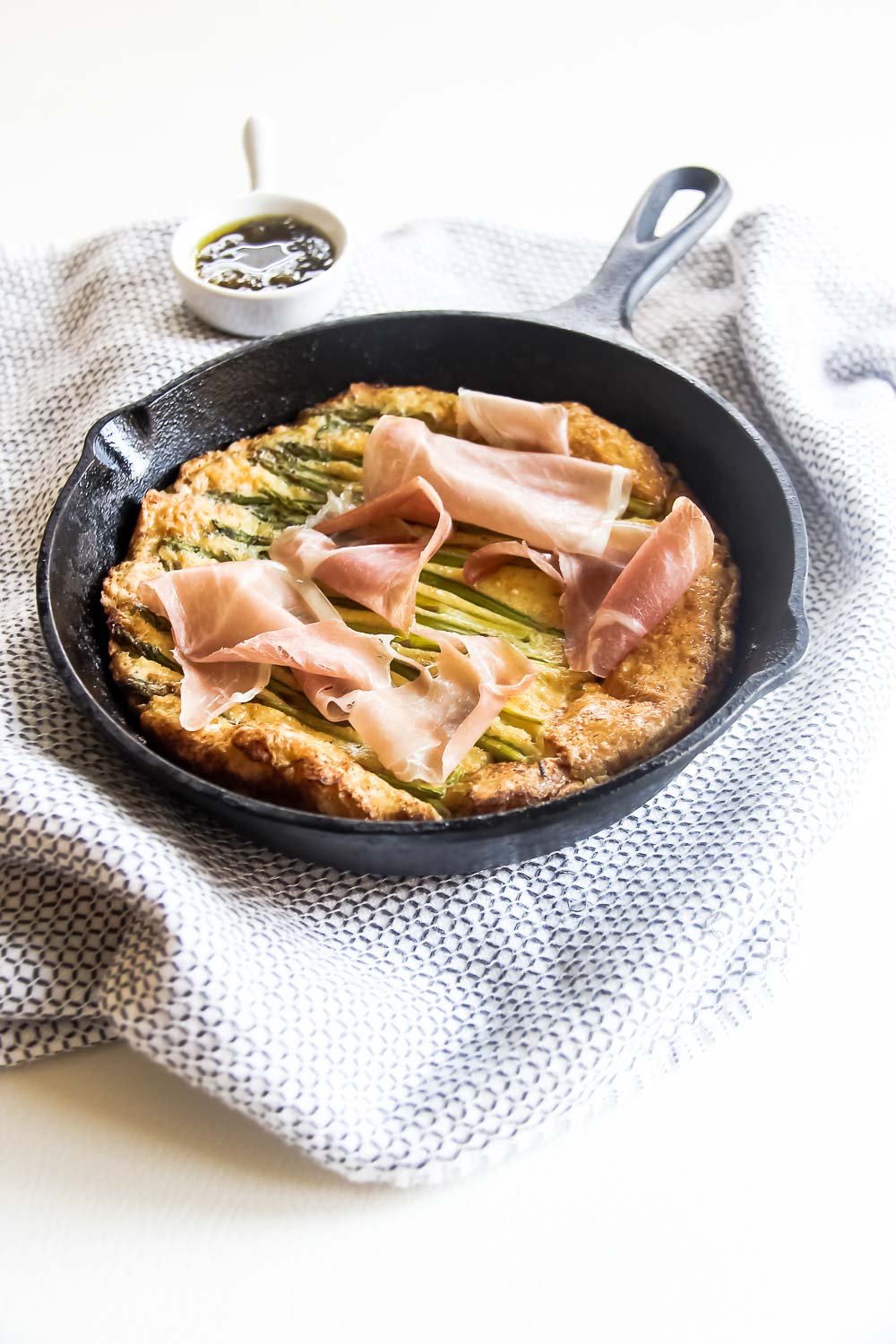 And back to the pancake. It's as simple as combining all the ingredients in one bowl, mixing them well, and starting the cooking process. The result? You won't be disappointed and you might even go for an extra serving. Don't forget to grab my favorite breakfast recipes here and let's have brunch!
Other brunch recipes you can try:
Easy Fluffy Fig Pancakes – So incredibly fluffy, tender and crisp in all the right places with a pile of fresh fruit and maple syrup for the ultimate breakfast.
Brioche Bread pudding – Brioche bread pudding is the coziest, simplest, and most satisfying dessert. It is easy to make with just a few simple ingredients with simple classic flavors. 
Print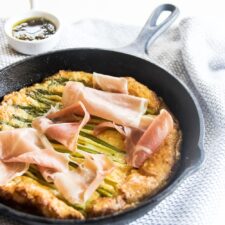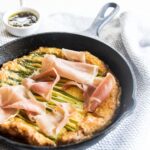 Asparagus Prosciutto Pancakes
---
Description
Asparagus Prosciutto Pancakes – a classic Dutch baby pancakes with savory and tasty fillings. This makes a fast and easy breakfast full of deliciousness!
---
Scale
Ingredients
3

large eggs

1⁄2 cup

all-purpose flour

1⁄4 teaspoon

salt

1⁄2 cup

milk

2 tablespoons

unsalted butter

1

bunch asparagus, tough ends trimmed

2 oz

prosciutto torn into pieces
---
Instructions
Preheat the oven to 400F.
In a blender, combine the eggs, milk, flour, and salt; cover and process until smooth.
Place cast-iron skillet over medium heat and stir butter until melted. Continue to cook, slightly simmering, until butter foams, stirring often. Once butter forms toasty brown bits, becomes a golden caramel color, and has a warm nutty aroma, pour in the batter.
Cook for 3-5 minutes and arrange asparagus on the skillet. Bake for 20 minutes, until puffy and sides are golden brown.
Remove from oven and top with prosciutto. Serve immediately.
---