Today we're taking Quebec's famous French fry dish, Poutine, to a whole new level. Beef Rendang Poutine Burger has aromatic taste, spicy crunch, and your attention.
East Meets West. That's probably the closest words for this dish. Some of you might not have heard about beef rendang and I am excited to share a recipe about this famous Indonesian food today.
It is not every day that you serve beef rendang at home; however you can find it easily when you visit Indonesia or even when you go to any Indonesian restaurants.
The flavors of beef rendang unfold in layers, like a tutti-frutti chewing gum that comes in layers of different flavors. You can taste many different kinds of flavors from this aromatic dish. In order to do that, you first need to fry the paste to bring out the flavors. Then, the meat is braised with this rendang spice and coconut milk for few hours. The beef rendang will taste better the next day after the meat absorbs the spice.
And what about poutine? The closest definition of poutine is probably chips, cheese, and gravy, or simply French fries with fresh cheese curd and brown gravy on top. If you're thinking poutine doesn't sound all that appetizing, don't worry, I thought the same thing too. And I could not have been more wrong. It is just so good and addictive!
Whoever came up with this stuff deserves a pat on the back because the only thing better than deep fried potatoes, is deep fried potatoes covered in gravy. My husband, being a potato lover, is a big fan of poutine.
A few years back, he was involved in a small accident and had to go through a small surgery. After the surgery, he had to eat mashed potatoes for 3 months straight. He was uber happy though he missed eating real food, especially poutine, but he managed to go through that phase without any hesitation. So we celebrated his going back to eating real food by having a poutine party. Yes, potatoes all the way!

So that's one of the reasons why I love serving potatoes at home, especially when they come from Idaho® potatoes. I don't need to worry about availability because they are usually available year-round.
As for myself, I love them because Idaho® potatoes are big on nutrition. Potassium? Checked. Vitamins & Minerals? Checked. Antioxidants? Checked. And so many more benefits. You can read more on their website and Dr. Potato is also available to answer your questions.
Did you know that not all potatoes are suitable for certain dishes? For instance, you can fry with any potatoes, but only a few varieties fry up well.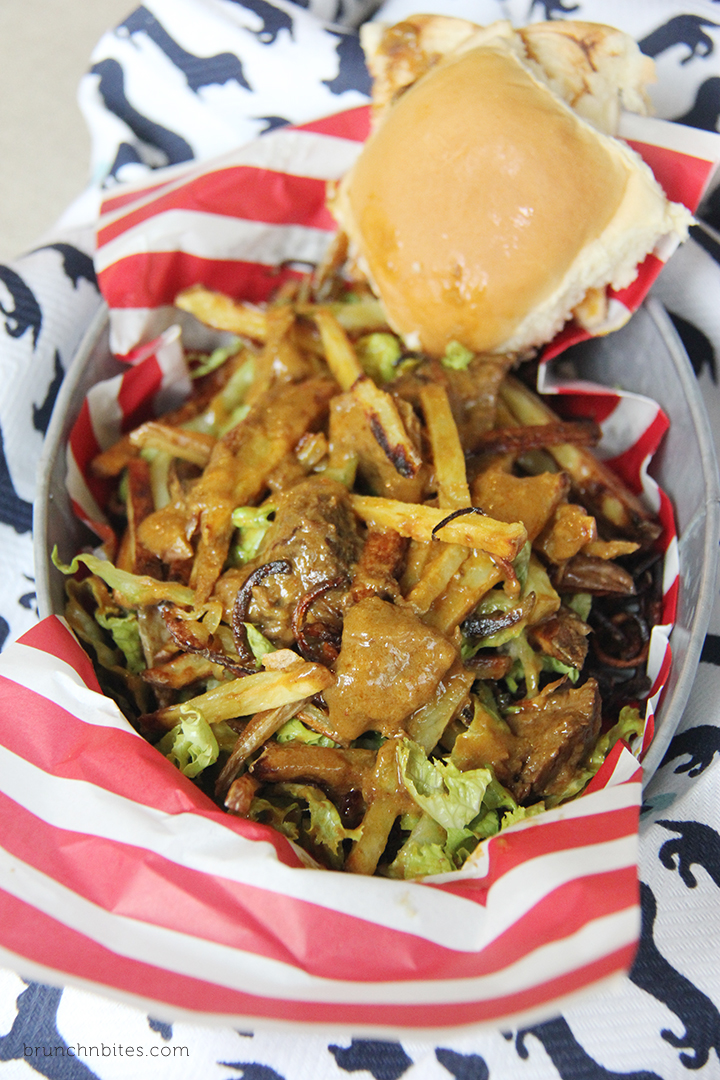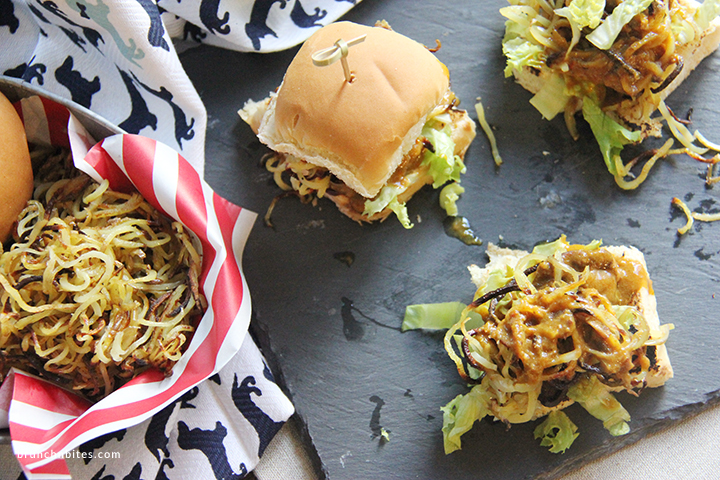 As you might know, January is National Sunday Supper Month. Like other Chinese families, my siblings and I joined the grown-ups for dinner since we started eating solid food, picking up foods from the dishes placed on the center of the table.
So for me, food equals delicious well-prepared dishes to be enjoyed with the whole family. We usually did not get a chance to sit down together for dinner since each one of us had our own commitment. Like I had music lesson twice a week at 6.30pm, Dad sometimes had a late night meeting and stuck in traffic, or my sister got home late from her extracurricular classes, and so on. However, my parents made a strict rule to spend time together on the weekend, especially on Sunday.
Whether it is brunch or dinner, or from brunch to dinner, we love spending time together. And that's the same rule that I will pass on to my own family. No matter how busy you are, sitting down together as a family is very important and to that, I take my pledge because Sunday Supper brings my family together to share joys and challenges, and makes me closer to the ones I love.
Take your pledge today and receive family-friendly recipes and updates through our weekly newsletter that is also packed with great tips and information for families.
So what happens when you combine beef rendang, poutine, and burger into one? The stack includes a toasted dinner roll (or Hawaiian roll), shredded greens, beef rendang, baked potato chips (not fried, but crispy baked), and beef rendang sauce on top. This, my friends, is how you unite nations. And don't forget…I say potato you say Idaho! 
Stay connected with Idaho® potatoes on Facebook, Twitter, Pinterest, Instagram to learn more about the benefits of eating potatoes and check out their website to find some inspiration for a Sunday Supper.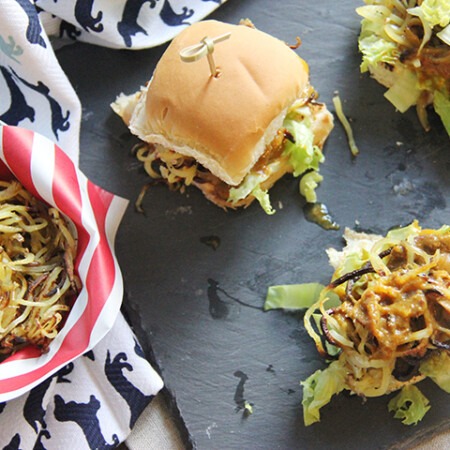 Ingredients
Beef rendang paste

4

shallots

5

garlic

2

cm

fresh ginger

2

cm

fresh galangal

4

Fresno red chilli

4

Thai chili

optional

1/4

cup

water

Salt

2

tbs

oil

1

lb

beef shanks

800

ml

coconut milk

Salt

Pepper

2

stalks lemongrass

5

lime leaves

5

bay leaves

1

tsp

turmeric

2

tbs

nutmeg powder

Curly baked potato

1

lb

Idaho potato

2

tbs

olive oil

Salt

Pepper

Hawaiian sweet rolls/ dinner rolls

toast

Shredded lettuce
Instructions
In a food processor, combine shallots, garlic, ginger, galangal, chili, salt, and water. Blend until it becomes a paste.

Lightly coat the beef with salt and pepper.

In a wok, heat the oil and cook the beef for 2-3 minutes in high heat. Set aside.

Add the paste to the wok and fry for 3-5 minutes. Return the beef back to the wok.

Add lemongrass, lime leaves, bay leaves, nutmeg powder, and turmeric. And continue stirring for another 3-5 minutes.

Add coconut milk to the wok and continue stirring in high heat until the coconut milk breaks apart/separates. This is important to get the oil from coconut. Once it separates/simmer, turn the heat to low and cook for 3-4 hours covered. You need the steam to help the cooking process.

Curly baked potato: using a spiralizer, spiralize the potatoes and boil for 3-4 minutes.

Preheat the oven to 450F. Coat potatoes with oil, salt, and pepper; and place on a baking sheet. Make sure you give enough room.

Bake for 15-25 minutes, flipping a couple times through out until they are nice and crispy.

To toast a bun on a grill, grill pan, or griddle, split the bun open, place it cut side down on the grill, and grill until light golden brown, about 10 seconds.

To assemble: add shredded lettuce to one side of a bun. Add beef rendang, topped with curly fries and add more beef rendang sauce.
How do you like your potatoes? Be sure to check this Pinterest board to get recipes featuring famous Idaho® potatoes. And if you're up for a challenge, check out Let's Poutine recipe contest.
Help us celebrate National Sunday Supper Month by entering the Idaho® Potato Let's Poutine recipe contest, with prizes of $500, $200 and $100, plus a ticket for each winner to Food and Wine Conference 2016. All the rules and conditions for entry can be found on our Sunday Supper Movement website.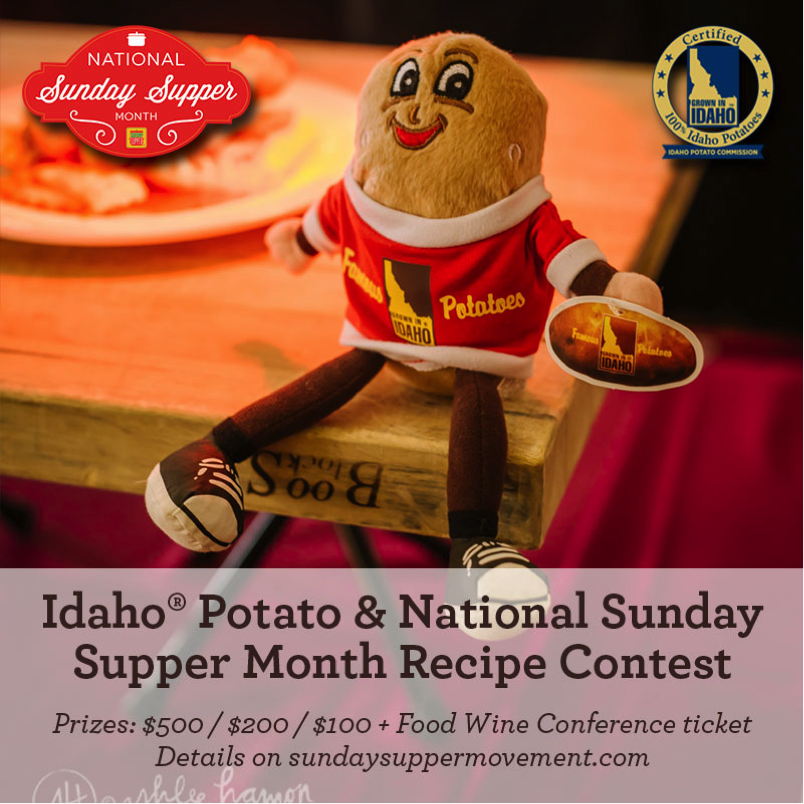 How do you like your poutine? Be sure to check rendang burger recipe and don't forget to give it a try!
Breakfast:
Appetizers:
Main Dish:
Plus: Poutine Variations for National Sunday Supper Day from Sunday Supper Movement
Join the #SundaySupper conversation on twitter on Sunday! We tweet throughout the day and share recipes from all over the world. Our weekly chat starts at 7 pm ET. Follow the #SundaySupper hashtag and remember to include it in your tweets to join in the chat. To get more great Sunday Supper Recipes, visit our website or check out our Pinterest board. Would you like to join the Sunday Supper Movement? It's easy. You can sign up by clicking here: Sunday Supper Movement.
Save