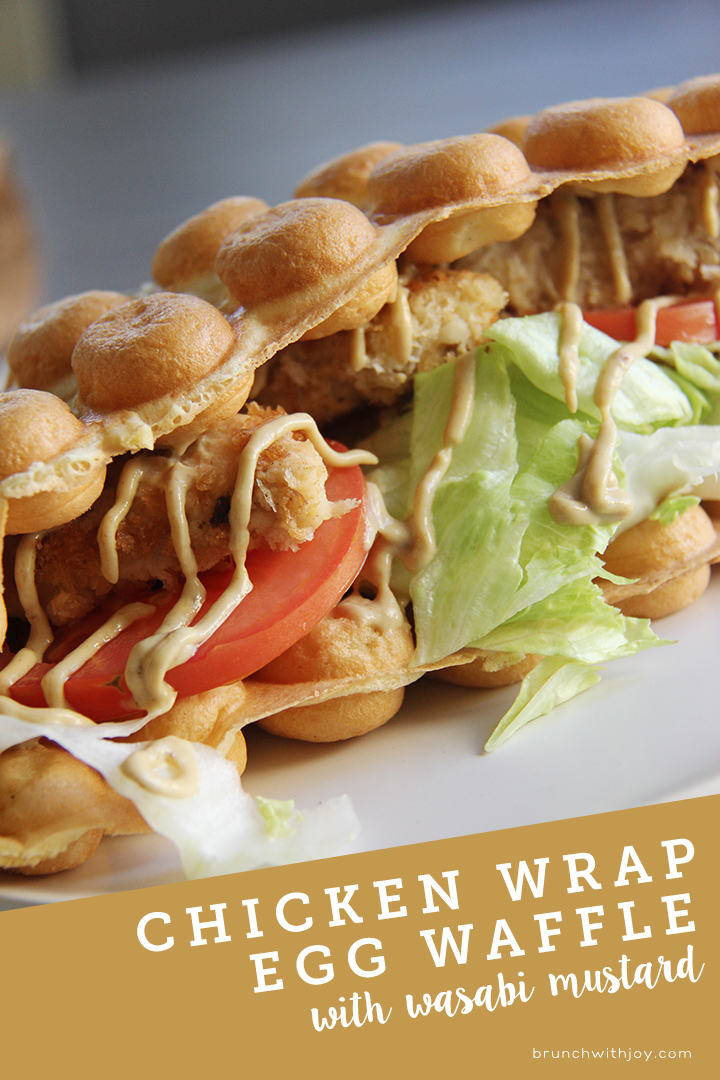 I'm jumping up and down, counting the days to my holiday! This time, I'll stop over in Hong Kong – the birth place of Egg Waffle. I don't think they have sweet or savory egg waffles there, but I am sure I will be in egg waffle galore.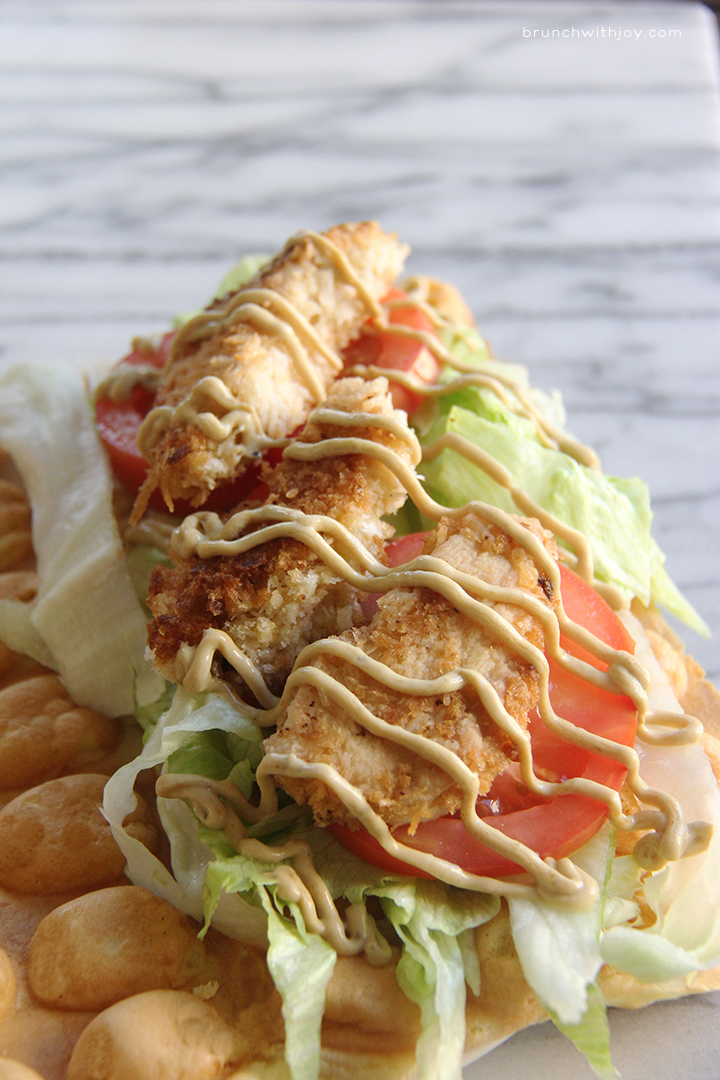 I hope you've been enjoying all these egg waffle recipes because today is the last day of the egg waffle series. This chicken egg waffle is one of my comfort food. The texture of the egg waffle, the crunchiness of lettuce, fresh tomatoes, delicious chicken with wasabi mustard – all combined into one.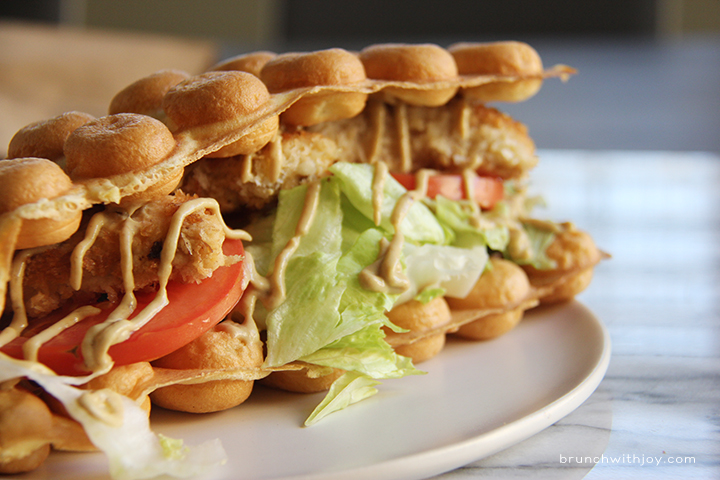 Another fun ingredient you can add is nori strips (seaweed) on top of the chicken. This egg waffle comes out thick and quite heavy for 1 person, so I always share it with someone else. The best way to enjoy it is of course when the egg waffle is still crunchy and warm.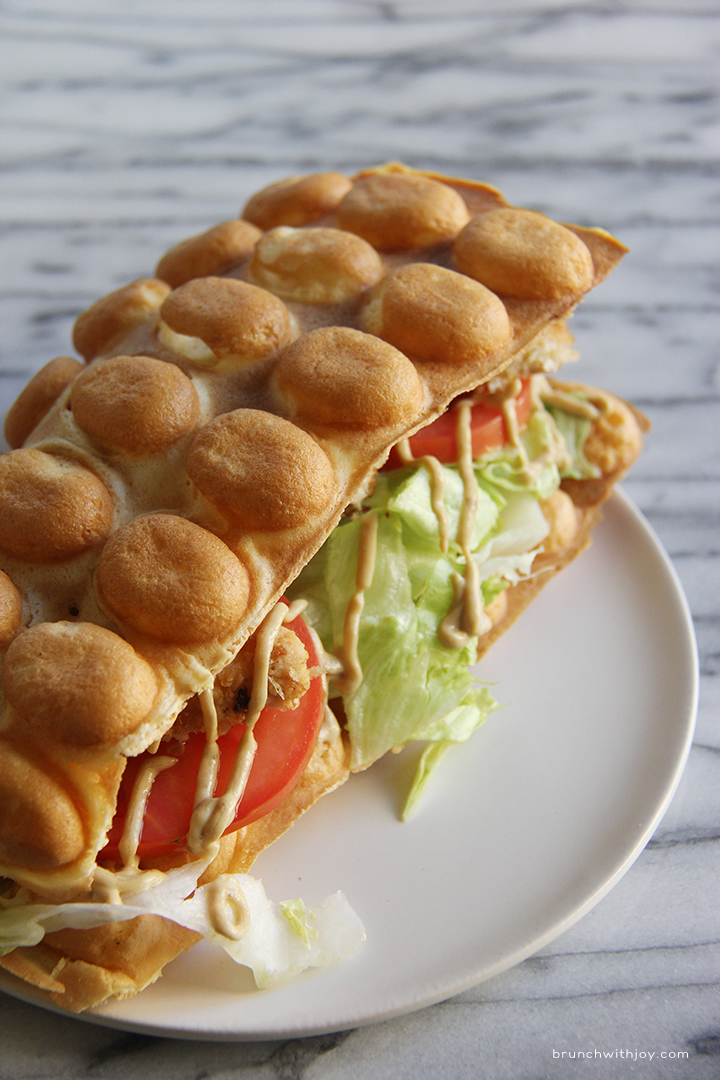 If you're curious to try this at home, check out the giveaway below for a chance to win Nordic Ware Egg Waffle Pans. And of course, a big shoutout to Nordic Ware for sponsoring my first blogiversary. To learn more about Nordic Ware, check out their site or follow them on Facebook, tweet them here, take a peek on their Instagram, get creative recipes on their Pinterest and YouTube site.
Print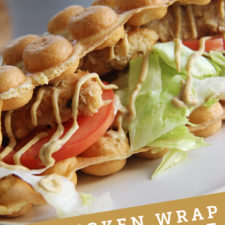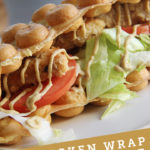 Chicken Wrap Egg Waffle + A Giveaway
---
Scale
Ingredients
Egg Waffle:

1 cup

flour

11/2 tsp

bk. powder

2

tbs tapioca starch

1/4 tsp

salt

2

eggs

1/2 cup

sugar

2

tbs evaporated milk

1/2 cup

water

1 tsp

custard powder

2 tsp

vanilla

2

tbs vegetable oil

Chicken:

1

lb chicken tenders
Black pepper

2 cups

panko bread crumbs

1/2 tsp

cayenne pepper

2

eggs

1/4 cup

milk

1 cup

flour

Wasabi Mustard:

1 tsp

mayonnaise

1 tsp

yellow mustard

1/2 tsp

wasabi paste

1/4 tsp

apple cider vinegar
Salt
Topping:

1

lettuce, shredded

3

tomatoes, slice
---
Instructions
Egg waffle: combine all the ingredients in a bowl and whisk to combine, make sure that all the lumps are whisked out and the mixture is smooth.
Cover the mixture and refrigerate it for an hour.
Heat the egg waffle pan on the burner over medium high heat, until just hot. When you're ready, lower the heat to medium low heat.
Pour about 3/4 cup of batter on one plate, spreading about 80% and as evenly as possible. Place the other plate on top. Hold the handle firm to keep the two sides closing tight and flip the pan over so the mold fill evenly.
Cook for about 2 minutes on each side. Carefully remove it and cool on a rack before serving.
Fried Chicken: Place breadcrumbs in a separate shallow bowl, and mix with ground black pepper and cayenne pepper.
Mix the eggs and milk in another container.
Dredge the chicken tenders in the flour, the eggs and the bread crumbs, and set aside. Put them in the fridge to dry out for about 20 minutes. This will help the coating stick to the chicken better.
In small batches, fry chicken 6 to 8 minutes, or until golden brown. Remove chicken, and drain on paper towels.
Wasabi Mustard: combine all the ingredients and set aside.
To serve: Add lettuce and tomato on egg waffle. Top with fried chicken and drizzle with wasabi mustard.
---