This amazing chocolate babka from Andrew Rea of Binging with Babish gets the extra flavor in every swirl. Foolproof recipe with amazing flavor!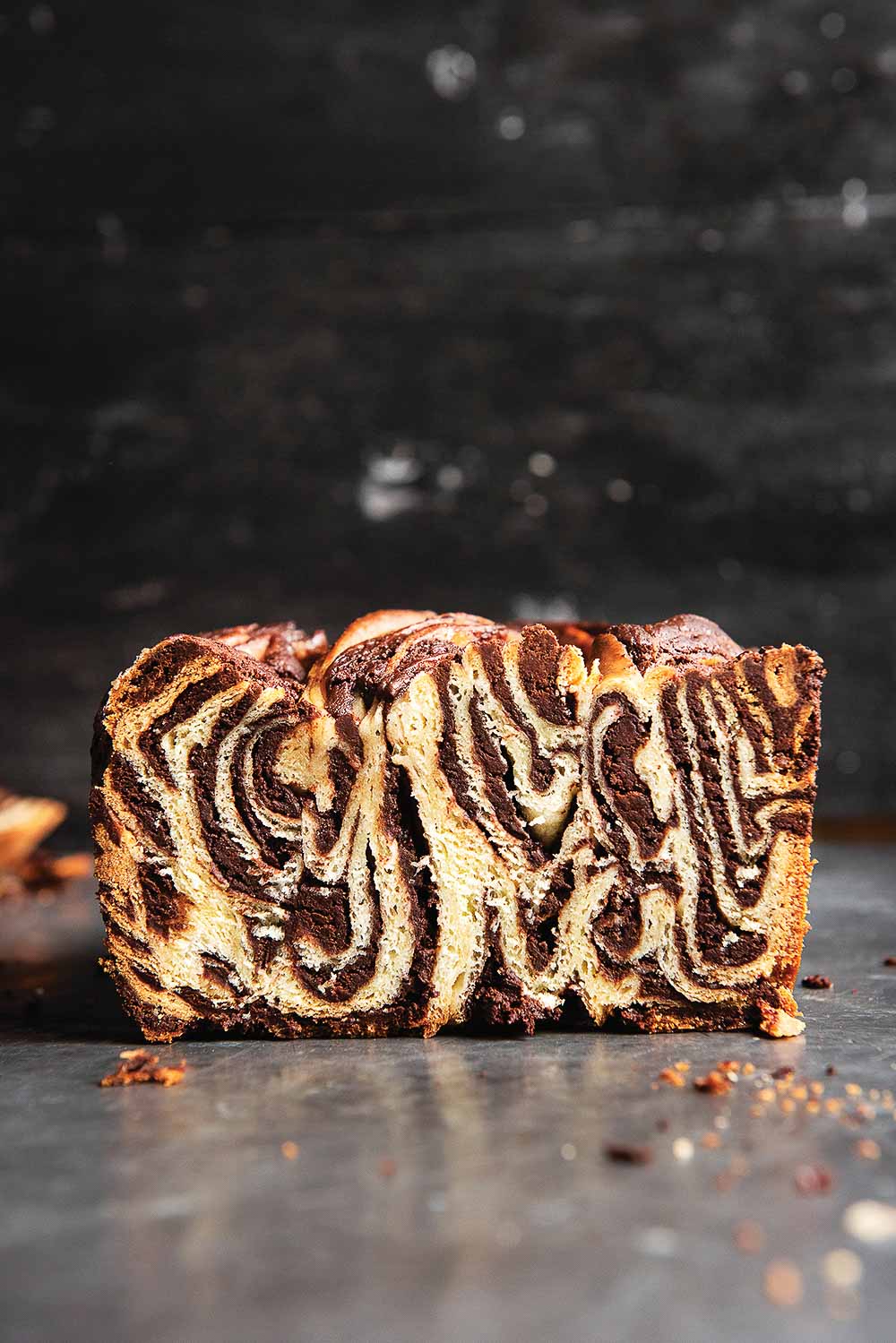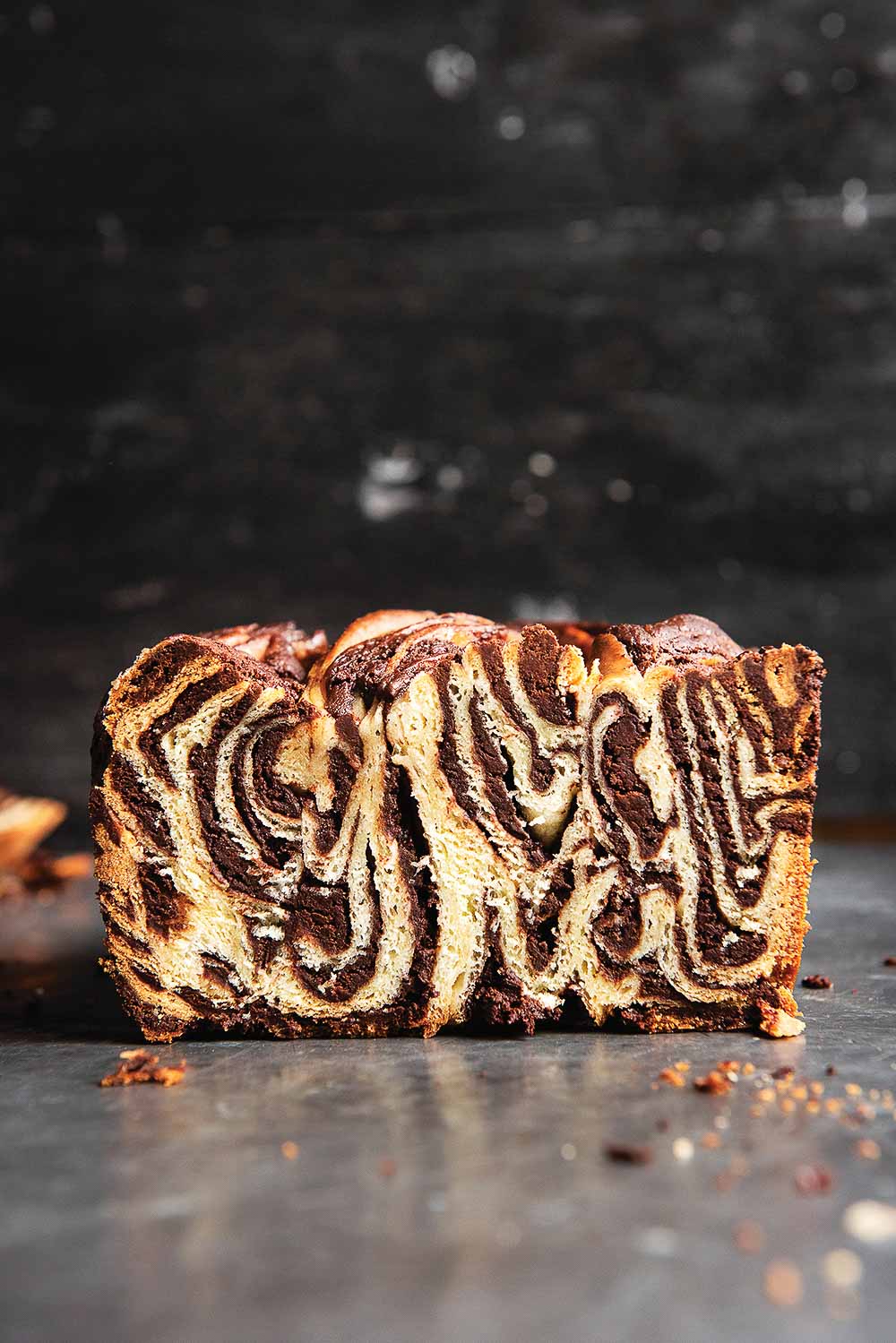 It is not a secret that I love chocolate so when I got this book, Binging with Babish, in the mail, I knew I had to share this recipe.
But first, let me tell you about this book. Binging with Babish cookbook shares 100 recipes recreated from your favorite movies and TV shows by Andrew Rea. Andrew is a passionate home cook and he's famous from his cooking show on YouTube. Highlights include:
Confit Byaldi, also known as ratatouille, is based on the real-life recipe developed by Thomas Keller for the film Ratatouille
Palestinian Chicken marinated in yogurt and served with garlicky Toum sauce from Curb Your Enthusiasm
Rum French Toast inspired by Mad Men is just the kind of decadent and boozy breakfast that Don Draper would approve of
The Michael Scott Pretzel inspired by The Office is soft and buttery and served with no less than 18 toppings
Krabby Patty-MSG version is the holy grail of fictional food. The real-life version has been developed by Andrew but was inspired by SpongeBob SquarePants
Cornish Game Hens with Pomegranate Sauce with sild rice stuffing and hen stock is inspired by Andrew's favorite show of all time, Frasier, and makes for an impressive autumnal dinner
Cannoli inspired by The Godfather is classic in flavor, but in Andrew's version it becomes extra-traditional with the use of lard as the deep-frying fat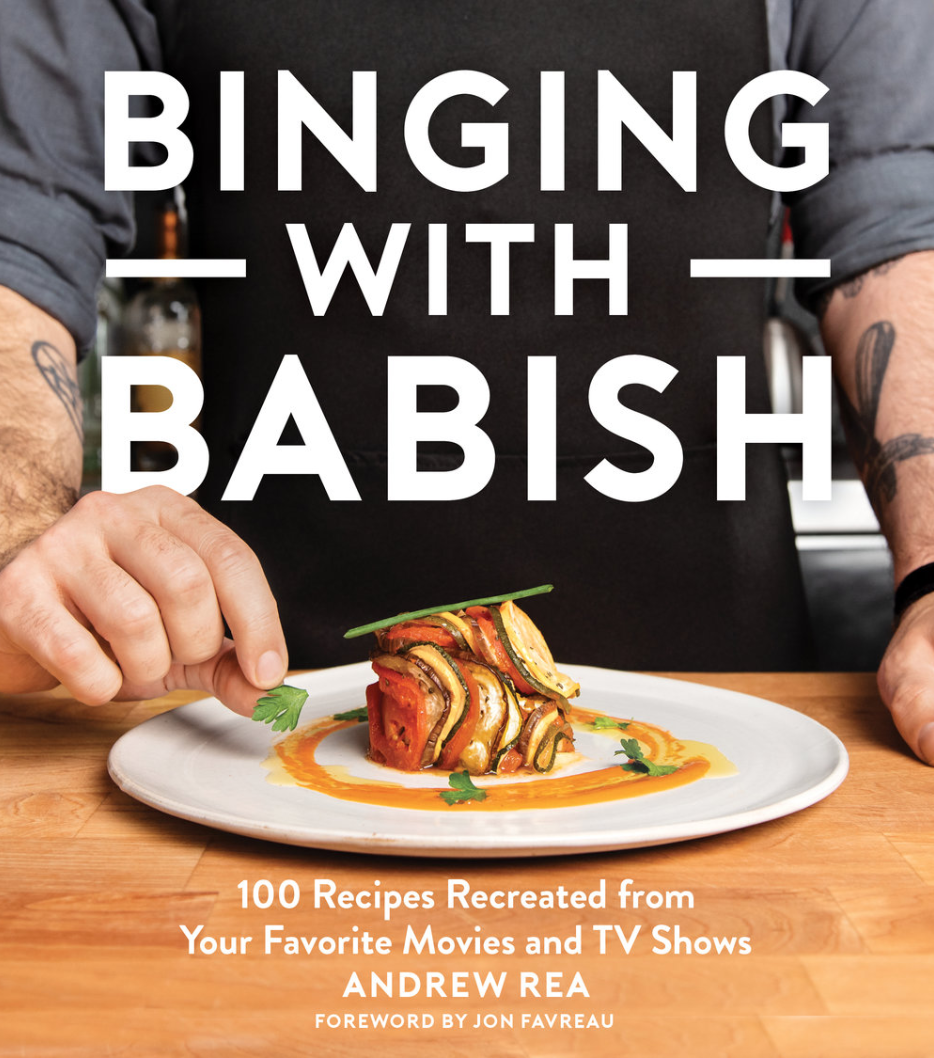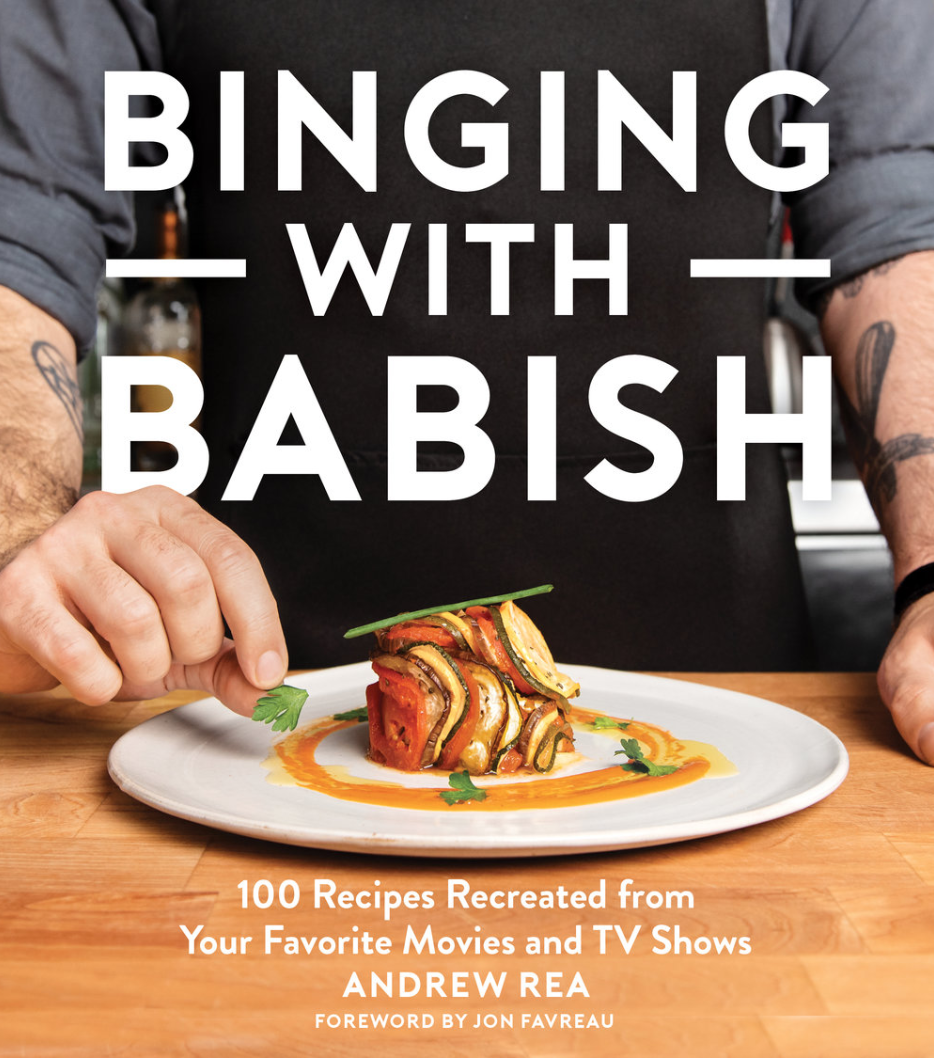 What I like about this cookbook
It covers everything. From easy peasy meal like spaghetti carbonara to something that will wow your guests, like this babka recipe. And it does not stop right there. This book also covers food from different regions, such as chicken shawarma, ramen, congee, and butterbeer.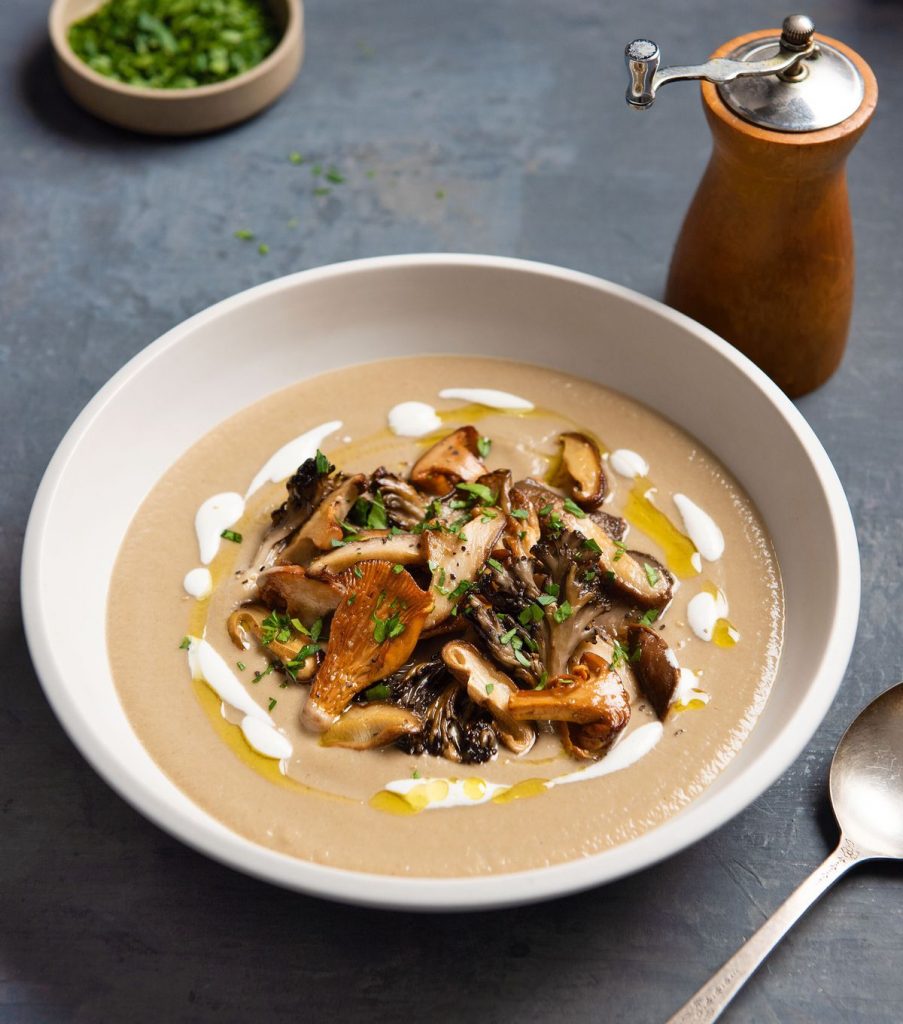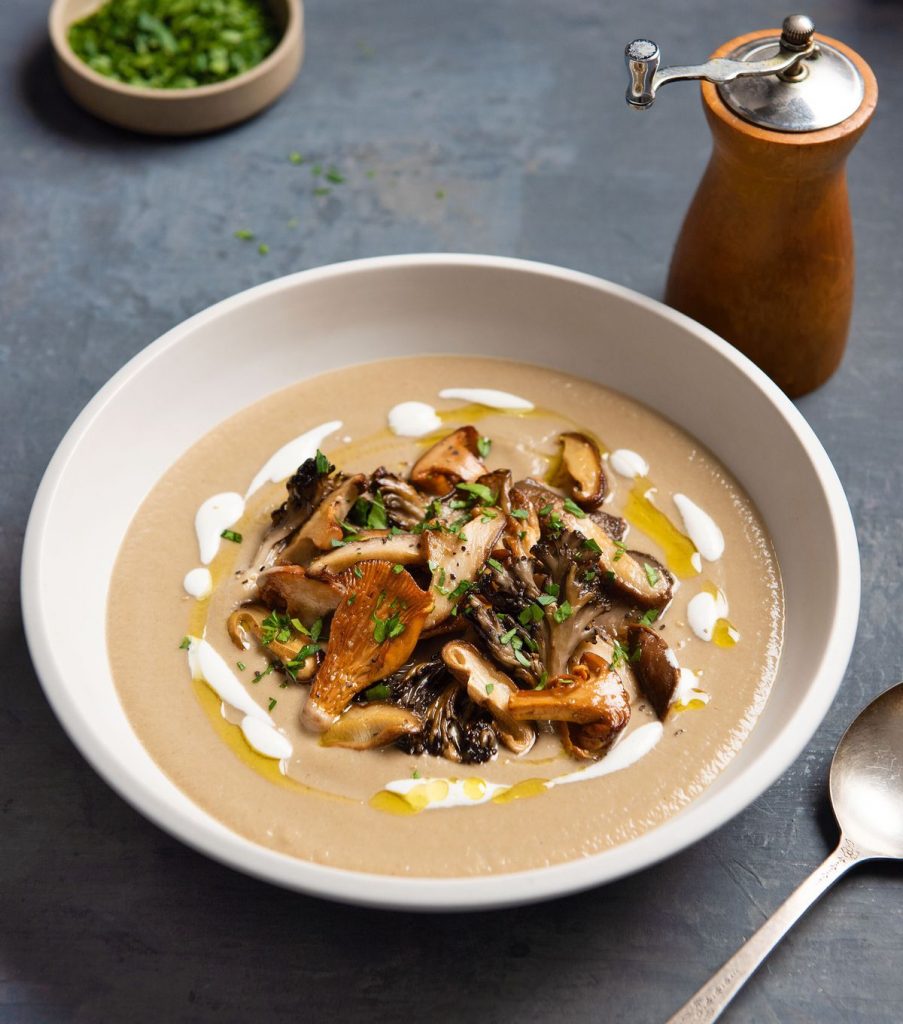 What are some recipes to try this fall/winter?
I love soup and this wild mushroom soup caught my attention. Wild mushroom soup is a savory starter that you can make a day in advance. So creamy and comforting!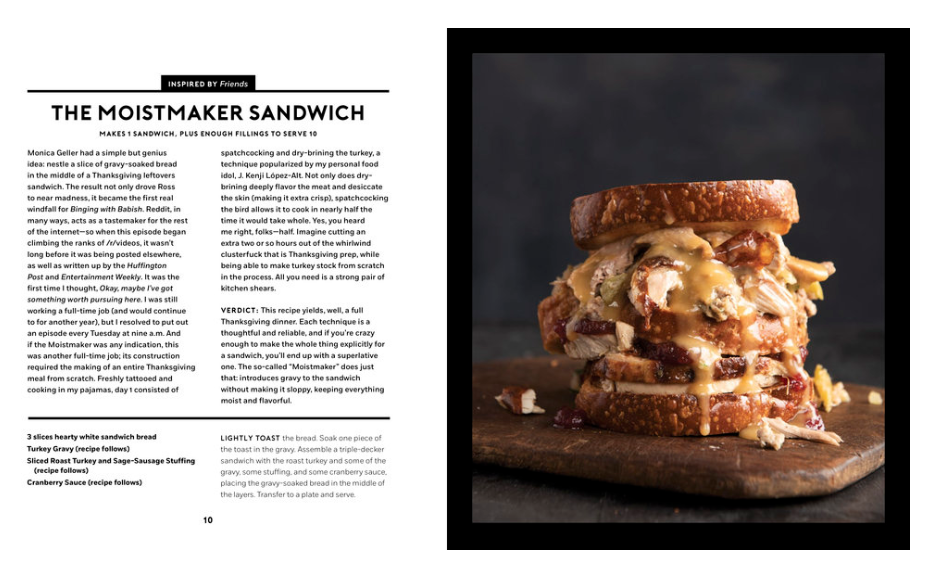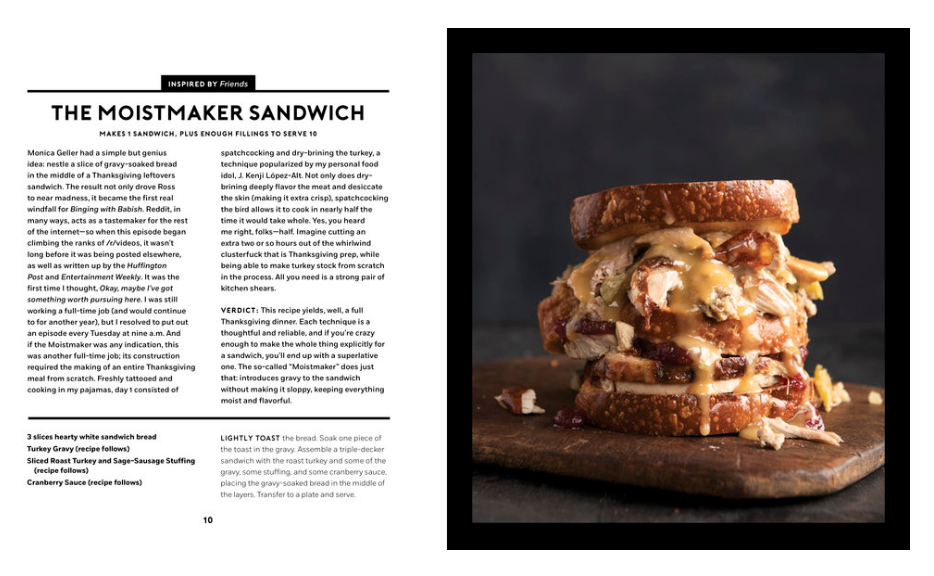 Are the recipes easy to follow?
Yes! Every recipe in the book has been meticulously tested and designed so you can follow the step-by-step directions easily at home.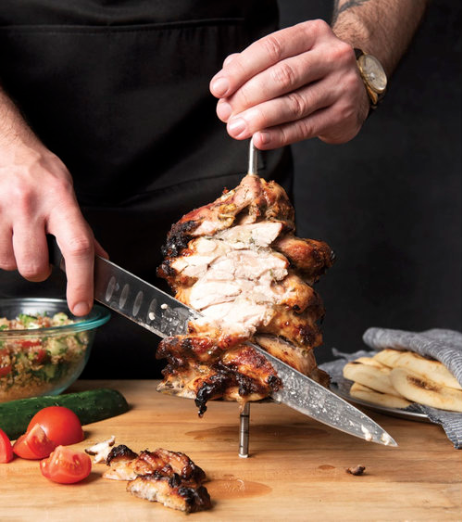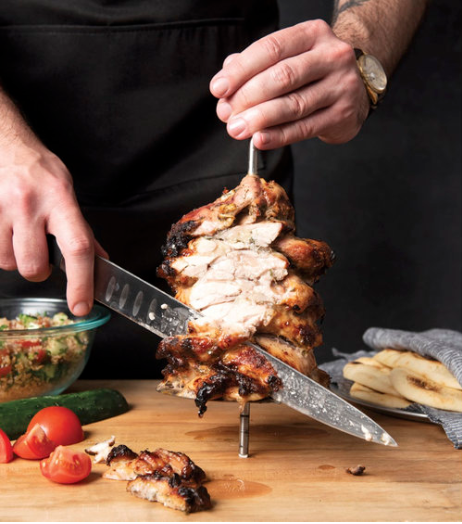 So if you're Christmas shopping for yourself or others, you need to grab this book, along with 5 Ingredient One-pot Cookbook and One-Pot Cooking for Two cookbook.
Print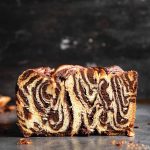 Chocolate Babka
---
Description
This amazing chocolate babka from Andrew Rea of Binging with Babish gets the extra flavor in every swirl. Foolproof recipe with amazing flavor!
---
Babka Dough:
1/2 cup

whole milk

1

(1/4-ounce) packet active dry yeast

2 1/2 ounces

granulated sugar (about

1/3 cup

), plus a pinch

18 ounces

all-purpose flour (about

4 1/4 cups

), plus more for dusting

1 teaspoon

kosher salt

1/2 teaspoon

freshly grated nutmeg, plus more to taste

4

large eggs, lightly beaten

3/4 cup

(

1 1/2

sticks) unsalted butter, cut into tablespoons, plus more for greasing
Simply Syrup:
Chocolate Filling:
1/2 cup

(

1

stick) unsalted butter

9 ounces

dark chocolate, chopped

2 teaspoons

espresso powder

2/3 cup

unsweetened cocoa powder

2/3 cup

confectioners' sugar
---
Instructions
Babka dough: in a small saucepan, heat the milk over low heat to 110F. Remove from the heat and stir in the yeast and a pinch of granulated sugar. Let stand at room temperature to 10 to 15 minutes, until foaming.
Meanwhile, in the bowl of a stand mixer fitted with the paddle attachment, mix the flour, granulated sugar, salt, and nutmeg on medium speed just until combined. Replace the paddle attachment with the dough hook. Add the yeast mixture and knead on medium speed for 1 minute, or until barely combined. Add the eggs and knead on medium speed for about 5 minutes, or until the dough pulls away from the sides of the bowl and forms a cohesive ball. Add 6 tablespoons of the butter and knead on medium speed for 5 to 7 miutes, until incorporated.
Add the remaining 6 tablespoons butter and knead for 5 to 7 minutes. If the dough is still sticking to the sides of the bowl, add more flour. 1 tablespoon at a time, until the dough is smooth and supple.
Butter a large bowl. Pull the dough off the hook, roll and stretch it into a smooth ball, and transfer it to the prepared bowl. Roll the dough around in the bowl to coat it with butter. Cover with a clean kitchen towel and place the bowl in the oven (the oven should be off). Let rise for 1.5 hours. Remove the dough from the oven, punch it down in the bowl, cover with plastic wrap, and refrigerate overnight or for at least 4 hours.
Simple syrup: in a small saucepan, combine the granulated sugar and 1 cup water. Bring to a simmer over medium heat, stirring, and cook until the sugar has dissolved and the mixture is syrupy, about 15 minutes. Remove from the heat and let cool completely.
Chocolate filling: in a medium microwaveable bowl, combine the butter and chocolate. Microwave on medium power for 2 minutes, or until completely smooth, stopping to stir every 30 seconds. Whisk in the espresso powder, cocoa powder, and confectioners' sugar until a spreadable paste forms.
Assembly: line two baking sheets with parchment paper.
Transfer the chilled dought to a lightly floured work surface, divide it in hald, and roll out each half to a 24×18-inch rectangle. Spread one rectangle evenly with the chocolate filling to within 1 inch to the edges. Starting from one long side, roll the dough into a log and transfer it to one of the prepared baking sheets. Repeat with the remaining dough rectable and the cinnamon filling. Freeze for 15 to 20 minutes, until the dough is firm.
Butter a 9-inch loaf pans and line them with parchment paper. Transfer the chocolate log to a work surface. Using a serrated knife, halve the log lengthwise. Hold the two halves of dough against each other so the cut sides are facing out, then twist into a decorative loaf. Transfer to a prepated loaf pans, cover with a damp kitchen towel, and put the pan in the oven (the oven should be off).
Remove the dough from the oven and set aside. Preheat the oven to 375F.
Bake babka fro 30 to 40 minutes, until a tester inserted into the thickest part of the load comes out clean. Remove from the oven, place the pans on wire racks, and immediately brush the tops of the babkas with the simple syrup. Let cool in the pan for at least 2 hours.
Turn the babka out ot the pan, slice, and serve.