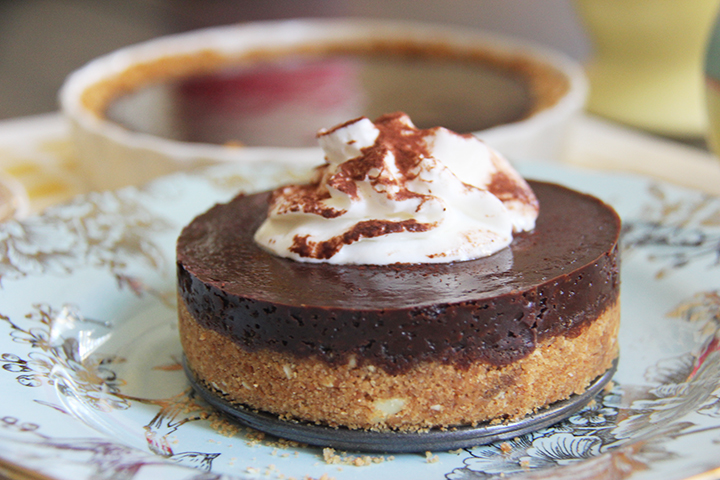 Someone once asked me how did my foodie journey start. It happened like this… My interest in food comes from my Dad. Although he himself did not cook, but he always pays attention to his foods down to the last detail. As a result, my mom had to do a double check before serving any food on the table, and our dining tables were always filled with delicious flavorful dishes. On top of that, every weekend, we always eat out as a family. We tried new restaurants or find some new dish that we all wanted to eat. My parents motto on food was simple… give it a try first and then you can decide whether you like it or not. That's one of the reasons why I am always eager to try something new. Looking back, I now realize that this was the time when I started building a connection with my taste buds. My parents, Dad especially, has opened up a world of new cuisines for me, which eventually led me to this foodie journey. This Dark Chocolate Whiskey Lava Tart is a great stop along the journey, it's delicious & beautiful!
Well, I've eaten my fair share of sweets lately. I just can't help it — my sweet tooth is absolutely raging! I'm trying to satisfy it by eating lots of fruit but there's still that nightly ice cream I just can't resist and the feeling goes even stronger as I flip through the Baked Elements book. I know, I know… it's the worst feeling ever.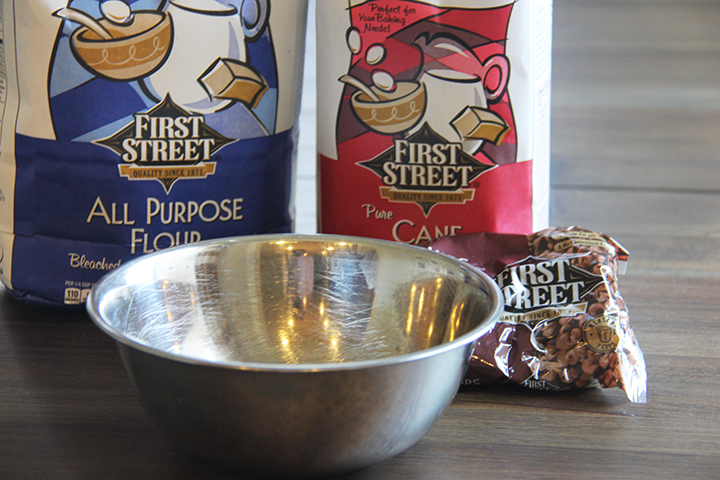 However, this dark chocolate whiskey tart, my friend, is something that you will never regret, especially when you're all about dark chocolate like me. Seriously. I've recently discovered that 70% dark chocolate is still too sweet, so when I saw this recipe, I knew this had to happen soon. Lucky for me, Smart & Final is just around the corner and they have everything I need. That way, I don't need to waste my time running from one store to another. Smart & Final is perfect for us, a family of two (or more) and a foodie like myself. Not to mention that they carry the lowest prices in town while storing market freshness. Click here to learn more about them on Facebook and browse some ideas on Pinterest.
Father's Day is just around the corner and the celebration always brings a special meaning for me. My Dad had inspired me in so many ways. He is my super hero. He taught me how to give, to share, and to cherish each moment. He once told me that I should have gone to a cooking school instead. He knew me even before I realize that I fell in love with being in the kitchen. It's been years since my Dad left us and I'm still in tears every time I think of him (and as I wrote this post) because behind every great daughter is a truly amazing dad. Happy Father's Day to all the greatest Dads out there!
Dark Chocolate Whiskey Lava Tart
Print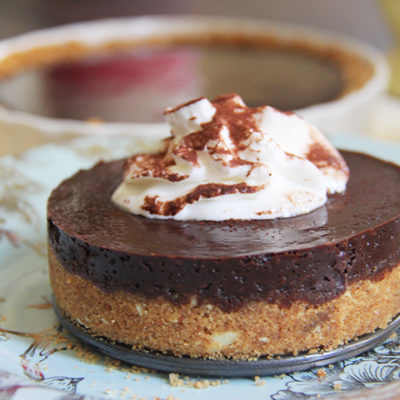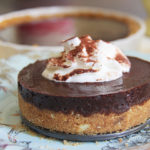 Dark Chocolate Whiskey Lava Tart
---
Scale
Ingredients
Almond Graham Cracker Crust

1/2 cup

sliced, blanches almonds, toasted

3 cups

graham cracker crumbs

3

tbs firmly packed dark brown sugar

8

tbs unsalted butter, melted

Chocolate Whiskey Filling:

3/4 cup

heavy cream

1/3 cup

whole milk

8 oz

dark chocolate, coarsely chopped

4 oz

milk chocolate, coarsely chopped

1

large egg, plus 1 large egg yolk

1

tbs ap.p. flour

1

tbs sugar

1/2 cup

good quality whiskey
---
Instructions
Almond Graham Cracker Crust: Preheat the oven to 325F. Lightly coat the bottom and sides of a 9-inch tart pan with nonstick cooking spray.
In a food processor, pulse the almonds until they are finely chopped.
Combine all of the ingredients in a bowl, mix. Transfer the crumb mixture to the prepared tart pan and press it into the bottom and up the sides. Bake for 10-15 minutes. Set aside.
Chocolate Whiskey Filing: In a medium saucepan over medium-low heat, stir together the cream and milk to a low simmer (not boil). Remove the pan from the heat and add chocolate. Whisk very gently until the mixture is completely smooth. Let it cool for 5-10 minutes.
In a small bowl, combine the rest of the ingredients and lightly beat using a fork.
Add the egg mixture to chocolate and whisk until completely blended.
Pour the filling into the tart shell and bake for 20 minutes, until the edges are slightly set, but the middle is still slightly jiggly. Let it cool and top with whipping cream, a dusting of cocoa powder, and a scoop of ice cream.
---
Notes
If you prefer something sweet, simply reduce the amount of dark chocolate and replace it with semi-sweet chocolate. You can also reduce the amount of whiskey to 1/4 cup.
Recipe is adapted from Baked Elements Cookbook.

p.s. In case you're behind with your Father's Day preparation, just stop by Smart & Final because they have everything you need, including ingredients for this Dark Chocolate Whiskey Lava Tart.
Save