A panini on a whole new level. This easy French Dip panini is made in a slow cooker. Flavor overload, as the perfect hot fix for cool weather!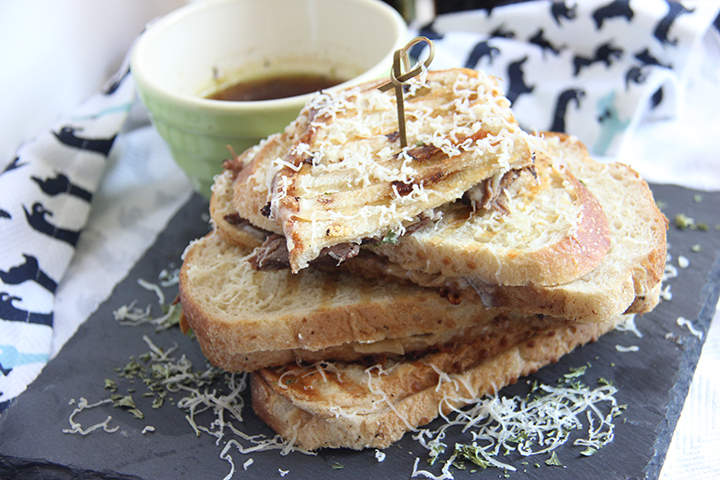 Do you know that August is the National Panini Month. Yes, I'm celebrating it big time this month. Just few days ago, I was given a tour to the Sunset Magazine HQ. Oh boy, I love their office! And I also got a chance to meet Margo True, Sunset Magazine Food Editor.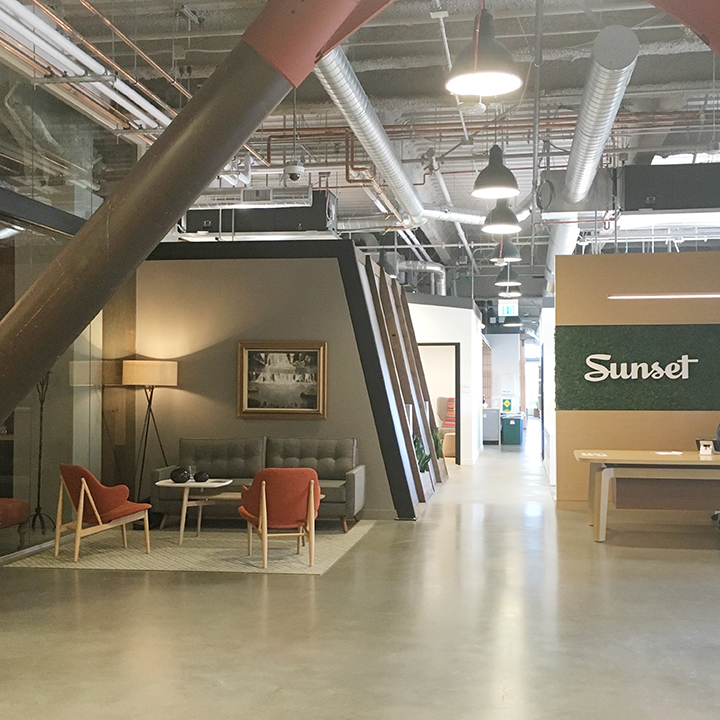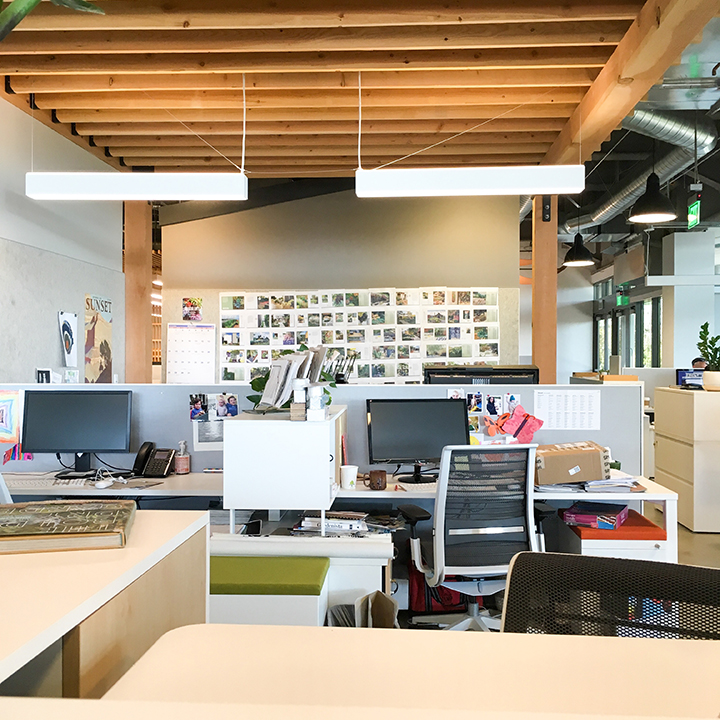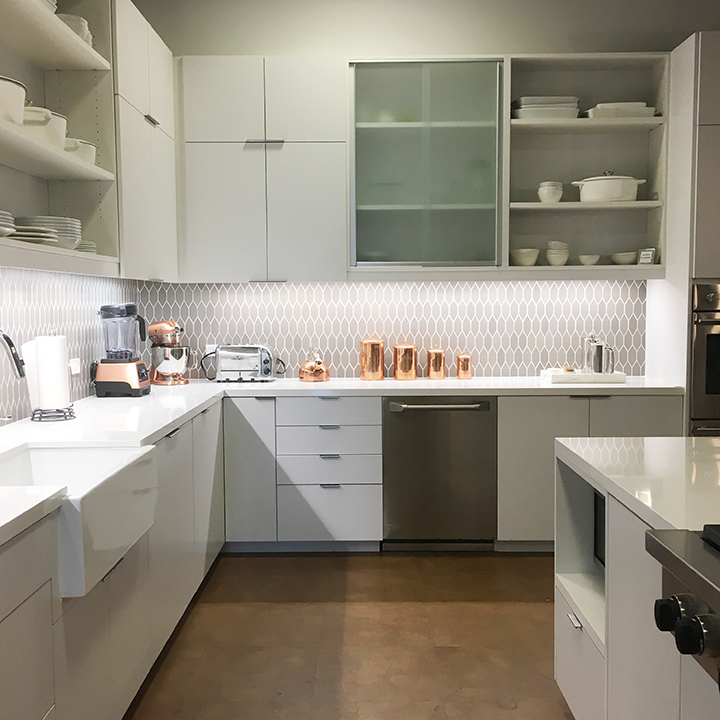 And I spotted this panini place on my way home. It's been a while since I had panini but I also had French dip in mind, so my creative mind got very excited and suddenly the ideas of a French dip panini popped out. If you love French Dip sandwiches, you must know Philippes in Los Angeles. It is known as the home of the original French dipped sandwich since 1908. We were there few times back when we lived in LA and never saw this place empty. The store opens as early as 6am and you can't just leave this place without dipping your sandwich, even for breakfast.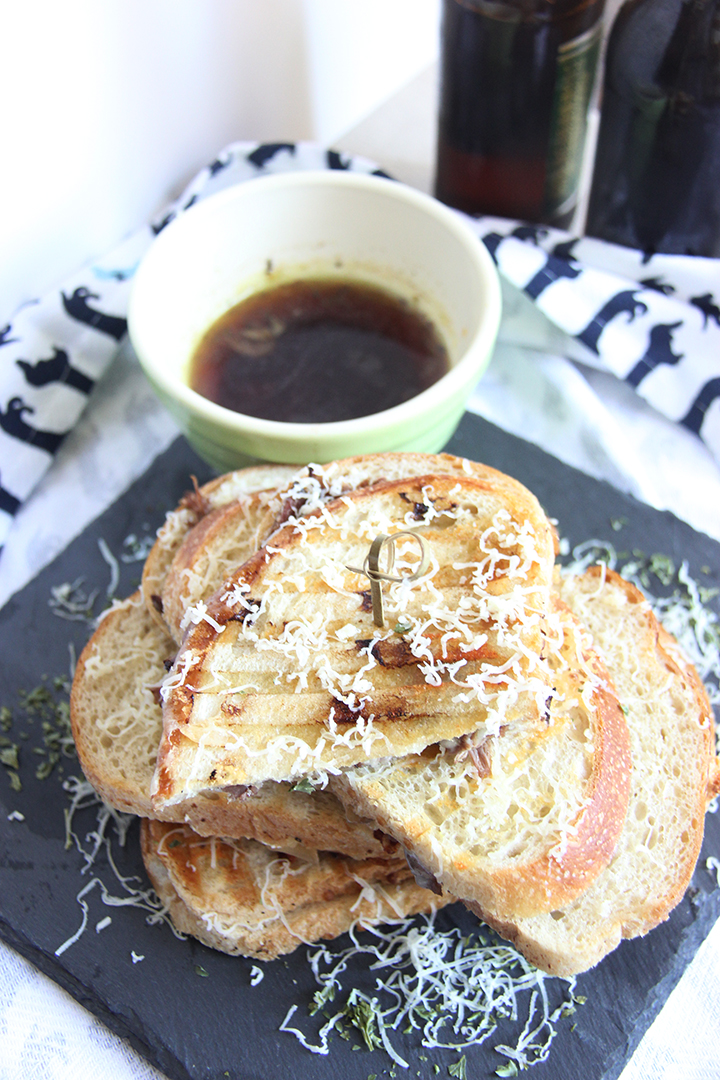 There is something so good and right and true about this sandwich and it makes my mouth water just thinking about it. This one is so easy to make and done in a slow cooker. Ow yeah… what is better than that? Just dump everything in your slow cooker in the morning, set it, and go. In the evening, you return home to find your dinner problem solved. So if you're still not sure what's for dinner, there's always a solution to it… French Dip Panini.
Print
Scale
Ingredients
1

lb chuck roast

1

can (14.5oz) beef broth

1

tbs olive oil

1

medium white onion, sliced

1

cube beef bouillon

1 tsp

garlic powder

1/2 tsp

dried oregano

1/4 tsp

black pepper

1/2 tsp

dried thyme

1

bay leaf

1

tbs worcestershire sauce

4

tbs light soy sauce
Panini:

6

–

8

crusty rolls

6

–

8

slices swiss or provolone cheese
Horseradish
Butter
---
Instructions
Heat olive oil in your slow cooker. While the oil is heating, generously season all sides of the chuck roast with freshly ground pepper.
When the oil starts to shimmer, add onion and let it cook for 5-10 minutes. Carefully place the roast and the rest of the ingredients. Cook on low for 6 hours.
Transfer the beef to a plate and shred with a fork.
Reserve 3 cups of the juice from the slow cooker and add to a small sauce pan. Bring it to a boil over medium-high heat. Reduce to a hard simmer and let it cook until reduced by half, about 10 minutes.
Using butter knife, spread butter outside of roll to create crispy top and bottom.
Flip the roll on the other side and spread horseradish, top it with cheese. Add a pile of shredded beef. Place other slice of bread over the top, with the buttered side on top. Grill Panini sandwich with the lid close for about 5 minutes, or until cheese melts. Serve immediately with the sauce on the side for dipping.
---

Save