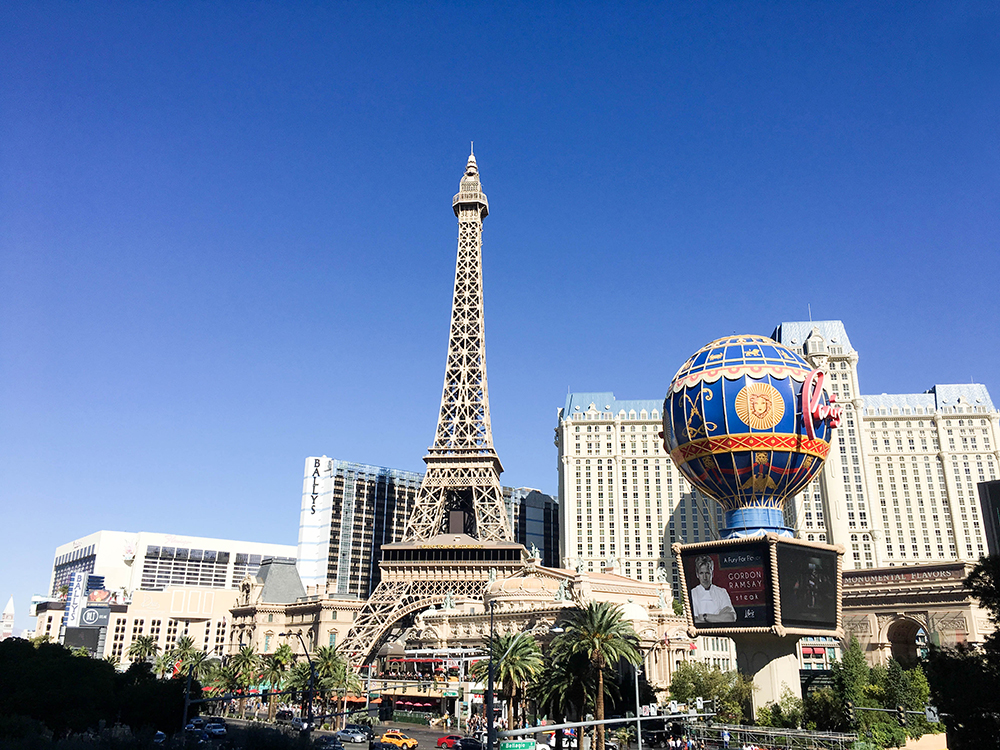 Towards the end of 2016, we had a chance to visit Vegas again. It was quite a short trip, only about 24 hours. Just like Big Apple, I've always found Vegas to be a city that never sleeps and that's one of the reasons why I love being there! Vegas is all about food and entertainment. If you're planning on visiting… be sure to steal my itinerary below.
Bacchanal Buffet – Caesars Palace
It didn't take me too long to decide where to eat in Vegas so once the hubs and I landed in McCarran Airport, we went straight to Bacchanal. It was only 11am by the time we got there and there was already a line. Luckily we did not have to wait that long. Bacchanal is the ultimate destination for foodies. They have delicious food ranging from Eastern to Western that totally fits anyone's taste buds. I really loved their presentation and how they get so creative with their menu with options like crab curry or chicken and waffles in a bucket. (If you go there be sure to try that one because that's by far one of the best chicken dishes I've tried. The outer skin is crispy but the inside is so juicy and not dry at all.)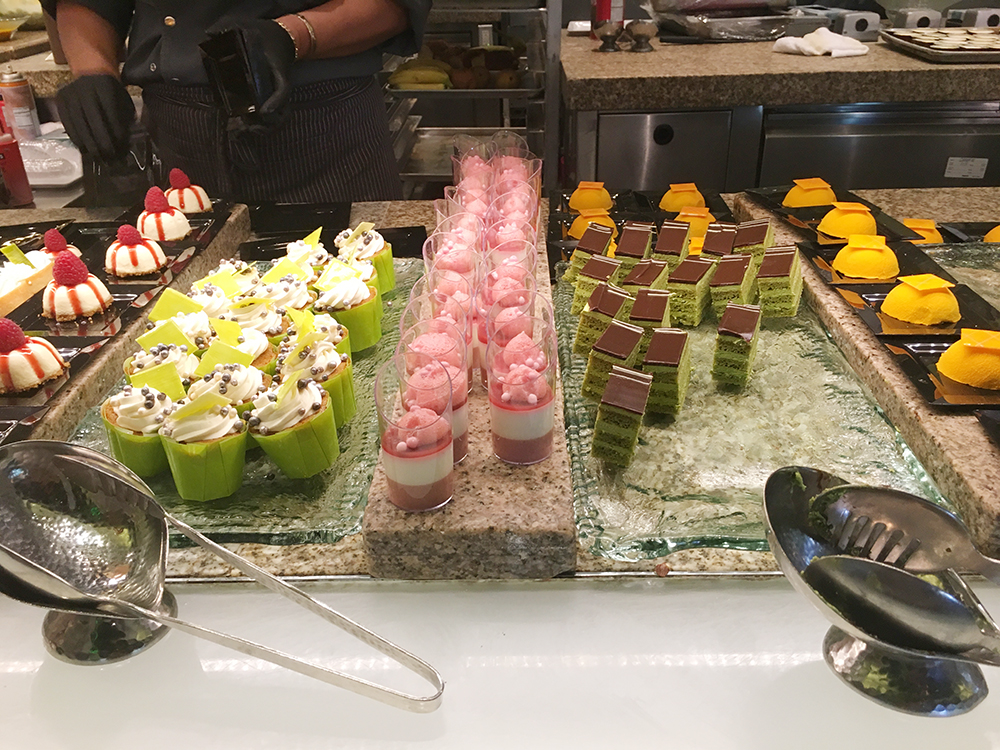 And dessert…it didn't take me too long to spot all of the yummy desserts. They also serve sugar-free dessert so you can feel a little less guilty about indulging.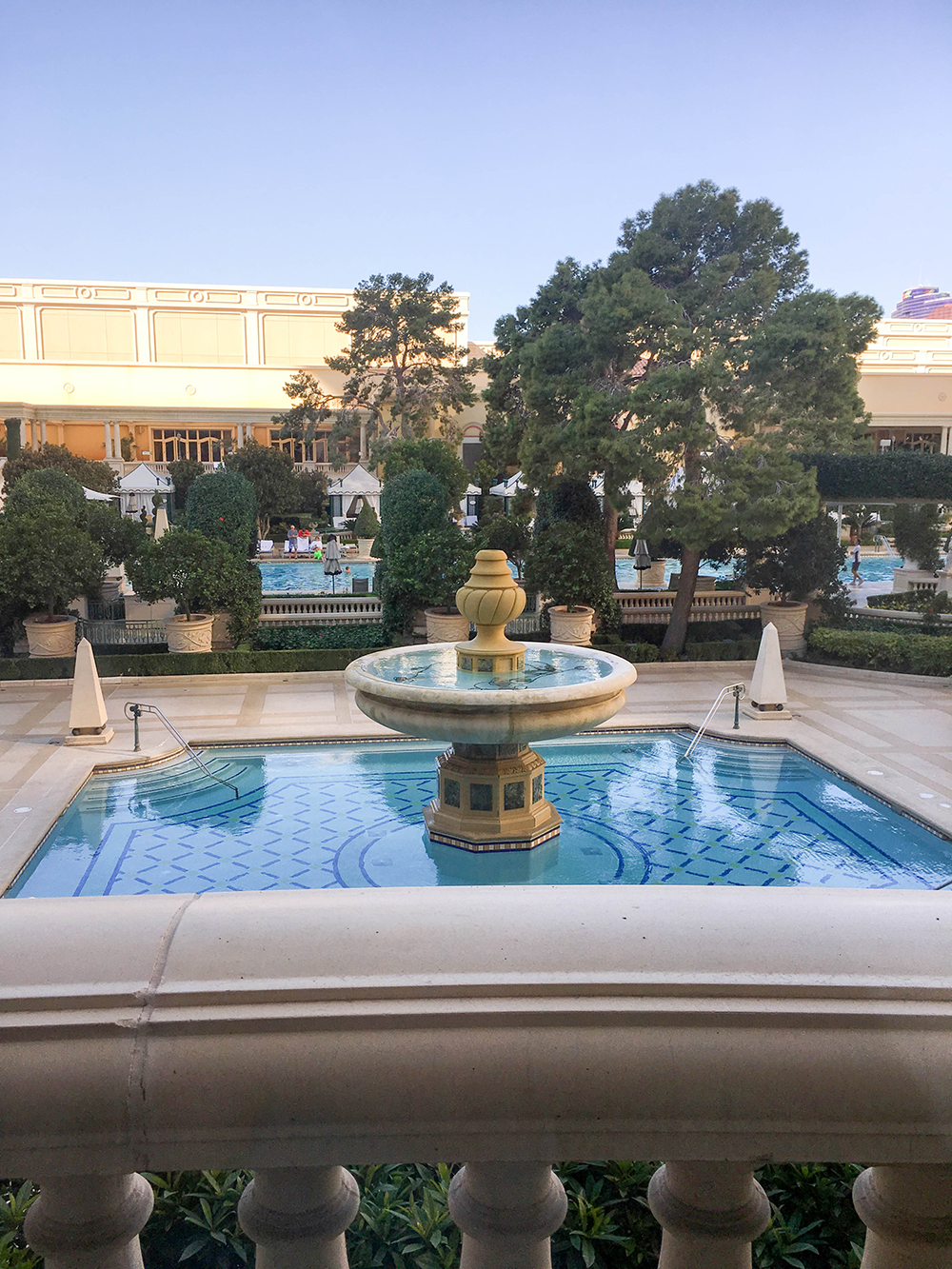 Bellagio
I felt guilty after overeating buffet. So we took a walk along the strip. This is one of the reasons why I like Vegas…you don't need to rent a car and it's very convenient to grab a taxi. Bellagio is famous for so many reasons. One of them is this Chocolate Fountain inside the Bellagio. Chocolate…who doesn't want that? The giant fountain is interesting. It is behind glass, so you don't actually smell the chocolate, but it will keep you mesmerized for 5-10 minutes while you're waiting in line to grab more chocolate.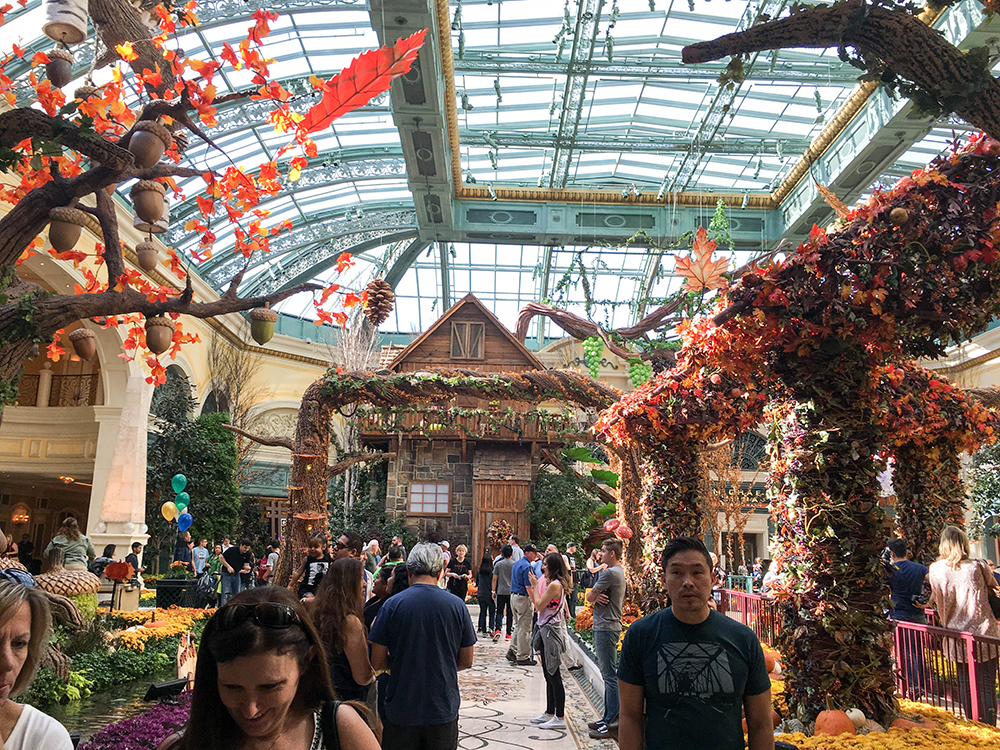 And they also have Conservatory & Botanical Garden inside. This place is breathtaking  and each season, the enormously talented horticulturalists and designers transform this 14,000-square-foot floral playground into a showcase of the distinctive sights and colors. When the seasons turn and the displays rotate, 90 percent of the trees, flowers and plants in the conservatory are recycled, to further celebrate they're commitment to the earth.
Everything Coca Cola Store & M&M's World
This place is so colorful and Coca Cola polar bear is real! You can take a picture it, if you're lucky. Also, if you're a big fan of Coca Cola, be sure to get the International Tasting Platter where you can taste 16 samples of Coca Cola from around the world. The flavors include:
Inca Kola from Peru
Sunfill Blackcurrant from Mauritius
Stoney Tangawizi from Tanzania
Sparletta Sparberry from Zimbabwe
Vegitabeta from Japan
Simba Guarana from Paraguay
Smart Watermelon from China
Kinley Lemon from England
Krest Ginger Ale from Mozambique
Ciel Aquarius from Mexico
Bibo Kiwi Mango from South Africa
Bibo Pine Nut from South Africa
Sunfill Mint from Djibouti
Smart Apple from China
Beverly from Italy
Mezzo Mix from Germany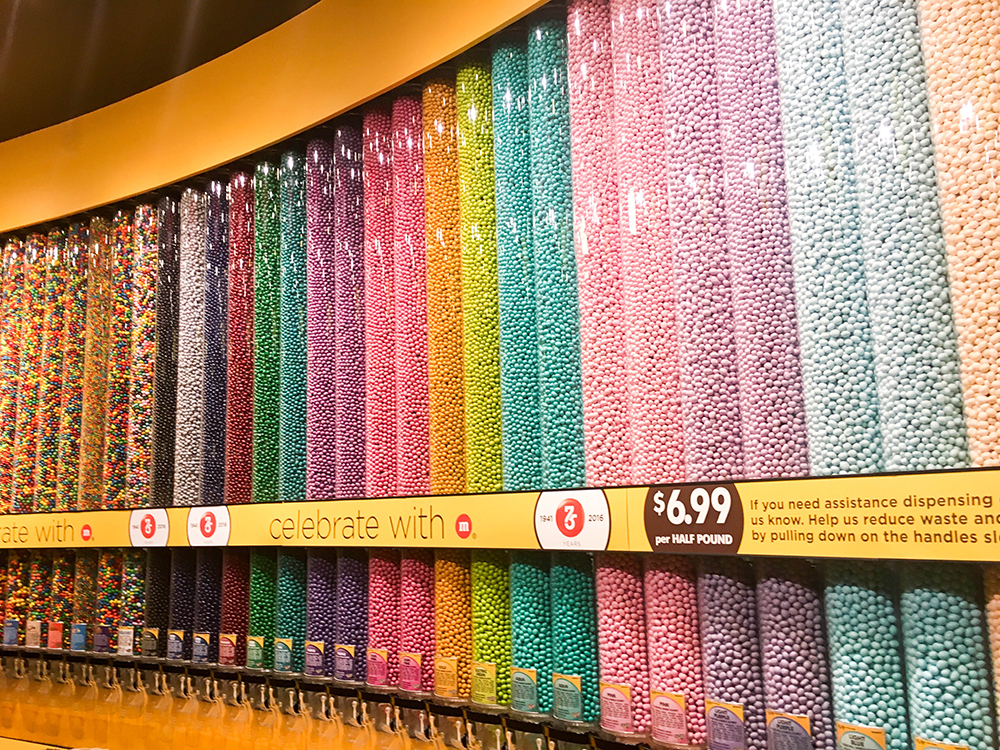 Next to it is M&M's world with so many beautiful colors. Please excuse me while I am making my own rainbow here. If you're a fan of M&M's, be sure to walk your way up and go into their theater. Who knows?! You might spot a M&M Princess there.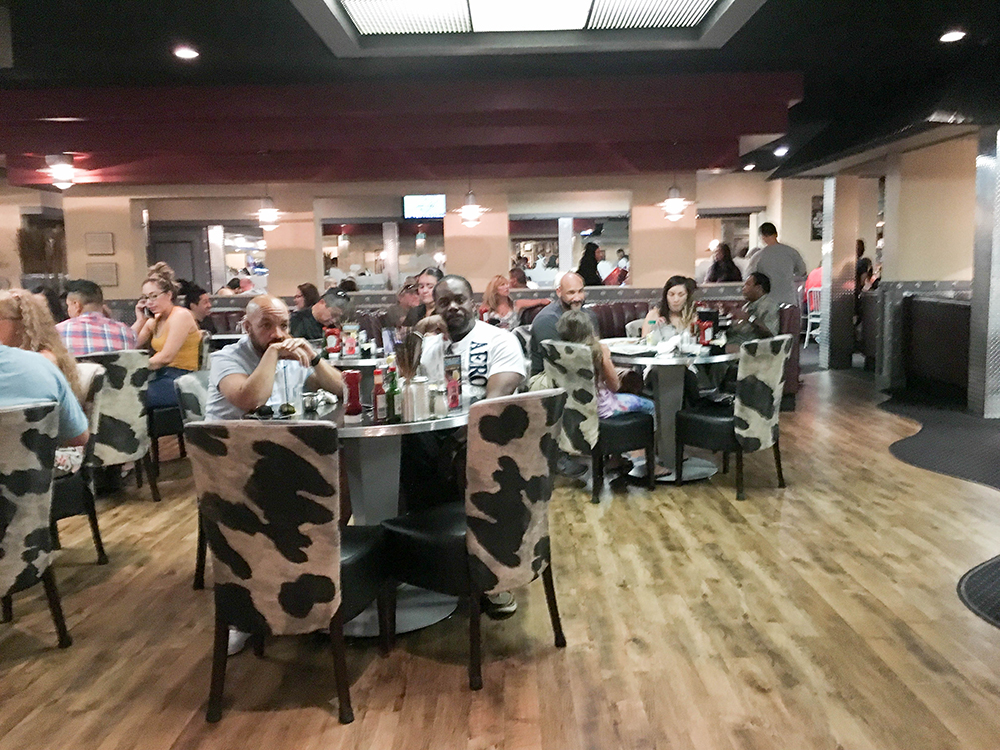 Hash House A Go Go – The Linq
Another thing I love about Vegas is their shows. I just love watching any entertainment they offer, from magic shows to acrobatic dancers. It's pretty much a requirement to watch a show each time we visit Vegas and of course we felt hungry right after the show. Luckily, Hash House A Go Go is open 24 hours. Hash House A Go Go is famous for their chicken and waffles. And when I say chicken and waffles…I'm not talking about 2 pieces of waffles with 1 piece of fried chicken. Their portion is so huge that we were able to share it. Look at this one.
Yeah, their massive chicken and waffles dish is a great choice to share. Be sure to try their fried leeks as well. Delish!
Giada – The Cromwell
Brunch should always be good and that's what Giada offered us when we went there. I wasn't planning to have a big breakfast after a big feast from lunch and dinner the night before but you can't skip Giada's food especially when the restaurant is just across the street from where you stayed. I tried their … breakfast parfait and polenta muffin. You guys…as full as I was, I wanted another polenta muffin because they were so good! Not too sweet and just the perfect size. In short, breakfast was filling and I regret not taking extra polenta muffins home!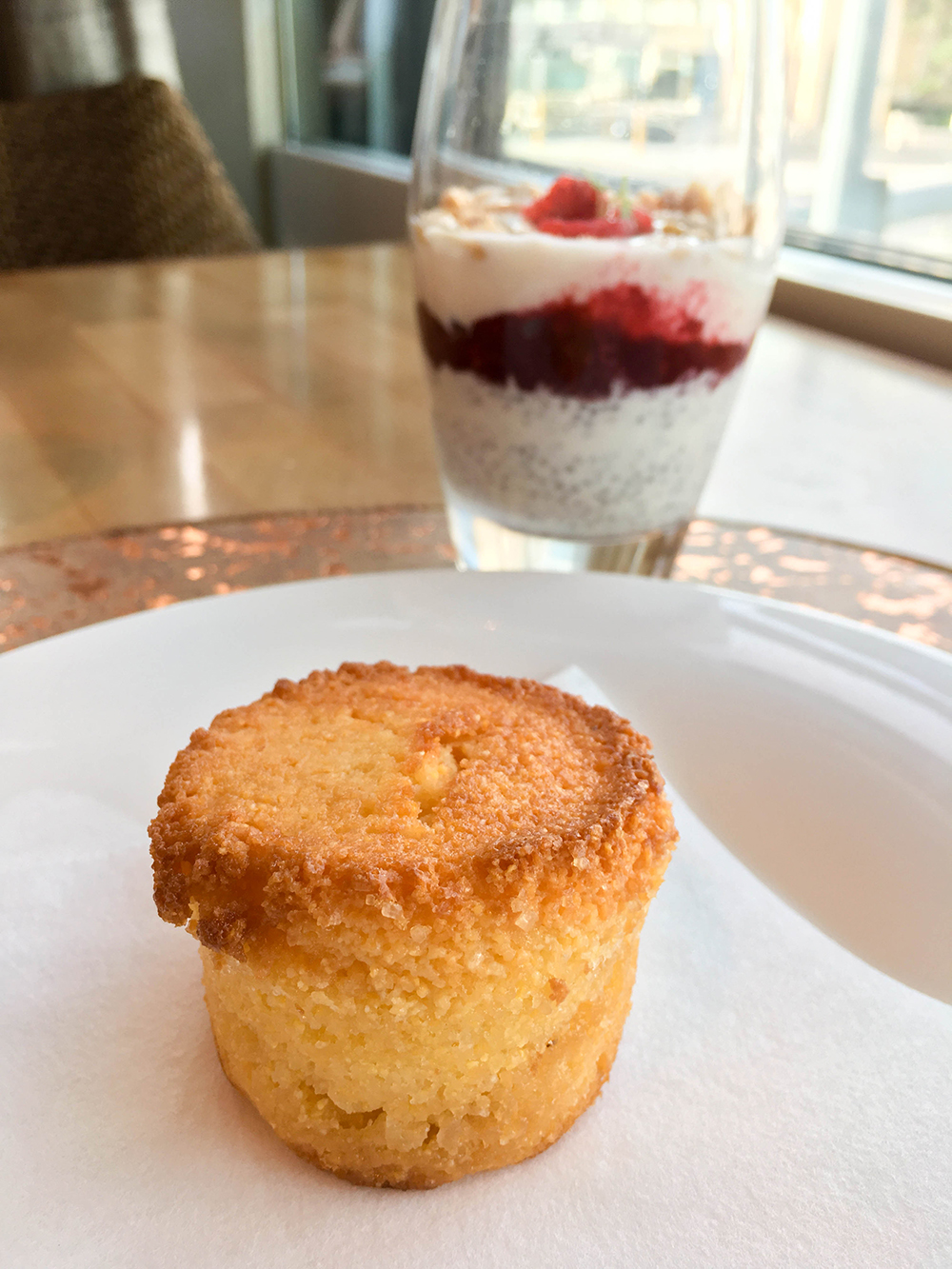 Gordon Ramsay Fish & Chips
We were not ready to go home yet…not until I grabbed a bite to take with me. This Gordon Ramsay place had a long line while we got there but they moved pretty quickly. They have minimal seating and the place has a sour milk (balsamic) smell.
They're famous for their fish and chips, which have thick and crunchy coating. And oh, don't forget to try their curry mango, Sriracha aioli, and truffle fries. Each order comes with two dipping sauces. The Sriracha dip was really good and helped flavor the fries.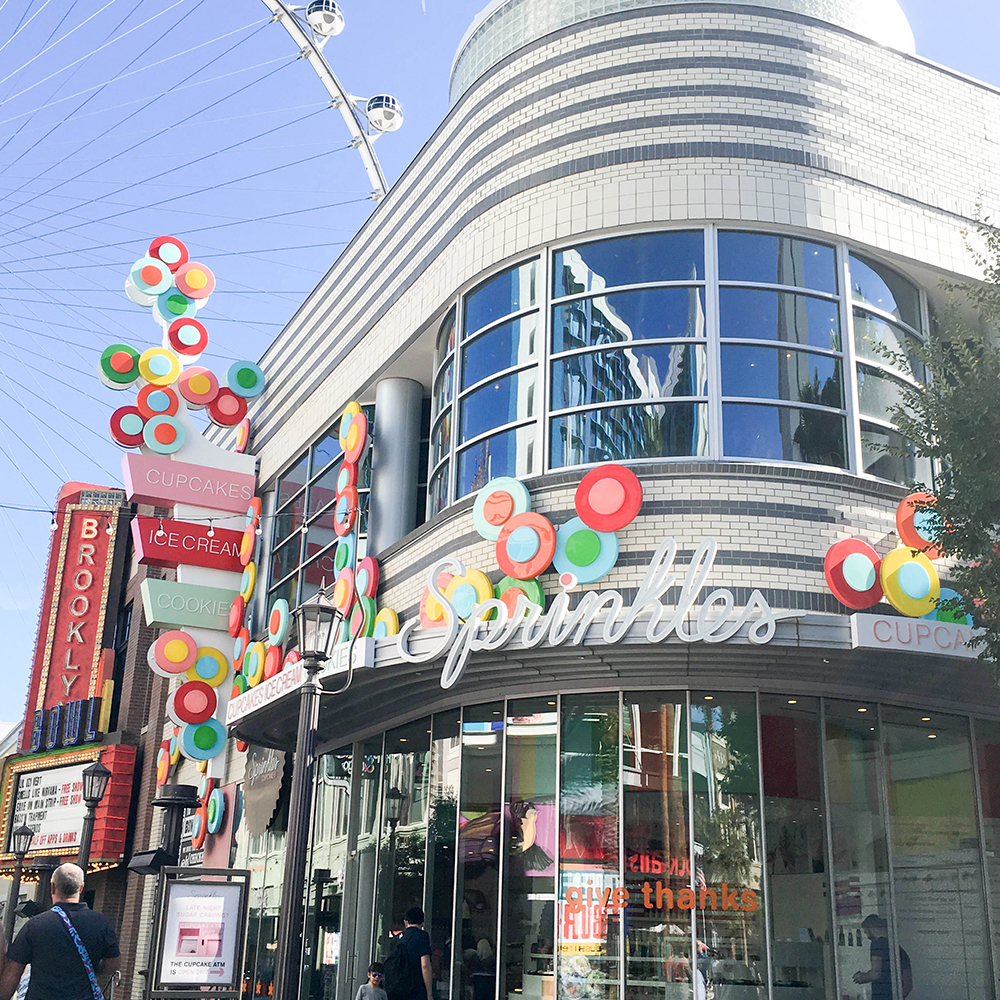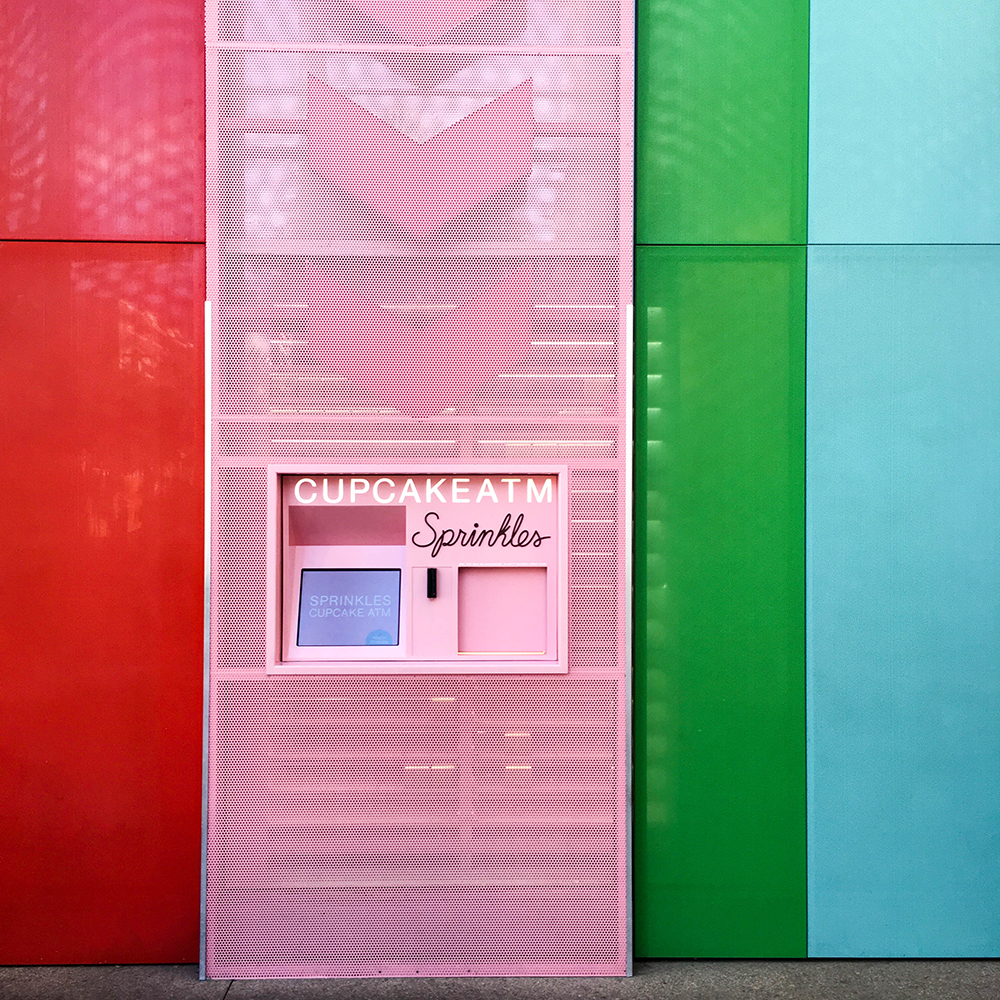 Sprinkles
Craving cupcakes is no longer an issue. If you're like me and haven't had enough sugar, they have a Cupcake ATM right outside the store! It's pretty dope and fun to use because who wouldn't want to get sweets in that fashion?!