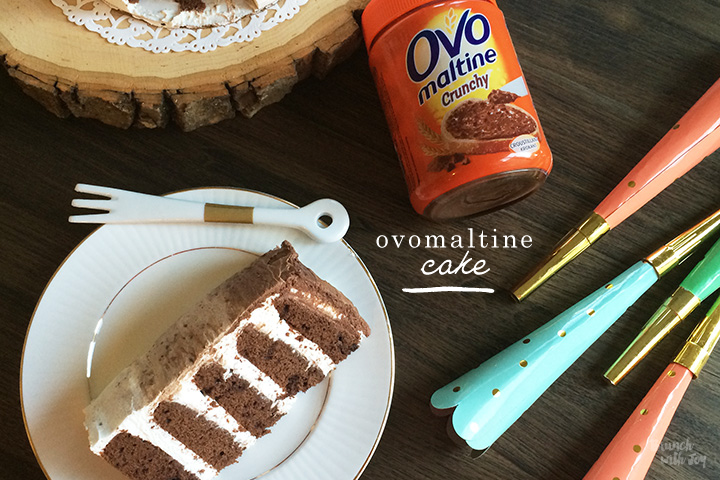 I've been very anxiously waiting for this day to come because we're celebrating National Chocolate Cake Day today. How I wish chocolate cake day happens everyday! I love chocolate and eat it religiously. About a year ago, I heard about Ovomaltine and thought of it as another speculoos cookie butter. But the story about it went viral and – being a chocolate lover – I was eager to try it.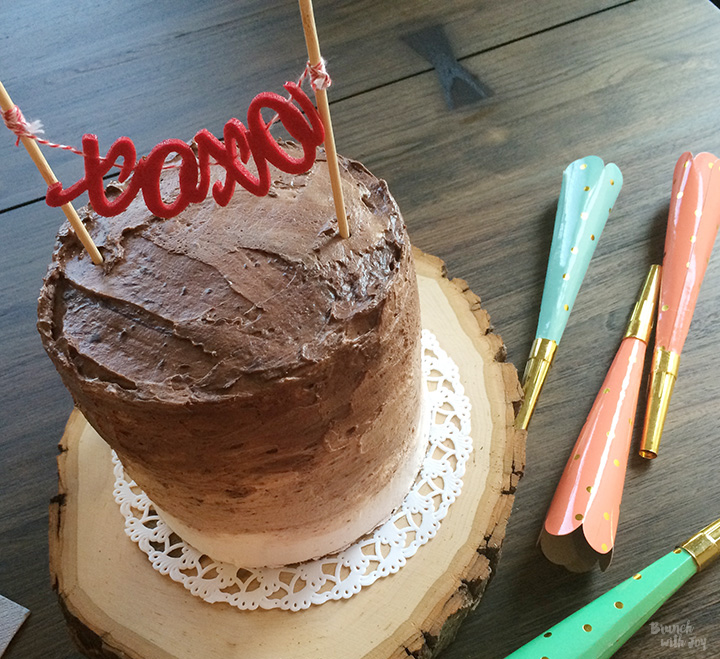 For $20 a jar, I must say it's highly priced but it's superbly delicious and makes a nutritious snack anytime of the day. Ovomaltine is a European favorite, containing sweet and creamy chocolate spread
with a crunch, flavored with real bits of Swiss-made ovomaltine malt granules. Ok, that's a long explanation about it already.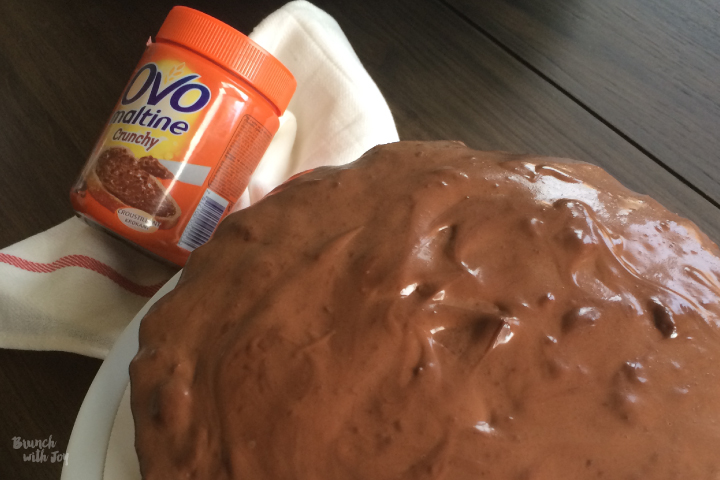 I've been dreaming about ovomaltine cake for a while. Imagine chocolate and bits, it's like a marriage between nutella and biscoff, but much better. To satisfy my cravings for chocolate, which happen daily, I made two batches of the cake. One is a 2-layer cake with ganache and another is a 5-layer cake with with buttercream. I'm in love with both of them, though I'd vote for the chocolate (ganache). But this chocolate cake recipe never disappoints and always brings smile to whoever enjoys chocolate… or not.
So cheers to National Chocolate Cake Day and here's a slice for you to enjoy!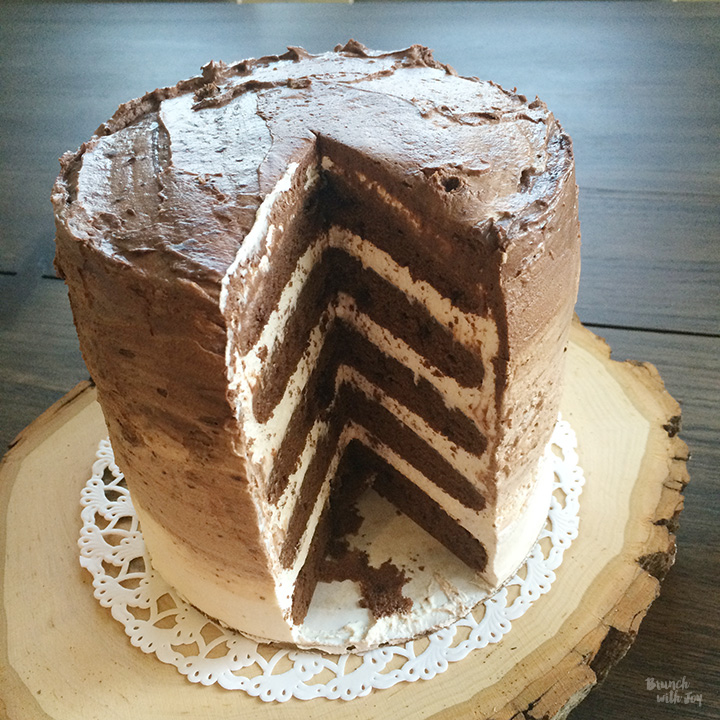 Okay, just another image before you jump to the recipe….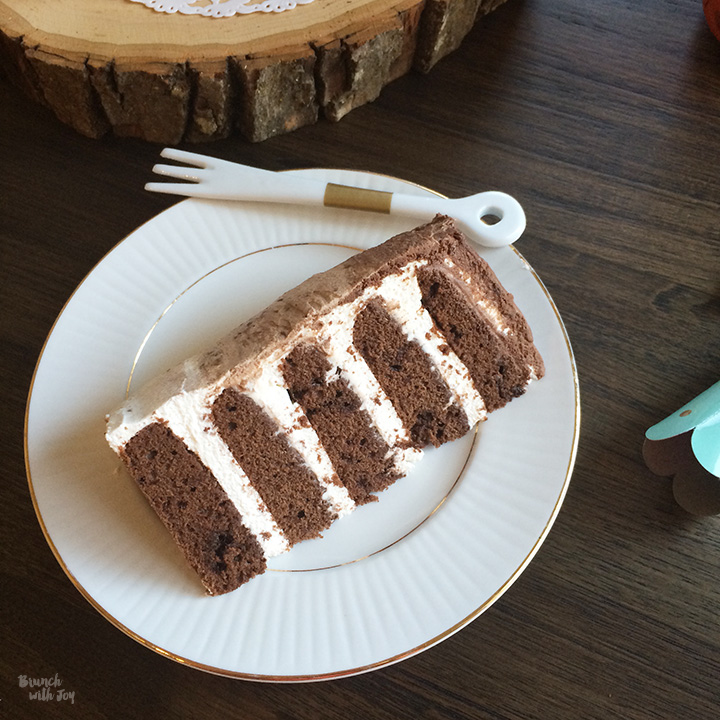 Print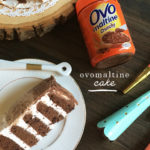 Ovomaltine Cake #National Chocolate Cake Day
---
Scale
Ingredients
Ovomaltine Cake:

4

eggs

100

gr sugar

1/2 tsp

vanilla extract

30

gr cocoa powder

75

gr all-purpose flour

1/2 tsp

baking powder

50

gr melted butter

3

tbs ovomaltine

200

gr heavy cream

100

gr dark chocolate
Chocolate Ganache:

1/2 cup

dark chocolate

1/2 cup

heavy cream

1 tsp

instant coffee
---
Instructions
Ovomaltine Cake: Preheat the oven to 350F. Spray two 6-inch round cake pans with nonstick cooking spray.
Combine the cocoa powder, flour, and baking powder. Set aside.
In a mixer, whisk the eggs, sugar, and vanilla extract.
Add the flour mixture and mix well.
Add melted butter and ovomaltine, combine it together.
Add the heavy cream and mix.
Using a spatula, fold the dark chocolate in until well combined.
Divide batter between prepared cake pans.
Bake for 15 minutes or until a toothpick inserted into cake comes out clean.
Cool cakes for 10 minutes, then remove to a wire rack to cool completely.
Chocolate ganache frosting: Bring cream to a simmer in a saucepan and remove from heat. Whisk in chocolate until smooth.
Transfer ganache to a bowl and chill, covered, stirring occasionally, until thickened but spreadable, about 4 hours. (If ganache becomes too thick, let stand at room temperature until slightly softened.)
Top with another cake layer and 2/3 cup ganache, evenly, then third cake layer. (Chill ganache if necessary to keep at a spreadable consistency.)
Chill cake until ganache filling is , about 1 hour. Keep remaining ganache at a spreadable consistency, chilling when necessary.
---
Notes
If you prefer Chocolate Glaze: While the ganache is still warm, pour over whole cakes to create a smoothy, shiny finish.