For some reasons, the hubbie loves checking our mailbox daily and he will get upset if the mailbox is empty. Is this only a guy thing or is it something that happens in your house too? He will be so happy even when they were all junk mails inside. I'm quite the opposite. I don't mind checking our mailbox every two or three days, except when I expect a special delivery from someone.
We discussed this mailbox thing the other day, and I asked him the reason. He simply replied because he loves surprises. Hmmm… fair enough. Most people I know loves surprises, except my ex-boss who detest surprises so much. When she turned seven, her parents made a surprise birthday party for her and she hated it so much. It's like the worst birthday ever, according to her.
Speaking of surprises, this month Bundt Bakers is all about hidden-surprise-filled bundt cake. I've been wanting to make this kind of cake ever since I read this Surprise-Inside Cake Book by Amanda. And that moment can't be any sooner. A big shout out to Anshie of Spice Roots for hosting us this month.
This bundt cake is so much fun to make. Filled with lots of colors and tons of surprises. The polka dots inside were made using cakepop maker, then placed into bundt cake mixture. The result? Lots of big smiles and happy dance from those who enjoy this bundt cake.
Print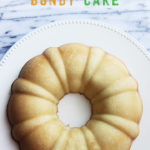 Polka Dot Bundt Cake #BundtBakers
---
5

eggs

250

gr sugar

1 tsp

vanilla extract

300

gr flour

1 tsp

baking powder

1

stick unsalted butter, melted

1 cup

milk
Assorted food colorings
---
Instructions
In a mixer, combine the eggs, sugar, and vanilla until light and fluffy.
In a separate bowl, combine the flour and baking powder. Add to the egg mixture and combine well.
Add the butter and mix. Add the milk and combine.
Scoop about 12 tbs and divide the batter between five or six small bowls (each bowl has about 2 tbs batter). Add a small amount of food coloring to each bowl to make different pastel shades. Bake according to your pop cake maker. After the cakes are baked, let them cool completely.
Preheat the oven to 375F.
Pour a small amount of batter into a well-greased Bundt pan. Drop a few cake balls into the batter. Continue layering the cake balls and batter.
Bake for 45 minutes or until a toothpick inserted into the center comes out with just a few moist crumbs attached Let the cake cool completely before removing it from the pan and enjoy!
This cake has a different texture than any other baked cake. It's moist, not overly sweet, and more like a steam texture.
Don't forget to check other surprises too!
#BundtBakers is a group of Bundt loving bakers who get together once a month to bake Bundts with a common ingredient or theme. Follow our Pinterest board right here. Links are also updated each month on the BundtBakers home page.
We take turns hosting each month and choosing the theme/ingredient. The theme for April is "Hidden Surprise" – Bundt cakes with fillings or stuffing. There was no constraint on filling and flavor choices.The only
requirement was that the cake be filled/stuffed inside. Anshie from SpiceRoots was our host for this month.
If you are a food blogger and would like to join us, just send Stacy an email with your blog URL to [email protected].