Shrimp Quinoa Salad
This happened the day before Valentine. I was busy testing a recipe and turning my kitchen into a big mess by slicing cucumbers and accidentally cut my finger. Ouch! It hurt so bad, so without examining it further, I quickly put a band aid on it, give it a little pressure, and just hope that there would be no blood or a minimal amount of blood. I stood in silence for the next 2 minutes before decided to open my band aid and finally took the courage to see the wound. Lo and behold, as soon as I open the band aid, fresh blood started flowing out of my finger. Unfortunately, the hubs was not around either so I decided to drive myself to the ER right away. Rushing, I completely forget to bring my jacket or cellphone as I was busy covering my finger with kitchen towel. That should hold it, I figured. Plus, ER is not that far away.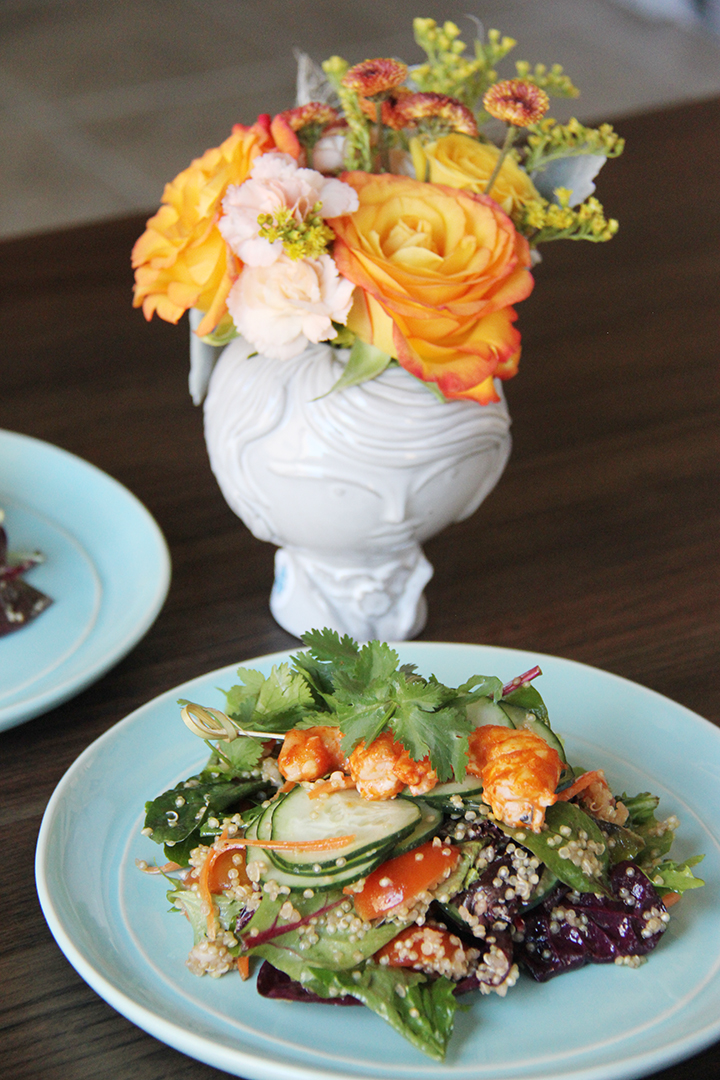 Eeeekkk! The tall big building that I thought was a hospital with ER turned out to be just a regular office building for that specific hospital. Oh gawd, I was horrified… not sure what to do next since I have left my cell phone at home, while the blood kept flowing out, dripping all over my pants. I blamed myself for being careless and forgetting my phone, and all other things that I could think of. Panicking, I stop by my regular clinic, hoping they could direct me to the nearest ER. I was very lucky… they sent me to a minor injury clinic. When I arrive, the receptionist greeted me with, "Do you have an appointment?" Of course not. Doh. She then told me to make an appointment if I want to be examined by the Doctor. Well, who has time to make an appointment when you're bleeding. By then, kitchen towel that I used to cover my wound was all red and wet.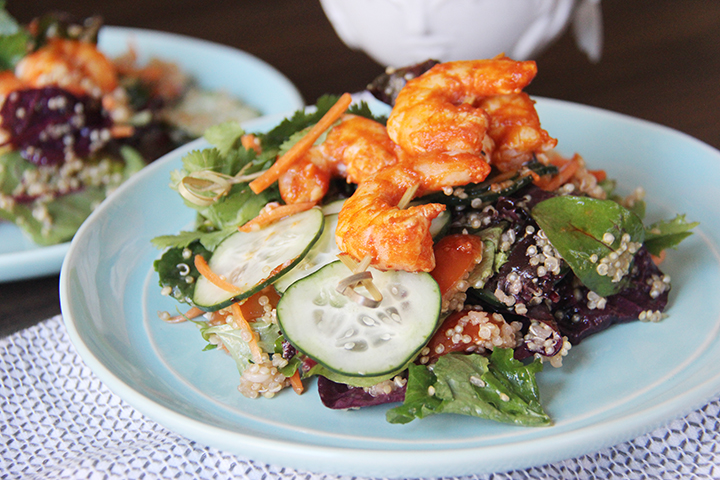 Luckily it did not take too long for me to be seen by one of the Doctors. No stitches were done because the wound was too deep and my finger pretty much had lost its skin, so there's nothing much to do other than numbing my finger and making the blood stop. It was lunch time by the time I got home and my finger was tightly covered. I had to take some time off last week because my finger was fully bandaged and I barely could write or type. I'm still recovering but feeling much better. On a positive side, I did not feel bad showing my middle finger each time someone asked me what happened to my finger. You can see my finger was wrapped in this Ramen Pizza video.

And on a more brighter note, this Shrimp Quinoa Salad is my current favorite. Who doesn't love a bowl of fresh delicious salad paired with spicy grilled shrimp. I am sure you don't want to skip this one. First, you marinate the shimps so the sauce soaks in. While it gets into the refrigerator, start rinsing quinoa with this washing colander that is designed to allow water to drain slowly to wash impurities and starch from rice, quinoa, buckwheat, barley and more. When done, start cooking your quinoa and leave it for 12-15 minutes. And that's the fun part begins with fresh salad. I love adding cucumbers and tomatoes to my salad. Aside from adding colors, it also brings out fresh flavors. I use this V-Blade mandolin slicer so my cucumber looks in one uniform. You can adjust the setting easily and saves your time. And the most fun part is this grape and tomato cutter. How cute are these! I like this toy so much and can't stop playing with it. Oh, be sure to get grape tomatoes or tiny tomatoes since it didn't work for cherry tomatoes. But you can still have fun with it. When your salad is ready, it's time to grill your shrimp and start mixing it all together. Who says salad can't be more fun and colorful? Because this Shrimp Quinoa Salad simply brings out the fresh flavor and rich color, all in one plate.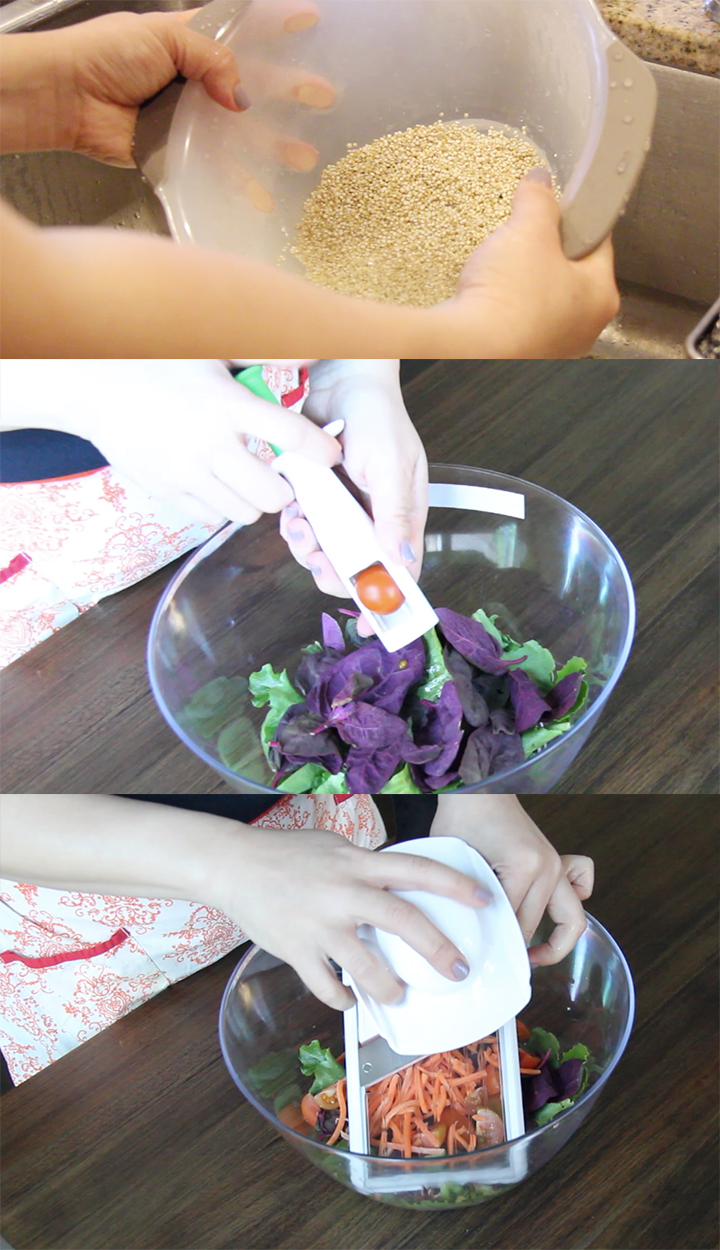 Print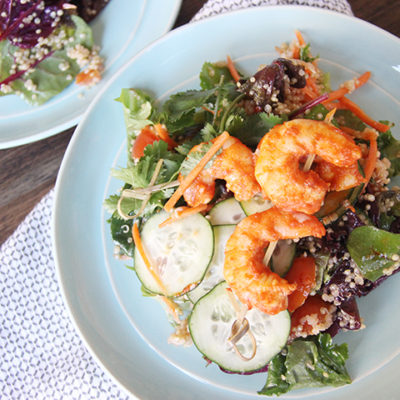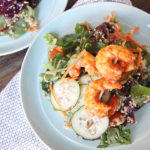 Shrimp Quinoa Salad
---
Quinoa Salad:

1

tbs olive oil

2

garlic, chopped

1/2 cup

uncooked quinoa

1 cup

cherry tomatoes

1

–

11/2

cup mixed green salad

1

small cucumber

1/2 cup

carrot, julienned

1/2

lb shrimp

1 cup

water

1

block seafood bouillon
Salad dressing:
Juice from

1

lime

4

tbs olive oil

1/4 tsp

salt

2

tbs honey
Shrimp marinate:

1/3 cup

sriracha

1/3 cup

oil

1 tsp

Worcesteshire saue

3

garlic, crushed

1 tsp

sugar
Juice from

1

lime
Salt
---
Instructions
Shrimp skewers: in a bowl, combine the shrimp marinate. Add shrimp and refrigerate for 30 minutes – 1 hour. When ready, preheat the grill. Thread the shrimps onto skewers and grill shrimps 2 minutes per side or until just cooked through.
Rinse the quinoa with cool water for 2 minutes. Drain.
In a saucepan, add the oil. Add garlic and quinoa, cook for 2 minutes.
Stir in water and bouillon. Lower the heat and cook, covered for 15 minutes.
Meanwhile, prepare the salad dressing by combining all the ingredients. set aside.
Start preparing the salad by slicing the cucumber and cherry tomatoes.
Remove the pot from heat and let stand for 5 more minutes, covered. Don't peek! Fluff the quinoa gently with a fork.
Combine salad, quinoa, and salad dressing in a bowl, Toss well and add shrimp.