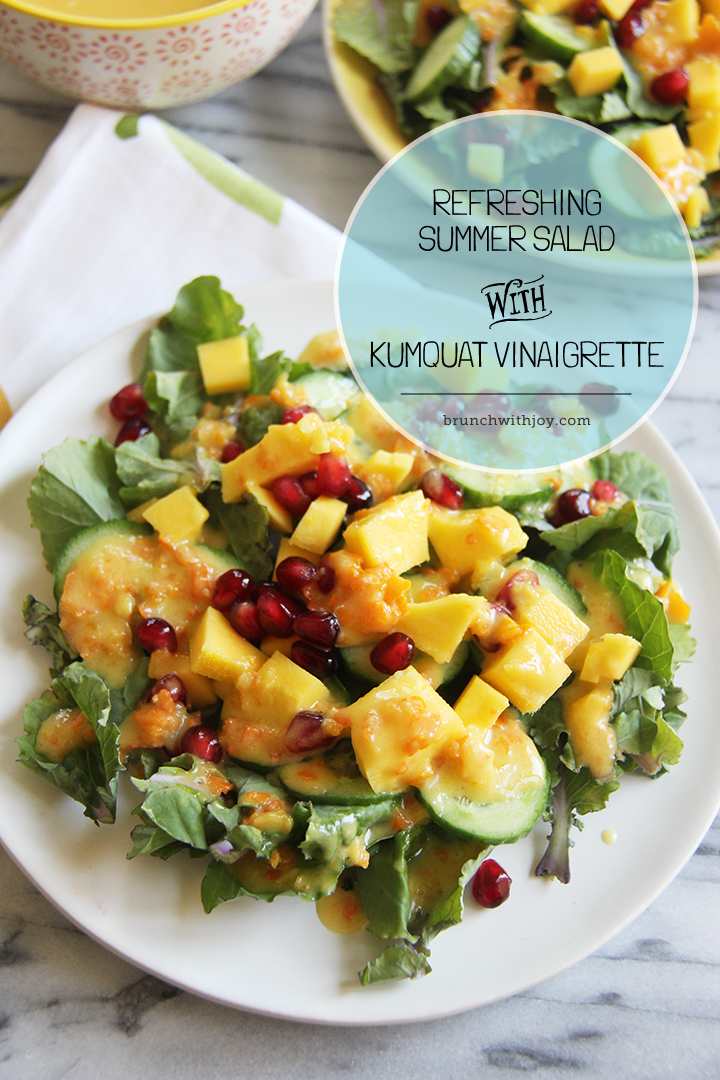 I don't normally post on weekends, but I made an exception this time because I wanted to share about this salad and OXO products. Cooking for two has been fun and challenging for me. It's fun because I know exactly what we like and dislike, so it doesn't take long for me to plan a week's menu, but it's a challenge because I always end up with so many leftovers from the ingredients I purchase. Not to mention I only do grocery shopping once a week; hence the ingredients often gone bad before I can cook them.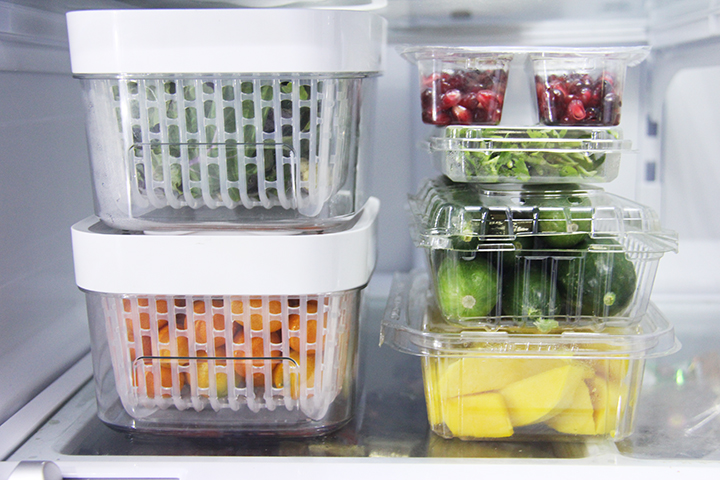 More than 25% of the fresh fruits and vegetables purchased by U.S. consumers are wasted annually before being consumed. That equates to more than 226 pounds per year for the average U.S. family! Why do we waste so much produce? When you bring produce home, you usually keep it in the plastic bags or the container it comes in. Storing your produce like this is actually causing it to go bad faster — this is the reason you often find rotten and slimy lettuce when you want to make a fresh green salad.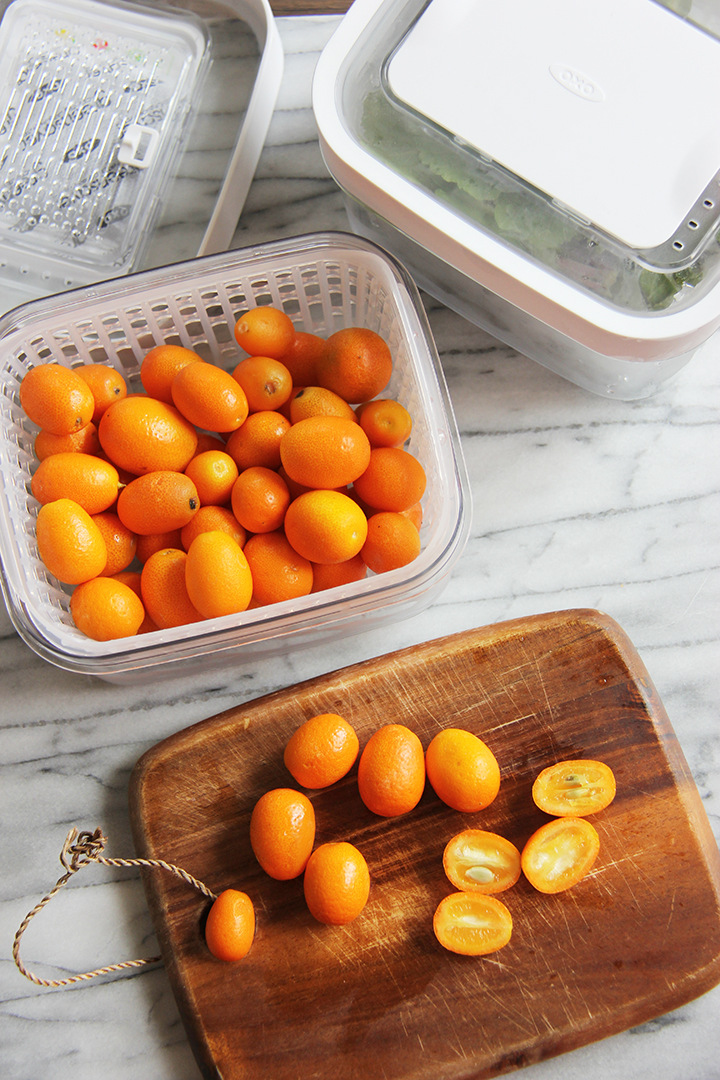 There are three main reasons produce rots and spoils:
Ethylene Gas: Fruits and vegetables give off ethylene gas. Exposing produce to ethylene gas speeds up the ripening process, causing it to over ripen and go bad.
Improper Airflow: When produce rests against the walls of containers, bags, or crispers, moisture can build up and cause rotting.
Uncontrolled Humidity: Fruits and vegetables require the perfect balance of humidity to keep them crisp and prevent wilting. To make things more difficult, different kinds of produce require different humidity levels.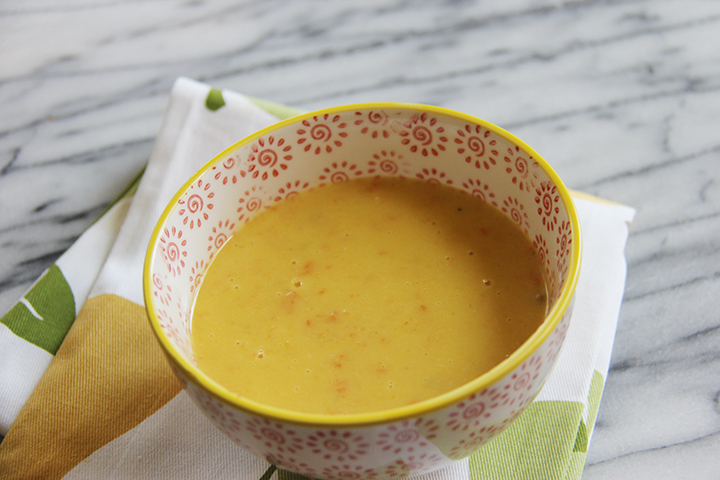 Okay, enough lesson about rots and spoils. I was so excited when OXO approached me and introduced their new OXO GreenSaver. It's a lifesaver for me and I can feel my produce looks and breaths so much better now. Look at these produce that have been kept in the kitchen for a little over a week.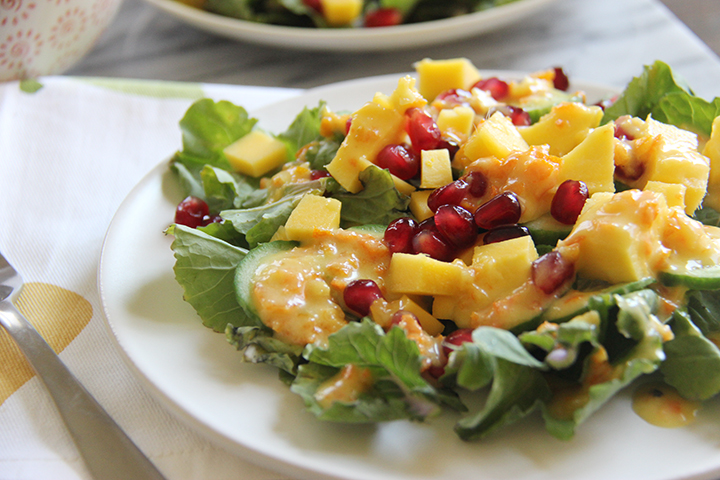 OXO GreenSaver does its magic by absorbing ethylene gas, promotes airflow, and controls humidity; hence the produce you keep will stay longer. Waste less. Save more. OXO GreenSaver comes with all natural and non-toxic activated carbon filters which help absorbs the ethylene gas given off by produce, slowing down spoilage and keeping fruits and vegetables fresh longer. It works just like the way a sponge absorbs water and it's good for 90 days. One of my favorite parts is also the elevated basket that promotes proper airflow and prevents rotting. This container prevents moisture buildup and can be used as a colander to rinse your fruits or vegetables. One last thing – you can also adjust the vent on top of each produce keeper to maintain optimum humidity levels for different types of produce, keeping them crisp and fresh.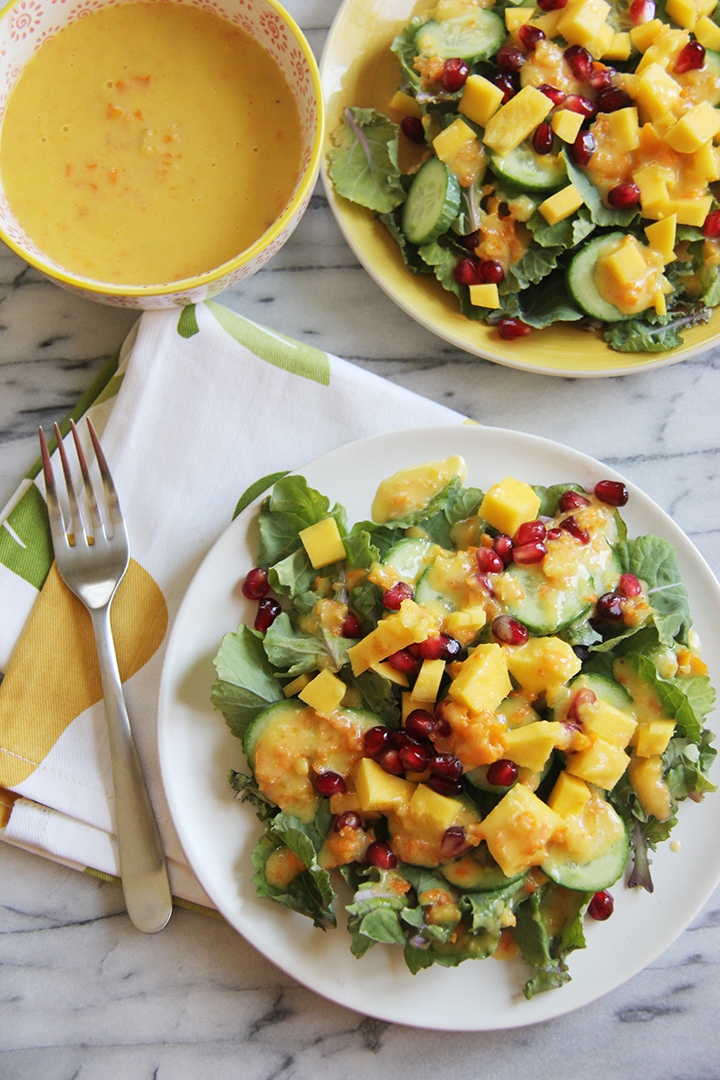 I'm so glad OXO found a solution to make our produce stay fresh and to celebrate it, I make a refreshing Summer salad with kumquat vinaigrette. My sister is a fan of kumquat and she's the reason I'm planting a kumquat tree in our backyard. I've only tried several things with kumquat, and this vinaigrette is now one of my favorites. Click
here
to learn more about OXO Green Saver.
Print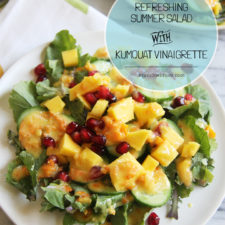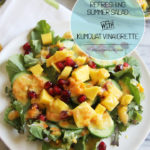 Refreshing Summer Salad with Kumquat Vinaigrette #OXOGreenSaver
---
Scale
Ingredients
1 cup

diced mango

1/2 cup

pomegranate seeds

1/2

–

1

small cucumber, very thinly sliced

2 cups

mixed salad greens
Kumquat Vinaigrette:

20

whole kumquats, washed, scrubbed and removed the seeds

1/4 cup

rice vinegar

1/2 tsp

salt

1/4 tsp

black pepper

1 tsp

grated ginger

2

tbs honey

1

tbs mirin

1/2 cup

extra virgin olive oil
---
Instructions
Combine the salad ingredients and toss with dressing. Divide salad greens into 2 plates.
Combine all the ingredients, except olive oil in a blender or food processor. Process on low until the kumquats are completely pulverized and the mixture is a pale orange color.
Add olive oil to the mixture and allow the vinaigrette to mix in the blender. You will end up with a thick, creamy vinaigrette. Adjust the seasonings to your preference.
Pour into a glass container with an airtight lid and store it in the fridge.
---
Notes
This vinaigrette is good for up to one month.