Tickle your taste buds with this thai shrimp scampi that will leave you full and satisfied.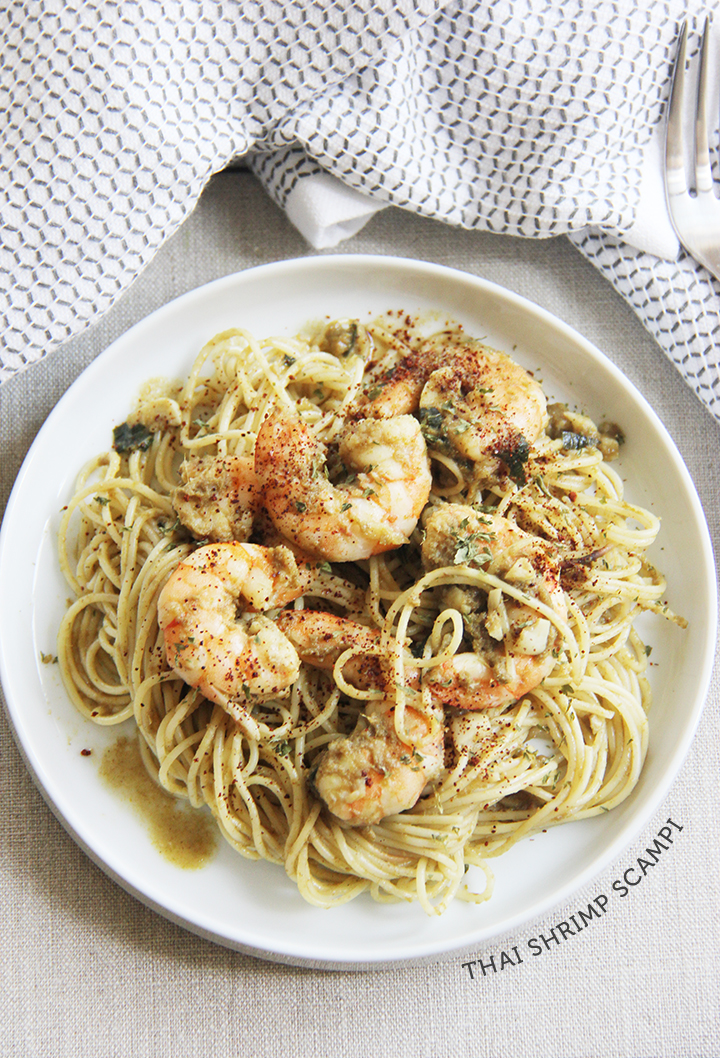 Do you love Thai food? If you do, then we should be best friends. I'm huge on pasta (and chocolate). But the past few weeks, I've been craving for Thai food. Any kind of Thai food – fried noodle or with gravy. In fact, I made a big batch of Thai foods for breakfast, lunch, and dinner… and yet still crave for another plate.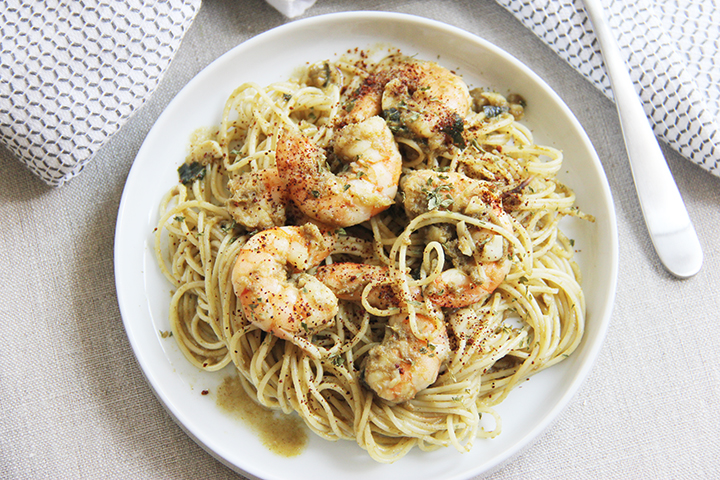 I feel bad for the hubby though since he needs to finish whatever dish I put on the table… like it or not. So, to make it up to him but at the same time to satisfy my craving for Thai foods, I made this Thai Shrimp Scampi. As a pasta girl, I like anything simple on my plate… like aglio e olio, with not lots of sauce.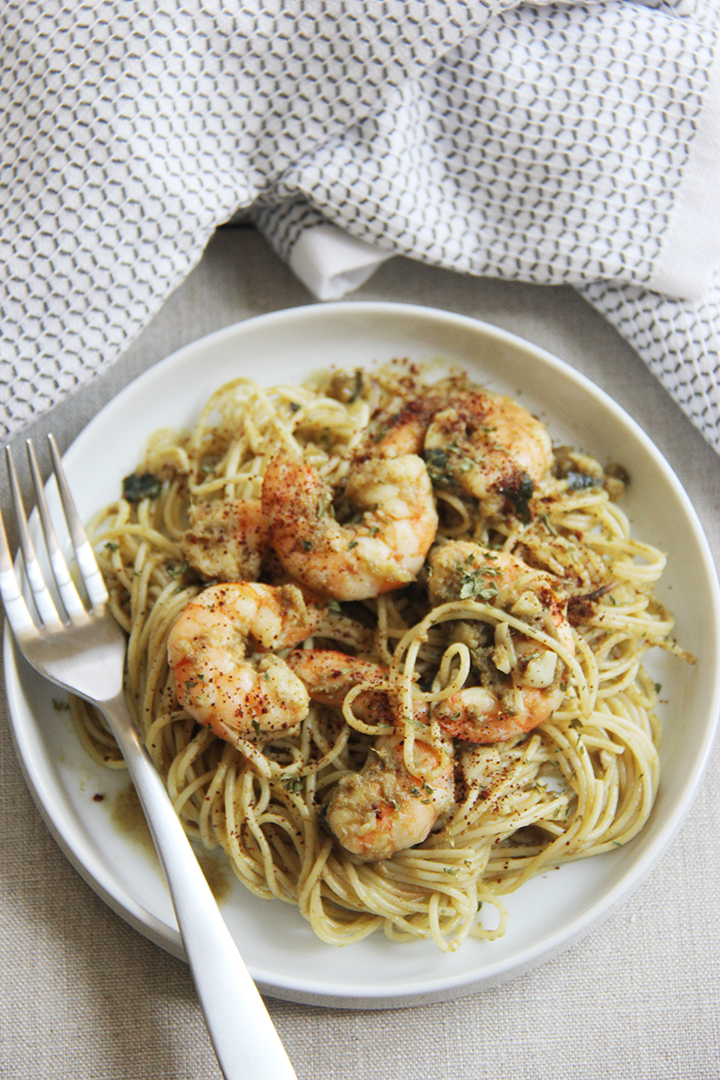 Though this scampi looks plain, it is actually full of flavors. Forget adding white wine to your pasta, because we will be adding green Thai curry instead to bring a unique and yet exotic Thai flavor to the table.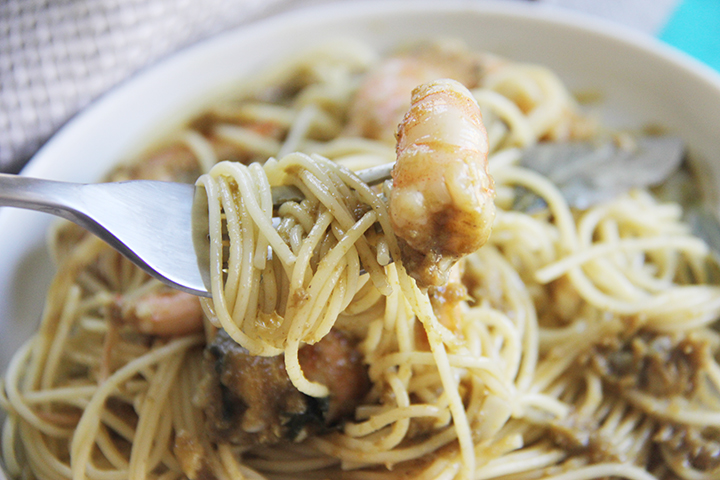 Thai Shrimp Scampi
Print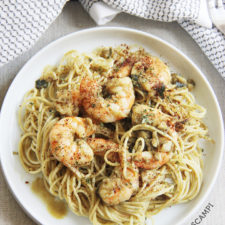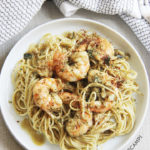 Thai Shrimp Scampi #WeekdaySupper
---
8 ounces

uncooked spaghetti

1 tsp

coconut oil

2 tsp

minced fresh lemongrass

3

garlic cloves, minced

1/3 cup

unsalted chicken stock

1

tbs Thai green curry paste

1

tbs fish sauce
Salt, to taste

12 ounces

medium shrimp, peeled and deveined

1

tbs chopped fresh Thai basil
Chili powder, optional
---
Instructions
Cook pasta according to package directions, omitting salt and fat.
Heat oil in a large skillet over medium-high heat.
Add lemongrass and garlic; sauté 30 seconds.
Add curry paste and chicken stock, and bring to a boil
Reduce heat and add shrimp, fish sauce, and adjust the taste.
Cook for 2-3 minutes or until shrimp are done.
Stir shrimp mixture and basil into pasta mixture. Enjoy!
Monday – Pulled Tandoori Chicken Nachos by Feed Me, Seymour
Tuesday – Thai Shrimp Scampi by Brunch with Joy
Wednesday – Barbecued Shrimp with Pineapple BBQ Glaze by Recipes Food and Cooking
Thursday – Mexican Grilled Seafood Foil Packets by Simply Healthy Family
Friday – Chicken and Pesto Skillet Dinner by Momma's Meals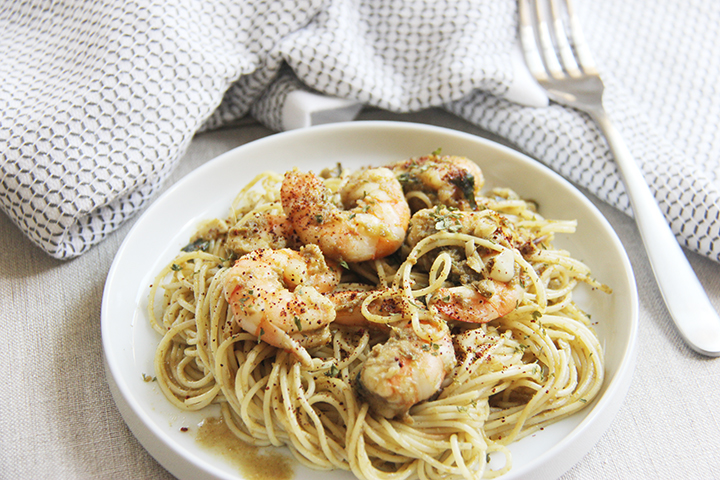 Save