This post is sponsored in conjunction with #BrunchWeek. I received product samples from sponsor companies to aid in the creation of the #Brunchweek recipes. All opinions are mine alone.
Are you a tiramisu fan? This is for you! Tiramisu French toast is my kind of comfort food – silky, chocolaty with a bit of coffee, this dish is easy to make and it will make you swoon.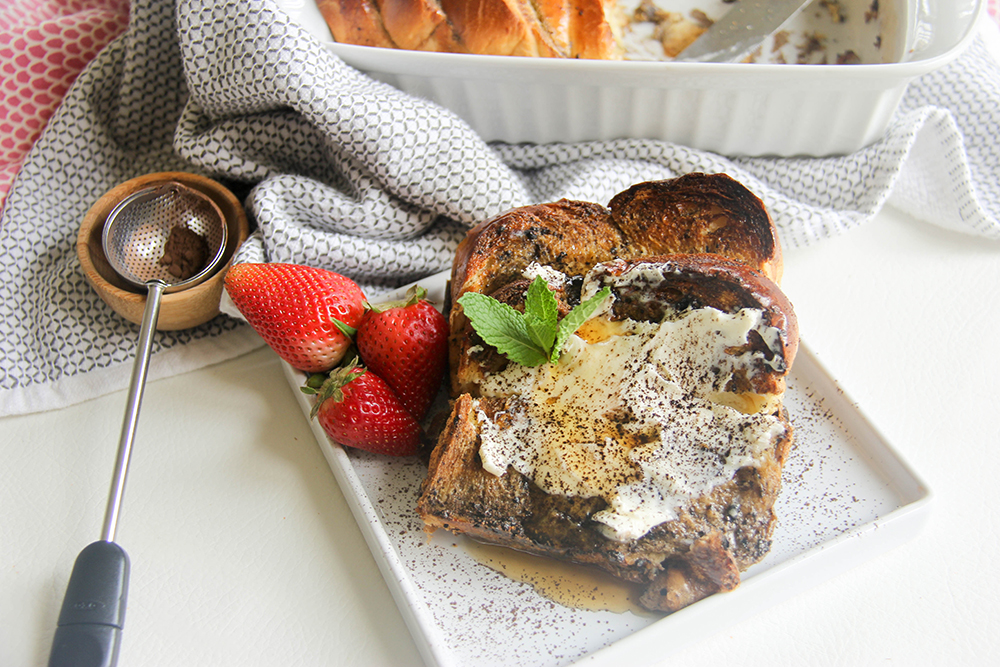 Forty Bloggers from around the North America will showcase their best brunch dishes, from cocktails to cakes, danish, tarts, and pizzas – with 170 recipes, there is something for everyone! Our amazing Sponsors have donated some great prizes for the #BrunchWeek giveaway. Thank you so much, Sponsors, for your generosity. We have an incredible giveaway below and we'd love if you would take a moment to read about it and what you can win!
Prize #1 Red Star Yeast is giving one winner an amazing baking set, which includes "I Knead to be Loaved" apron, French rolling pin, Bench/Dough cutter, Oven mitt, Dough scraper, Bamboo spatula, Silicone spatula, Measuring spoons, Kitchen towel, 6 3-strips of Red Star Yeast, Red Star Yeast recipe book, Kansas Wheat Commission recipe book
For more than a century, home bakers have trusted the high quality and consistent performance of RED STAR Yeast. Inspiring bakers from novice to professional, our goal is your baking success! Visit redstaryeast.com for hundreds of tried & true recipes, baking tips and how-to videos. Better yeast. Better bread. Every time.
Prize #2 Dixie Crystals is giving one winner 1 case of 2-lb Extra Fine Granulated Sugar, a silicone baking mat, White Marble Pastry Board and Marble Rolling Pin, and Dixie Crystals red ruffle apron.
Since 1917, Dixie Crystals® has been the South's choice for high-quality sugar and sweeteners. Our pure cane sugar products are all natural, non-GMO and provide consistently delicious results.
Prize #3 Cabot Creamery Coop is giving one winner $50 assortment of Cabot Cheese, one Berghoff Cheese Knife and one Slate Cheese Board
Cabot is a co-operative owned by 1,100 dairy farm families throughout New England & New York. In our farmers' communities, they are often the ones to volunteer first. We honor their community spirit with our Reward Volunteers program. Learn more & start logging your volunteer hours today! www.RewardVolunteers.coop
Prize #4 Nielsen-Massey Fine Vanillas & Flavors is giving one winner a set of their pure flavors: 2-oz each of Orange, Lemon, Peppermint, Almond, Chocolate, Coffee, Rose Water, and Orange Blossom Water.
Nielsen-Massey Vanillas has been crafting the world's finest vanillas and flavors since 1907. Each of Nielsen-Massey's all-nature pure flavors are crafted with premium ingredients, sourced from around the world and chosen to meet the utmost quality standards. From lemon to peppermint to coffee or chocolate, Nielsen-Massey's pure flavors offer convenience, quality and consistency to ensure your favorite recipes taste delicious every single time. All products are gluten-free, allergen-free, GMO-free, all-natural and Kosher.
Prize #5 Michigan Asparagus is giving one winner an Asparagus Steamer Pot with $40 gift card to Williams Sonoma and a box of fresh Michigan Asparagus
Fresh asparagus is the taste of spring and Michigan is one of the largest domestic asparagus growers in the U.S. Michigan Asparagus is available mid-May through June and is the only hand snapped harvested asparagus which means more usable asparagus and less waste.
Prize #6 Rainier Fruit is giving one winner a set of 3 stoneware pie plates with $40 Williams-Sonoma gift card and a box of fresh Lady Alice apples.
If you love apples, pears, cherries and blueberries than Rainier Fruit is the fruit brand for year. Nestled in the shadow of Mount Rainier, we focus on growing fruits and living a lifestyle that is Wholesome to the Core and brings you the best of organic and conventional grown fruit including our proprietary Lady Alice apples and all your other favorites like Honeycrisp and more.
So today I'm sharing with you this Tiramisu French Toast recipe. Sometimes I get a little bummed out being the only sweet tooth in the family. Luckily, I was able to convince my husband into a small plate of this French toast, and his reaction brought a big smile to my face. Obviously, this baked French toast can be too much for two people so you can make the recipe in half or simply save it for the next day.
This is one of those special recipes that has me compulsively stealing just ten more bites out of the leftover containers while I'm packing them up to put away in the fridge. Like one bite here because that container is just a little too full, and just onnne more bite on the way to the fridge to make sure the lid will fit, and then pop the corner on the container for just one more little taste once it's actually in the fridge, and then I better have a few more bites to even out all the containers because we have to be fair…
Pretend like you know what I'm talking about.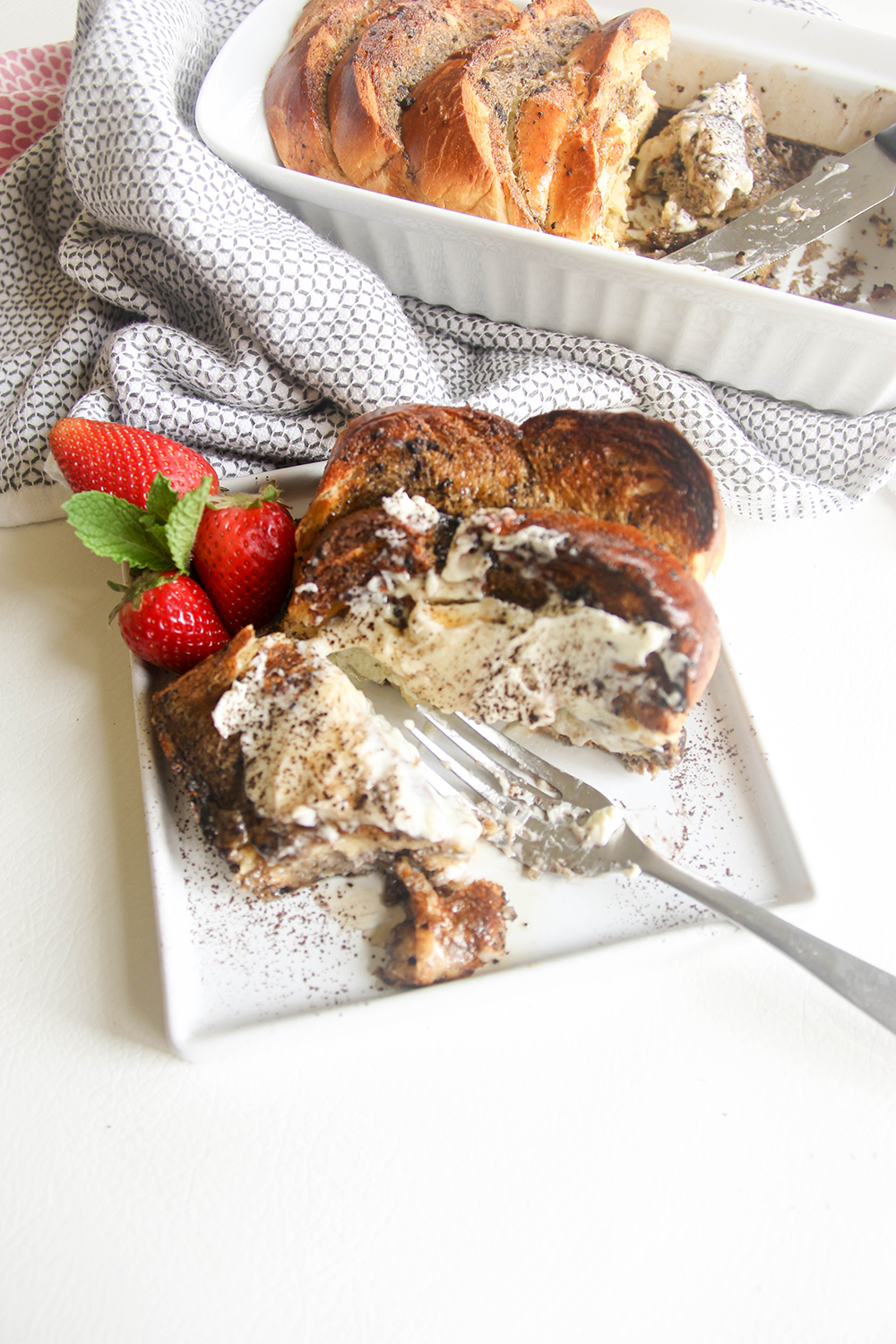 Print
1

loaf brioche bread

4

large eggs

1/4 cup

 almond milk

1

tbs instant coffee powder

1/2

tbs cocoa powder

1

tbs honey

1

tbs Nielsen-Massey vanilla extract

4

tbs butter

1 cup

mascarpone cheese
maple syrup for serving
sliced strawberries for serving
---
Sliced one loaf of challah bread into 1-inch thick slices. In a large baking dish, combine eggs, cream, vanilla extract, sugar, cinnamon and 1/2 tablespoon instant coffee powder and whisk together. Lay bread in dish and let soak in the egg mixture for about 30 seconds each side. Heat a skillet on medium heat and add 1 tablespoon of butter. Add french toast and fry until golden brown. Flip (adding more butter if needed, use your judgement) and fry on other side. Repeat with remaining slices of bread and tablespoons of butter. Mix mascarpone cheese with honey and remaining coffee powder and spread on french toast slices while warm. Sprinkle with cocoa powder and serve with syrup and strawberries.
Pre-heat your oven to 375 degrees. Grease a 9 X 5-inch loaf pan with non-stick coating spray and set aside.
In a microwave safe bowl, heat the dark chocolate in 20-30 second intervals, stirring between each interval, until the chocolate is melted and smooth. Add the mascarpone cheese and stir until the two are well combined. If it's difficult to combine, microwave the mixture an additional 20-30 seconds to further soften it. Set aside.
In a bowl, whisk together the eggs, whole milk, espresso powder and vanilla extra. Pour the mixture into a shallow pan. Set aside.
Slice the challah bread into 1-inch thick slices. Then cut the slices in half. Spread about a tablespoon of the chocolate-mascarpone mixture on half of the slices, then place the other slices on top (like you are making a sandwich). Working with a couple pieces at a time, add the sandwiches to the egg-milk mixture and let them soak for about a minute. Then flip them and let them soak on the second side for another 30-60 seconds. Remove the pieces from the egg-milk mixture and fit them into your prepared baking pan. Continue until your baking pan is full, tucking the pieces in so they fit snuggly. Pour about 1/4 cup of the remaining egg-milk mixture over top of the slices. Discard the remaining egg-milk mixture.
Transfer the baking pan to your pre-heated oven and bake for 28-30 minutes. The top should be browned in some places and the edges should be bubbling. Remove from the oven and set aside to rest for about 5 minutes. Dust with cocoa powder and confectioner's sugar before serving. This French toast is also great served with a side of fresh berries, whipped cream or maple syrup.
Leftovers can be stored in an airtight container in the refrigerator for 1-2 days.
Take a look at what the #BrunchWeek Bloggers are creating today!
BrunchWeek Beverages:
Homemade Orange Julius from A Day in the Life on the Farm
Kimchi Bloody Mary from kimchi MOM
Mimosa Bar from Love and Confections
BrunchWeek Egg Dishes:
Asparagus & Pancetta Frittata from The Chef Next Door
Breakfast Burritos from Books n' Cooks
Cheesy Asparagus and Ham Crepes from From Gate to Plate
Chilaquiles from The Redhead Baker
Coddled Eggs with Bacon and Cheddar from Family Around the Table
Eggs Benedict Breakfast Tacos from The Spiffy Cookie
Parmesan Polenta Brunch Bowl with Asparagus and Sausage from Cooking with Carlee
Put an Egg on it Mac and Cheese from Sew You Think You Can Cook
Smashed Sweet Potato Rosti with Butter Poached Egg from Nik Snacks
Smoked Eggs over Asparagus from Cindy's Recipes and Writings
Spinach Baked Eggs with Habanero Cheddar from Sweet Beginnings
BrunchWeek Breads, Grains and Pastries:
Apple Cinnamon Pull Apart Bread from Pink Cake Plate
Apple Crumble Bread from Hezzi-D's Books and Cooks
Apple, Sausage & Cheddar Oven Pancake from Wholistic Woman
Cheddar Asparagus Breakfast Tarts from It Bakes Me Happy
Cinnamon Roll Oatmeal from Big Bear's Wife
Cinnamon Roll Pizza from Palatable Pastime
Dutch Baby from That Skinny Chick Can Bake
English Raisin Scones with Apple Jam from The Crumby Cupcake
Gluten Free Cinnamon Rolls from Gluten Free Crumbley
Strawberry Lemonade Muffins from An Edible Mosaic
Strawberry Rolls with Orange Icing from The Nifty Foodie
Tiramisu French Toast from Brunch-n-Bites
Twisted Star Cinnamon Rolls from Amy's Cooking Adventures
BrunchWeek Main Dishes:
Biscuits and Gravy Bubble Up from A Kitchen Hoor's Adventures
Cheesy Bacon Chile Rellenos from Rants From My Crazy Kitchen
Country Fried Steak & Eggs from Forking Up
Homemade Chicken Sausage & Egg Stromboli from Hardly a Goddess
Spinach, Artichoke and Asparagus Strata from Cooking in Stilettos
Ultimate Cheddar Grits Bowl from The Barbee Housewife
Veggie Loaded Breakfast Enchiladas from Sarcastic Cooking
BrunchWeek Fruits, Vegetables and Sides:
Apple, Cheddar, Honey and Pepper Bites from Feeding Big
Asparagus Spring Salad from Girl Abroad
Sweet Pea Sipper from Culinary Adventures with Camilla
Thai Asparagus Slaw from Jane's Adventures in Dinner
BrunchWeek Desserts:
Baltimore Peach Cake from Cookaholic Wife
Mandarin Orange Bundt Cake from My Catholic Kitchen
Disclaimer: Thank you to #BrunchWeek Sponsors: Red Star Yeast, Dixie Crystals, Cabot Cheese, Nielsen-Massey, Rainier Fruit, and Michigan Asparagus for providing the prizes free of charge. These companies also provided the bloggers with samples and product to use for #BrunchWeek recipes. All opinions are my own. The #BrunchWeek giveaway is open to U.S. residents, age 18 & up. All entries for the winner will be checked and verified. By entering you give the right to use your name and likeness. The number of entries received determines the odds of winning. Six winners will be selected. The prize packages will be sent directly from the giveaway sponsors. The #BrunchWeek Bloggers are not responsible for the fulfillment or delivery of the prize packages. Bloggers hosting this giveaway and their immediate family members in their household cannot enter or win the giveaway. No purchase necessary. Void where prohibited by law. This promotion is in no way sponsored, endorsed or administered by, or associated with Facebook, Instagram, Pinterest, or any other social channel mentioned in the #Brunchweek posts or entry.