Oh gee, I had the most tiring weekend ever! We had a leadership conference over the weekend and I was one of the organizer. Although, we've done the planning few months back, but suddenly, there were more stuffs came in and for the past few days I literally only slept for 3 hours. Believe me, the fact that I was still able to smile was the side effect of too much caffeine and sugar at the same time; however, I was pleased to tell you that the event was a success and now I could finally have my beauty sleep.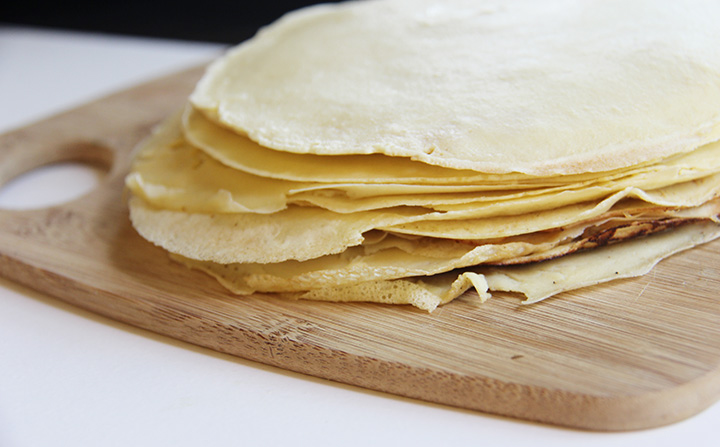 But another problem surfaced. If you noticed my persimmon creme brulee post last Friday, it did not come with pictures or recipe. Ugh! I tried to upload them several times, but the page did not want to cooperate. The content was there, but they did not want to show up at the same time. Quite annoying. Thankfully, everything went back to normal and if you heard a big sigh, that's completely a sign of my relief.
Now, have you tried crepe cakes aka mille layer cake aka thousand layers cake before? A couple of years ago, I did an experiment of making this cake and it came out quite bad. It's by far one of the hardest cakes ever! I normally love baking and if I have to choose, I'd choose baking over cooking; however this cake needs special attention.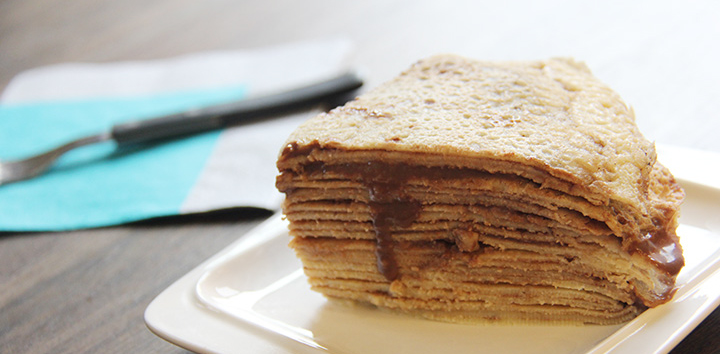 I modified the recipe from the Joy of Cooking, and I added toblerone as the glue to each layer; hence, I reduce the amount of sugar to balance out the taste. I've always adored thin layers vs. thicker layers; however I noticed, that the thinner it is, the hardest it is to get the toblerone to stick to the crepes. The batter was done the night before to produce thicker consistency. So, my conclusion is: toblerone was not a good 'glue' for this cake. I've tried nutella before, and it worked better; however, toblerone tasted better, ahem. But at the end, I totally appreciate those who have successfully made this crepe cake as this cake is totally a labor of love.
Print
Toblerone Crepe Cake
---
Scale
Ingredients
Crepe Batter:

6

tbs unsalted butter

3 cups

whole milk

6

large eggs

1 1/2 cups

all purpose flour

5

tbs granulated sugar

1/8 tsp

salt
Toblerone Cream:

15

tbs whole milk

200

gr toblerone
---
Instructions
Crepe Batter: Brown the butter. In a small pan, cook the butter until it is fragrant and the milk solids have turn brown. Set aside.
In another pan, boil the milk. Turn off heat and allow to cool for 10 minutes.
Beat together eggs, flour, sugar, and salt in a stand mixer with a paddle attachment. Slowly add the hot milk and browned butter. Mix until smooth and combined. Pour into an airtight container and refrigerator overnight (or at least 2 hours).
Toblerone Cream: In a saucepan, bring milk to a boil. Add the toblerone and remove from the stove. Let the toblerone melt by gradually whisking.
Assembly: Bring the crepe batter to room temperature. Place crepe pan over medium heat. Lightly grease the surface with toblerone cream using an offset spatula. Cover with another crepe and repeat to make a stack. Remember to save your best looking crepe to place on top.
Chill cake for at least 2 hours. Let cake sit at room temperature 30 minutes before serving.
---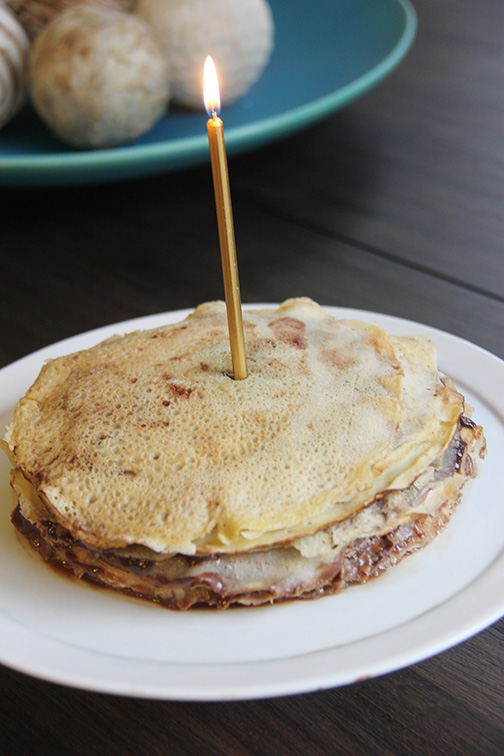 And it's not coincidence that I will be enjoying this cake while blowing the candle as I'm celebrating another year today.