This easy avocado cilantro dressing is healthy, nutritious, and ready in a flash. Best of all, it is perfect for every diet!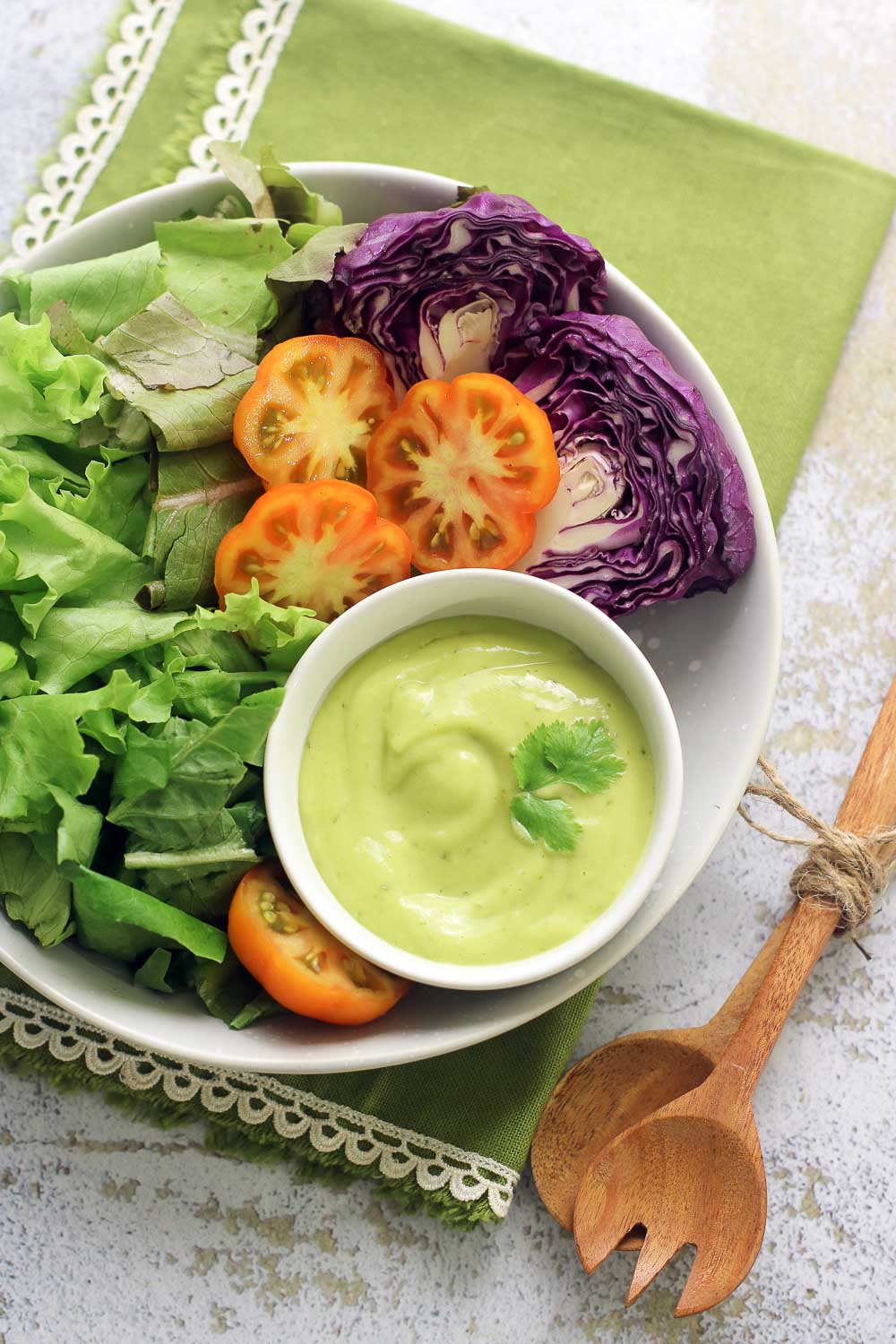 Hey guys. It's me and this magic green sauce. I'm currently on day 11 of my 21-day meat-free diet. It's so unreal. I've been trying to do this for a few years and always failed. It isn't easy for me to give up meat, so the fact that I have managed to make it this far should be celebrated… with this avocado cilantro dressing.
Healthy, creamy, saucy. What could be better?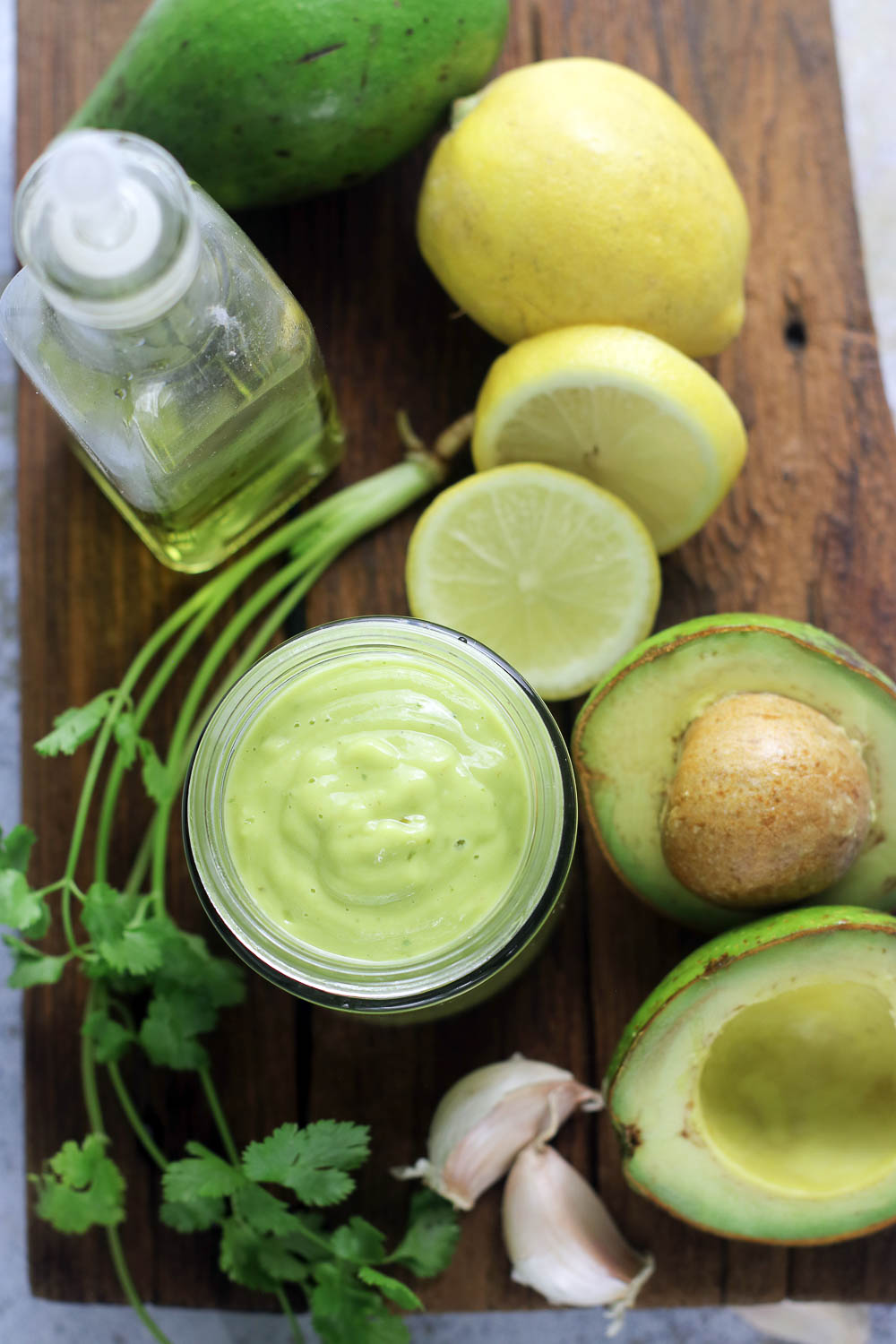 There's power in a good salad. For me, I like having rainbows on my plate. The biggest issue that I have with salads is that most are not delicious and don't look even vaguely appealing. There, I said it… but you were thinking it too!
I like salads because:
They are a filling, easy-to-make lunch or dinner
The best fresh produce can be tossed in
They are excellent for my (wannabe) bikini body
So, how about taking all that good-for-you salad stuff and making it taste even BETTER by topping it with something that is still fresh and healthy?
Sign me up!
Oh, never mind, I already signed myself up.
This avocado cilantro dressing is so creamy delicious. Let me repeat – deeee-licious. It has the ooh and aah factors that will make you want to lick the spoon before getting into your salad.
Well, I am just popping in quickly to share this recipe with you… but my mind is filled with this green goddess dressing. I am working on so many exciting blog things right now – like big writing projects, meeting with brands, and working on upcoming projects with my website developer. Lots of things are happening, and I'm stoked about it!
Question:
What do you do when the hunger pangs suddenly hit you at 8 pm, but you haven't planned for a meal, but you are ready to gnaw your arm off because you are so hungry?
Answer:
Put these ingredients in your food processor and turn it on.
This delicious dressing is my food dreams coming into reality. It is everything that I love in a dressing (although I do find it strange that some of you guys don't like cilantro – really??), and better yet, this dressing can be put in, on, over, between, with, or under any and every food that needs a dressing.
Tired of the same avocado cilantro dressing? You can have fun with it. Simply adjust the olive oil amount and you can turn it into a dressing, a dip, or even a spread!
In case you were thinking of doing a meatless diet, here are some ideas:
Final note: I have another salad dressing recipe coming up next week. Yes, there is no such thing as too much of a good thing… or dressing. So stay tuned.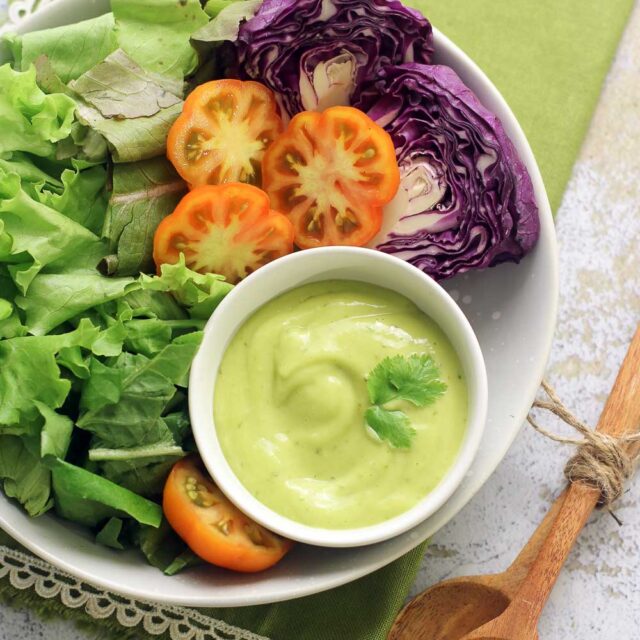 Easy Avocado Cilantro Dressing
This easy avocado cilantro dressing dressing is healthy, nutritious, and ready in a flash. Best of all, it is perfect for every diet!
Print
Pin
Rate
Ingredients
2

cloves

garlic

1

medium avocado

pitted

3/4-1

cup

olive oil

1

handful cilantro

roughly chopped

Juice of 1/2 lemon

Salt
Instructions
Put all of the ingredients in a food processor and blend until smooth. Adjust the taste as needed.