5-ingredient One Pot Cookbook

From waking up with a Tex-Mex Omelete to winding down your day with Chicken Cordon Bleu or a Sweet Potato Thai Curry Soup for dinner, this cookbook offers low-effort, delicious dishes that need only one pot and 5 main ingredients to make. With most recipes requiring only 30 minutes or less to prepare, cook, and serve—and others that only take 20 minutes or less— the '5-Ingredient One-Pot Cookbook' saves you time and energy in the kitchen so that you can spend your time eating well.
The book has 120 recipes that allow you to make easy, delicious meals with just fresh 5 ingredients, excluding pantry staple. My goal with this book is to show you how easy it is to make a yummy dinner without spending hours in the kitchen.
Most importantly, my biggest focus is to use fresh ingredients as much as possible, keeping processed ingredients to a minimum. While it may sound difficult to make homemade food that is healthy and tasty, you will soon see that you can create beautiful meals in the same amount of time it takes to order takeout. You will also save money cooking at home. One-pot cooking is an easy, stress-free way to prepare scrumptious, nutritious dinners.
In other words: dinner is on me!
Why you'll love this book?
One-pot cooking 101 provides shopping and storage tips, along with an overview of cooking techniques for every piece of cookware.
120 easy recipes that are organized by cooking vessel and feature skillet, saucepan, Dutch oven, sheet pan, baking dish, roasting pan, and no-cook bowl recipes.
5 main ingredients that keep shopping lists and kitchen prep quick and simple.
So what kind of recipes will you find in 5-Ingredients One Pot Cookbook?
Here are just some of the examples of easy tasty recipes:
Thai lettuce wraps
Corn chowder
Spicy sausage & kale soup
One-pot farfalle pasta
Sheet pan cajun shrimp
Arugula & prosciutto pizza
Asparagus tart
Roasted eggplant pitas
Garlicky roasted chicken
Fresh spring roll bowl
TLT sandwiches
Don't wait, and order your copy NOW!
---
One-Pot Cooking for Two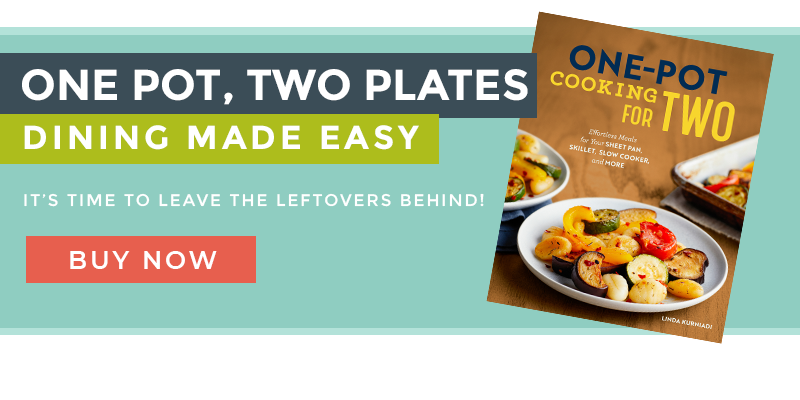 When cooking a meal for two (or one) in a world filled with supersized recipes better suited for four or six people, the biggest concern is waste. You either quickly tire of eating the same thing three days in a row, or end up throwing away food that has gone bad.
At the same time, we live in a fast-paced world where time is a limited commodity, and cooking a new dinner every night seems impossible. To all of you busy people out there—I feel you. I know that by the time you get home, you're tired and hungry and don't feel like cooking. It's tempting to either call for takeout or just warm up leftovers. But you have this book, and that means you are looking for solutions—you're in the right place. Luckily, you don't have to compromise.
So what kind of recipes will you find in One-Pot, Cooking for Two?
Sun-Dried Tomato Tortellini Soup
Slow Cooker Cinnamon Rolls
Thai Chicken Salad
Crispy Tofu Summer Rolls
Vegetarian Quinoa Bibimbap
Crabmeat Fettuccine
Coconut-Lime Chicken
Pork Zoodle Ramen
Cajun Popcorn
3-Minute Corn on the Cob
Don't wait, and order your copy NOW!