One of the hardest parts of healthy eating is having ideas at the ready when hunger hits. You may have dialed in high-protein breakfasts, planned a perfect lunch, organized and ideal dinner. But when snacktime hits, it so often derails the diet. We know we're not the only ones who have snuck into the kitchen, opened the cupboards and nibbled secretly straight out of the chocolate chip bag! And despite what you've tried telling yourself about sneaky snacking, those morning and afternoon (and midnight) munchies make all the difference.
So, what if you could snack without having to sneak? What if you had 40+ delicious totally original whole food snack ideas, created exclusively by 40+ of the web's best food bloggers?
Now you can! Take a look at 5-Minute Healthy Snacks and see if it's for you!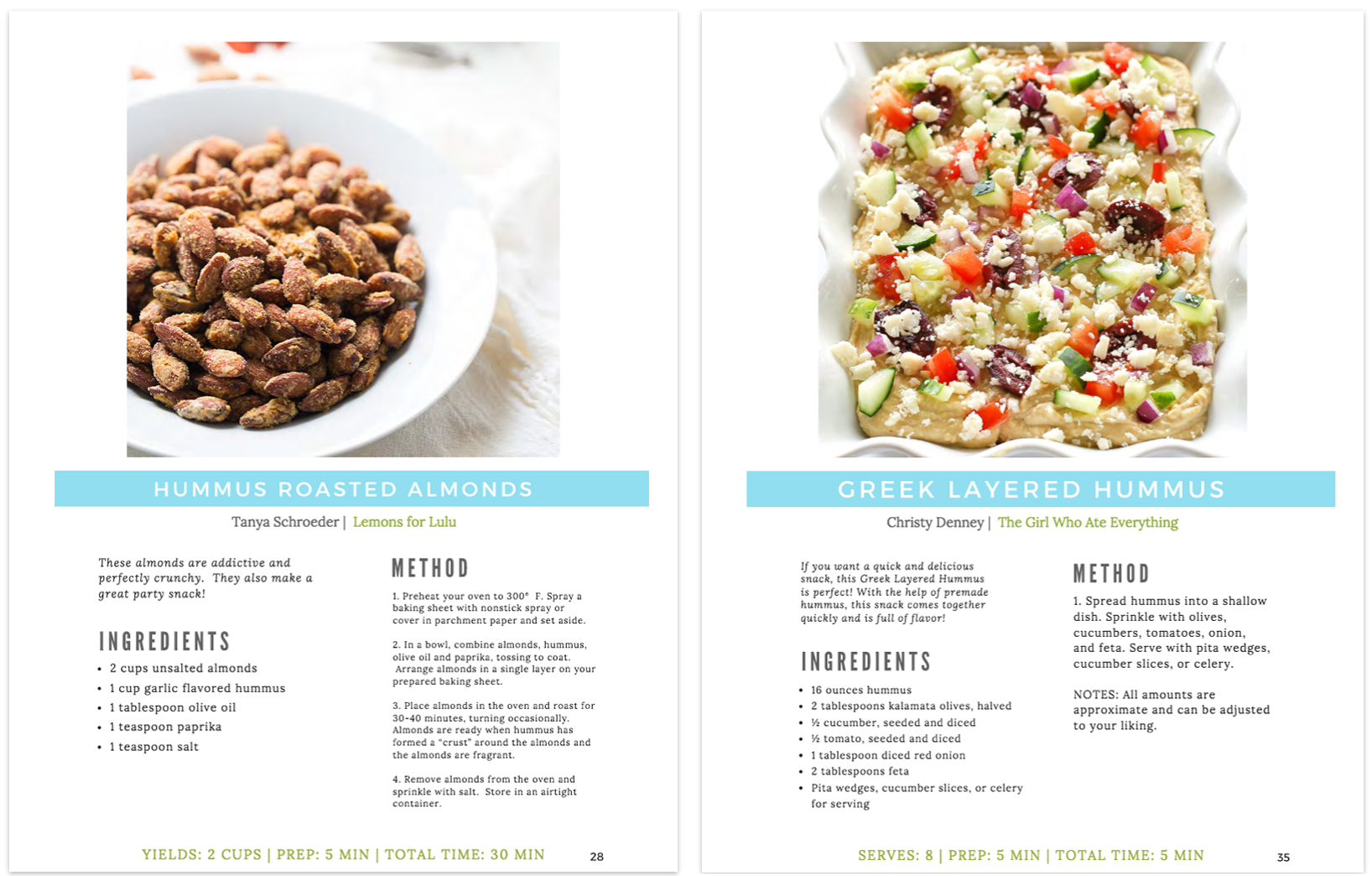 What Does The eCookbook Include?
42 Brand new and original snack recipes, all of which can be prepped and/or made in under 5 minutes.
Our quick-search, visual index makes it easy to click straight to the recipe you want.
No processed ingredients! Just healthy ways to enjoy real food.
Notes on every recipe from the contributing food bloggers.
Ideas so clever, kids will love 'em, too!
Beautiful photos of every recipe
Easy-to-Understand Instructions
Available in eBook form or printable PDF
Instant Download!
The Talent Behind the Cookbook
More than 40+ of your favorite food bloggers have come together to create this incredible recipe resource. Challenged with the task of developing totally new, insanely simple healthy snacks ideas.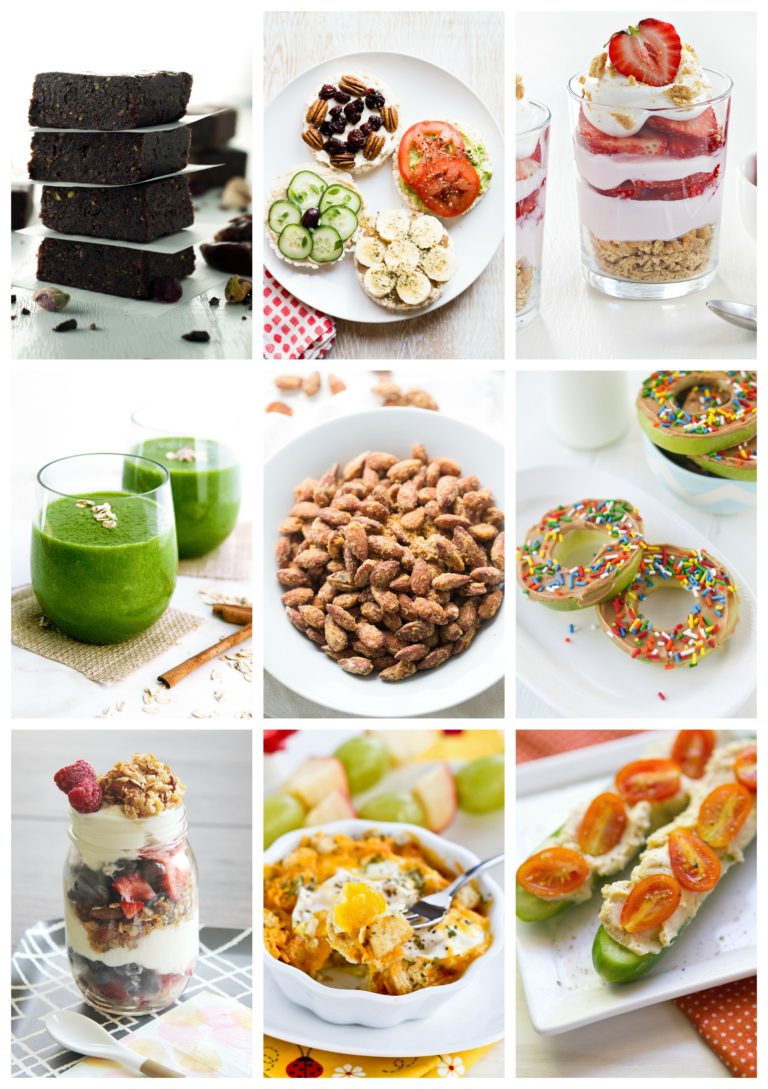 What Do People Really Think?
"Over the last year, I've lost 25 pounds, simply by cutting crap out of my diet and being mindful about the way I snack. But turning away from processed foods, and focusing on real food snacks and meals, I haven't ever once been on a "diet" but feel better than ever! The only problem? When hunger hits, I need fast ideas in an instant, or else I find myself bored and snacking on bad options. Enter, this amazing book! With so many ridiculously easy real food ideas, I can eat smart anytime. The ingredients are easy to keep on hand, every one of the ideas actually makes snack time fun. I love this book!" –H. Eaton
"Eating healthy doesn't have to be hard. I love this collection of 5 minute snacks – I always have ideas at my fingertips!" –Kelly
"I don't know about you, but I am often overcome with what I call "Pinterest Fatigue". It typically occurs when I'm looking for a recipe – and instead of finding that recipe I wind up down that Pinterest rabbit
hole, overwhelmed with choices and not at all sure about which are the winners and which will be abject "fails". Which is why I LOVE – and know you will too! – this cookbook. The best ideas from the best bloggers. Tried, true and guaranteed to be easy, beautiful and delicious. And don't worry – there are PLENTY of mason jars (wink-wink)!"- S.Silver
"All these recipes are so quick easy and my kids go crazy for them! As a busy (and honestly brain cell depleted) momma, coming up with new healthy snack ideas is a constant challenge. I love that I can open this up and have instant inspiration for feeding my two bottomless pits!" –Dani M.
Here's What You'll Get
5-Minute Healthy Snacks eCookbook, delivered in versatile PDF format.
Compatible with iPad and Kindle tablets, phone and/or computer.
5-Minute Healthy Snacks printable PDF. So you can create a hard copy for your recipe files.
30-Day Money Back Guarantee. If you don't love it simply request a refund within 30 days.  No questions asked.
40+ totally new ideas to give your snacktime cravings an instantly healthytwist!
FAQ's
Are these recipes vegan, gluten-free and/or paleo?
The recipes in this cookbook are designed to compliment a real food diet. Several of them fall under vegan, gluten-free and paleo. However, they are not exclusively limited to any one diet type.
What kinds of ingredients are used in the recipes?
With most of the recipes in this book focusing on real foods, you'll find ample use of fruits and vegetables in this cookbook. None of the recipes call for extravagant or hard-to-find items. Everything is a common ingredient, readily available in most local grocery stores. You won't even have to make a special trip to the health food store to make these recipes!
How many servings do the recipes offer?
Most of the recipes are made for 1-2 servings.
Do you offer a guarantee?
Yes! We made this cookbook to make your healthy life easier than ever. If you decide it's not for you, simply email us within 30 days for a full refund.
How many pages does the cookbook have?
46 pages, including a visual index which links directly to each recipe on digital devices. Please note: the index page will not appear on the printable version.
Do you offer a hard cover version?
5-minute Healthy Snacks is only available as a digital download. However, you will receive both a tablet-ready version and a printer-friendly 8.5×11 version with your purchase, so you can create a hard copy, if desired.
Have more questions?
Contact us here at coteriecookbooks@gmail.com, we'd love to hear from you!
Kickstart Healthy Snacking Today!
We wanted to create a cookbook that made real food more fun, more delicious and more craveable than fast food. And, we think we've succeeded! The 40+brand-new, totally original snack ideas in this cookbook won't just help you eat healthy. They'll have you looking forward to snacktime…everytime!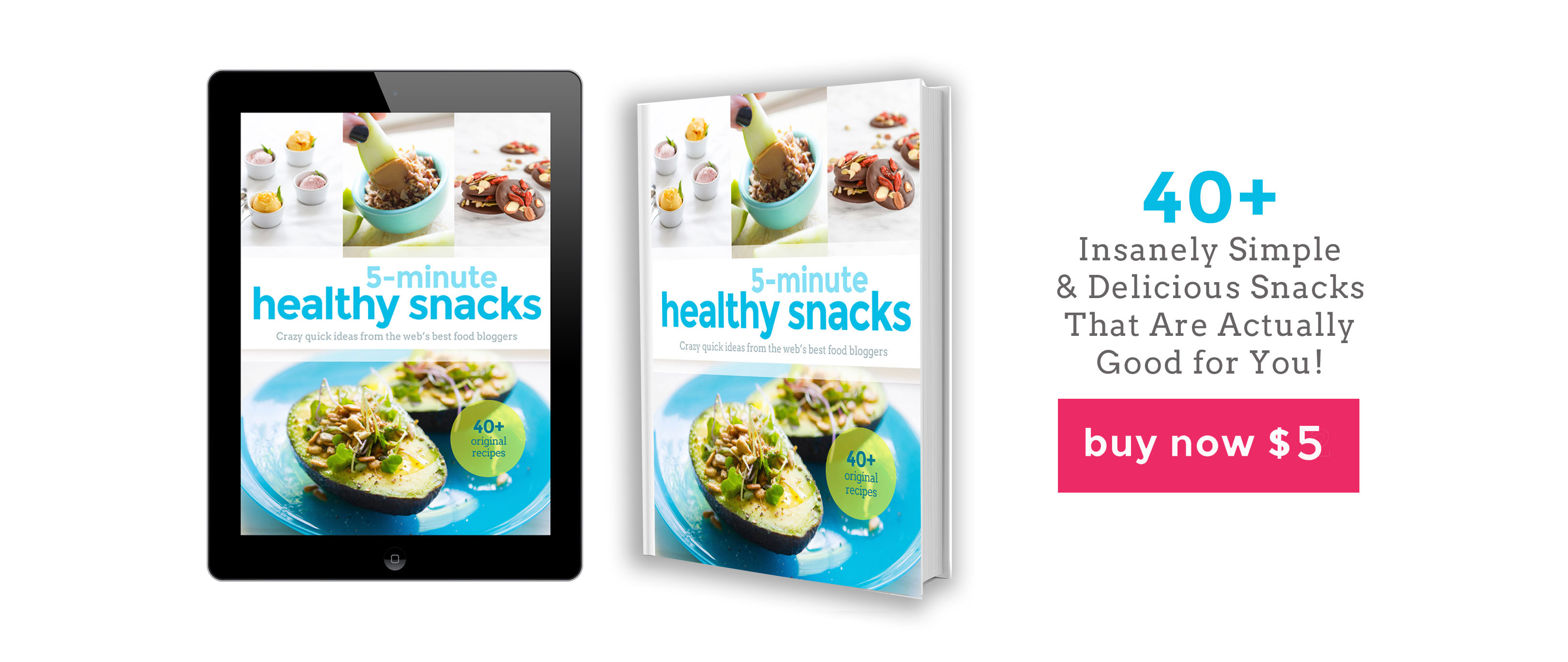 ORDERING PROCESS
You're just 3 minutes away from enjoying the 40+ brand-new snack ideas in this delicious eCookbook. Buying 5-Minute Healthy Snacks couldn't be more simple.
Here's how to order 31 Meals:
Click the Buy Now Button anywhere on this page
Enter your email address and Credit/Debit Card details or paypal information on our ridiculously secure checkout system.
You'll receive confirmation the payment has been processed and you'll get an email with a link to access your downloads!
Download, open, and enjoy your cookbook and resources!