A delicious breakfast item that stole our heart immediately at the very first bite! This Black Forest Croissant Bread Pudding will blow your mind, too!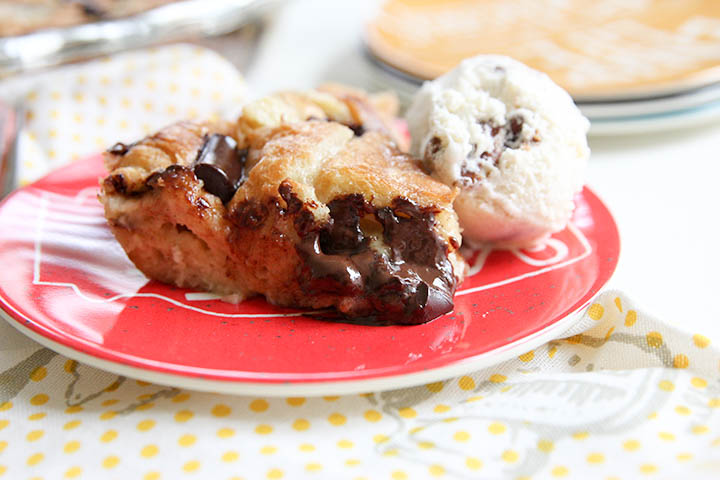 You guys, I wish I had the superpower to stop time. We've been wanting to go to this dumpling place ever since they opened in the Bay Area but it was so hard to get a reservation. So I felt like I had won the lottery when there was an empty slot on Friday night. We obviously said yes without any hesitation! This dumpling place is one of our favorite places in LA and they have several locations worldwide; but I found out they had slightly changed their menus since the last time we had stopped in. One of the things they had on the menu were chocolate dumplings. I saw it on TV few months ago and seriously thought about flying to NYC just for that. Thankfully I didn't book a trip, because they had the chocolate dumpling on the menu and they were the bomb! It was a pillow full of chocolate goodness, SO yummy! Ever since I've had it, I've been wanting even more chocolate desserts!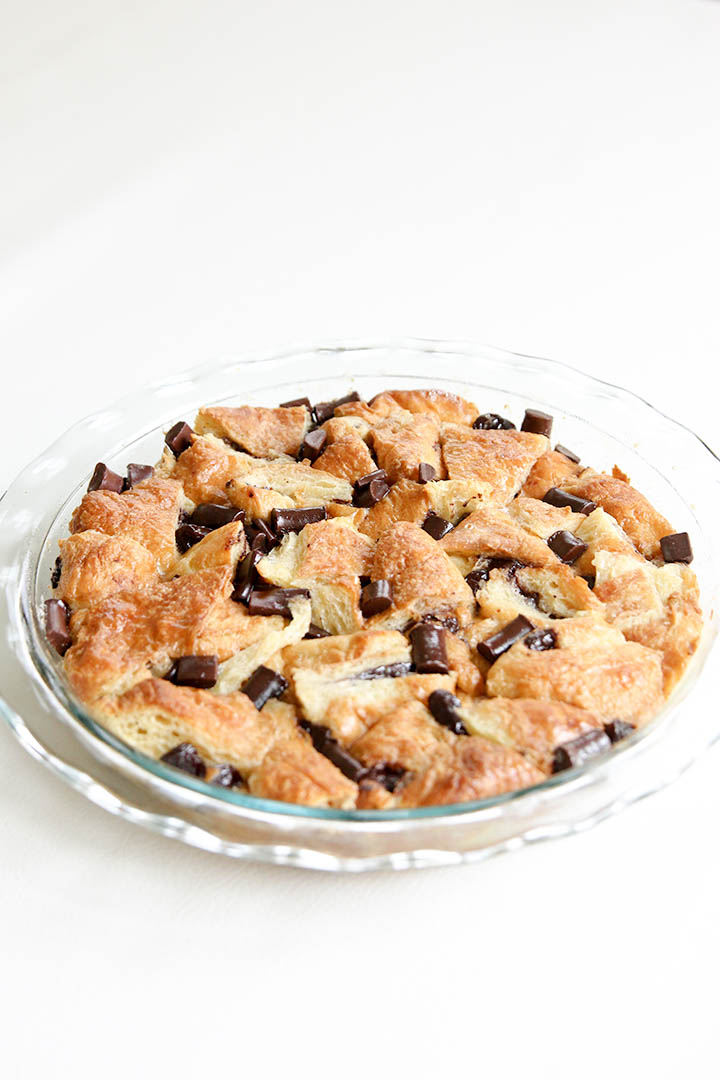 It's no secret that I love chocolate anything. Among all cakes I've baked, black forest is one of my top favorites. I'm not sure why, but black forest was the first cake I ever baked and it was for my Mom's birthday. I woke up early to bake the cake and added Chinese characters saying Happy Birthday. I wish I had taken a picture of it or at least remembered how to write those characters. It was long time ago when the internet was not even a thing at our home and I was still in primary school so I had to ask an expert to write it for me on a piece of paper!
A little over a decade later, I met my now husband and it turned out he's a big fan of black forest cake too! Over the years we've been hunting for the best Black Forest Cake that we used to have in Asia. It's moist with lots of dark cherry and rum. Oh yum! I could go for a big slice now.
So when I bumped into this Montmorency cherries from Stoneridge Orchards, I knew exactly what I was gonna make. Black Forest! But instead of making it into a cake, I turned it into a bread pudding. I'm using chocolate croissants as a base and adding more chocolate chunks to it. The result is super delicious! It's not overwhelmingly too sweet and the texture is moist, custardy, and perfect with a scoop of ice cream. I know you're going to love it!
Print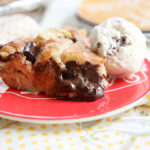 Black Forest Croissant Bread Pudding
---
Scale
Ingredients
5

egg yolks

1 cup

milk

1 cup

heavy cream

1 tsp

vanilla extract

1/3 cup

sugar

1

stick unsalted butter, melted

4 oz

dried cherries

4 oz

chocolate chunk

6

croissants, cut into cubes
---
Instructions
Spray a 9×13 baking dish with cooking spray. Place croissant cubes in a baking dish.
Add dried cherries and chocolate chunk in between croissants.
In a mixing bowl, combine egg yolks, milk, heavy cream, vanilla, sugar, and unsalted butter.
Pour over croissant cubes, making sure they are all soaked.
Cover with foil and refrigerate for 1 hour.
Preheat the oven to 350F.
Bake (while still cover in foil) for 35 minutes. Remove the foil and bake for another 10 minutes.
Serve with vanilla ice cream.
---