Homemade Chicken Spring Rolls with Cilantro Sauce is easy to make, refreshing, and makes a delicious lunch, dinner, or snack on-the-go. Enjoy these spring rolls with this crispy lemon chicken.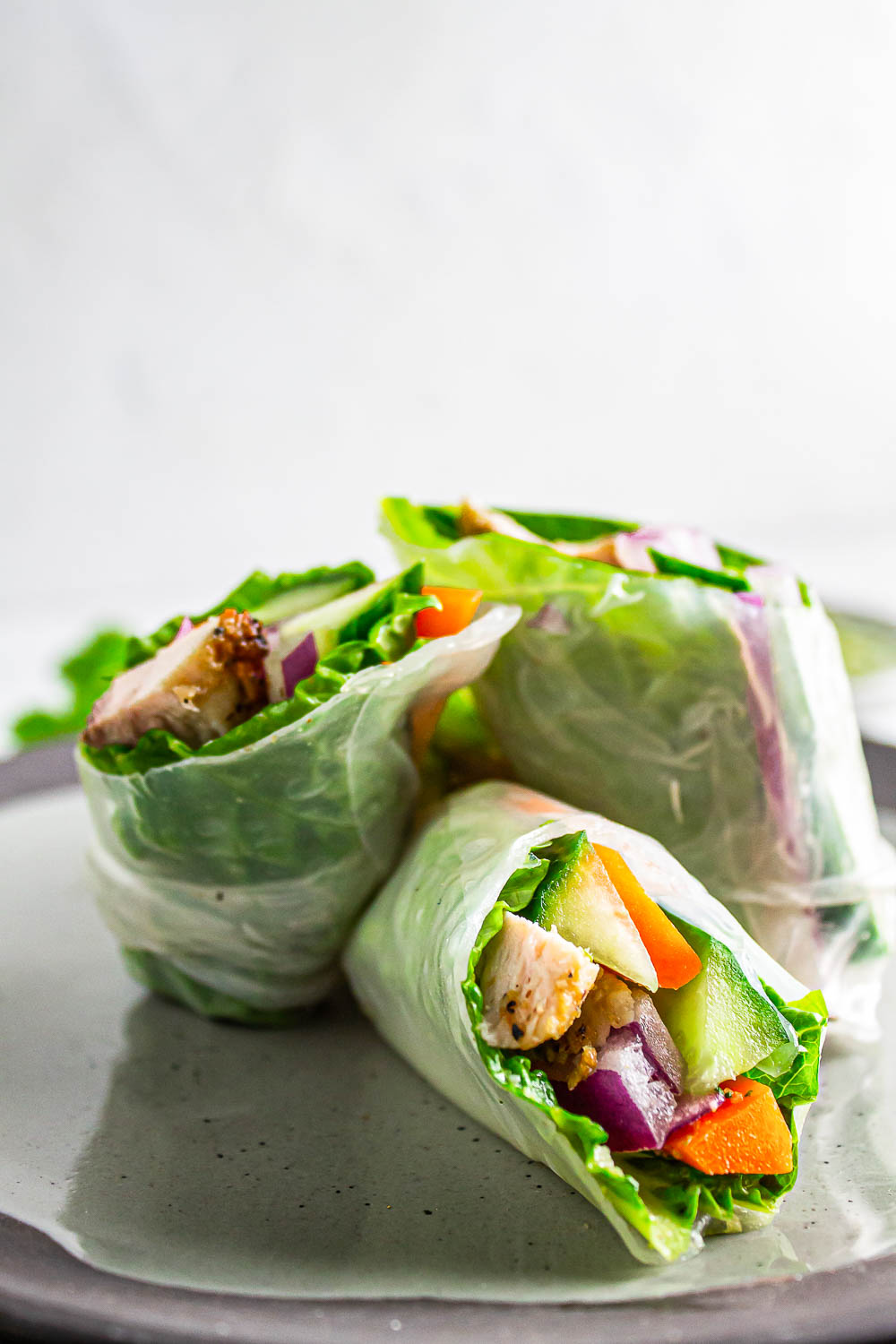 I've been soaking myself in a good amount of vitamin D lately because the sun is finally out. Phew, so glad to be able to enjoy such nice weather these past few days. And of course, I need a quick bite after a quick walk around the block. And what is better than Vietnamese spring rolls with extra protein and delicious sauce. Friends, please welcome Chicken Spring Rolls with Cilantro Sauce.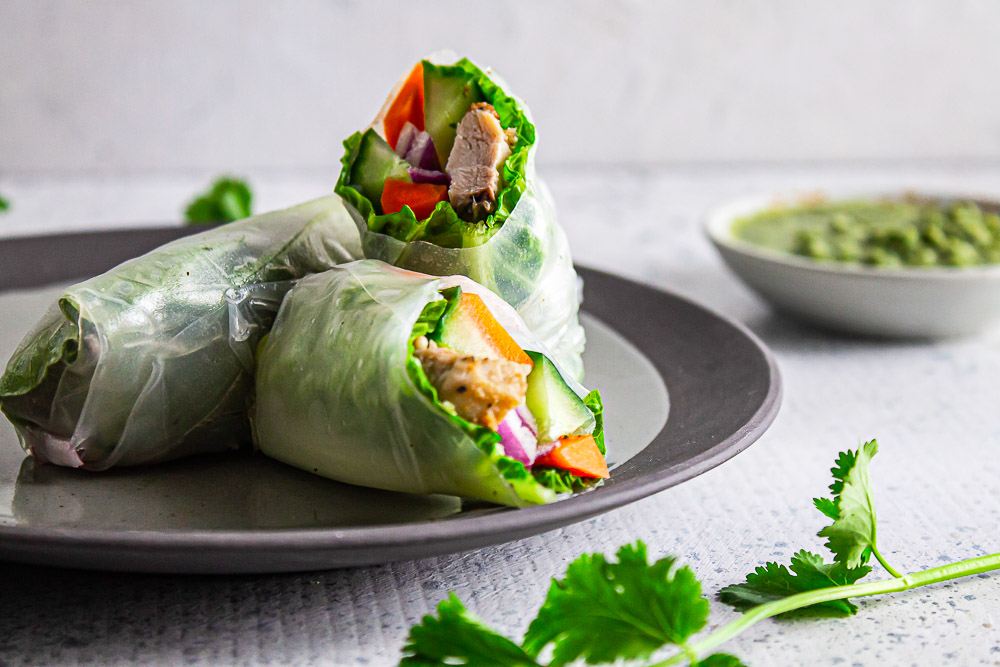 Fresh spring rolls are actually something I enjoy so much. They're easy to make, refreshing, and delicious for lunch, dinner, or snack on-the-go. If you're into spring rolls like me then it's time to make some at home, too and don't be intimidated by the ingredients. They can all be found at a regular grocery store so a trip to the Asian food market is not necessary unless you want to go extra miles and add fish sauce in your dipping sauce.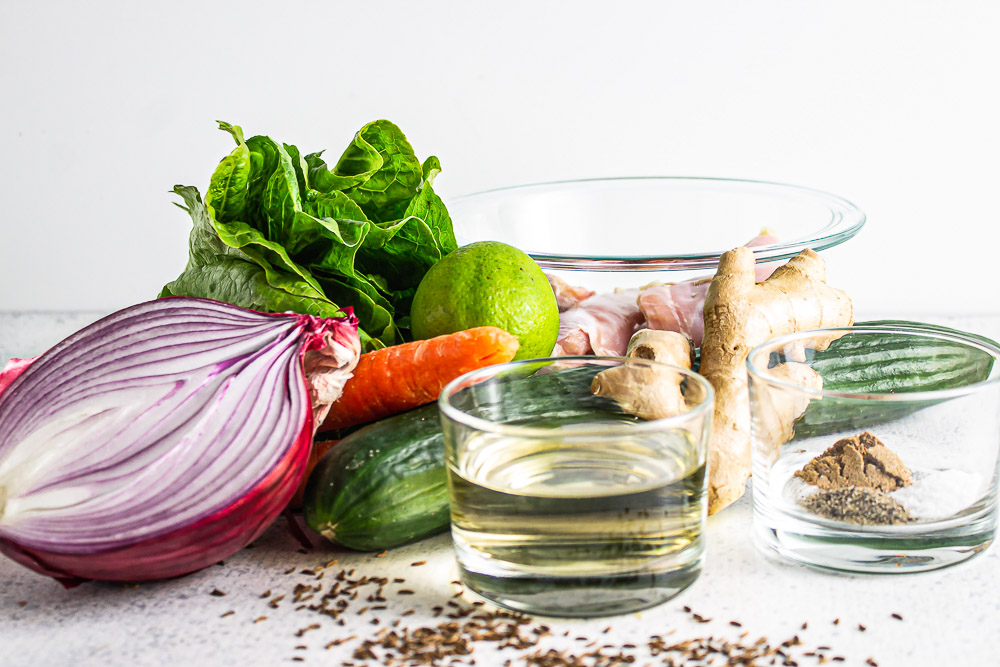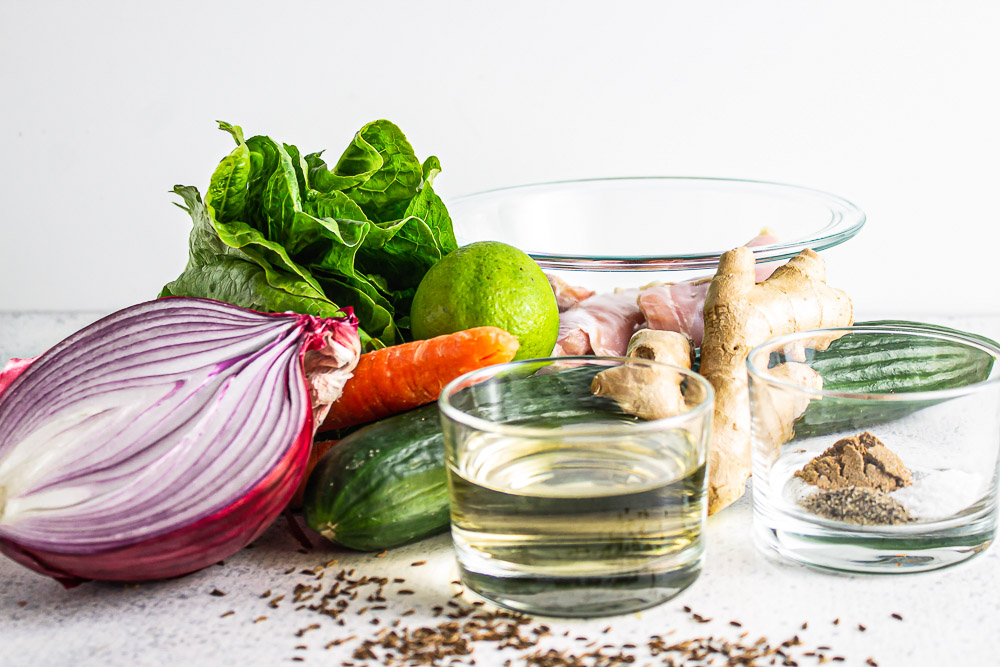 What are the main ingredients?
Boneless skinless chicken thighs. You can also use chicken breasts; however, chicken thighs taste better.
Rice paper wrappers/ rice paper rolls
Lettuce leaves, mint leaves, lime juice, cucumber, red onion
Additional ingredients: rice noodles, bean sprouts
These filling ingredients are flexible. You can mix and match the ingredients and add your favorite food, such as jalapeno, red cabbage, or grilled shrimps.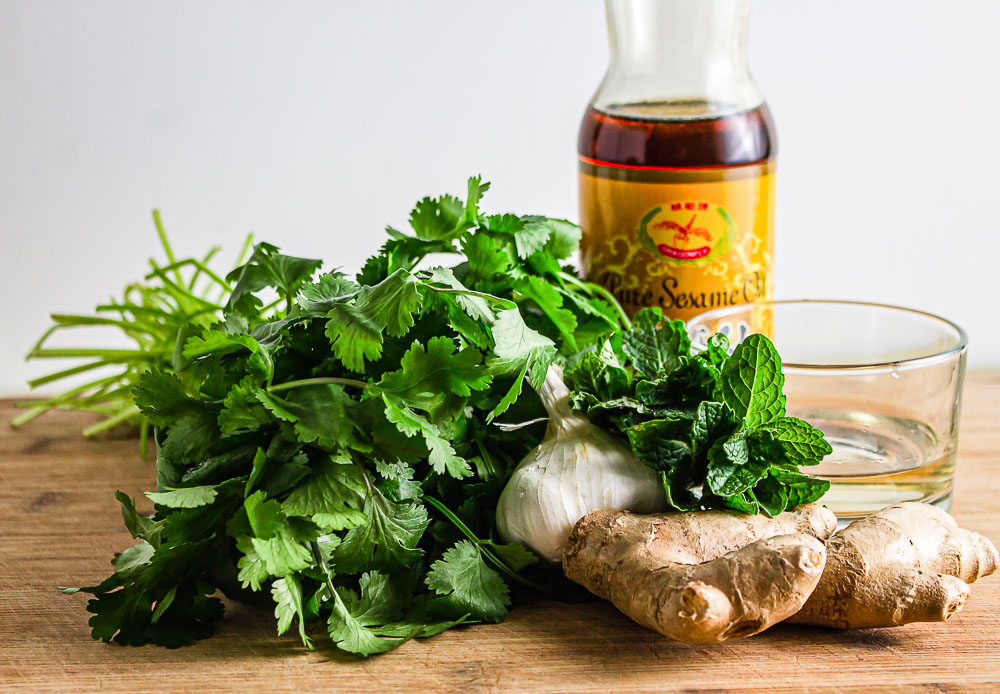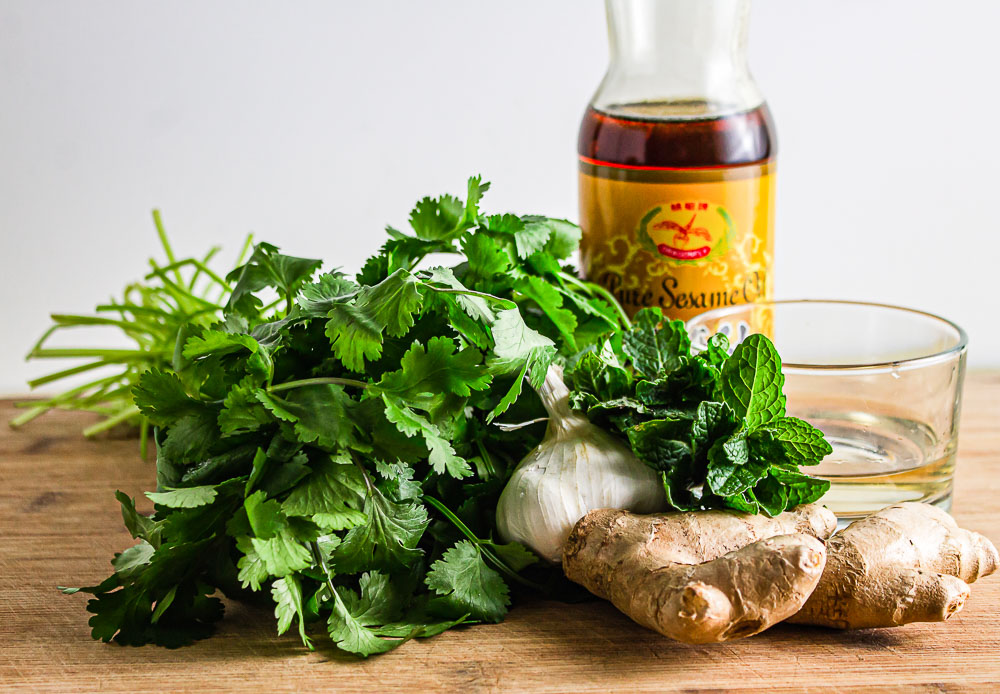 What about the sauce?
If you're running out of cilantro mint sauce, you can use a peanut dipping sauce, combined with hoisin sauce and soy sauce.
Now that you know how to make these rolls at home, you can save yourself from a trip to your favorite Vietnamese restaurant.
Looking for more easy recipes?
Easy Vegan Sushi Recipe – This easy vegan sushi recipe is the perfect recipe for a date night in! It's easy, delicious, and can be made with so many different fillings.
Beef Curry Puffs – Siblings to samosas, each of these super easy delicious baked Beef Curry Puff is wrapped in golden flaky pastry. The hardest thing about making this is not eating everything before the guests arrive.
Jalapeno Popper Crisps – Our three favorite flavors: spicy, cheesy, and… bacon-y.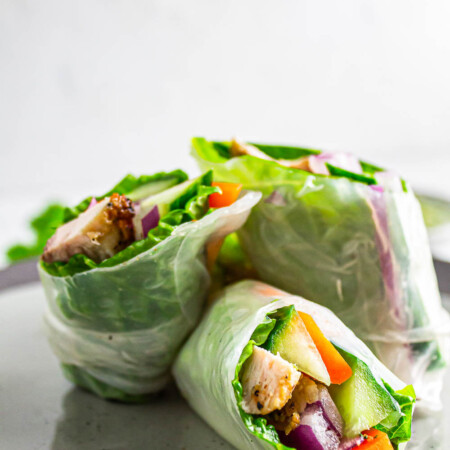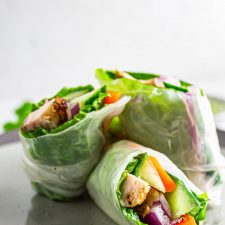 Chicken Spring Rolls with Cilantro Sauce
Homemade Chicken Spring Rolls with Cilantro Sauce is easy to make, refreshing, and make a delicious lunch, dinner, or snack on-the-go.
Print
Pin
Rate
Ingredients
Marinated Chicken

2

large boneless skinless chicken thighs

1

teaspoon

coriander

½

teaspoon

sea salt

½

teaspoon

ground pepper

2

tablespoons

lime juice

Marinated Carrots

1

large carrot

1/3

cup

rice vinegar

1

teaspoon

caraway seed

1

inch

fresh ginger

peeled

Cilantro Mint Sauce

¼

cup

fresh cilantro leaves

2

tablespoons

fresh mint leaves

¼

cup

rice vinegar

½

teaspoon

sesame oil

1

inch

fresh ginger

peeled

3

cloves

garlic

½

teaspoon

ground cumin

¼

teaspoon

sea salt

To Assemble

10 8

" rice paper spring roll wrappers

10

lettuce leaves

butter lettuce, leafy green, outer leaves of romaine

½

medium thin skinned cucumber

English cucumber or similar

¼

large red onion
Instructions
Make sauce: Mince peeled ginger. Coarsely chop mint and cilantro.

Combine all ingredients in a tall container and puree with an emersion blender. Or place all ingredients in a blender and puree. Set aside in fridge.

Prepare carrots: Slice carrots into ¼" by 3-4" slices. Coarsely chop peeled fresh ginger. Place sliced carrots, ginger and caraway seed in bowl.

Add rice vinegar and 1/3 cup boiling water. Allow to sit for at least 30 minutes. Carrots will soften slightly and absorb flavor.

Marinate and cook chicken: Combine chicken with spices, salt, and lime juice in a bowl, turning until all sides of chicken are coated. Cover and rest in fridge for 20-30 minutes.

Heat broiler. Spread out chicken on a grilling pan (lined with foil for easy clean up). Cook under the broiler for 9-10 minutes or until cooked through. Can be tested by cutting into the center.

Allow to cool for 1-2 minutes. Cut into ½" thick, long slices.

Prepare vegetables: Cut cucumber into ½" thick, 3-4" long slices. Cut onion into 1/8" – ¼" thick slices lengthwise (with the veins).

Wash and dry the lettuce, trimming it to about 4-5" long. Use just the leafiest portion of the lettuce, minimizing any ribs. Avoid using romaine hearts or similar.

Assembly the link: Prepare a large, flat dish of boiling water (a 9" cake pan works well). Have a flat, dry surface available for rolling. Have vegetables and chicken in easily accessible positions.

Place a spring roll wrapper in the hot water textured side up. When just soft (about 10-15 seconds), remove and place textured side up on rolling surface.

Place one leaf of lettuce on one half of the wrapper, about 1" away from the edge. On the lettuce, place 1-2 pieces of chicken, 2 slices of cucumber, 2 slices of marinated carrot, and a few pieces of onion in a neat pile.

Fold the closest edge of the spring roll over the contents, beginning to roll the lettuce around them. Fold each side over onto the partial roll. Roll the spring roll towards the far edge of the wrapper, ensuring everything is tucked in. Set finished roll on a clean surface and repeat with rest of ingredients.

Serve immediately with dipping sauce. If it is going to be more than 15 minutes before they are served, mist with water and cover with plastic wrap to prevent them from drying out and ripping.