These chimichurri salmon skewers are perfect for grilling season. And the chimichurri sauce makes a fresh & flavorful way to make your Summer entertaining effortless. Perfect for salmon, steak, and just about everything!
I was asked by Carusele to participate in the #LuckySummer campaign, sponsored by Save Mart. Although I have been compensated, all opinions are my own.

Lunch yesterday was such an amazing experience that involved me losing myself in the sweet and spicy deliciousness of these chimichurri salmon skewers. My surroundings started to fade, my vision began to go blurry, and I couldn't even carry on a conversation. Even though I had already had my fair share of skewers, my hand just kept reaching back for more. And I totally felt okay about it.
Look out world. CHIMICHURRI SALMON SKEWERS on the loose!
The weather has been weird lately. To the point where I still need to wear a thick jacket on these spring nights. So when I heard that it was going to be hot last weekend, I couldn't wait to clean up my grill and start cooking. This is it. These are the story of my summer… which is why I'm so happy to share my Chimichurri Salmon Skewers recipe with you. And here's why:
THEY TASTE AMAZING.
Easy to prep (thanks, Lucky!)
No gluten.
Fresh ingredients (again, thanks to Lucky)
Great for lunch or dinner, as well as a big group
They still taste AMAZING the next day!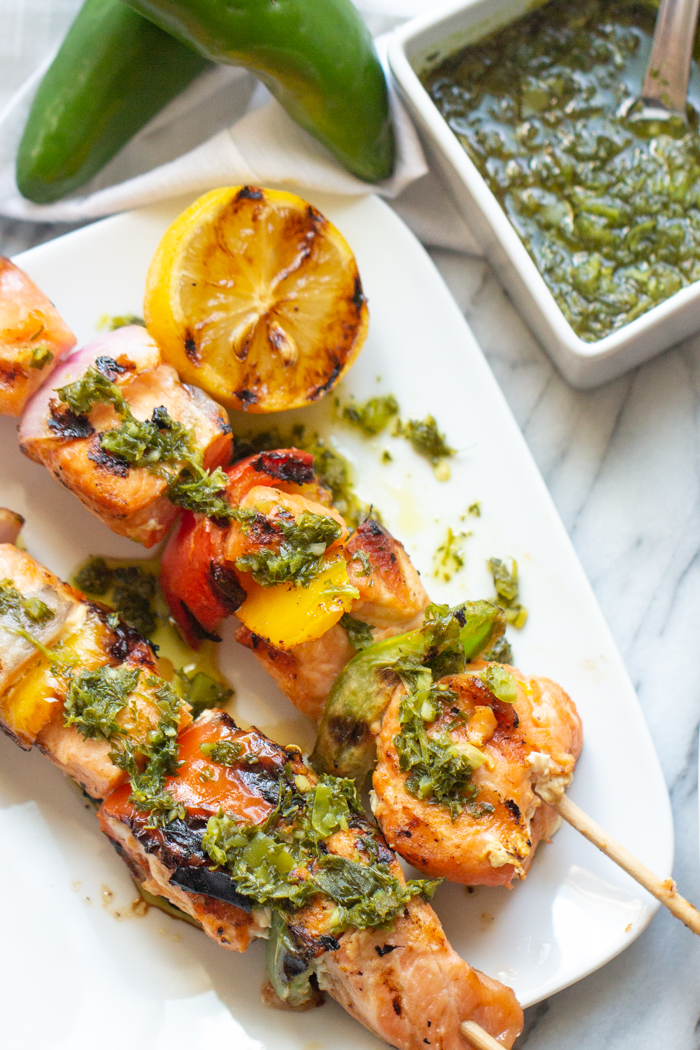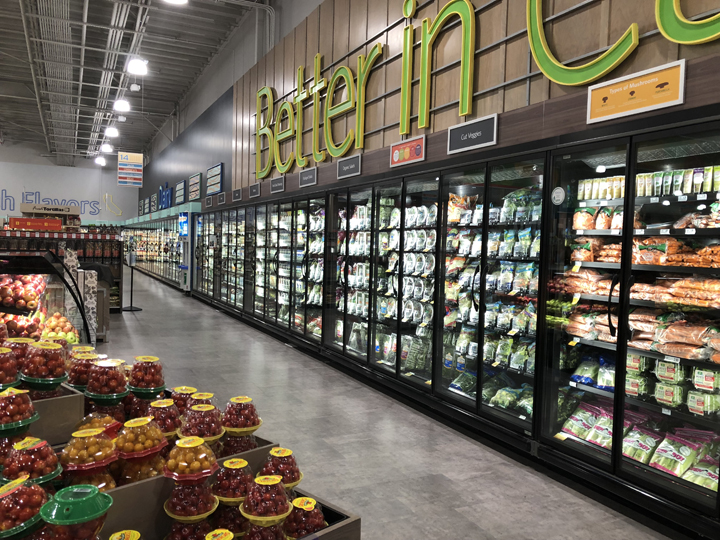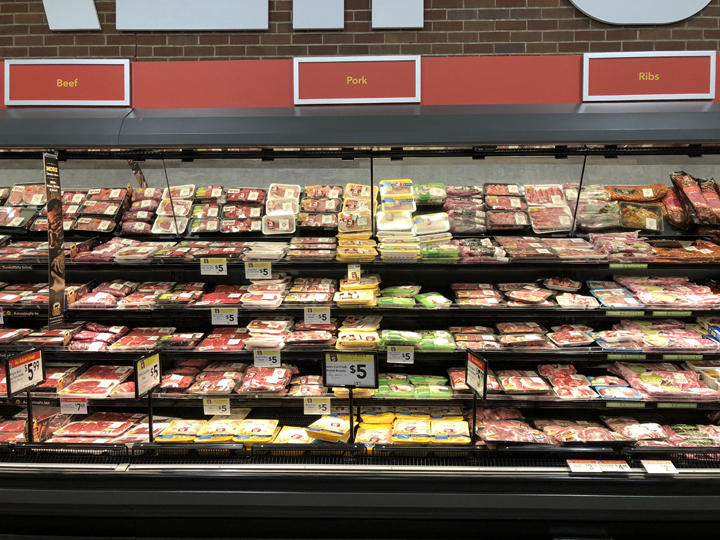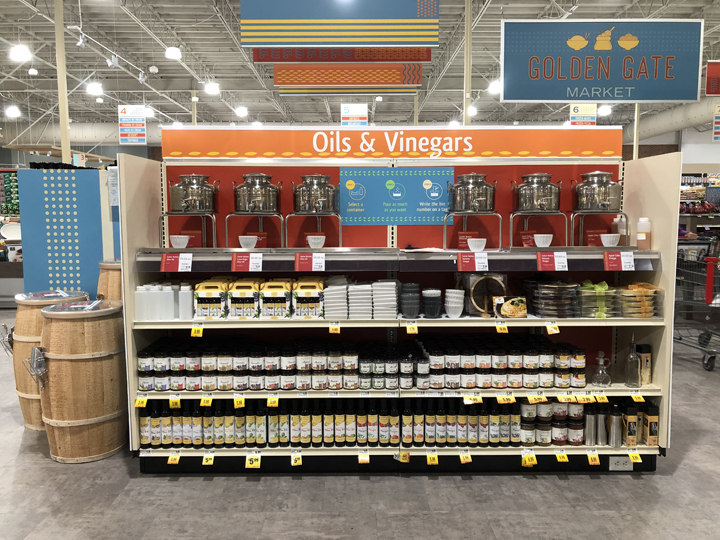 Here it is…up close and personal
*get your IGTV on*
So, let's talk about shopping. There's a new Lucky supermarket that opened a few months ago in Dublin, CA; and, being a foodie, I was so excited to check out the new kid on the block. And… I was like a kid in a candy store. Lucky is truly a one-stop-shop for all your summer grilling needs! The produce section is full of California-grown fruits and veggies, and Lucky offers up other items like a kitchen supply section. Check out how fun it is to be there.

So in my excitement browsing, I spotted these salmon skewers by their seafood section. FRESH. BIG. PRE-ASSEMBLED by Lucky. And my mind could not think of anything else other than grilling and adding chimichurri sauce on top. These skewers would be perfectly paired with certified Angus beef from Lucky for a surf and turf play! Hint: Lucky is one of the only grocers in the Bay area to carry certified Angus beef.
Do you know there are two kinds of chimichurri sauce? Green and red. They are both so good. The only difference is green contains fresh green herbs while red depends on tomato and red bell peppers to get that vibrant red color. However, they both taste ah-ma-zing! And perfect for grilling recipes. Lucky for me, I can get all my ingredients at one store – Lucky.
Salmon skewers? Check.
Chimichurri ingredients? Check.
Salad? Check.
Drinks? Check.
Chocolate? Check. Not related, but a bite or two while cooking is necessary.
July 4th is coming up. Whether you're hosting or not, I hope you get to do some grilling and try these Chimichurri Salmon Skewers. So, let's celebrate the awesomeness that it is finally summer weather – pool parties, BBQ galore, endless popsicles, and these Chimichurri Salmon Skewers. Followed by a second serving of more skewers… and a third.
Followed by a nap.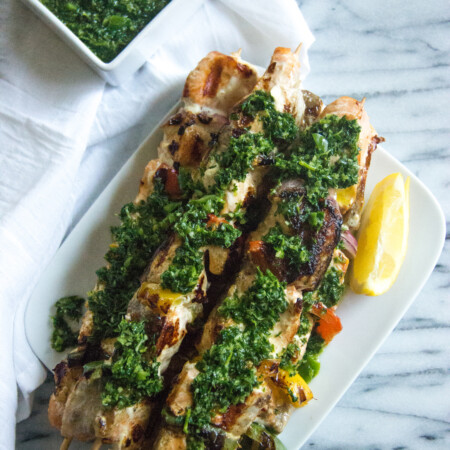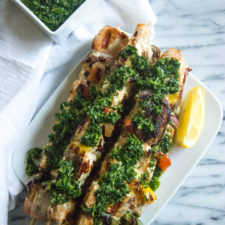 Chimichurri Salmon Skewers
This chimichurri sauce makes a fresh & flavorful way to make your Summer entertaining effortless. Perfect for salmon, steak, and just about everything!
Print
Pin
Rate
Ingredients
5

pre-packaged salmon skewers

with onion and bell peppers in between salmon cubes
Chimichurri Sauce:
4

cloves

garlic

1

packed fresh Italian parsley

2

tablespoons

chopped fresh oregano

3

jalapenos

remove seeds and cut

1

cup

olive oil

Juice of 1/2 lemon

Salt

to taste
Instructions
Preheat the griller and lightly oil grill grate. Season the salmon with salt and pepper. Cook the salmon for 8-10 minutes on each side, or until the fish flakes easily with a fork.

Puree all ingredients in a food processor. Spoon over salmon skewers and transfer the rest to a bowl.