88+ Recipes for Chinese New Year. Plan your Chinese new year dinner with this recipe collection from traditional CNY appetizers to dessert and anything in between.
Lunar New Year is coming up soon. Like next week. Gulp!
Whenever I look online or talk to friends about ideas for my Chinese New Year feast, I am amazed at just how different the traditions surrounding China's most important festival can be from one family to the next. Based on nationality and region, people from Korea, Taiwan, Japan, and China all have varying menus to celebrate Lunar New Year. But one thing they all have in common is that Chinese New Year festivities are always filled with classic Chinese recipes.
Oh, yum!
New Year's Eve dinners in the southern parts of China typically involve various protein dishes that include beef, pork, fish, and chicken. The bigger the meat variety, the better as it shows gratitude to the ancestors and symbolizes great luck for your future.
Many Lunar New Year dishes have symbolic meanings. There are steamed fish to represent abundance long noodles to represent longevity, and plenty of pan-fried potstickers, Chinese dumplings, fried rice, spring rolls, rice cake, stir-fried vegetables, and deep-fried egg rolls. And let's not forget the sweet stuff like red bean and traditional Chinese nian gao. Speaking of which, if you're tired of classic Chinese dessert, I have a delicious ice cream mooncakes recipe. Super easy!
Today, let's set aside this 8+ Easy & Tasty One-Pot Recipe or this Chicken Satay Bowl because I've rounded up 88+ of my family's favorite classic Chinese recipes and Asian recipes that are perfect for bringing in the Year of the Pig.
Vegetarian
Sichuan Spicy Chili Oil for Dumplings – The happiest day of my week was the day I made this Sichuan Spicy Chili Oil. It was spicy, aromatic, and filled with homemade flavors.
Quick & Easy Sesame Noodles Recipe – Ridiculously delicious sesame noodles are just 15 minutes away.10-minute Garlic Bok Choy Recipe – Crisp, fresh, and bursting with loads of unexpected flavor, this Garlic Bok Choy Recipe is guaranteed to be your new favorite side dish. Ready in just 10 minutes, enjoy this easy vegetarian side dish with chicken, beef, or fish.
Asian Chicken Salad with Spicy Sriracha Dressing
General Tso's Tofu – General Tso's tofu is a favorite take-out from American-Chinese restaurants. So delicious and so much better and healthier than the takeout!
Yee Sang Chinese Salad – General Tso's tofu is a favorite take-out from American-Chinese restaurants. So delicious and so much better and healthier than the takeout!
Vegan Crispy Duck (Cauliflower) and Pancakes – Vegan crispy duck? Oh yes! Seasoned roasted cauliflower makes an easy and delicious substitution. I've then added easy homemade pancakes and plum sauce.
Quick Kimchi Cucumbers – These Quick Kimchi Cucumbers will easily become one of your favorite healthy recipes. The combination of salty + spicy is addicting!
Xian Bing – Chinese Stuffed Pancakes – Chinese Stuffed Pancake is a dough based popular street food recipe. My vegetarian version of this recipe is made with vegetables and tofu.
Asian Mushrooms with Cashews & Veggies – This spicy dish of Asian Mushrooms incorporates a rainbow of veggies! All cooked together on one tray in the oven. It totally hits the spot for a healthier takeout alternative.
Simple Tofu Green Bean Stir-fry – This spicy dish of Asian Mushrooms incorporates a rainbow of veggies! All cooked together on one tray in the oven. It totally hits the spot for a healthier takeout alternative.
Miso Eggplant –This eggplant dish is sweet, nutty, and delicious. If you've ever tried this Nobu style eggplant, you know how great it is, but you may not have guessed how simple it is to prepare. Have you been looking for vegan eggplant recipes? This miso eggplant satisfies that craving.
Asian Mushrooms with Cashews and Veggies – This spicy dish of Asian Mushrooms incorporates a rainbow of veggies! All cooked together on one tray in the oven. It totally hits the spot for a healthier takeout alternative.
Trio of Asian Dipping Sauce – Trio of Asian Dipping Sauces are sweet, spicy and savory. 3 classic flavors come together that showcase authentic Asian flavors for spring and egg rolls. Perfect for entertaining and small gatherings, these sauces will dress up any dishes.
Red Cabbage and Radish Spring Rolls – Crispy spring rolls filled with the most DELICIOUS red cabbage, mushroom, and radish filling you could ever hope for in your life. Uncomplicated, beautiful, impressive, and party-perfect. This Red Cabbage and Radish Spring Rolls recipe is for those that want easily-obtainable, restaurant-quality food at home. And pretty too.
Hong Kong Soy Sauce Pan Fried Noodles
Spicy Green Bean Stor Fry – This Spicy Green Bean Stir Fry recipe is one of the easiest and most flavorful side dishes! So much flavor with just a few ingredients.
Zucchini Pancakes – Couples, it's time to expand your food horizons. And we have just the thing! Savory Korean Zucchini Pancakes (Hobakjean)!
Japanese Salad Bowl with Miso Tahini and Brown Rice
Easy Vegetarian Hot and Sour Soup – This Spicy Green Bean Stir Fry recipe is one of the easiest and most flavorful side dishes! So much flavor with just a few ingredients.
Vegetable and Tofu Filled Steamed Bao – These vegan bao buns are the perfect breakfast you need.
10-minute Garlic Sesame Noodles
Easy Baked Vegetable Egg Rolls – Easy Baked Vegetable Egg Rolls: Step-by-step directions to make simple crispy baked egg rolls using fresh vegetables. Served with a simple Homemade Sweet and Sour Dipping Sauce.
Spicy Asian Cucumber Salad – A simple recipe for spicy Asian cucumber salad with green onions, tossed in a soy sauce and sesame oil dressing. Low carb, keto, gluten free, and vegan.
Stir-fried Choy Sum – Choy sum, also known as choi sum / cai xin / Chinese flowering cabbage / gunsho, is a leafy green stir-fry vegetable that's kind of like a cross between bok choy and rapini. In this simple stir-fry dish, the choy sum is briefly blanched before hitting the pan at high heat with an easy garlic sauce. The resulting dish is delicious and nutritious and would be at home as a side to any Asian-inspired meal.
Copycat Panda Express Chow Mein – This Copycat Panda Express Chow Mein tastes just like the restaurant version and is quick and easy to make right at home. In just 20 minutes you can enjoy this restaurant classic. Add seared shrimp, chicken, or beef to make it a protein-packed meal!
Black Pepper Tofu – Vegan, easy to make, and super delicious.
MEAT & POULTRY
Savory Jade Chicken in Taro Basket
Paleo Dim Sum Shumai – Juicy meatballs wrapped in sweet cabbage leaves. Enjoy low carb dim sum with dim sum dipping sauce!
Sang Choy Bao (Chinese Lettuce Wraps) – Whether you're looking for food to celebrate Chinese New Year, or just an easy low carb appetizer, these Chinese lettuce wraps are a delicious choice. (Plus the filling is great for meal prep!)
Orange Chicken – My copycat Panda Express Orange Chicken is sticky, sweet and tangy. Succulent chicken pieces with a crispy coating and plenty of that delicious sauce. Ready in 20 minutes too!
Asian Lemon Chicken – You know those quick and easy dinners that you can always count on? Yup. This best ever crispy lemon chicken, drizzled with a sweet and tangy lemon sauce, is sure to be a new family favorite!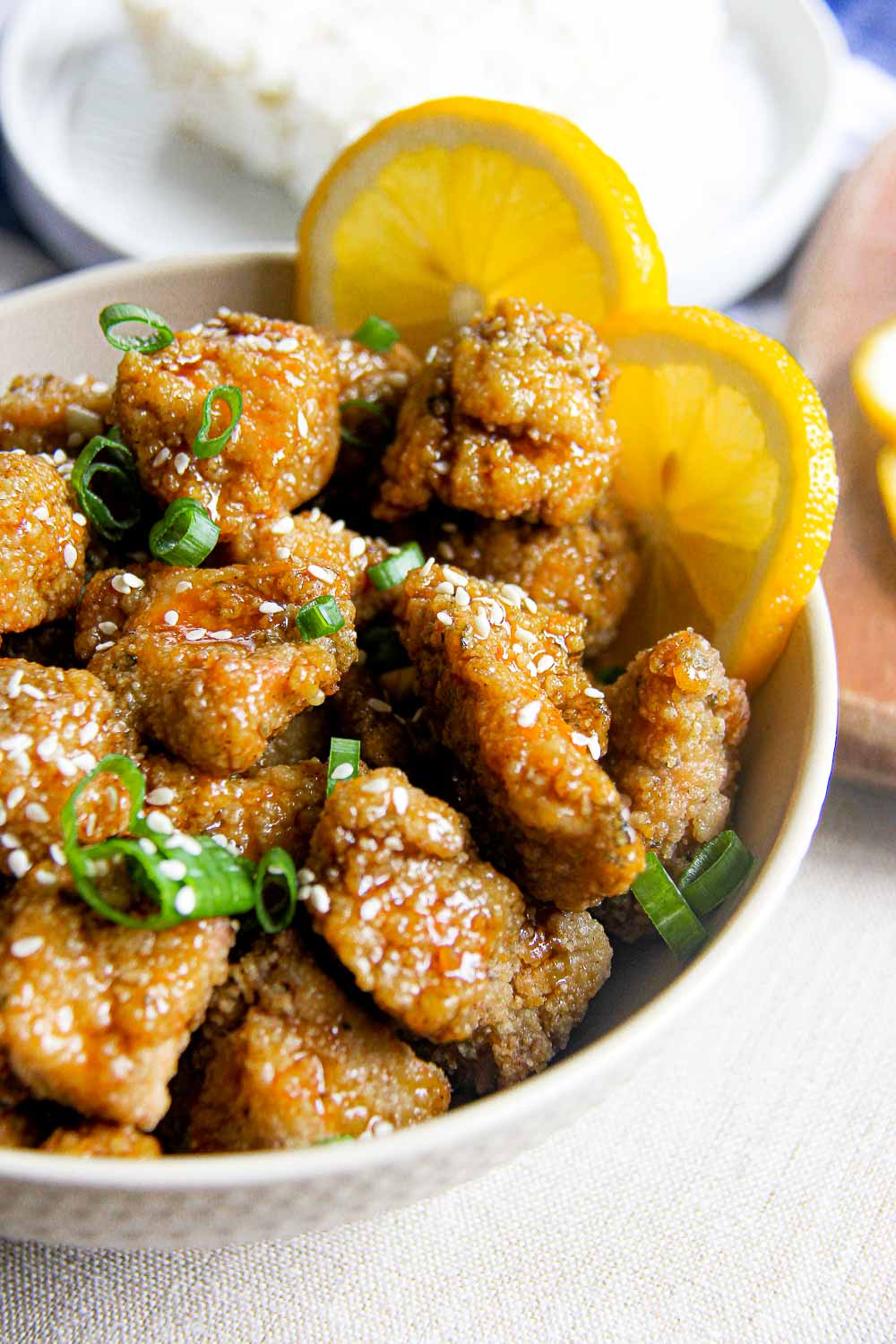 Yakimeshi (Chinese Fried Rice)
Slow Cooker Hoisin Chicken – A Slow Cooker Chicken recipe is an easy way to get dinner on the table and you can't beat the fantastic hoisin sauce that flavors this crockpot recipe.
Cantonese Style Black Pepper Beef with Green Beans – Cantonese Style Black Pepper Beef made with steak, onions, peppers, & fresh green beans for the main dish way better than take out & ready in under 40 minutes!
Dump-and-Bake General Tso Chicken – It's baked, not fried! This Dump-and-Bake General Tso Chicken is a lighter, healthier version of the Chinese restaurant classic. With just one dish and about 10 minutes of prep, it's even better than take-out!
Healthy Orange Chicken – You're going to love this tender, juicy, and incredibly flavorful Healthy Orange Chicken! No frying, no sketchy ingredients – just real food ingredients that beats takeout every time.
Better-than-Takeout Chinese Spareribs – Chinese-style spareribs that are succulent, flavorful, and over-the-moon delicious. Better than takeout by far, and cooked to fall-off-the-bone tender all on the grill. This Chinese spareribs recipe is absolutely the best.
Chinese Dumplings with Pork – We cannot get enough of these dumplings. The filling is super-savory, and I'm just gonna leave the word CRAVE here rather than subjecting you to some horrible adjective Frankenform of that term. It's definitely a project to make your own dough and roll out each little circle before filling and cooking it, but sometimes you want a kitchen project, right?
Sticky Chinese Pork Belly – This Sticky Chinese Pork Belly is one of my absolute favourite recipes on the blog. Check out my three-step process for pork that's meltingly tender, with a crispy exterior and gloriously sticky/sweet/spicy coating.
Healthy Sesame Chicken – Extremely delicious and popular Chinese recipe made healthier and easier. It can be enjoyed with any grain or noodle and makes a great #mealprep
Easy Wonton Soup – Wonton soup really is so much better when you make it yourself and this easy wonton soup recipe will be one you will come back to again and again. Such comfort food.
Grilled Pork Satay Skewer – Simple Grilled Pork Satay Skewers are cooked within minutes and no marinating is needed. Moist grilled pork tenderloin with a rich and flavorful homemade satay sauce.
Keto Low Carb Beef and Broccoli – This is a simple weeknight stir fry that's quick and easy to make.
The Most Delicious Braised Chicken Feet – These braised chicken feet rival any dim sum restaurant, braised in a flavorful braising liquid then stir-fried in the most amazing umami-packed sauce, you'll definitely want these on your menu!
Whole 30 Sticky Mango Chicken – This crazy delicious chicken is sticky, sweet, and ready in 20 minutes!
Thai Red Curry Chicken Soup – Warm creamy comforting red curry soup with a touch of sweetness and a bit of a spicy kick. With red curry paste, coconut milk, lean tender chicken, ginger, garlic, onions, peppers and cilantro this delicious soup is gluten-free and ready in 30 minutes! Literally the most mouthwatering combination of flavors ever!
Easy Vietnamese Pho – This easy Vietnamese Pho Soup Recipe can be made with chicken, pork or beef and is packed full of chewy Asian noodles, flavorful herbs and garnished with fresh lime and chili sauce.
Smoked Pulled Pork Lettuce Wraps with Asian Dipping Sauce – Tired of traditional BBQ sauce? Try this sweet and savory Asian dipping sauce to jazz up your next batch of leftover smoked pulled pork! And since it's Tuesday, skip the tortilla for Taco Tuesday and make some killer lettuce wraps instead. Boom.
Panda Express Sweet Fire Chicken Breast – Delicious Indo-Chinese food, famous Panda Express Copycat Sweet Fire Chicken! Easy dinner/Lunch fix and restaurant style food at home.
Smoked Pork Ribs with Asian Spice Rub – Inspired by Asian flavors, these Smoked Pork Ribs with Asain Spice Rub and Sauce are absolutely incredible!
Pork and Cabbage Potstickers – Homemade potstickers are more fun and you will never buy take-out again after seeing the video on how these are made. Click here to learn how to fold potstickers in many different ways.
Gluten Free Chinese Honey Chicken – This Chinese Honey Chicken Recipe is healthier and better than takeout. It's easy to make at home in only 29 minutes, and it's one of the best gluten free recipes ever!
Low Carb General Tso's Chicken – Low Carb General Tso's Chicken is a keto friendly remake of this American Chinese classic, all the taste you love but without the added sugar and carbs.
Chinese Chicken and Broccoli – Homemade, healthy and easy recipe that tastes just like your favorite Chinese takeout restaurant! Your entire family is going to love how delicious this is, and you're going to love how simple it is to make!
Seafood
Soy Sauce Glazed Whole Steamed Fish – Within this recipe post you'll how to steam a whole fish, it will cook perfectly and wow your guests. It's easier than you think and you should totally try it! Plus you'll learn an easy way to cut and serve this beautiful whole steamed fish.
Crab & Asparagus Soup – Winter comfort soup loaded with asparagus and crab meat. Family-friendly and elegant enough for a party, staying in on a cold night.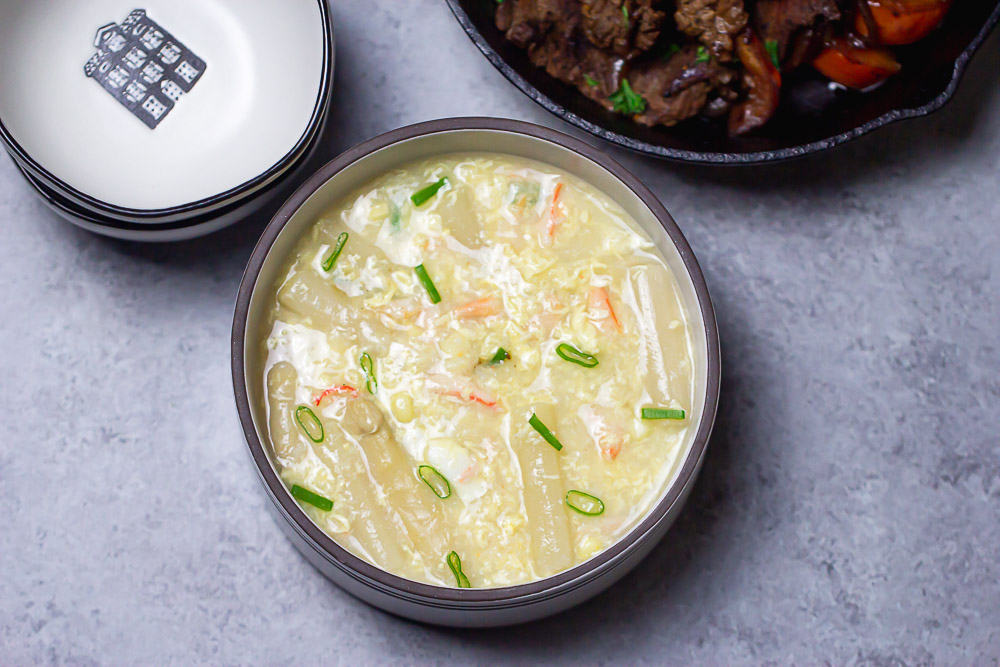 Tuna Potstickers – Homemade pan-fried Chinese dumplings, filled with tuna and veggies make these addictive! You'd never believe they were meatless.
Easy Thai Green Clams – These Thai green curry clams will put a smile on your face – and if your taste buds had faces, they'd be smiling too. Clams are so simple to make and are chock full of minerals and protein. Buy the freshest ones you can find, and in a short period of time, you will wonder why you don't make these all the time. Seriously! You can make these exactly like the picture, my friends. Let me show you how!
Asian Shrimp Cakes with Mango Chutney and Honey Sriracha – Asian Shrimp Cakes with Mango Chutney and Honey Sriracha Sauce are so bright and flavorful, you will want to make these again and again!
Spicy Coconut Shrimp Soup with Udon
Healthy Asian Tuna Salad – This delicious and healthy tuna salad recipe is based on my favorite post-workout treat from the cafe at Lifetime Fitness. It's light, protein-rich, and packed with flavor (and a little bit of spice). It's a unique departure from run-of-the-mill tuna salad, and it makes a fantastic lunch or snack.
Crab Fried Rice – Easy, delicious, and faster than picking up take-out!
Asian Smoked Mackerel Noodle Salad – Smoked mackerel is one of my favorite ingredients and here it is joined by a glorious Asian noodle salad with 'pickled' cucumbers, crunchy nuts and sesame.
Crab Rangoon – These creamy cream cheese and crab rangoons are so easy to make at home. A fake-out take-out favorite and perfect for snacking on game days!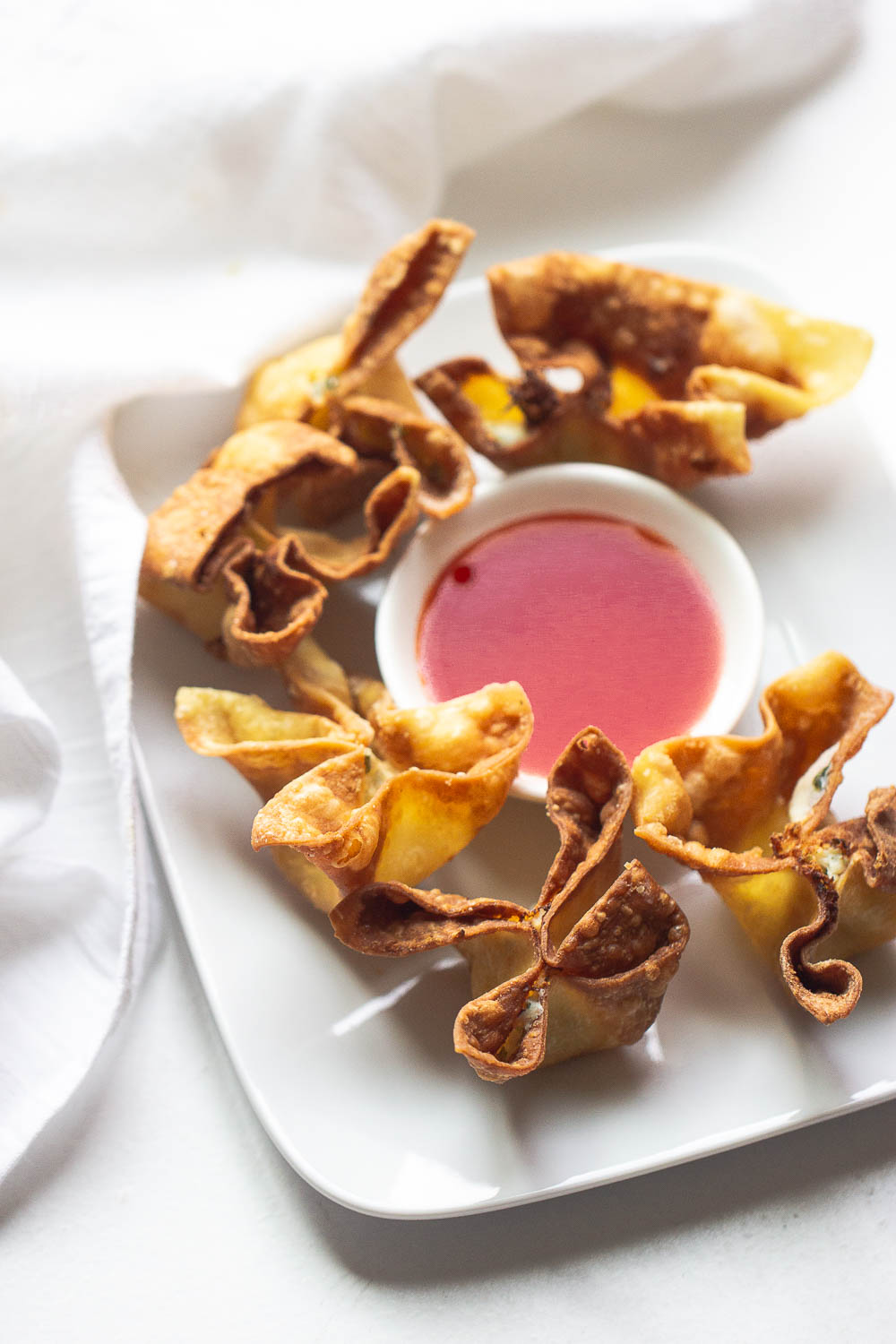 Sheet Pan Orange Ginger Tilapia – Restaurant style 'melt in your mouth' tilapia fish and vegetables glazed in sweet-spicy orange ginger flavors.
DESSERTS
Ice Cream Mooncakes – Amaze your family with these ice cream mooncakes. A must-have to celebrate the Chinese New Year.
Cherry Blossom Cookies – An ideal treat to usher in the Chinese New Year, or a nice break to take you away from the day, these Cherry Blossom Cookies are a must during Lunar New Year.
Steamed Piglet Buns – These steamed piglet buns, with a barbecue pork filling, are such a cute surprise emerging from your bamboo steamer basket!
Lapis Legit – Thousand Layers Cake
Chinese New Year Cake "Nian Gao" – A very traditional dessert with special meaning in the Chinese culture. It happens to be free of the top 8 food allergens and very allergy-friendly.
Homemade Fortune Cookies – Homemade Fortune Cookies are so fun to make. Make a few for the next Kid's party or for the school lunch box with some inspirational messages to bring a smile to your kid's face.
Vietnamese Banana Tapioca Pudding
Vietnamese Square Sticky Rice Cake
Nastar Gulung (Rolled Pineapple Tart)
And there you have it! 88+ recipes that you can enjoy with your family and friends this Chinese New Year!