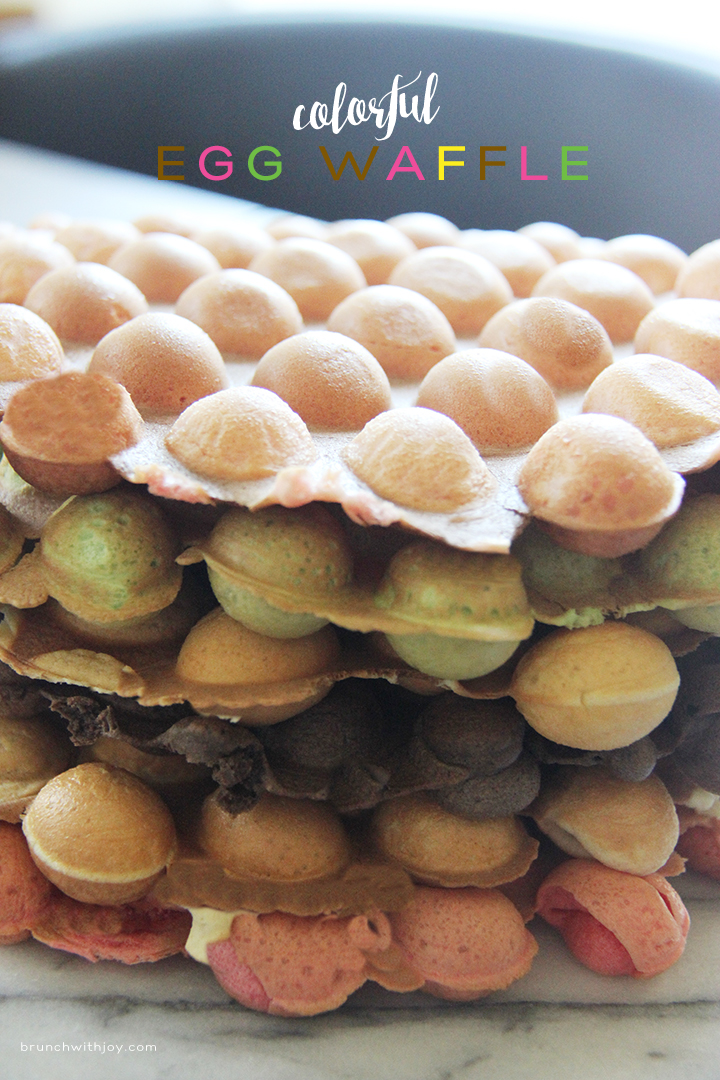 My parents used to own a stationary store, so I grew up around nice art papers, color pencils, and all things related to art. It's no doubt that art is one of my favorite subjects at school, after math and chemistry.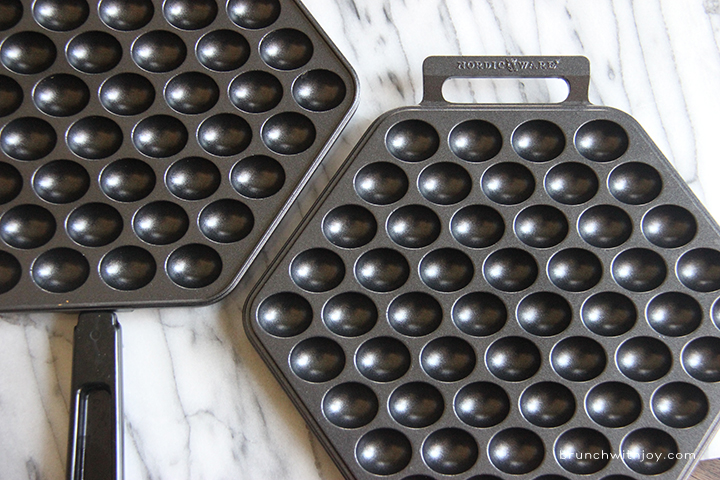 One time during Sunday School, one of the kids asked me to draw an owl. So I grabbed a paper and some crayons. In less than a minute, all of his friends – ranging from age 2-4 – formed a big circle around me as I drew the owl. People say that kids will give their honest opinion on everything, and I think it's true, because as I drew the owl, one of the kids suddenly shouted, "I don't think it's an owl. It looks like a monster." I was laughing so hard when suddenly another kid yell the very same thing. Nevertheless, we're all agreed on one thing… it's fun to color or see colorful things!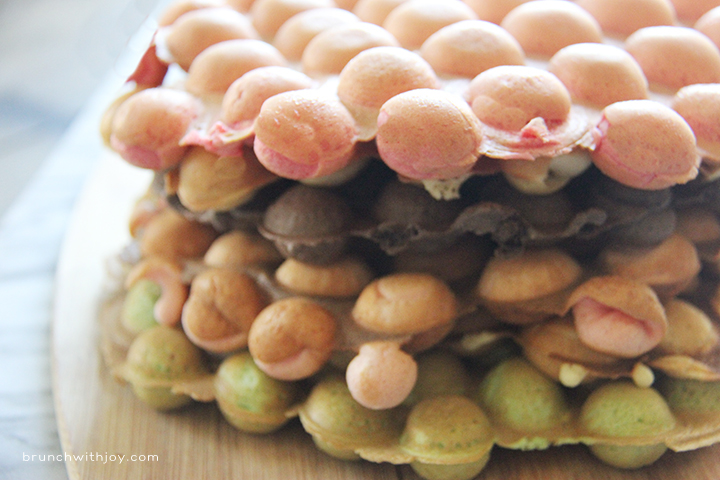 Today's recipe is about color. Every time I bake, I always try my best to stay away from artificial color. Although the label claimed that it's safe, I feel bad thinking that those kind of substance would enter our bodies. These colorful egg waffles were made from cocoa powder for chocolate, green tea for green, and strawberry syrup for the pink color. And although the color might look less appealing; I can honestly say that they are very safe and will not do any harm to our bodies.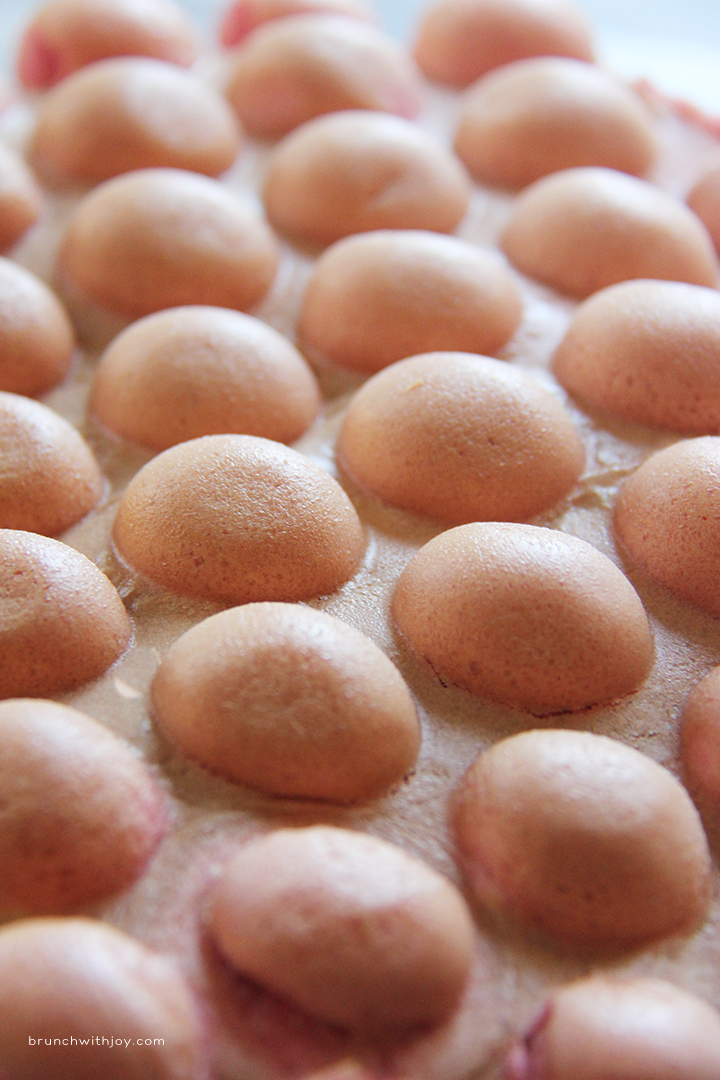 If you're eager to try making them at home, check out the giveaway below for a chance to win Nordic Ware Egg Waffle Pans. And of course, a big shoutout to Nordic Ware for sponsoring my first blogiversary. To learn more about Nordic Ware, check out their site or follow them on Facebook, tweet them here, take a peek on their Instagram, or get creative recipes on their Pinterest and YouTube sites.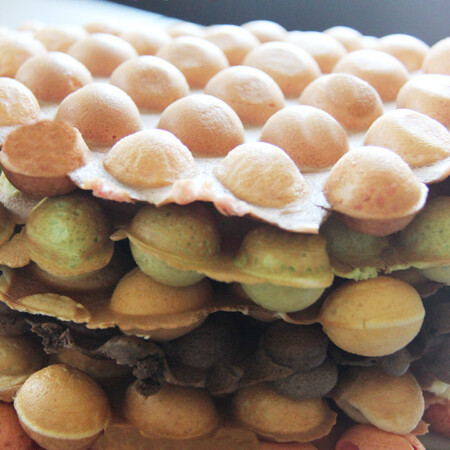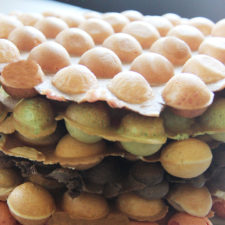 Ingredients
1

cup

flour

11/2

tsp

bk. powder

2

tbs

tapioca starch

1/4

tsp

salt

2

eggs

3/4

cup

sugar

2

tbs

evaporated milk

1/2

cup

water

2

tsp

vanilla

2

tbs

vegetable oil

For chocolate: add 1 tsp cocoa powder

For green tea: add 1/2 tsp green tea powder
Instructions
Pick the flavor and combine all the ingredients in a bowl and whisk to combine, make sure that all the lumps are whisked out and the mixture is smooth.

Cover the mixture and refrigerate it for an hour.

Heat the egg waffle pan on the burner over medium high heat, until just hot. When you're ready, lower the heat to medium low heat.

Pour about 3/4 cup of batter on one plate, spreading about 80% and as evenly as possible. Place the other plate on top. Hold the handle firm to keep the two sides closing tight and flip the pan over so the mold fill evenly.

Cook for about 2 minutes on each side. Carefully remove it and cool on a rack before serving.