The puff pastry cone is a crunchy perfection that your family & friends will love! Here's to savoring the beginning of Summertime with Creamy Asparagus Puffs!
The heat is on! I think we might be finally heading into summertime. Maybe it's not "officially" summer yet, I don't really know. I am one of those lucky ducks that grew up in a country with warm weather all-year round, so my definition of Summer back then was a time when schools are out. It doesn't have anything to do with clothing, as I never have to worry about jackets or cold winter days. Shorts and flip-flops were our uniform all year round. But after I moved to San Francisco, my definition of Summer has changed to a time when I don't have to wear jackets anymore.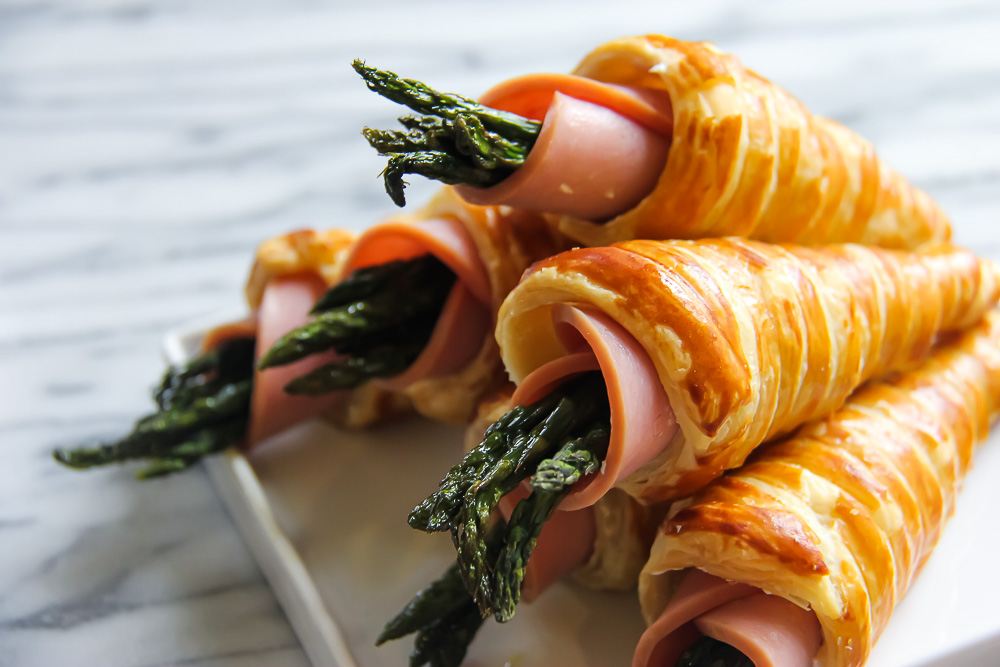 I love Summertime for a lot of reasons, particularly because the sun doesn't set until at least 8 pm. And I really love to stay outdoor during Summer, enjoying the pleasant atmosphere. This Summer, even the simplest thing is enough to make me feel happy… painting and decorating our home with my husband, working on my new blog site, and doing more outdoor activities with friends and family! Everything feels so exciting and fresh.
As the warm weather months are fast approaching, I'm getting excited about Summer entertaining. Just a couple weeks ago, we got together with our neighbors for a little backyard bonfire party with Gallo Family Moscato Wine and chocolate cakes, and had a conversation about having a block party. We live in a new neighborhood where everybody just moved in one or two years ago. So this Summer will be an ideal time for everyone to get together and mingle. A block party plan is currently being discussed and I feel giddy thinking about various BBQs and potlucks menus that we could try, as our neighborhood are quite diverse.
As for the family, we always have our first BBQ of the year on Memorial Day weekend. It is an unwritten family tradition to get together on that day and we've been doing it for years on the same spot and around the same time. Each family will bring something to the table and the guys will be showing-off their grilling techniques. I was able to squeeze in two bottles of wine from Gallo Family. Ever since I made these polenta crostini using Gallo Hearty Burgundy last Christmas, we never skip a bottle when we get together and it has to be from Gallo. Summer time is all about guys and BBQ/grill in our family. From vegetables to sausages and marinated chicken skewers, all of them are the guys' main responsibilities, while the ladies are in charge of setting up tables and potluck menus. It is also one of those times to bring in a new menu or recipe for all to try. Once, we brought a sack of fresh oyster for grilling, served with garlic and lemon. Other times, we brought Chimichurri BBQ Chicken and Southern BBQ Pizza with Pulled Pork. Oh, yum!
When hosting a party, everyone is a different type of host. As for me, I always get so excited planning my menus and end up taking on too much before anyone even arrives. So I usually scale back with recipes that are delicious but simple to execute, drinks that can be made in big, easy batches, while adding music in the background. After all, BBQs and Potlucks should really be about having fun, good food, and sunshine. If you think that's still too much, you can create a 'Build Your Own …' theme, like what we did few years ago with Build Your Own Taco or Build Your Own Ice cream. It was fantastic because almost everyone, including kids came up with delicious combo.
The husband and I are also planning for a small gathering this Summer. It is actually a long overdue housewarming party and our theme will be easy, classic recipes with a fun twist. In anticipation of BBQs and more backyard parties, I will be making these Creamy Asparagus Puffs. These pastry cones with smoked ham, cream cheese, and asparagus are perfect for the BBQ season and potluck gatherings. And these appetizers get even better when served with White Merlot or Sweet Red from Gallo Family Vineyards. The White Merlot complements the sweet and smoky glazed ham inside these creamy asparagus puffs, and the soft dark berries of Sweet Red match perfectly with the smoked meats and barbecue sauce, as well as the dessert. Here's to savoring the beginning of Summertime!
For more information about Gallo Family Vineyards, you can connect with them via Facebook, Twitter, Instagram, and Youtube. And to see where you can find Gallo Family Vineyards' variations, use this locator.
Compensation was provided by Gallo Family Vineyards via Sunday Supper, LLC. The opinions expressed herein are those of the author, and are not indicative of the opinions or positions of Gallo Family Vineyards.
Thinking about BBQs and Potluck recipes this Summer? Here are the recipes that you can try this Summer:
Appetizers:
Main Dishes:
Sides and Salads:
Desserts:
BBQ Helpful Info: