Nutella Mochi – the Asian Ferrero Rocher. Chewy & tender with the perfect amount of sweetness.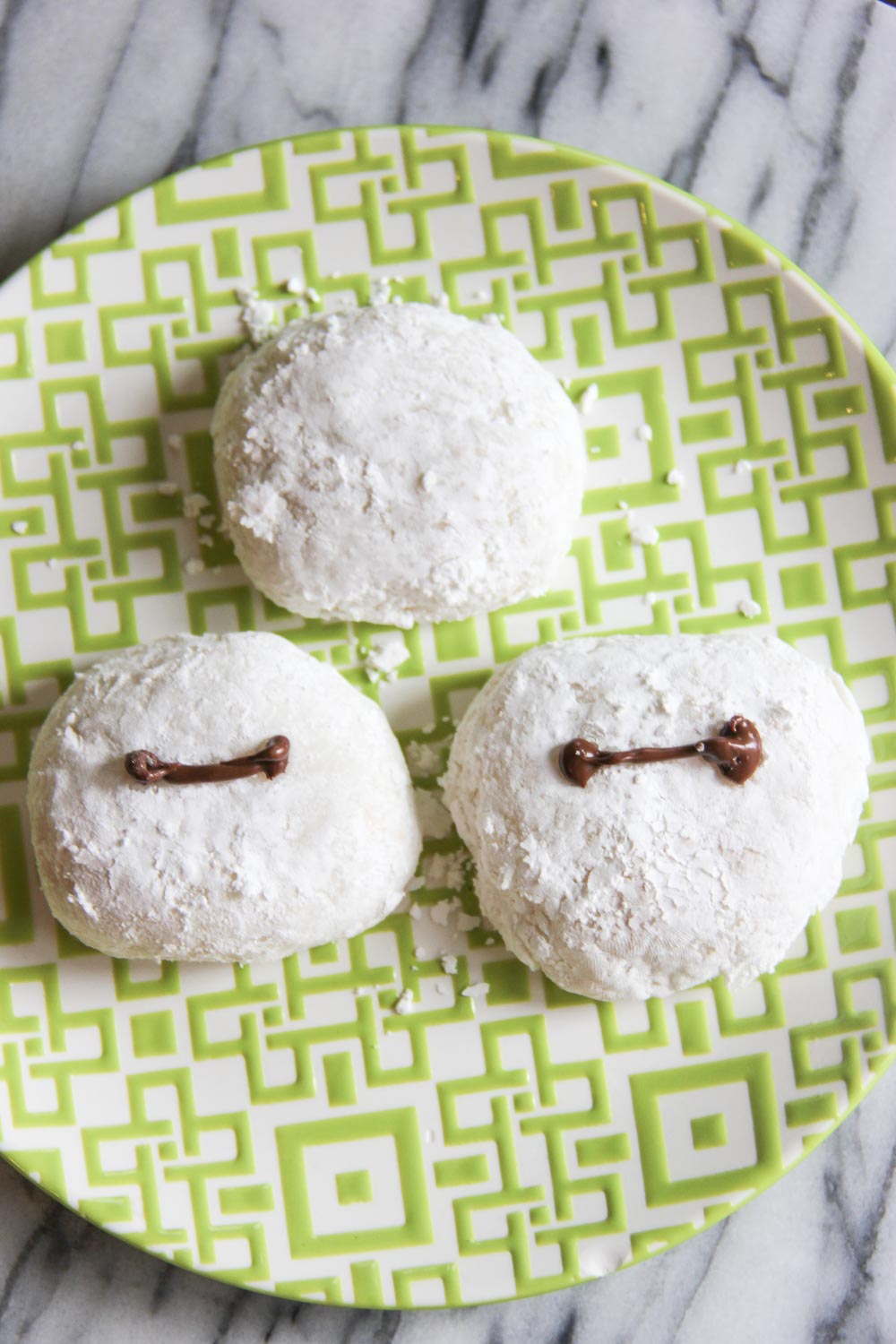 Remember when I shared that we don't subscribe to TV channels at home? Frederick loves movies. He is the one who knows what's coming and who constantly checks IMDB. I fall in the other side of the category though. I do not bother to see what's new nor do I follow new famous celebrities. Despite the different levels of love for movies, we still manage to watch together almost every week.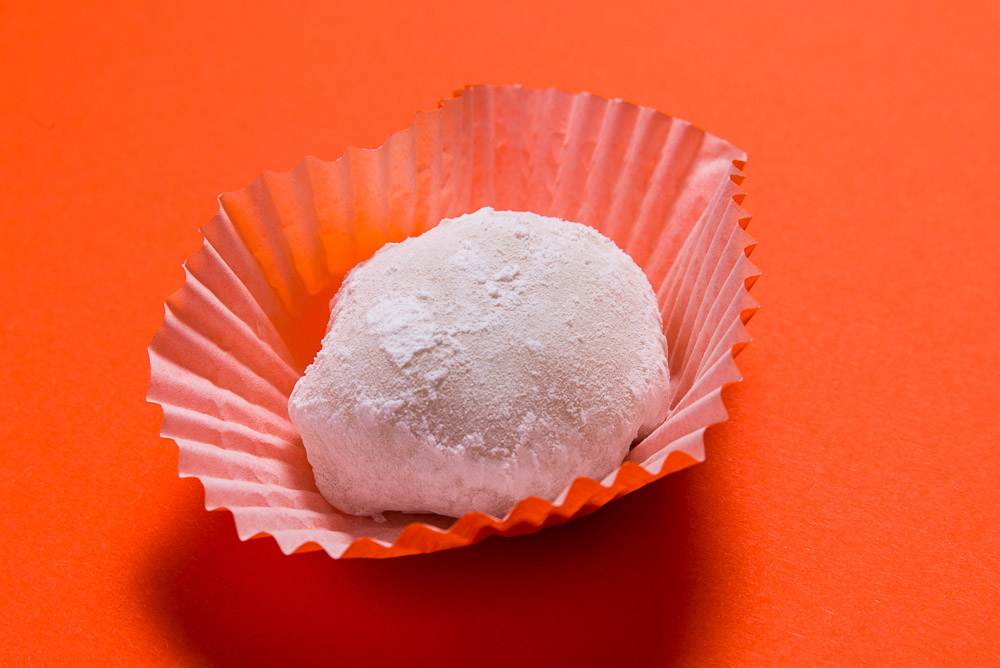 Big Hero 6 was one of the movies we watched together. I love this movie. I love its animation. (I'm not going to give you a spoiler alert, in case you haven't watched it.) BayMax reminds me of mochi – the fluffy white snacks.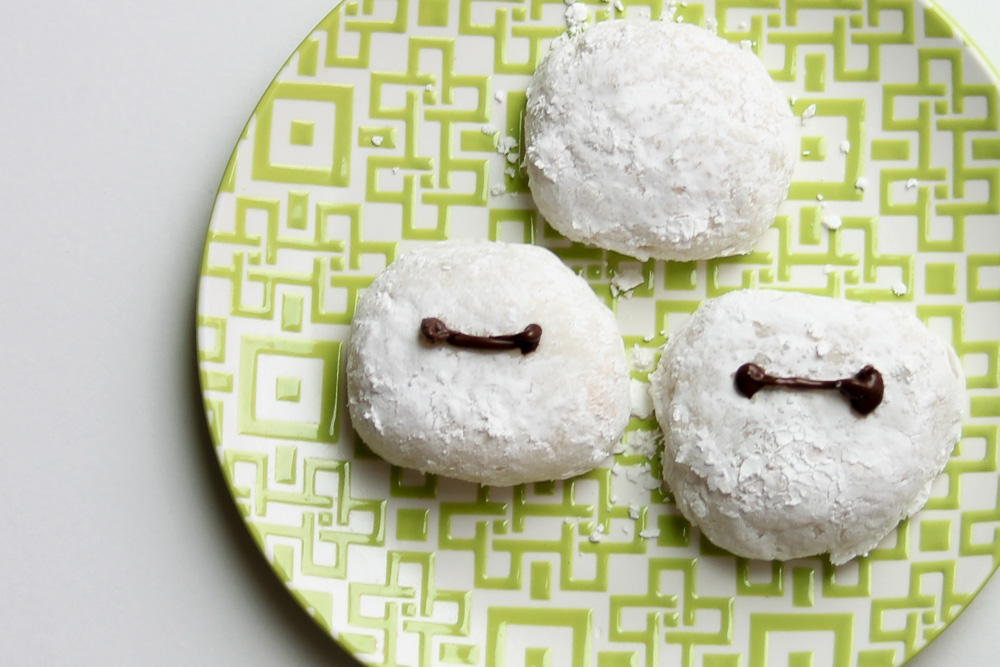 Mochi is a Japanese rice cake made of mochigome, a short-grain japonica glutinous rice. While it is eaten all year round, mochi is a traditional, commonly sold and eaten during Japanese New Year. My mom used to make these when I was little and uses dry roasted peanuts. But today, I will share with you a Nutella Mochi recipe. It's so simple and requires few ingredients but it tastes awesome!
Print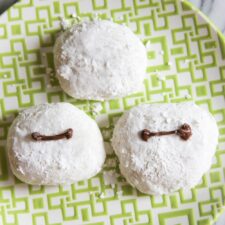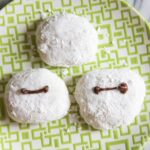 Nutella Mochi
---
Author:

Yield:

4

big mochi or

8

regular mochi

1

x
Description
Nutella Mochi – the Asian Ferrero Rocher. Chewy & tender with the perfect amount of sweetness.
---
100

gr mochiko flour (glutinous rice flour, sometimes called sweet rice flour)

180

ml water

50

gr sugar
Nutella for filing
Potato starch
---
Instructions
Mix mochiko with water and sugar in a microwave-safe glass.
Cover bowl with plastic wrap and cook the rice flour mixture in the microwave for 2 minutes. Stir the mixture and heat it again int he microwave for another 15-30 seconds.
Dust work surface with cornstarch.
While the mochi is still hot from microwave, begin rolling balls the size of about 2 tbs.
Flatten the mochi ball and fill with Nutella in the center. Pinch the mochi until the paste is completely covered.
Sprinkle with additional cornstarch and place mochi seam side down in a paper muffin liner to prevent sticking.
Repeat until all the mochi is done.

In honor of the Academy Awards next Sunday, Feb. 22, I have teamed up with 15 incredible bloggers to bring you an awesome giveaway!
One lucky reader will win a streaming media player — their choice of an Amazon Fire TV, an Apple TV or a Roku 3. It always seems to be a challenge to catch up on the year's best films, so I'm thrilled to give you the chance to do so!
Each of the participating bloggers has prepared an Oscar-themed recipe, and they're up for best recipe! When you participate in the giveaway, be sure to vote for your favorite. The winning blogger will get $50 in cash!
The Oscar Noms Party Menu & Movies
Appetizers
Pork Tenderloin Sliders – The Judge
Aged Cheddar & Apple Grilled Cheese – Boyhood
Pull-Apart Pepperoni Pizza Bread – Whiplash
Asparagus Rolls – Into the Woods
Texas Quesadilla with Chunky Guacamole – The American Sniper
Magic Garbanzo Beans – Into the Woods
Desserts
Nutella Mochi – Big Hero 6
Rocket Raccoon Cake – Guardians of the Galaxy
Texas Peach Crisp Skillet – American Sniper
Camouflage Mini Cheesecakes – American Sniper
Courtesan au Chocolat – Grand Budapest Hotel
Butterscotch Pudding – Gone Girl
Chocolate-Covered Cherry Granola – Wild
Cocktails
Pink Lady Cocktail – Grand Budapest Hotel
Black(berry) Hole – The Theory of Everything
Oscar Chambord Royale – The Theory of Everything
The Blueberry Wish – Into the Woods

Meet the amazing bloggers bringing you this giveaway!
Anne from Wit Wisdom and Food // Beth from bethcakes // Cat from The Rustic Willow // Cate from Chez Catey Lou // Erin from The Speckled Palate // Ginnie from Hello Little Home // Grace from Think Fruitful // Jenna from A Savory Feast // Katie from Twin Stripe // LeAndra from Love & Flour // Leia from Eat It & Say Yum // Linda from Brunch with Joy // Madison from The Wetherills Say I Do // Meghan from Cake 'n' Knife // Molly from Hey There Sunshine // Susannah from Feast + West