Warning: this is quite a long post with lots of tasty food pics! I hope you'll join me for a quick trip to Seoul.
Friends, I haven't shared much about my trip to Seoul but I remember everything we had over there! Today I'm starting a new series on the blog – Taste & Travel. You all know that I love to eat and share delicious foods, but I've decided I want to start sharing my other passion with you – traveling! I so enjoy traveling around the world and experiencing new places. If you follow me on Instagram, you probably already know this, and have seen all of the places I visited and some of the meals I had while I was in Seoul. We ate non stop and I'm definitely paying the price now! I wanted to share all of my favorite things that I had while I was over there, and give you a little advice on what to try and where to stop when you're in Seoul.
Ryunique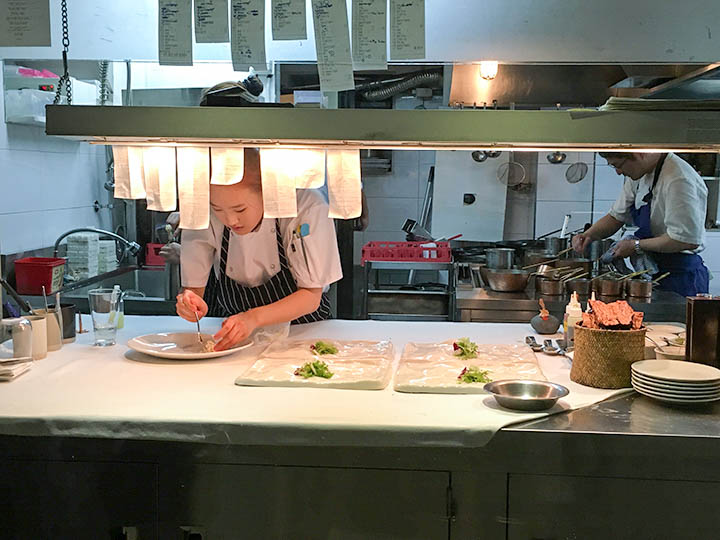 I should probably start with this one since the name does say it all. Hidden in a narrow street of Gangnam and making #27 on Asia's Top 50 Restaurants for 2015, this is a dining experience worth the visit. If it were up to me I would without a doubt make it #1 on the list! Chef Ryu added an additional twist of Japanese and French techniques to his cooking and it made the entire meal a fun journey. While we were in Seoul, our dining experiences were always very confined to regular items there such as BBQ Beef, Stone bowl mixed rice or traditional Korean meals served in courses. Our visit to Ryunique brought me a brand new experience and the highest level of eating pleasure in Seoul. Every course was a feast for the eyes and tasted even better than it looked.
We started out with these tasty and refreshing appetizers. Each dish is prepared with passion and detail. Like that green ball…it's actually filled with kimchi liquid and coated in truffle ball. Isn't that cool?!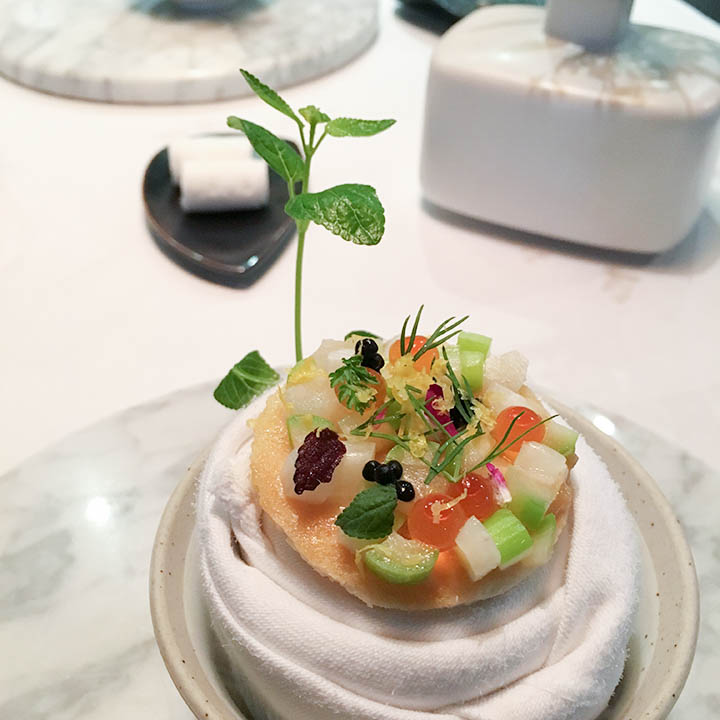 I loved how Chef Ryu added a story behind each dish and he was not hesitant to share the concept of each dish. Like this smoked quail leg presentation in a glass jar filled with smoke in a bed of dried grass…
Or this eatable pouch filled with toasted grains presented in a bed of mustard seeds. (I know.. It's pretty crazy to think, but it's all edible)!
Or this butter with seaweed puree and squid ink. It was outstanding!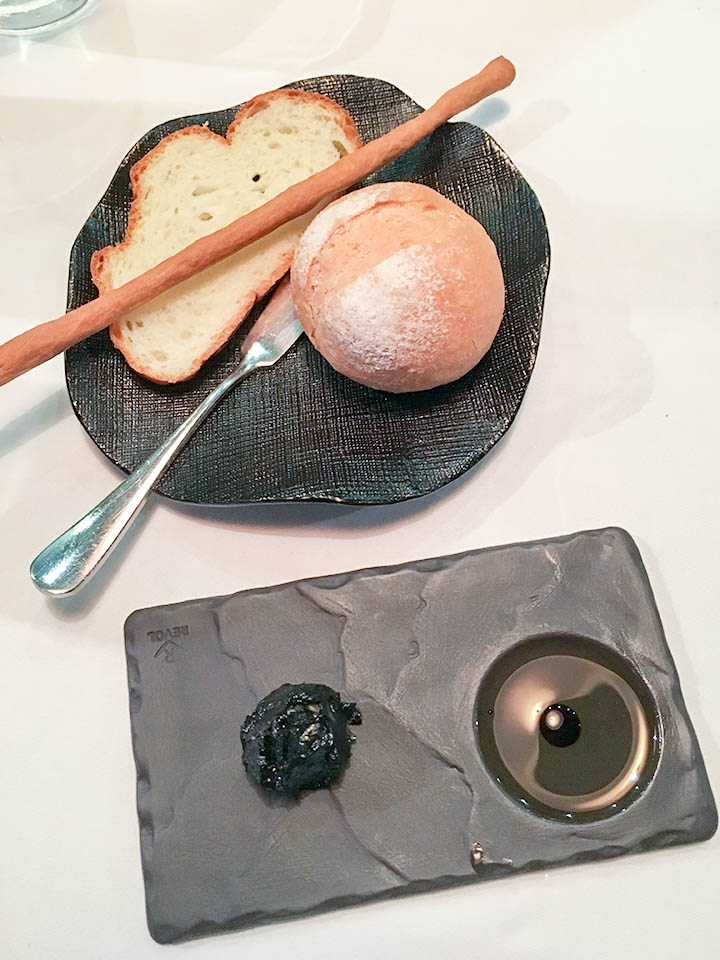 …and this strip loin is to die for! Seriously. Almost every table ordered this dish.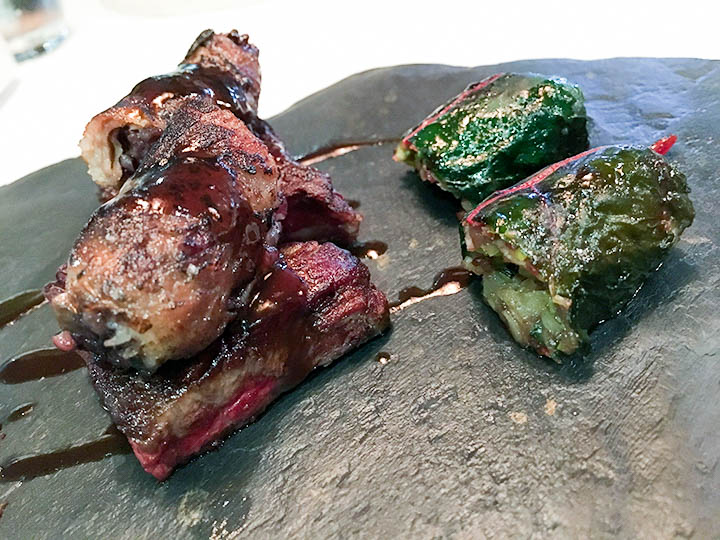 The menu is extremely  creative and they have a very unique way of presenting their food. Their plating style is out of this world and I was swooning over each dish I saw. Even the dessert plate was outstanding. That cotton candy was one of my favorites.
Forget your traditional kimchi, chilli, garlic and bibimbab. I will definitely recommend Ryunique if you are looking for an unique and memorable dining experience. If you're looking for a world class meal with a unique edge in a comfortable and intimate setting you must visit this place! Genuine, and truly Ryunique.
Ryunique
520-1 Sinsa-dong, Gangnam-gu, Seoul
Budnamujip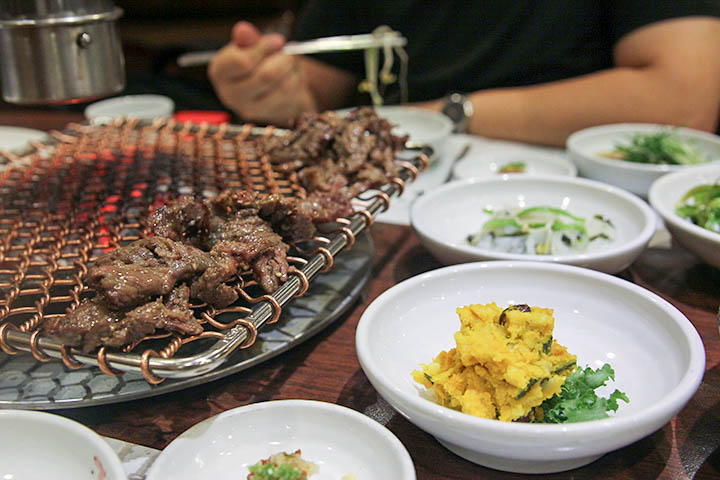 If the name rings a bell, that might be because the Seoul Metropolitan Government designated this the best Korean Restaurant. We actually got here because we got lost. It was Friday night, traffic was bad we were in a bad mood. Our feet were sore and our stomachs were growling; but that all went away when we found out this place was actually 5 minutes away from where we were. It was like hitting the jackpot!
This restaurant is not a typical "affordable, all-you-can-eat, or many selections" type of place, simply because they focus on mid-high quality kind of meat. This is the place you come back to because of the memorable taste. The marbling of the meat is so even that it looks like a piece of art. We ordered Jumulleok-gui (grilled cubed beef sirloin or flank with soy sauce) and
Saengdeungsim-gui (grilled beef sirloin)  which were both delicious! (I may just dream about the Kalbi tonight!) The side dishes were salad and mung bean pancakes and they were also excellent. The portion sizes were pretty good and filled up 2 people with some to spare.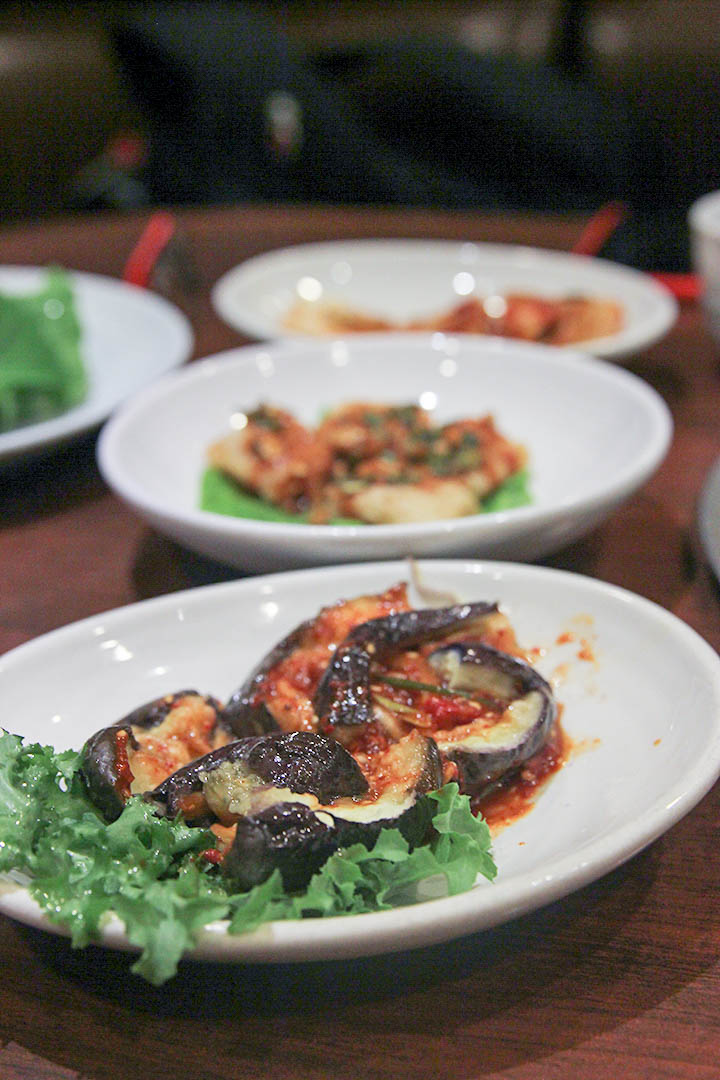 The service was great. We asked if they could give us a lunch special menu instead of dinner. Sadly, it was not doable; however they were kind enough to let us order 1 person meal for 2 people. And knowing that we are foreigners, they left us with some souvenirs.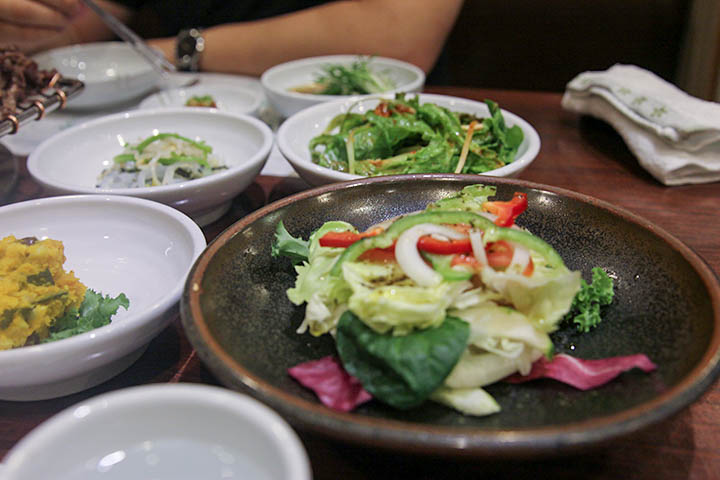 Budnamujip Seoul
434, Hyoryeong-ro, Seocho-gu, Seoul
서울특별시 서초구 효령로 434 (서초동)

HwangSaengGa Kalguksu – Mandoo Soup
Hwangsaengga Kalguksu (formerly 'Bukchon Kalguksu') is one of the most popular restaurants on Samcheongdong-gil. Thanks to TripAdvisor, we got to this place in between our city tour and just before lunch time. The restaurant is easy to get to but hard to identify for non-Korean speakers as the signage is all in Korean. The smell of the handmade dumplings greeted us as we walked in the door. They seriously smelled amazing and they tasted even better than they smelled! It was a simple meal and it was perfect in its simplicity.
It was busy when we got there but we were lucky enough to get seated within 2 minutes. Tables were filled with native Koreans which I led me to believe that this is a favorite place for the locals. They handed out an English menu that comes with pictures and we tried their famous Kalguksu (noodle soup) with rich, mild broth made from ox bone and homemade 'wang mando' (king-sized dumpling), in which you can even see workers making them at the entrance of the restaurant. The portions were very generous and the dumplings were surprisingly filling!
The fresh kimchi was pretty good and tasted home-made; however the white kimchi was too sour for my liking. Regardless, you can tell they used fresh, quality cabbages, not some second-rate ones bought off the back of a truck. This is a good place to taste an authentic homemade Korean soup because there are no funky ingredients and everything is all about simplicity here.
Hwangsaengga Kalguksu
78, Bukchon-ro 5-gil, Jongno-gu, Seoul
서울특별시 종로구 북촌로5길 78 (소격동)
Guylian Chocolate Cafe
Nothing is better than chocolate and that's why I was in pure joy when we came here. Everything is all about chocolate here. Though the place was relatively small compared to other chocolate places I've been to, you can watch the chocolatier work their magic here, which was very cool! Besides the chocolates, there are cakes and shakes, so if you're looking for a sugar rush – this is the place to go. The weather was screaming hot when we got there so we tried their mango shaved ice and chocolate s'mores pizza to kill time. The shaved ice was not disappointing but the pizzas had a thick crust that tasted like a leftover pizza crust. I wasn't really a fan of it. They are also famous for their hot chocolate but I was not in the mood to try it when the weather was close to 90F.
Guylian Belgian Chocolate Cafe
Lotte World Mall, Jamsil
Do you like to taste what locals have when you travel?