Homemade pork and cabbage potstickers (guotie, jiaozi) are more fun and you will never buy take out again after seeing the video on how these are made. Click here to learn how to fold potstickers in many different ways.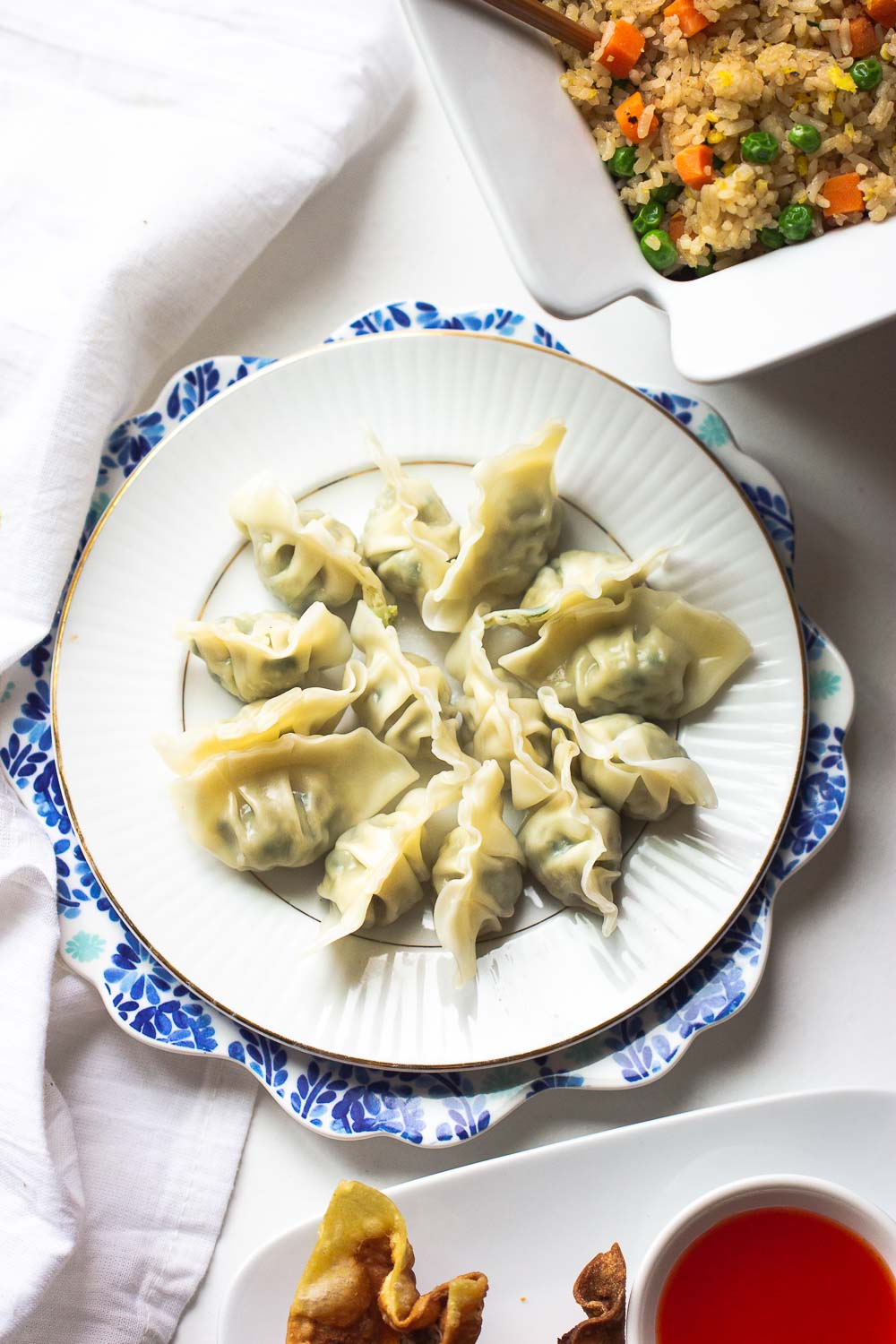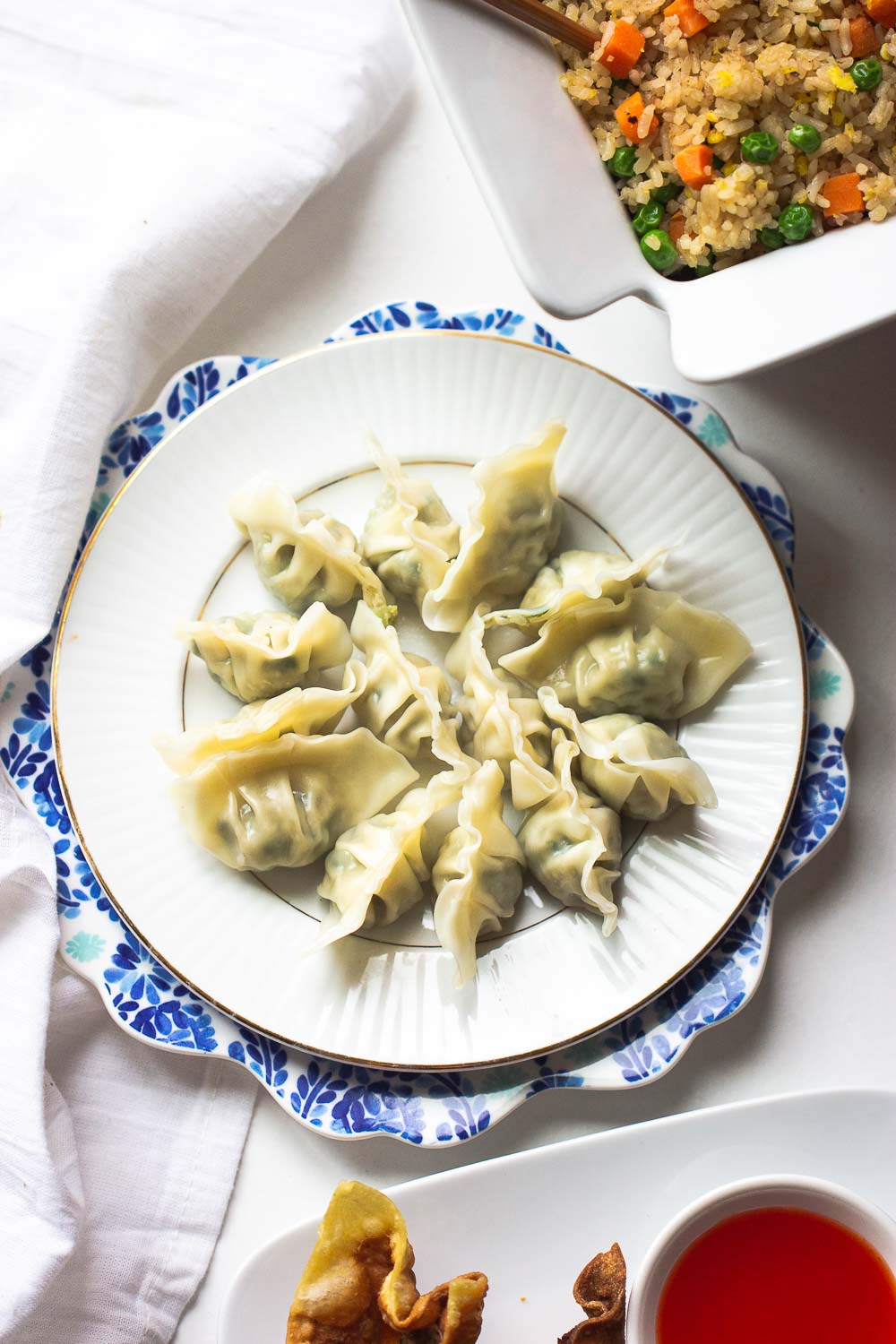 Super Bowl is here! I know, I know… but let's move forward just a little bit because although Chinese New Year is tomorrow (Monday) but our family had celebrated it with a feast yesterday (Saturday). My parents are more modernized when it comes to tradition and I am so thankful that they are flexible enough to adjust the celebration with our schedule as well.
As a student, my friends and I spent most of our lunch break in the school cafeteria rather than going to a mall next to our school, as some of our friends did. Well, I did visit the mall from time to time, but mostly we just stayed in school and having our conversation in the library. And of course, cafeteria food is not the best; however, two of them were pretty good – Mexican and Chinese. Good thing they did not only serve those two foods, so we were still able to try other kinds of food as well. The Mexican food was actually pretty good, that even after 10 years, we still crave for their burritos. The Chinese place was not bad either and one thing my friend pointed out to me was my love for potstickers. I was like… really? But that might be true.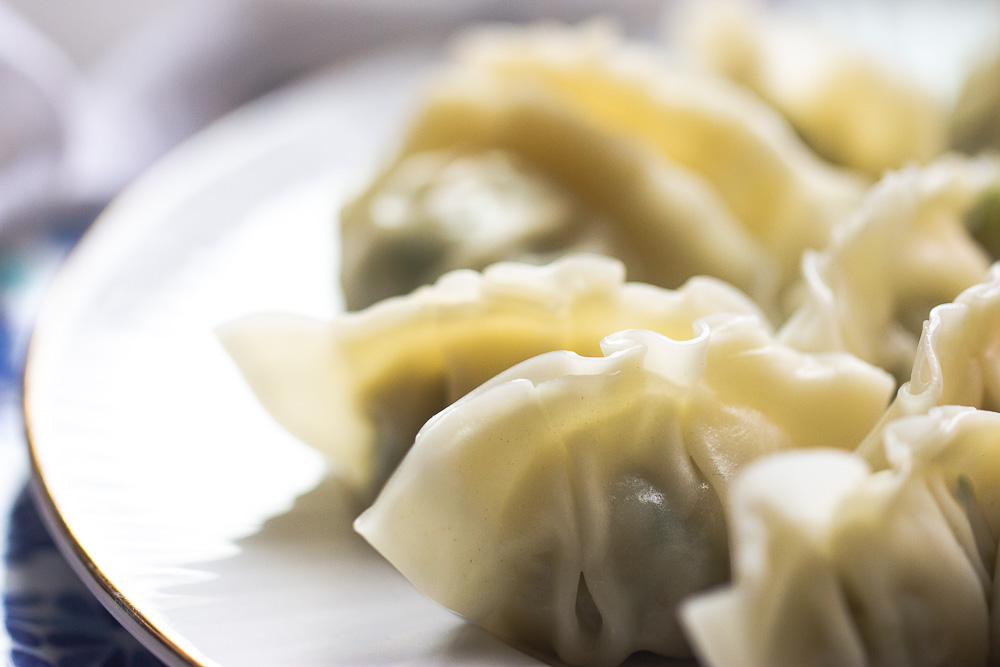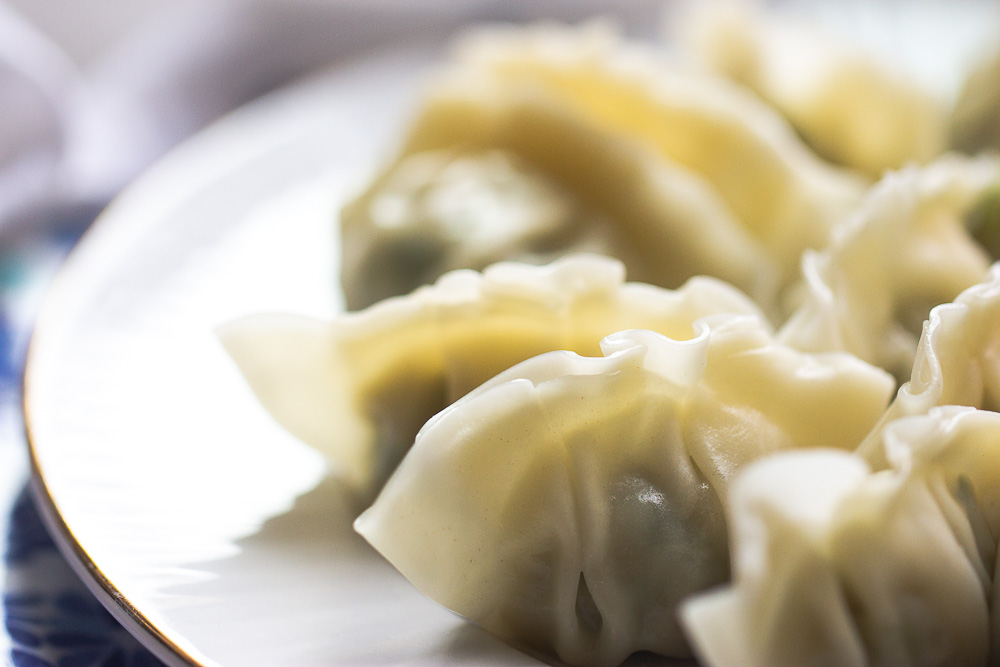 Potstickers vs. dumplings. Do you know the difference between those two? Me neither until I did my search. To make it short, potstickers are pan-fried until charred, then steamed. Dumplings are steamed and served with Chinese Black Vinegar for a real treat. In a way, dumplings are a bit healthier.
So why am I bringing up this topic? Well… I recently read an article about dumplings as a classic Chinese food and a traditional dish eaten on Chinese New Year's Eve, widely popular in China, especially in North China. Legend has it, that the more dumplings you eat during the New Year celebrations, the more money you can make in the new year. Hmm… as someone who enjoys potstickers a lot, I sure do not want to miss this opportunity. And did you know that dumplings should be arranged in lines instead of circles, because circles of dumplings meant that one's life will go round in circles, never going anywhere?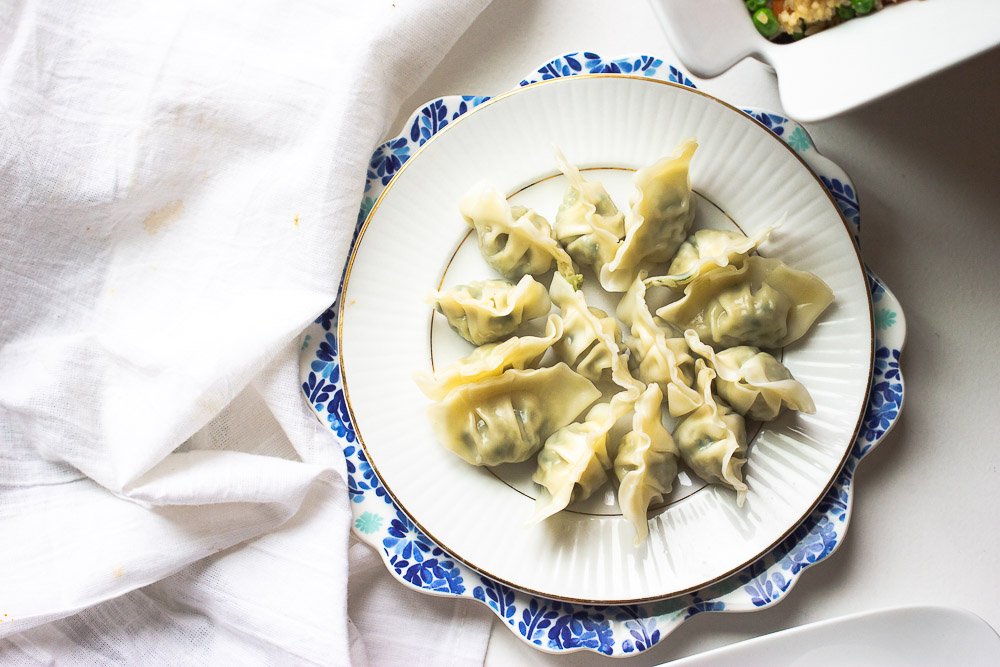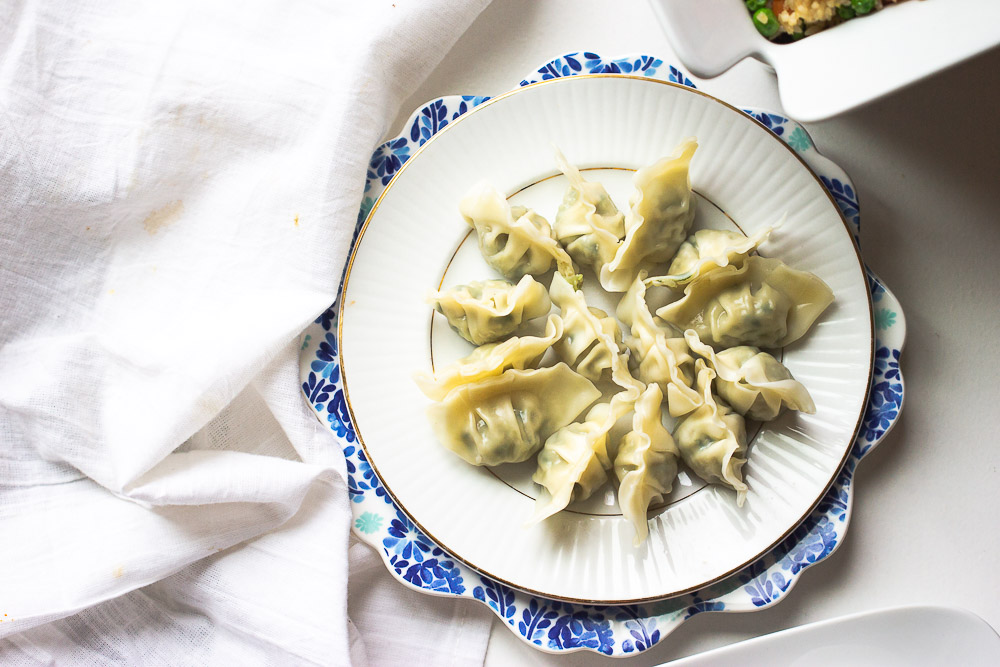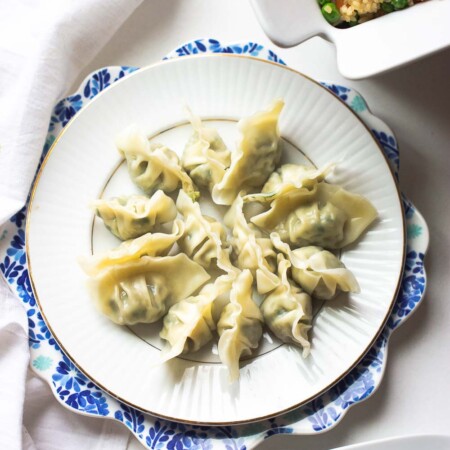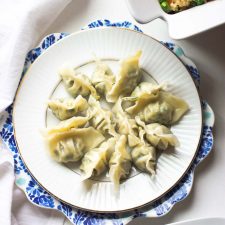 Pork and Cabbage Potstickers (鍋貼 GUOTIE, 餃子 JIAOZI)
Homemade pork and cabbage potstickers (guotie, jiaozi) are more fun and you will never buy take out again after seeing the video on how these are made.
Print
Pin
Rate
Ingredients
1

tsp

sugar

1

tsp

salt

5

cloves

garlic

finely minced

2

tsp

grated ginger

3

tbs

fish sauce

2

tbs

lite soy sauce

3

tbs

sesame oil

4

tbs

corn starch

1

tsp

white pepper

1

lb

lean ground pork

1/2

cup

shrimp

minced

2/3

cup

napa cabbage

finely chopped or use a food processor

150

ml

chicken stock

3

tbs

oil

50

gyoza

pot sticker wrappers
Instructions
In a bowl, mix all the ingredients except chicken stock, oil, and gyoza wrappers.

On dry surface, lay out 1 gyoza wrapper, keeping remaining wrappers covered with dampened cloth or paper towel. Spoon 1 tsp filling into center, then moisten halfway around edge with wet finger. Fold moisture-free half of wrapper over moistened half to form open half-moon shape. (See video for more details).

In a lidded, non-stick skillet over moderately high heat, heat oil until hot but not smoking, then arrange pot stickers in tight circular pattern. Cook uncovered, until bottoms are pale golden, 2 to 3 minutes.

Add chicken stock, then cover tightly with lid and cook until liquid has evaporated and bottoms of dumplings are crisp and golden, 7 to 10 minutes. Remove lid and cook, shaking skillet to loosen pot stickers, until steam dissipates, 1 to 2 minutes. Remove skillet and serve.