The happiest day of my week was the day I made this Sichuan Spicy Chili Oil. It was spicy, aromatic, and filled with homemade flavors.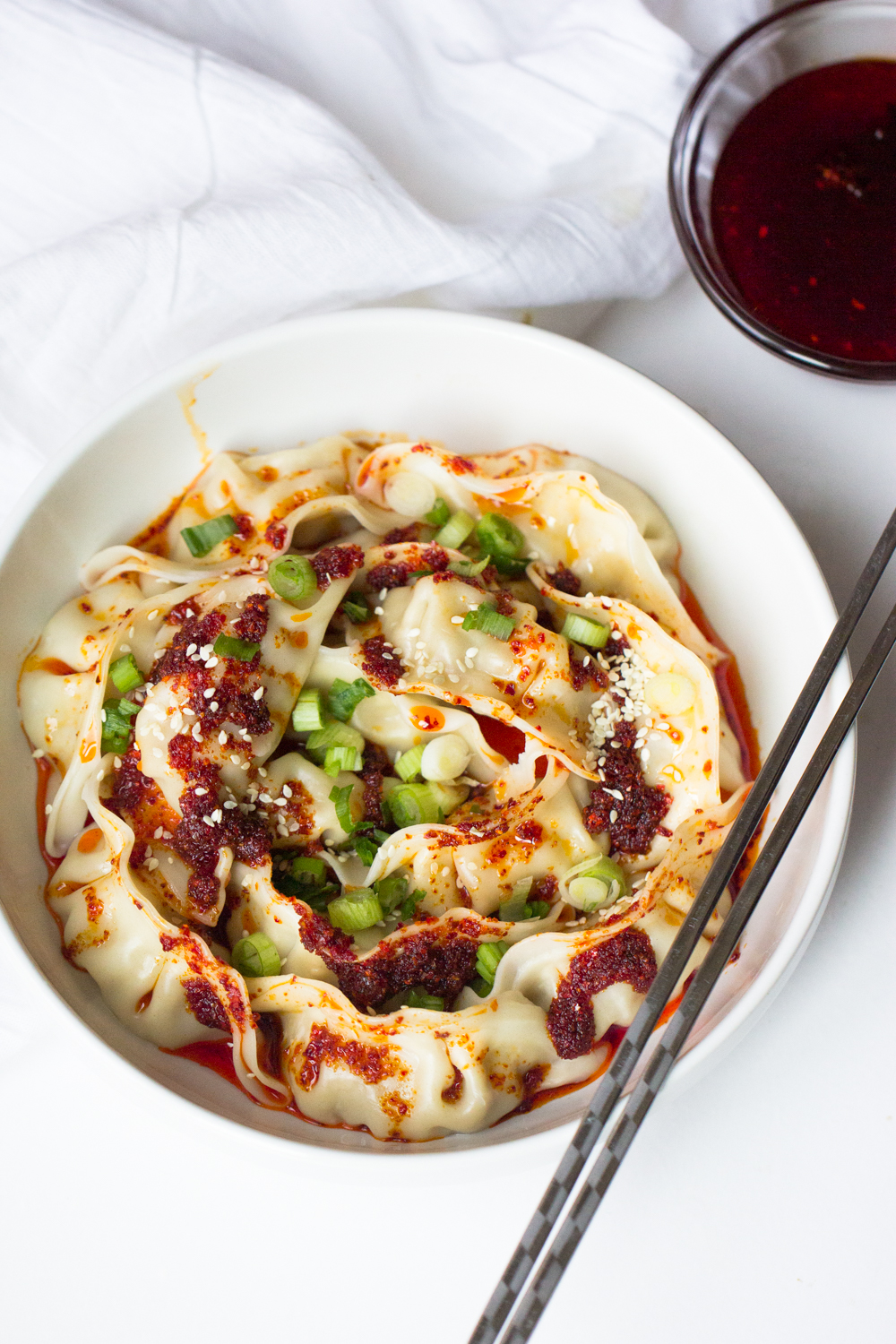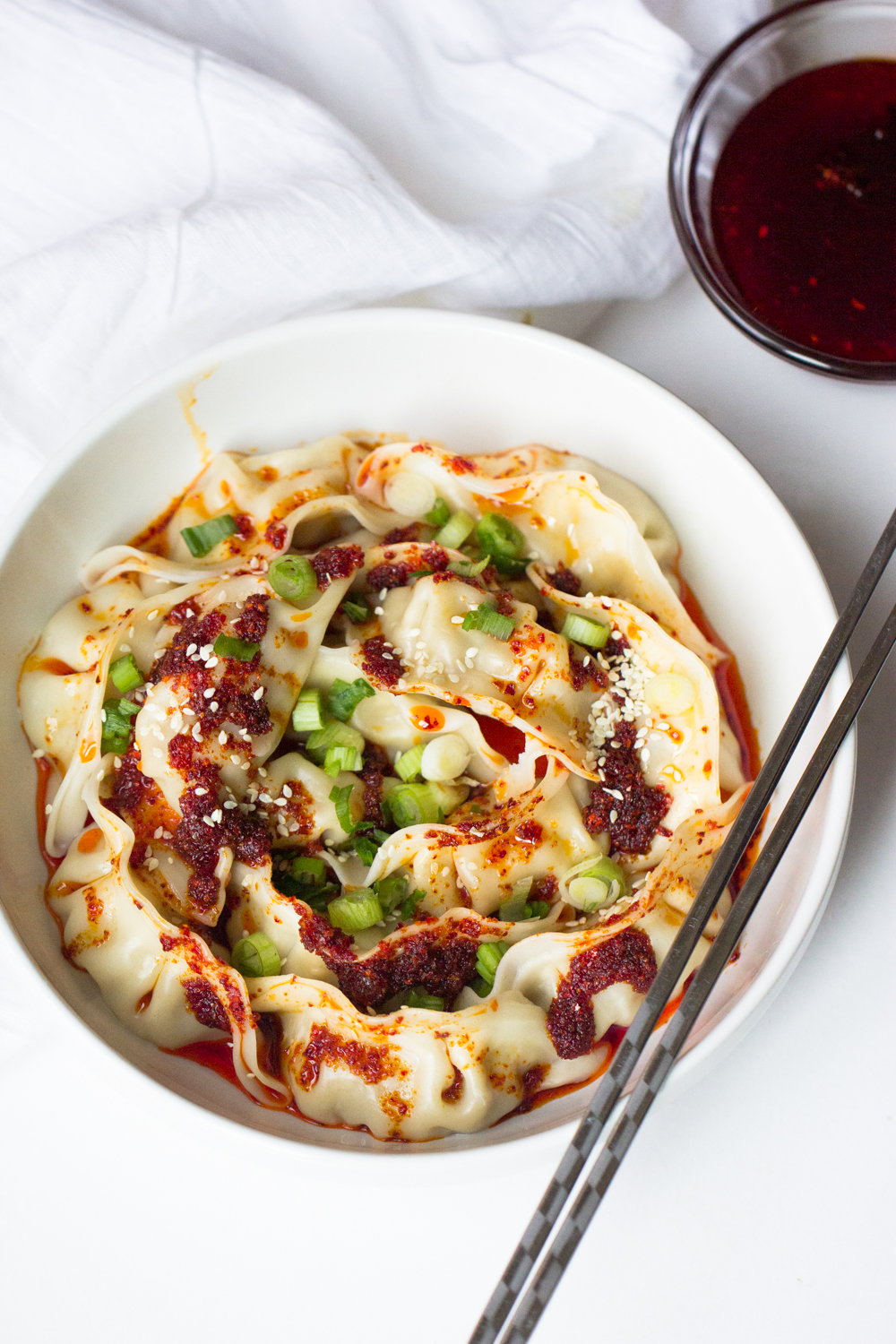 But before we go any further, let me clarify that this chili is not the same as the big bowl of spicy stew that you would normally enjoy. This chili oil is a hot sauce just like the chili oil you'd get in most Chinese restaurants (for the record: it's not sriracha either).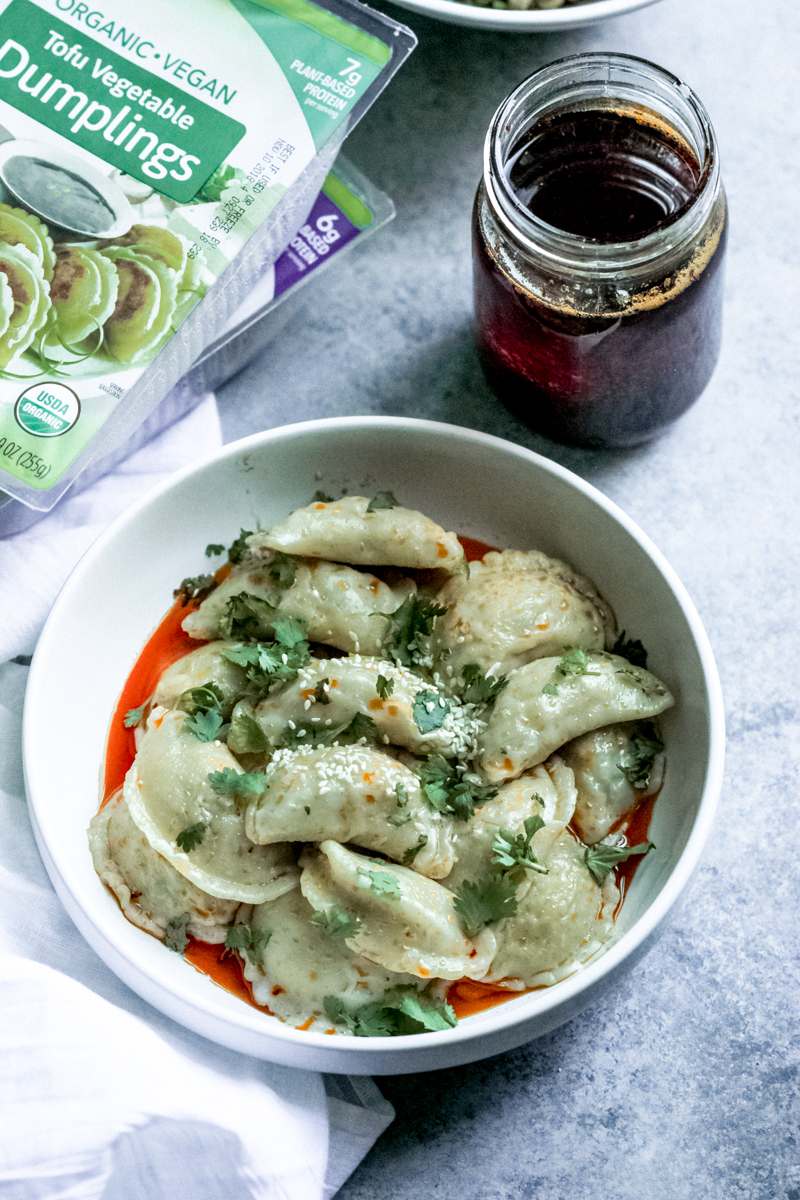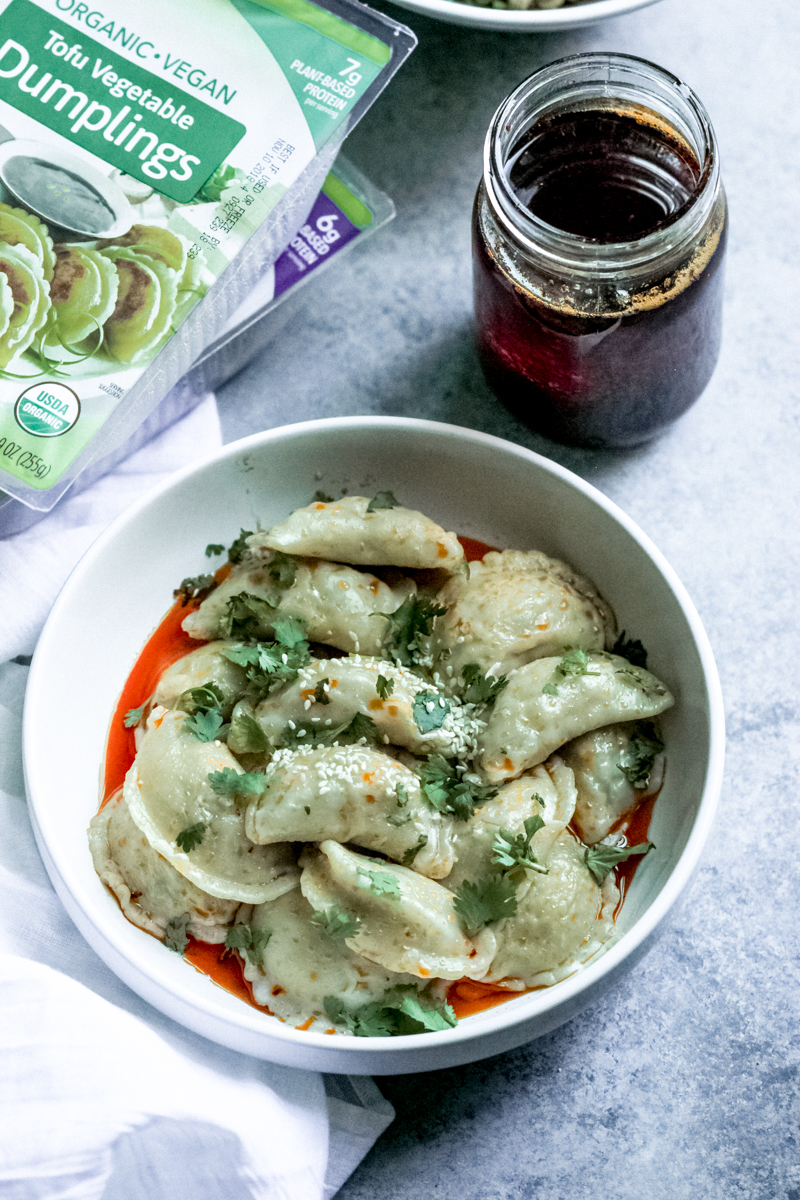 I've been into Asian dishes lately, like these Thai Lettuce Wraps that I shared on Instagram yesterday. They are so easy to make and only take 10 minutes to prepare, so yes, this was one of my go-to meals on busy nights this week. And, you can grab the recipe from my 5-Ingredient One-Pot Cookbook which you can start pre-ordering now!
I also enjoyed this Gado-Gado Salad for a light lunch or a Meatless Monday, and this Cold Asian Noodle Salad is a great choice too! So yummy and refreshing, especially on a warm summer day. I can't say it's Fall here yet, especially since it still hits 80°F during the day, hence the reason why I needed something cold (yet still delicious) to enjoy. However, the nights and mornings are pretty cold and that's when I crave something warm and comforting with an extra kick.
So, let's focus on the awesomeness that is Fall weather: oversized hoodies, hot cocoa and pumpkin spice lattes, and something comforting to end each day with. This chili oil is a good one to keep at home for cooler evenings that need to be spiced up. It is so easy to make and is the perfect pair for store-bought (or homemade if you have some time) dumplings or tuna potstickers. If you do decide that you want to make them from scratch and learn how to fold them, you can watch this video.
Homemade chili oil is actually extremely simple to make. And once it's made, this chili oil will last for 1 month in a sealed container in your fridge or 2 weeks at room temperature.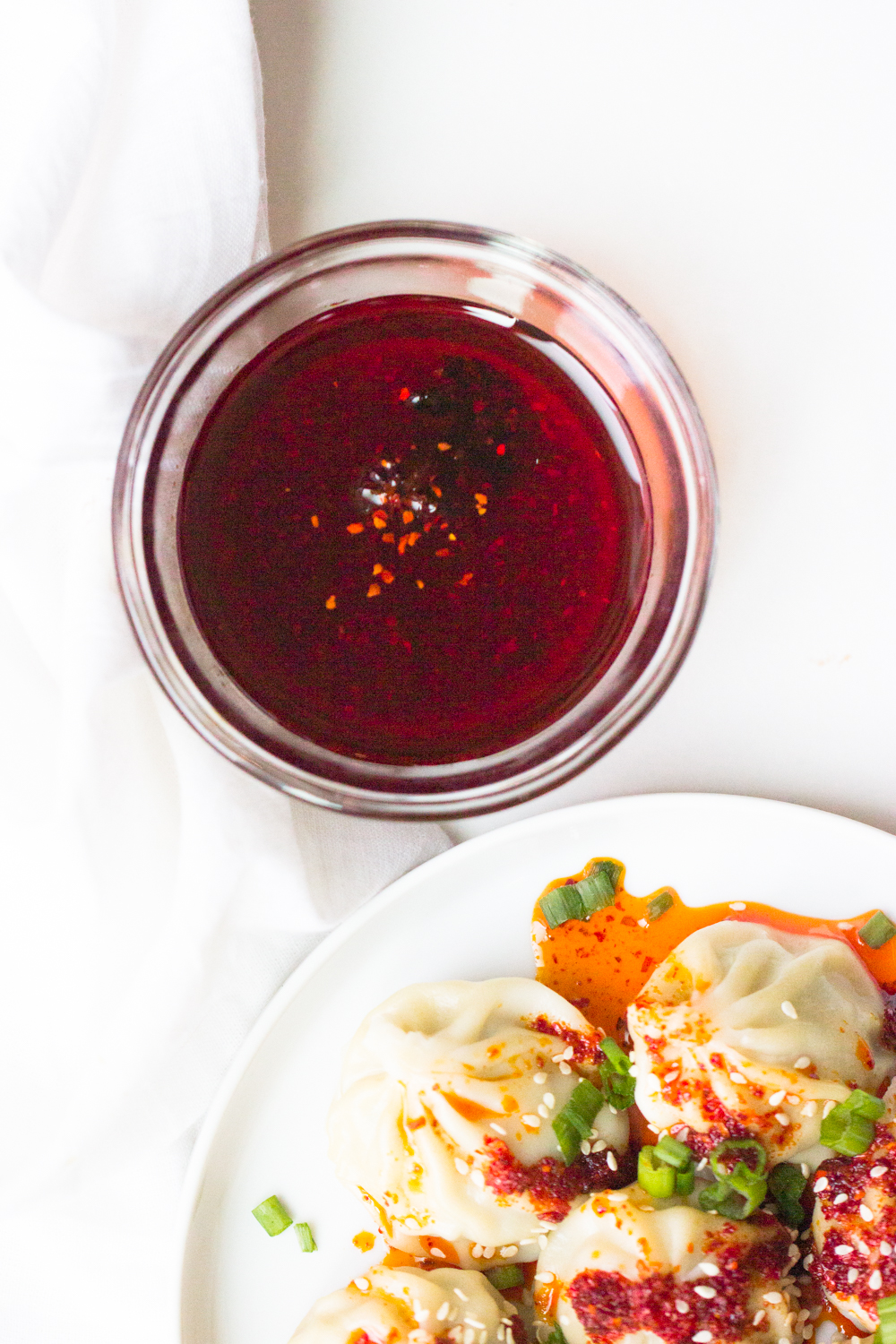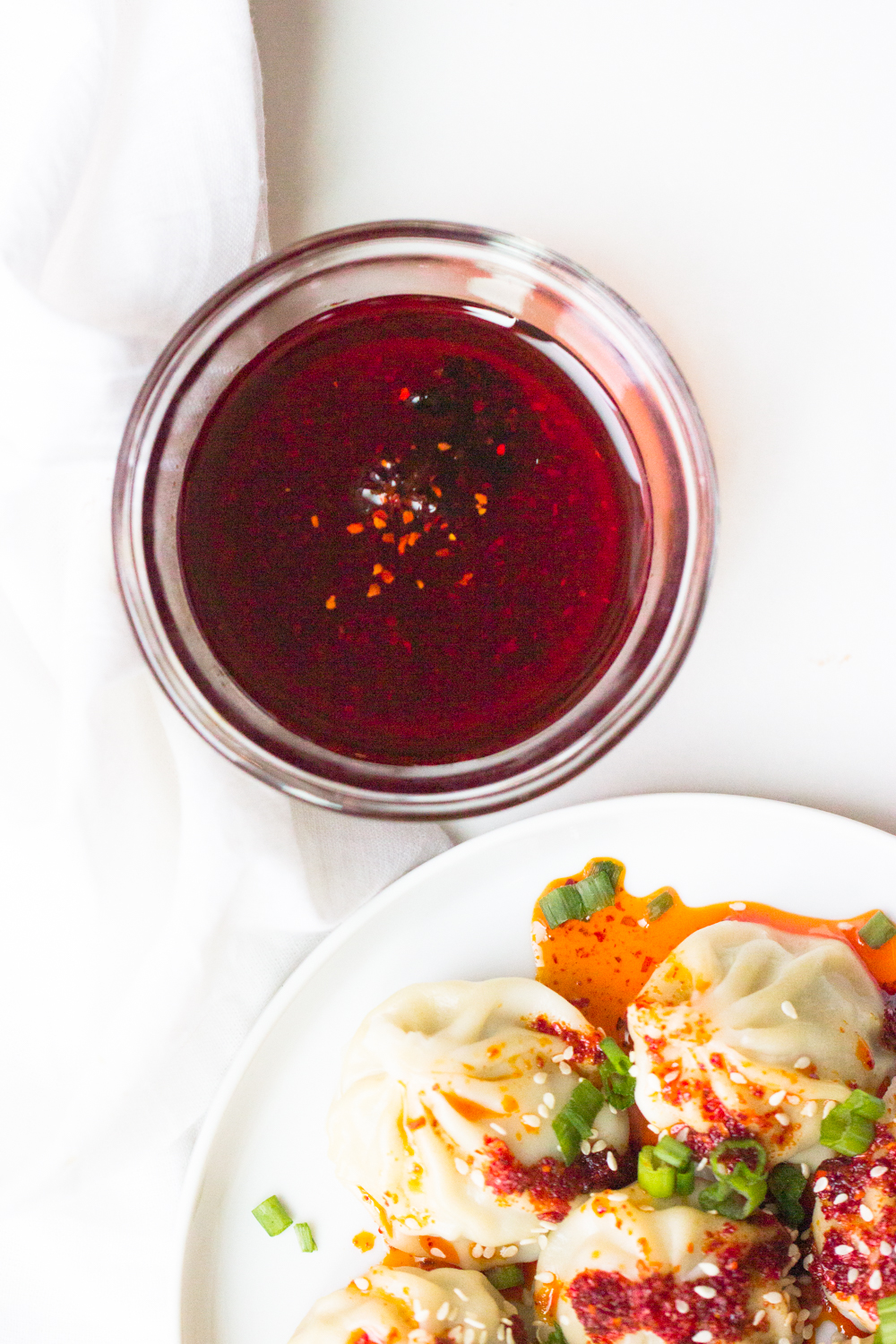 In this post, I'm using dumplings from Nasoya with tofu as the main ingredient. I love their dumplings because they come in just the right size and with the right amount of ingredients. Plus, they are organic, vegan, and packed with protein. My favorites are these tofu vegetable dumplings and Thai basil vegetable dumplings. Each has their own unique taste which blends well with this chili oil. Nasoya Tofu Vegetable Dumplings are the first fresh, organic tofu dumplings on the market! And you can simply pan fry or boil them and they can be ready in no time!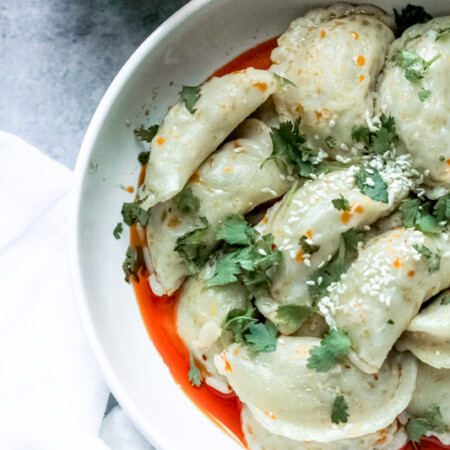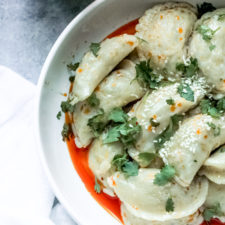 Ingredients
2

cups

oil

vegetable, peanut, or grapeseed oil

5

star anise

1

cinnamon stick

2

bay leaves

3

tablespoons

Sichuan peppercorns

¾

cup

Asian crushed red pepper flakes

6

slices

of ginger

1

– 1½ teaspoons salt

to taste
Instructions
Heat the oil, star anise, cinnamon stick, bay leaves, ginger, and Sichuan peppercorns in a small saucepan over medium high heat. When the oil starts to bubble slightly, turn the heat down to medium or low heat. The oil and spices can burn really easily so pay a close attention to it.

Continue cook the oil for 20-30 minutes and turn the heat to low if it gets too hot.

Turn the heat off and let the oil cool for 15 minutes if it is too hot. The color of the oil should be a dark, ruby-red.

In a separate heat-proof bowl, measure out the crushed red pepper flakes and salt. Remove the aromatics from the oil and strain the oil through a very fine sieve over the chili flakes. Bottle it and store in the refrigerator.