Like most things in life, creating a home as a couple is all about compromise. Even after one year of moving to this new house, we're still not done decorating our nest, since the two of us have our own opinions and it takes time to come into an agreement. And even after being married for 3 years, we still haven't printed our wedding pictures because one wants it printed on specific material, while the other wants to go classic. But those are the things that make us laugh as we enjoy our differences.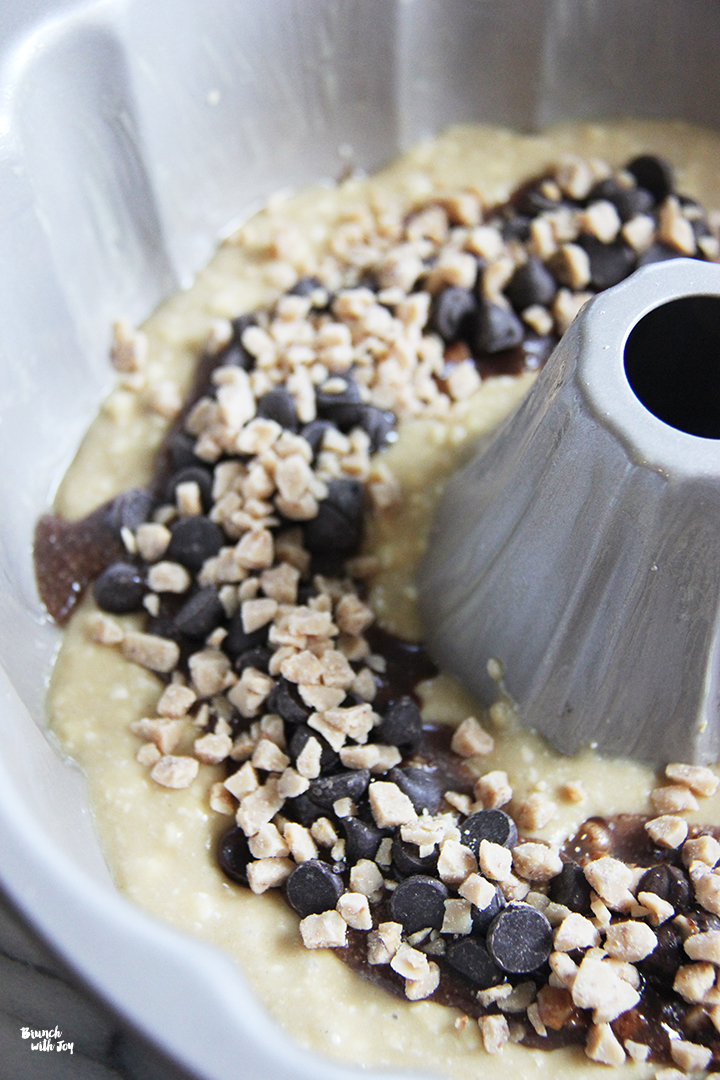 And that also leads to food choices. While Frederick is a huge fan of red sauce, I'm all about white sauce. However, there are things that we both agree to… such as ice cream (well, he converted me), cakes, veggies (lucky me, he's all about salad), and this bundt cake.
This month #BundtBakers is brought to you by Kelly from Passion Kneaded. And it's all about girl scout cookies. How many boxes of girl scout cookies did you eat this year? The other day, someone at work left several boxes of girl scout cookies opened and that means cookie party every day – after breakfast, before lunch, after lunch, and when it's close to tea time. Two of my friends even put a post-aid written "dangerous" on top of those boxes.
I think I like almost all kinds of girl scout cookies, but my most favorites are samoas, thin mints, and toffee-tastic… so here's toffee-tastic bundt cake, inspired by the girl scout cookies. And if you happen to have vanilla ice cream at home, that will make this bundt cake even more fantastico!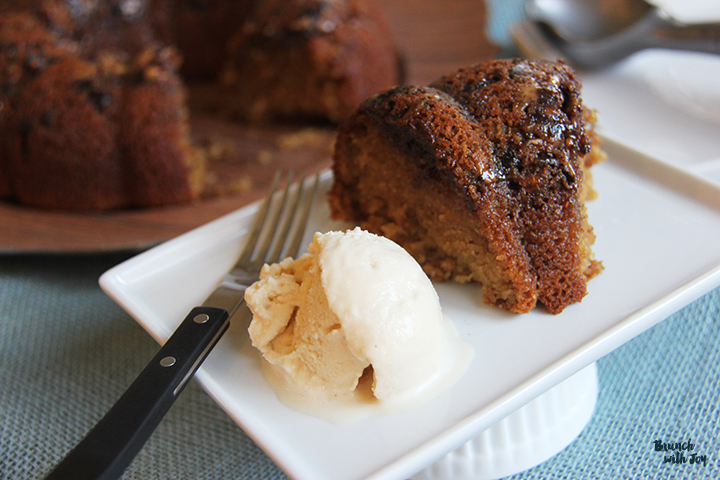 Print
Toffee-tastic Bundt Cake #BundtBakers
---
Scale
Ingredients
2

eggs

11/2 cup

brown sugar

2

sticks unsalted butter, melted

1 tsp

vanilla

1 cup

buttermilk

2 cups

flour

1/2 tsp

salt

1 tsp

baking soda
Filling:

1/2 cup

toffee bits

3

tbs butter, melted

1/2 cup

dark chocolate, coarsely chopped

1/8 tsp

salt
---
Instructions
Preheat the oven to 350F. Thoroughly coat the inside of a 12-cup Bundt pan with baking spray, set aside.
In a bowl, combine the flour, salt and baking soda. Set aside.
Combine the eggs and brown sugar in a mixer for 2 minutes.
Add the butter and vanilla. Mix for another 3 minutes.
Add in the buttermilk and combine.
Add the flour mixture gradually and beat briefly until smooth. Set aside
In a small bowl, combine the filling ingredients and set aside.
Pour about one half of the batter into the prepared pan (you can do this by eye). Smooth it with a small offset spatula. Sprinkle with filling and top with remaining cake batter, smoothing the top.
Bake the cake for about 1 hour or until a toothpick inserted in the center of the cake portion shows a few moist crumbs when removed. Let cool for about 30 minutes, then unmold onto rack and cool completely.
---
 And don't forget to check what others are baking:
#BundtBakers is a group of Bundt loving bakers who get together once a month to bake Bundts with a common ingredient or theme. Follow our Pinterest board right here. Links are also updated each month on the BundtBakers home page. We take turns hosting each month and choosing the theme/ingredient. If you are a food blogger and would like to join us, just send Stacy an email with your blog URL to [email protected].