Trip to Bangkok, Thailand
They all say Bangkok is a fun place to eat and shop. Well, it took me a while to finally witness what and it is actually so true. Bangkok is a paradise for food lovers and shoppers. And the price are very cheap, so you can eat and shop as much as you like without worrying too much about money.
We were very fortunate to have the chance to visit Bangkok last year. It was a last minute decision but I'm glad we were still able to make it and we had lots of fun, especially food. And like many of you, I did my research beforehand and made some fun observations during the trip, so now I will share with you the ultimate Bangkok foodie guide a.k.a what to expect when you visit Bangkok… aside from their famous mango sticky rice.
1.Exotic fruits
Growing up in Indonesia, we enjoyed lots of exotic fruits. After staying here, it is no doubt that I missed the tropical fruits: cashew fruit, papaya, mango, and in case you haven't heard, Thailand is famous for their durian. You know… that heavenly stinky fruit. Sadly though, not everyone can appreciate this fruit as it has strong stinky smell, though I found it delicious… especially when it is compared to stinky tofu.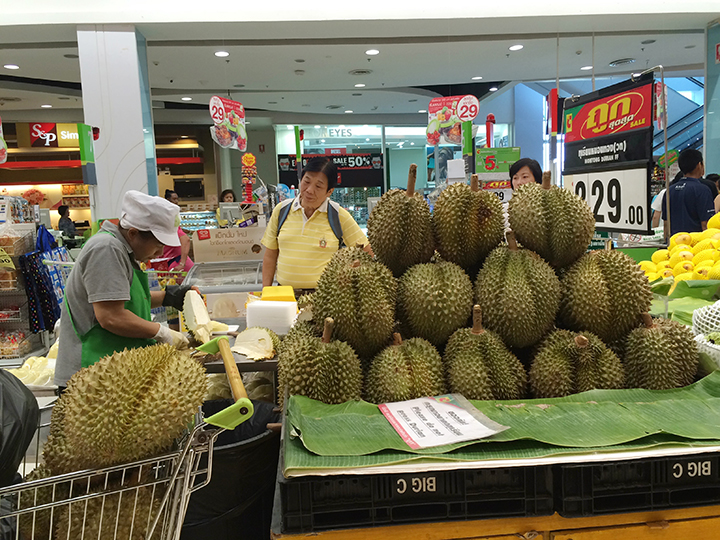 Anywho, you can easily spot fresh durian in supermarket like Big C and they can cut it for you, fresh. And oh, try to eat fresh durian instead of frozen ones because it tastes soooo much better.
2. Fresh coconut water
Nothing beats fresh coconut water on a humid sunny day. I'm talking about 90 to over 100F weather and fresh coconut is always the best solution to go through one sunny day, especially after a long day of shopping and hopping around the City. It is also the best drink to cool off your body after eating the 'smelly' durian.
Coconuts come in different sizes and methods. My favorite is this roasted coconut water. The size is smaller compared to regular coconuts but the roasted aroma brings out the freshness. Definitely a thirst quencher on any hot day.
3. Street vendors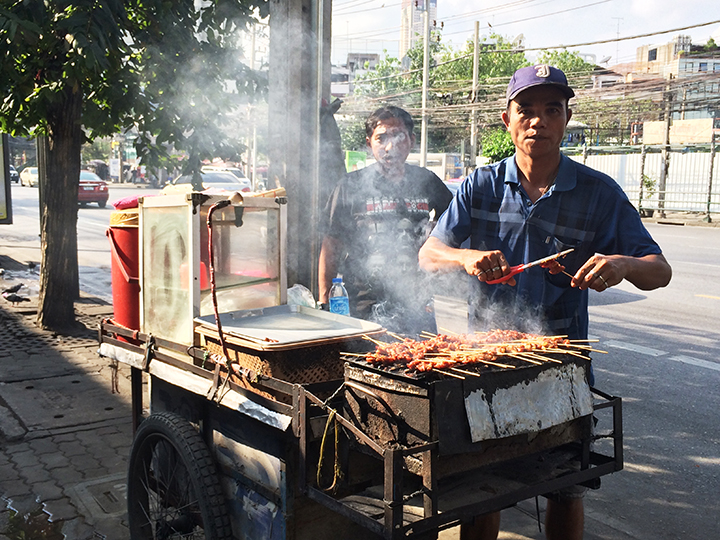 I like street food and #eatlocal. I love learning about other country's culture and tradition, as well as experiencing it. So each time I travel, I never skip on tasting these amazing food from street vendors.
4. Food tuk tuk cart
We spotted this one on our first day. Tuk tuk is the major transportation modes in Bangkok and you can easily spot them everywhere, but tuk tuk cart? That's probably just one or two there. We stayed nearby Pratunam district, the shopping heaven of Bangkok; and we found this tuk tuk cart selling ice cream in the parking lot.
5. Creative food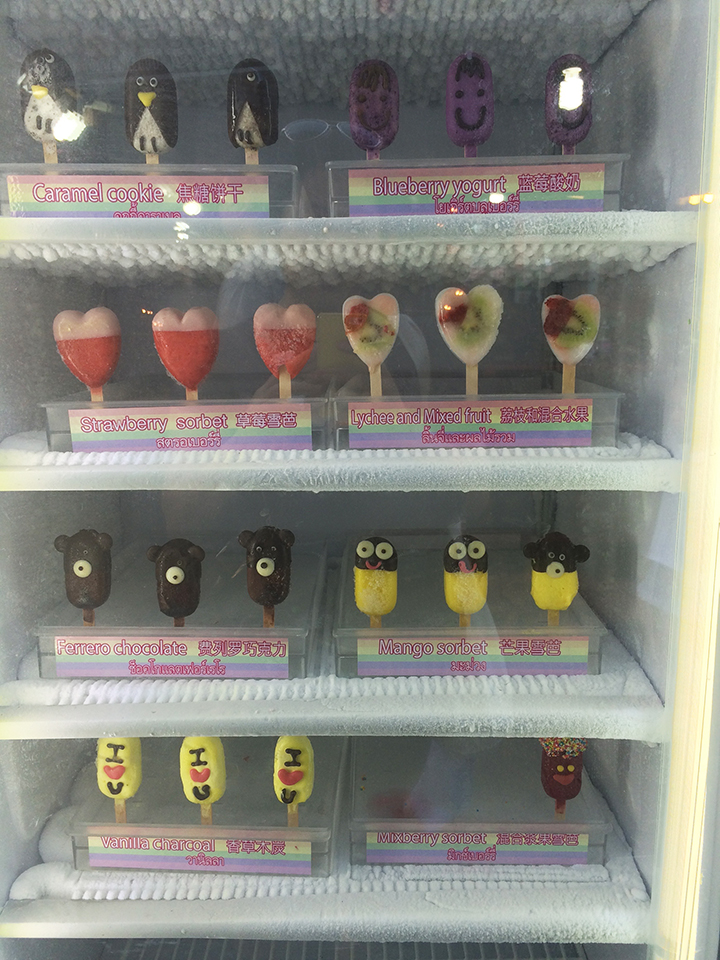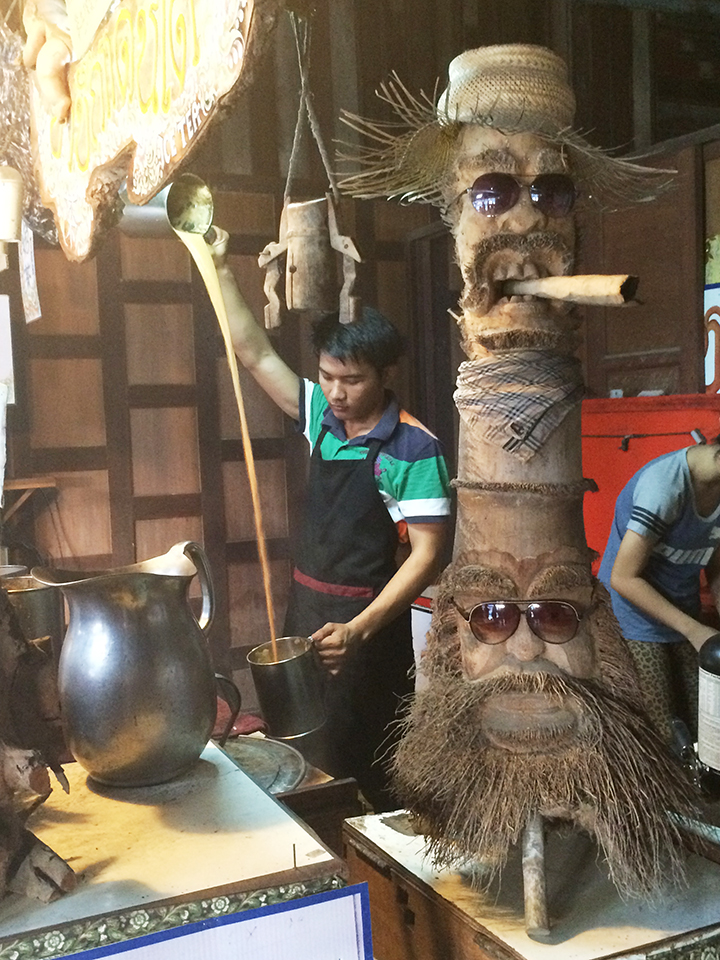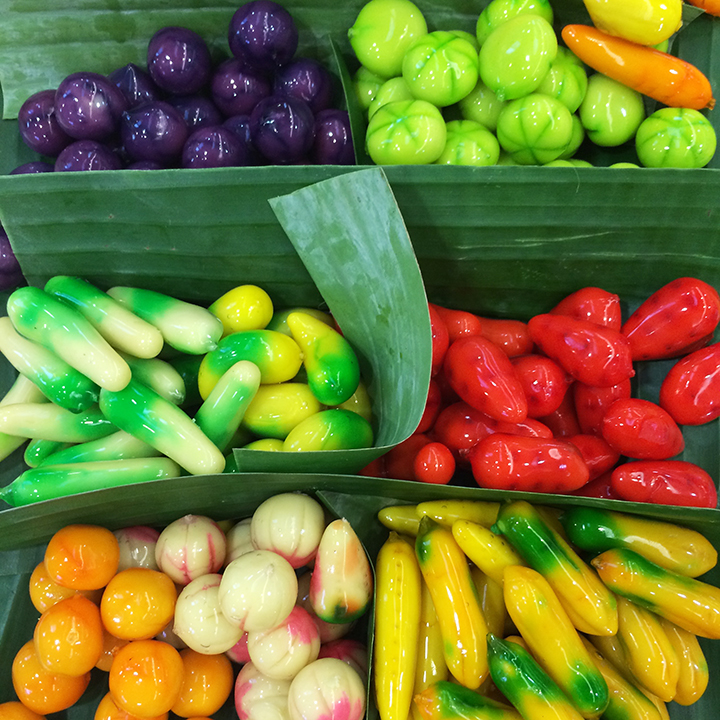 These… these are called Look Choop a.k.a mung bean candy. My mom used to make these when we were little. Mung beans are smashed and sweetened into paste and molded to look like fruit and glazed in sweet candy. These tiny bites are so addictive and comes in different colors and shapes.
6. More creative food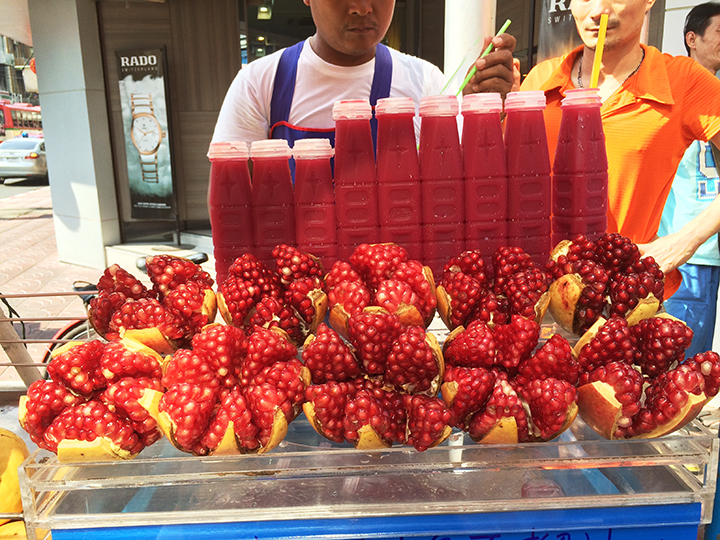 This, my friend, is something you can not skip. This pomegranate juice is so freshhhh and sooooo good. And it only costs US$1 per bottle.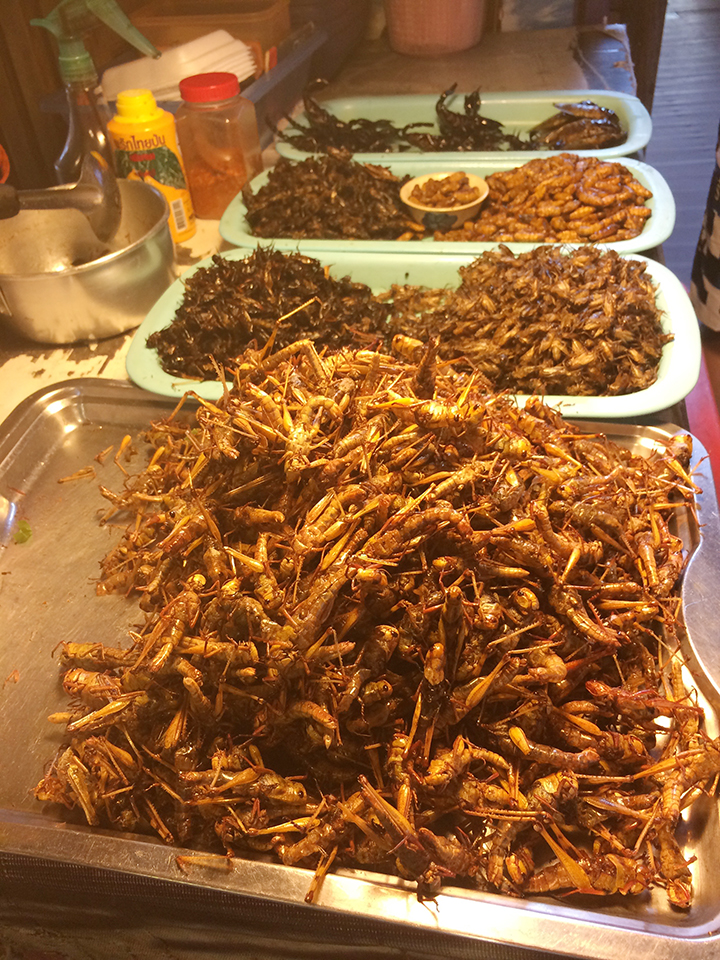 As much as I'm eager to try new exotic foods, I don't think I'm adventurous enough to try these 'different' kinds of foods. Yes, they are fried insects and bugs, such as scorpions, tarantulas, worms, ants house, spiders, grasshoppers, and cockroaches. But you can easily spot them in Khao San Road. It's all there, waiting for you; and they are safe to eat. They are all deep fried and crunchy and you dip them in soy sauce before eating them. Lots of people enjoy these on a Trip to Bangkok, Thailand but I'm just not sure they're for me!
7. Kaiton Chicken Rice, Pratunam
This was the first and foremost food recommendation we received when we landed on our Trip to Bangkok, Thailand. Apparently, this Kaiton Chicken Rice at Phetchaburi Soi 30 is so popular with the locals. You can spot other chicken rice places, but always go with pink. Chicken rice in Thailand is less oily than Singapore's and it comes with a mixture of chilli, sweet sauce, and garlic. This stall is always full, but they open as early as 5:30am – 3pm & 5pm – 2am. So, dig in!
8. See Fah Thai
If you think eating out is too hassle, check out See Fah Thai where you can taste locals favorites and sample different dishes. And their Tom Yum Goong is simply the best. Tom Yum is probably the most famous of hot and sour Thai soup and is popular not only in Thailand but in Thai restaurants worldwide. It is a clear, sour flavored soup, garnished with fragrant lemon grass, fresh galangal root, and kaffir lime leaf.