Bangkok is one of those cities that never gets old. There's always something new and exciting to see, do, and eat. Hence, a trip to Bangkok, Thailand, is always exciting!
They all say Bangkok is a fun place to eat and shop. It took me a while to finally witness that, and it is actually so true. Bangkok is a paradise for food lovers and shoppers. And the price is very cheap, so you can eat and shop as much as you like without worrying too much about money. And if this is your first time to Bangkok, then this post will get you excited about your trip.
We were very fortunate to have the chance to visit Bangkok last year. It was a last-minute decision, but I'm glad we could still make it and have lots of fun, especially food. And like many of you, I did my research beforehand and made some fun observations during the trip. Now, I will share the ultimate Bangkok foodie guide, a.k.a; what to expect when you visit Bangkok… aside from their famous mango sticky rice.
A trip to Bangkok for first-timer
On numerous occasions, I've heard from travelers that the capital city of Bangkok is a fun and exciting place to visit. They would go on to tell me about places I needed to stop in and see, along with fascinating stories about all the good eats and fabulous shops they had visited. Well, it took me a while to finally witness it for myself, and it is actually so true. Bangkok is a paradise not only for food lovers but also for those that love to shop. And surprisingly, the prices are rather cheap, so you can eat and shop as much as you like without worrying about spending too much money.
Exotic fruits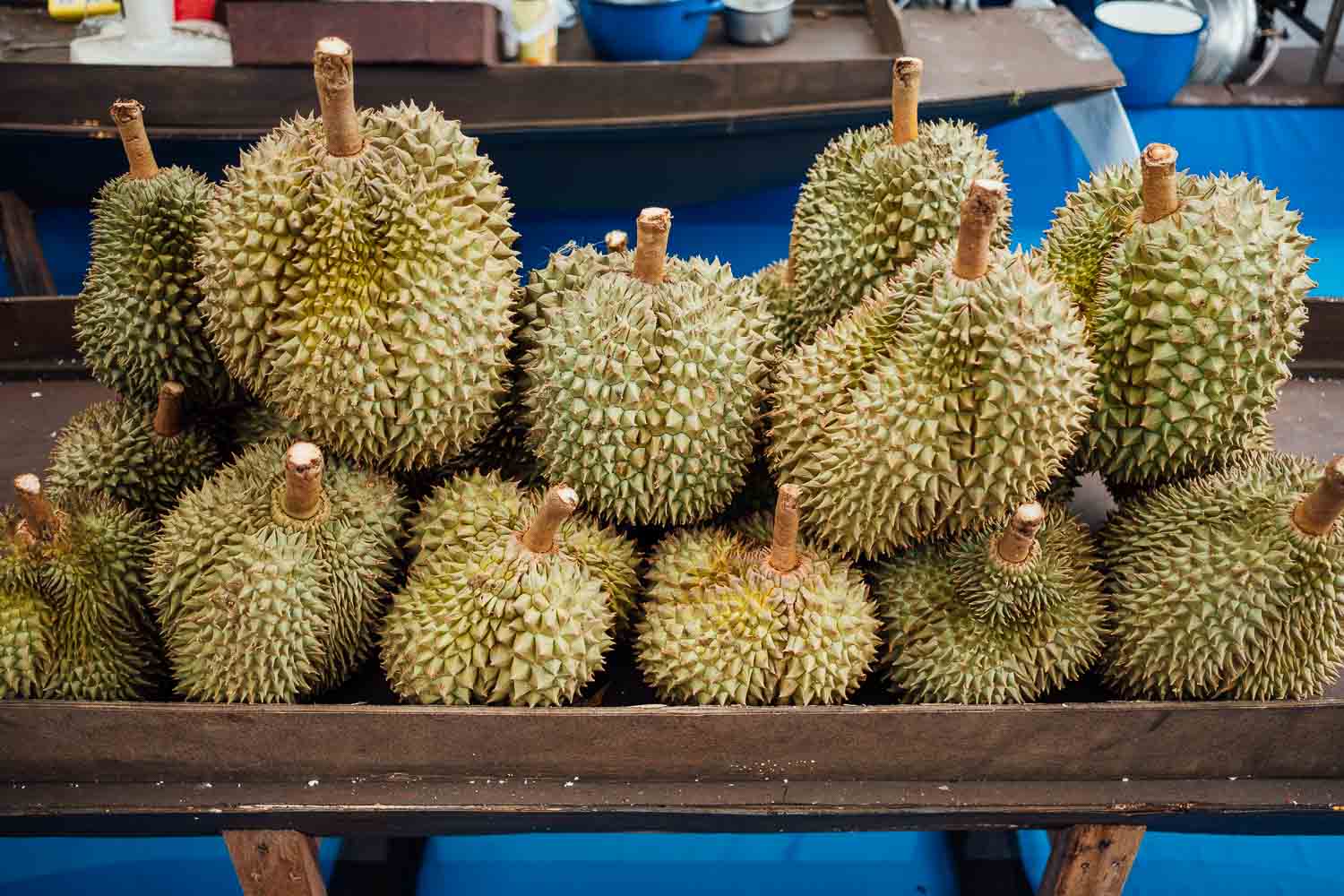 Growing up in Indonesia, we enjoyed lots of exotic fruits. After staying here, it is no doubt that I missed the tropical fruits. Some of the fruits you can expect when you visit include cashew fruit, papaya, mango, and in case you haven't heard, Thailand is famous for its durian. You know… that heavenly stinky fruit. Sadly though, not everyone can appreciate this fruit as it has a rather unpleasant smell, though I found it to be quite delicious, especially when compared to stinky tofu.
Anywho, you can easily spot fresh durian in supermarkets like Big C and have them freshly cut for you on request. And one last bit of advice I have for you about the fruit. Try to eat fresh durian instead of frozen ones because, to be honest, it tastes soooo much better that way!
Fresh coconut water
Nothing beats fresh coconut water on a hot and humid sunny day. I'm talking about the stifling temperatures ranging from 90 to over 100F degrees. Fresh coconut is always the best solution for those days, especially after a long day of shopping and hopping around the city. It is also the best refreshing drink to cool off your body after eating the 'smelly' durian.
Coconuts come in different sizes and can be served in various ways. My favorite is this roasted coconut water. The size is smaller compared to regular coconuts, but the roasted aroma brings out the freshness. It's a thirst quencher on a hot day!
Street vendors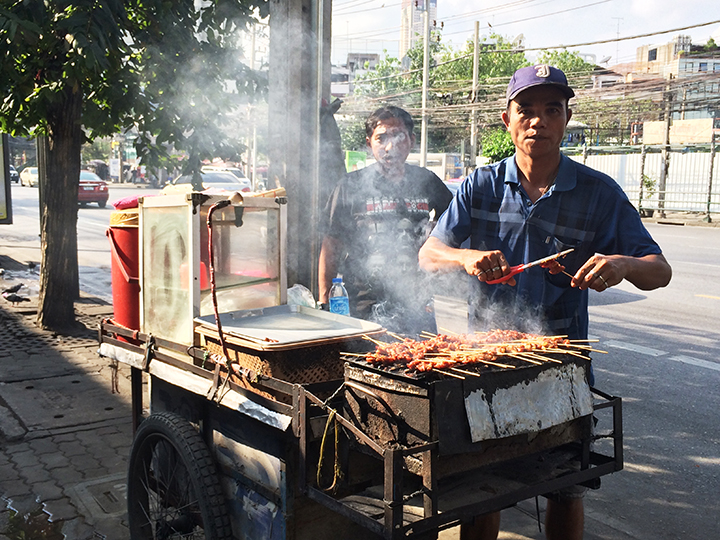 I like street food and #eatlocal. I love learning about other country's culture and tradition and experiencing it. So, whenever I travel, I never skip tasting these fantastic foods from street vendors.
Tuk Tuk
Tuk tuk is the major transportation mode in Bangkok, and you can easily spot them everywhere just like yellow cab in NYC.
Look Choop (Mung Bean Candy)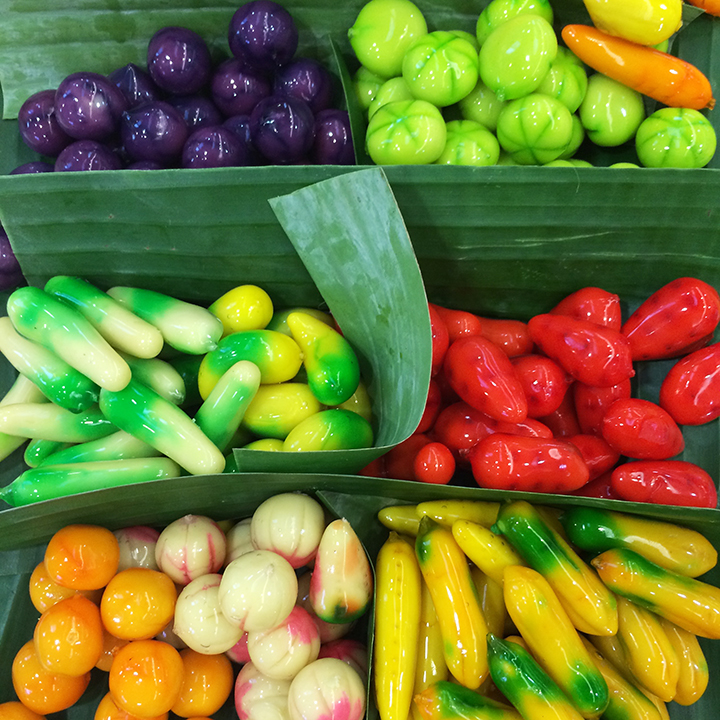 These… these are called Look Choop a.k.a mung bean candy. My mom used to make these when we were little. Mung beans are smashed and sweetened into a paste and molded to look like fruit and glazed in sweet candy. These tiny bites are so addictive and come in different colors and shapes.
Pomegranate Juice
This, my friend, is something you can not skip. This pomegranate juice is so freshhhh and sooooo good. And it only costs US$1 per bottle. Definitely worth trying! 
More creative food in Bangkok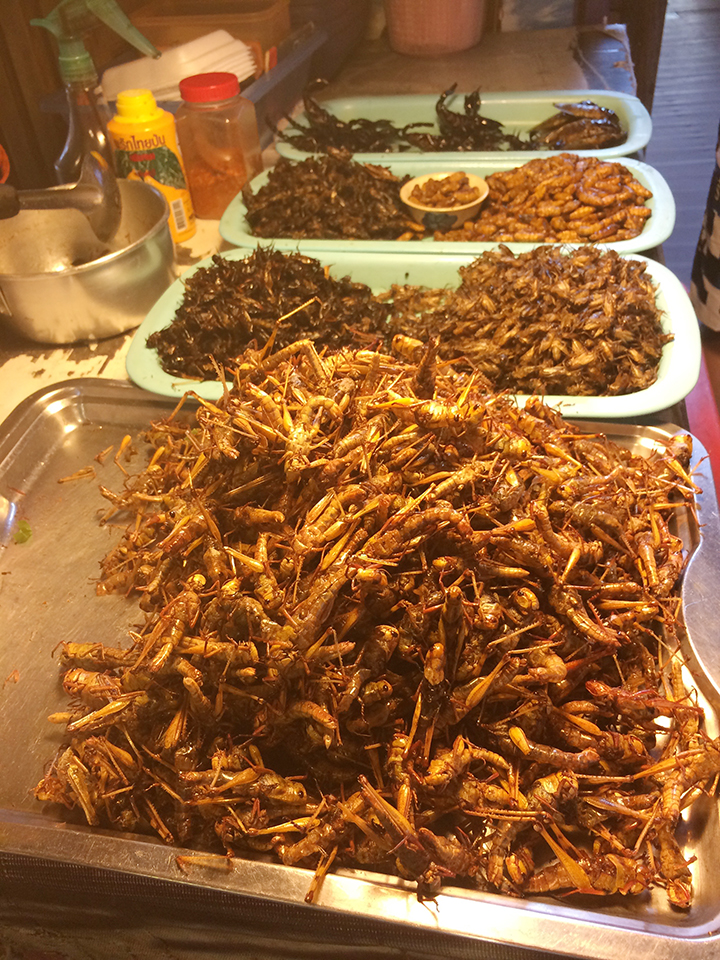 As much as I'm eager to try new exotic foods, I don't think I'm adventurous enough to try these 'different' kinds of foods. Yes, they are fried insects and bugs, such as scorpions, tarantulas, worms, ants house, spiders, grasshoppers, and cockroaches. But you can easily spot them on Khao San Road. It's all there, waiting for you, and they are safe to eat. They are all deep-fried and crunchy, and you dip them in soy sauce before eating them. Many people enjoy these on a Trip to Bangkok, Thailand, but I'm just not sure they're for me!
Kaiton Chicken Rice, Pratunam
This was the first and foremost food recommendation we received when we landed on our Trip to Bangkok, Thailand. This Kaiton Chicken Rice at Phetchaburi Soi 30 is so popular with the locals. You can spot other chicken rice places but always go with pink. Chicken rice in Thailand is less oily than Singapore's and comes with a mixture of chili, sweet sauce, and garlic. This stall is always full, but they open as early as 5:30 am – 3 pm & 5 pm – 2 am. So, dig in!
If you're curious to try Thai food, I share this delicious duck fried rice recipe, quick and easy Thai basil chicken, and more Thai recipes on the blog.
See Fah Thai
If eating out is too much of a hassle, check out See Fah Thai. It's where you can taste local's favorites and sample different dishes. And their Tom Yum Goong is simply the best. Tom Yum is probably the most famous hot and sour Thai soup and is popular in Thailand and Thai restaurants worldwide. It is a clear, sour-flavored soup garnished with fragrant lemon grass, fresh galangal root, and kaffir lime leaf.
How much does a trip to Bangkok cost?
The cost of a trip to Bangkok can vary greatly depending on factors such as the time of year, your travel style, and your choice of accommodation. Here's a rough estimate of expenses for different types of travelers:
Budget Travelers: For those on a tight budget, expect to spend around $30-$50 per day. This includes staying in budget hostels or guesthouses, eating at local street food vendors, using public transportation, and sticking to inexpensive or free attractions.
Mid-range Travelers: If you prefer more comfort, plan to spend around $60-$120 per day. This includes staying in mid-range hotels or boutique accommodations, dining at mid-priced restaurants, occasionally taking taxis or private transportation and participating in paid attractions and activities.
Luxury Travelers: For a luxury experience, be prepared to spend upwards of $150-$300+ per day. This includes staying in high-end hotels or resorts, dining at upscale restaurants, hiring private transportation, and indulging in spa treatments, guided tours, and other premium experiences.
Where to go in Bangkok?
There are lots of places to visit in Bangkok. However, Bangkok is also a busy city; hence, you need to time your itinerary wisely. My suggestion is to rent a car with a driver when you travel far.