Get in the Aloha spirit and ride along with me and see all the hidden gems of A Weekend in Oahu with me.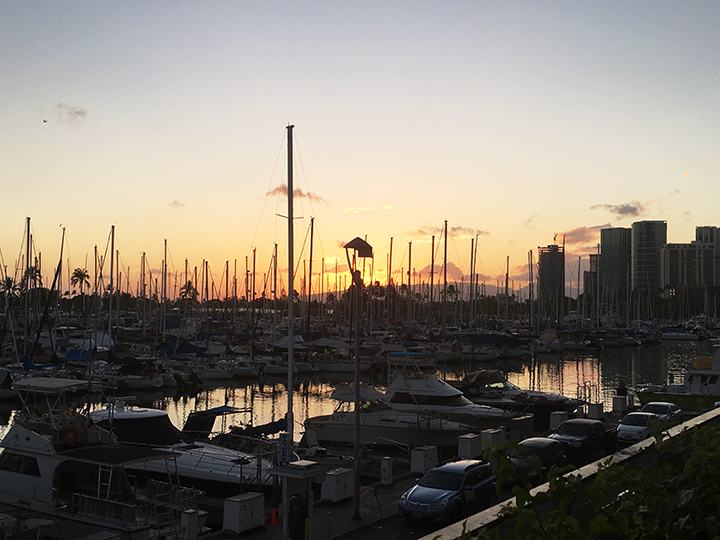 Today's post is kinda long… but fun. Last May, we did a mini getaway to attend a friend's wedding in Oahu. It was super short and sweet considering we were there for only 2 days. Even our friends felt that it was too short a vacation to be able to enjoy the city, but at the end, we managed to do almost all the tourist-y activities. Yaay! Hence today I am sharing all the fun and food we had while we were there.
A Weekend in Oahu:
1. Waikiki Beach

Waikiki's most famous attraction is Waikīkī Beach, so a trip there is a must! You can do plenty of activities here, from swimming, playing beach volleyball, surfing, or just sunbathing while waiting for the sun to set. This place is always packed but don't worry, there are always enough room for you to have fun and enjoy Waikiki. And you can take a stroll along the beach, shop for some souvenirs, or grab a bite along the way.
2. Hanauma Bay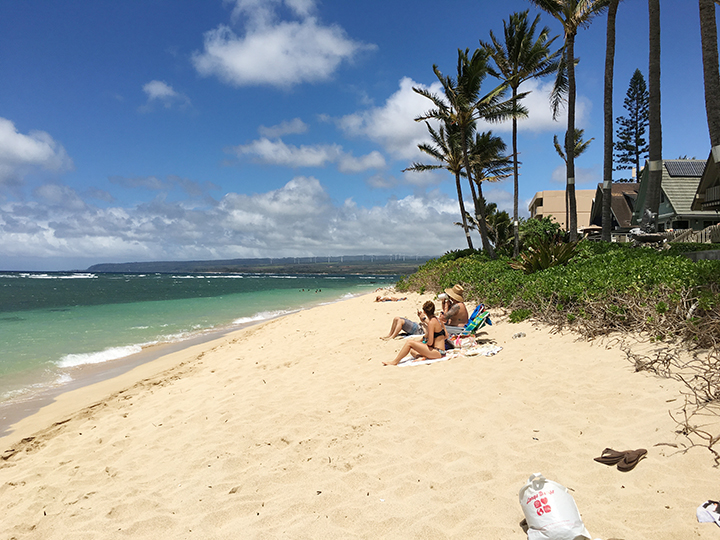 Hanauma Bay is truly a snorkeling paradise, one of the best. The sea life in Hanauma Bay is not afraid of humans. You can get up close to the turtles, tropical fish, eels, and other sea creatures. There are more than 450 colorful tropical fish in the area, as well as octopus, crabs, and eels. You can rent the snorkeling gears on the spot if you don't bring your own. If you are a first time snorkeler, you will receive some brief instructions on how to maneuver yourself on the bay and most importantly, a reminder to treat the wildlife with respect.
Hanauma Bay
460 Ena Road #102
Honolulu, Hawaii 96824
[email protected]
Tel: 808-256-8956
Toll Free: 1-800-505-8956
3. Honolulu Fish Auction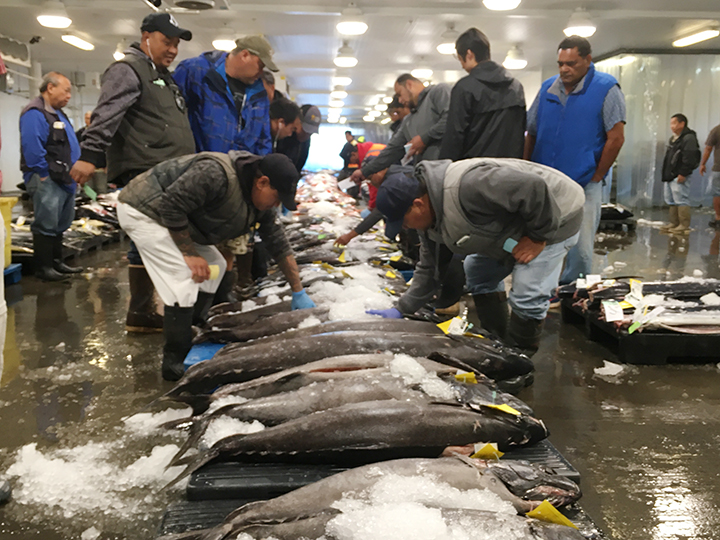 This is a unique experience for visitors and locals alike.  The Honolulu Fish Auction is the only fresh tuna auction in the United States. If you ever wonder how they do fish auction in Tsukiji Market in Tokyo; then come to this one and experience the same thing. Tour starts as early as 6 am, where you learn about the freshest wild caught Hawaiian fish, sustainable fish, and enjoy the busy atmosphere of sellers and buyers scurrying around.
Honolulu Fish Auction Tour
1131 N Nimitz Hwy
Honolulu, Hawaii, 96817
4. Cage Diving with Sharks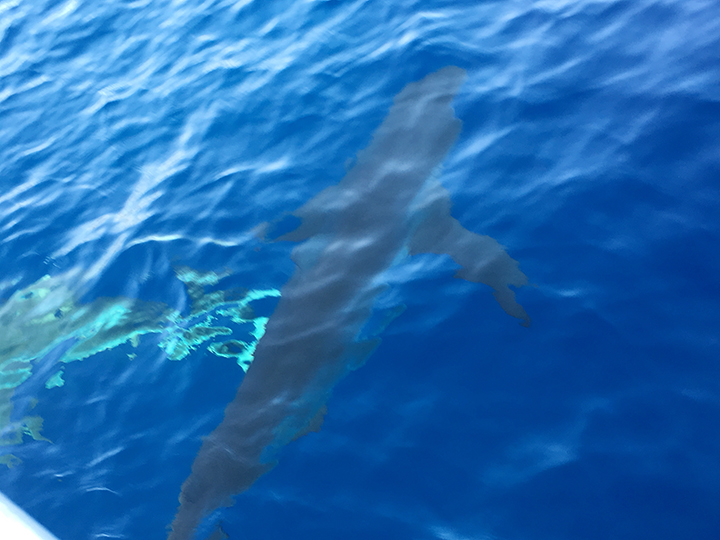 I have to admit… this was FUN! Heck, yeah! This thrilling experience will change your life as you have the chance to encounter Gray Reef Sharks, Galapagos Sharks, Sandbar Sharks, or the occasional Tiger or Hammerhead Shark. You can pick your time slot but the earlier the better. We took a 6 am tour on a a three-mile journey by boat to the shark grounds, and we managed to spot many dolphins and 8 sharks on that day. It was real breathtaking!
Shark Cage Snorkel
Haleiwa Harbor, 66-105 Haleiwa Rd
Haleiwa, HI 96712
E-mail:[email protected]
Reservations: + 1 808 228 5900 (6 am – 6 pm Hawaii time daily)
5. Iolani Palace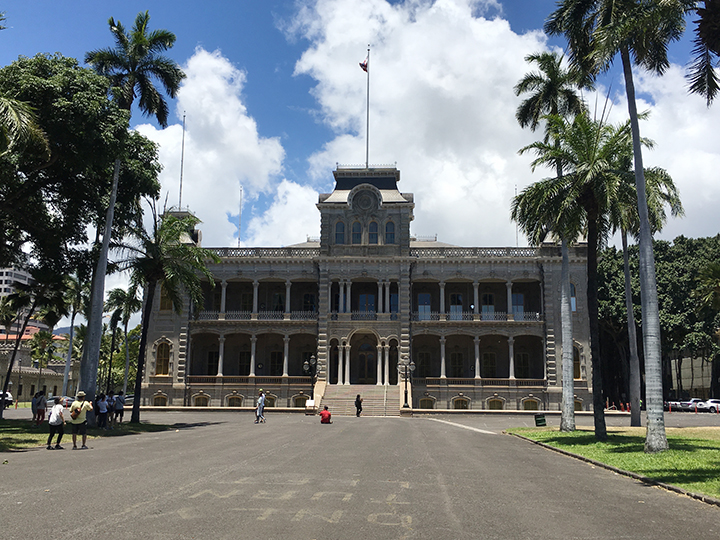 Located in the downtown of Honolulu, Iolani Palace was the former residence of Hawaiian monarchs, King Kalakaua as well as his sister and successor, Queen Liliuokalani. You can do a guided tour or a self-guided audio tour of the Palace, and explore this American Florentine-style palace's throne room, reception, and dining room and envision the magnificent state dinners and balls held here. As a national historic landmark and the only official state residence of royalty in the United States, Iolani Palace plays an integral part in understanding the history and culture of Hawaii.
Iolani Palace
808-522-0832
[email protected]
6. Dole Plantation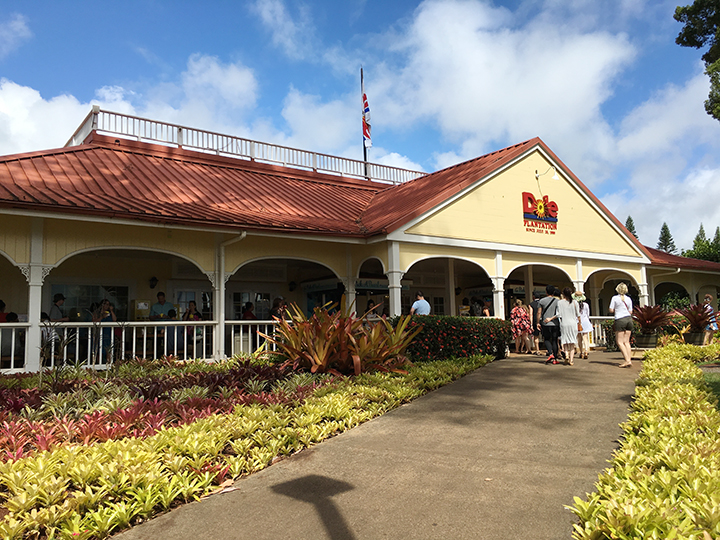 This place gets packed fast since it is a well-known tourist attraction in Oahu! But if you're a fan of pineapple, then Dole Plantation is for you. You can also experience the World's Largest Maze there. Although we did not spend a lot of time here but we managed to try their famous pineapple ice cream and did a little shopping.
7. Luau
For all tourists, a trip to Luau is required, though the locals might think otherwise. There are lots of other places that offer the Luau experience.
… but of course we never skipped a good chance to explore Hawaiian tastebuds.
1. Alicia's Market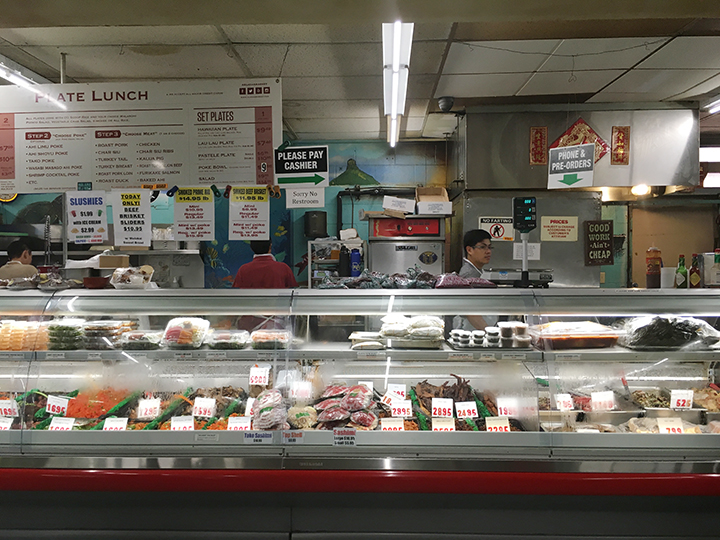 This place is voted Honolulu Magazine's Best Poke and dubbed one of Andrew Zimmerns "top 5" trip highlights, and I can't agree more. This market has the freshest poke I've ever had throughout the trip! This is the spot to get poke and of course you need to have poke when in Hawaii. It's a little pricey but the quality is top notch.
Alicia's Market
267 Mokauea Street
Honolulu, Hawaii 96819
Phone: (808) 841-1921
[email protected]
2. Nisshodo Candy Market
What you see is what you get, that's probably how I describe this place. And this picture literally explains the size of Nisshodo Candy Market, but it is packed and you can spot lots of boxes from those who place advanced orders. Nisshodo is famous for their chici dango (traditional Japanese candy made of sweet rice flour) and mochi. They have variety of flavors, something that I've never tried elsewhere before. So yes, enjoy the taste of traditional Japanese treats right here.
3. Marukame Udon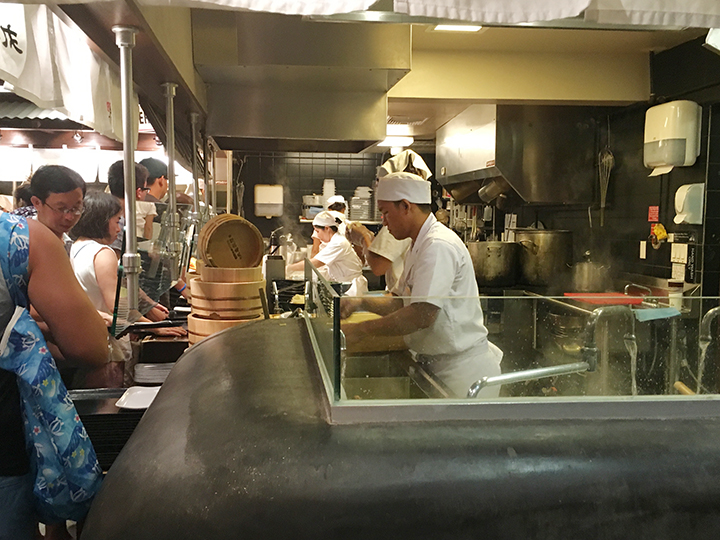 You guys… I might move to Oahu just for this. This place is a gem! They make their own udon, fresh udon. What is better than handmade, fresh udon? Aside from the udon, there are plenty sides dishes to choose from to go along with your udon. Try their fried chicken and fried soft boiled egg! Soooo good!
There's always a long line to eat here; hence you need to plan ahead of time. But it's worth the wait. Everything tastes so good over here and truly one of the best eats on the Island.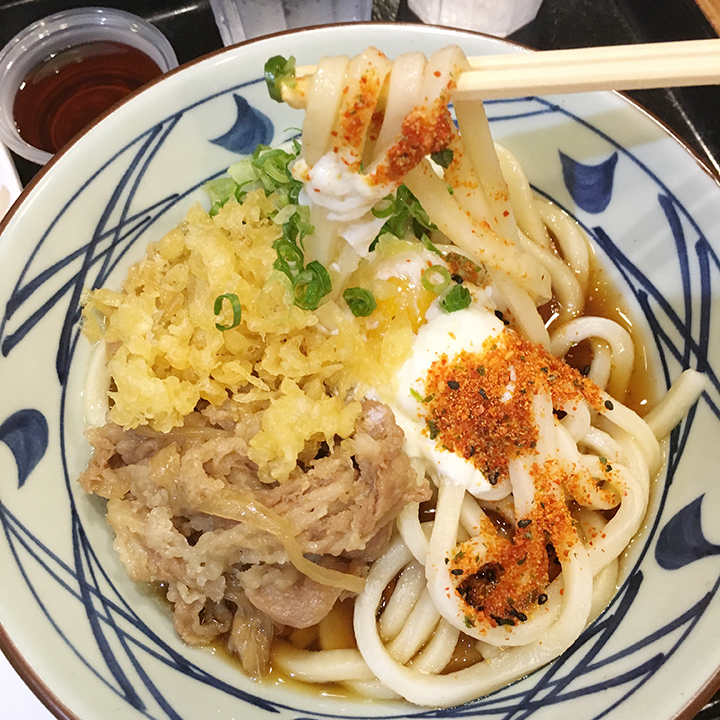 Not all noodles are created equal, check it out here.
Marukame Udon
2310 Kuhio Avenue, Suite 124
Honolulu, HI 96815
(808) 931-6000
4. Liliha Bakery
I am all about breakfast and that's the first thing I look forward to every morning. Hence, Liliha Bakery in the morning was awesome! We skip the queue for brunch and went straight to their bakery. Tried a bunch of goodies from matcha, coco puffs, haupia malasada, and lilikoi donut. I mean, lilikoi… who can say no to that?
Liliha Bakery
515 N. Kuakini Street
Honolulu, HI  96817
Phone: (808) 531-1651
E-mail [email protected]
5. Fresh Fruits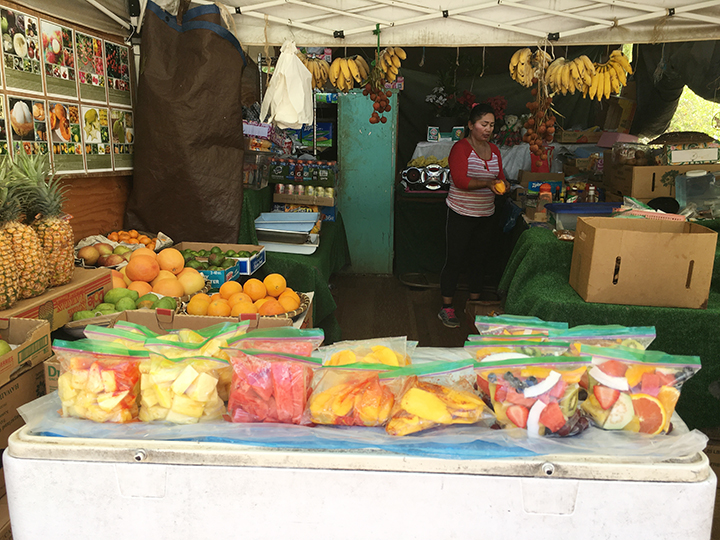 We spotted a few street vendors on our way to Hanauma Bay and could not resist to stop and grab a bag. It certainly brought back all the tropical food memories we grew up with. From sapota to fresh mangoes and guava, they all tasted so good. And not to mention their banana that tastes like ice cream. I know! That sounded weird when the seller told us, but it is so true – the banana is as sweet as ice cream.
6. Honolulu Cookie Company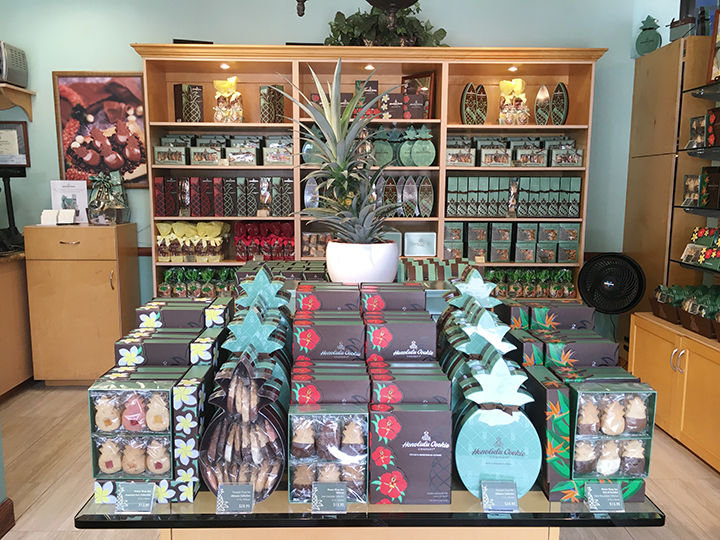 If you're looking for something to bring back home to shore, Honolulu Cookie is one of them. You can easily spot their stores and sample different flavor of cookies here. I am a sucker for dark chocolate so that's my choice.
7. Iyasume Musubi Cafe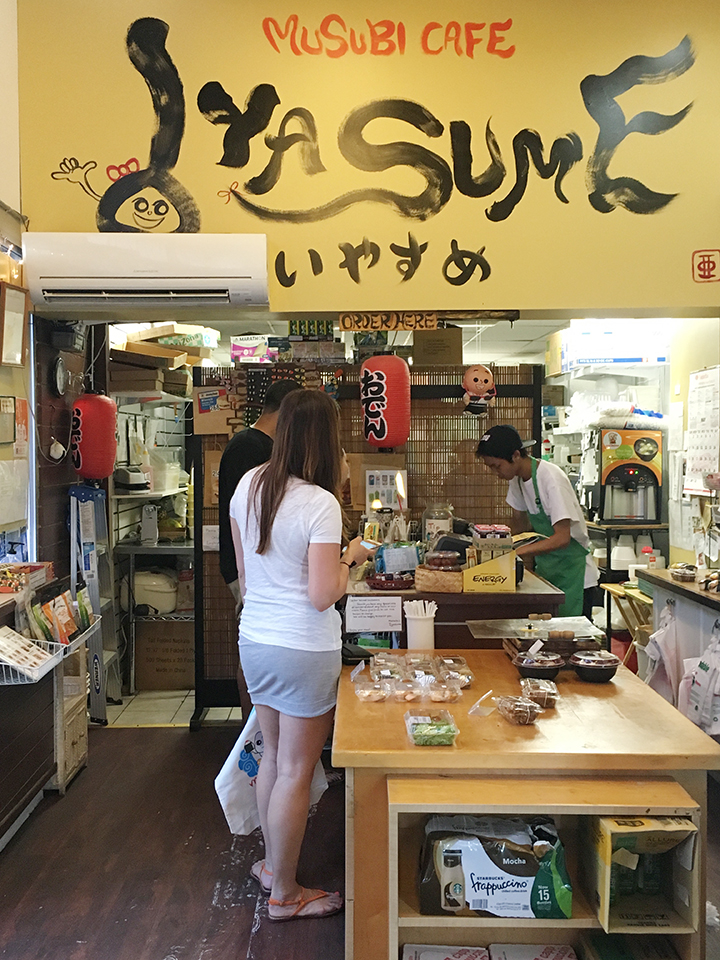 If you think musubi contains only spam, then you need to come here. Iyasume Musubi Cafe has all kinds of musubi from breakfast musubi that comes with egg, bacon, avocado to savory musubi that includes cheese. And while you are here, don't forget to try their mochiko fried chicken. It's similar to chicken karaage but the texture is slightly different. Musubi is perfect if you plan to grab something quick but still enjoy a taste of Hawaii on the plane.
Iyasume Musubi Cafe
2427 Kuhio Ave
Honolulu, HI 96815
8. Matsumoto Shave Ice
This place is in proximity to Dole Plantation or Shark Adventure. The ice was fantastically soft, the flavors awesome and the snow cap literally topped it off like no other. It is super refreshing and perfect to beat a 90F weather.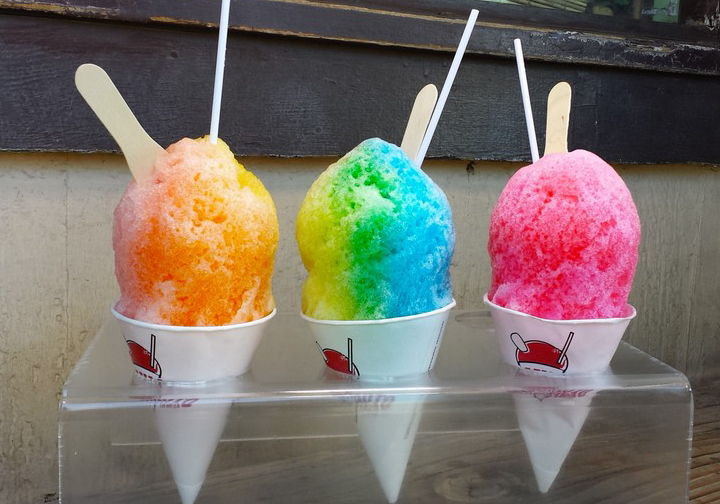 Matsumoto Shave Ice
66-111 Kamehameha Hwy #605
Haleiwa, HI 96712
(pic by Matsumoto Shave Ice)
Where is your dream destination and what is your favorite Hawaiian dish?
Watch the video here:

Save