This easy yang chow fried rice (Yangzhou Fried Rice) recipe is the BEST. It's quick and easy to make, customizable with any of your favorite mix-ins, and so irresistibly delicious.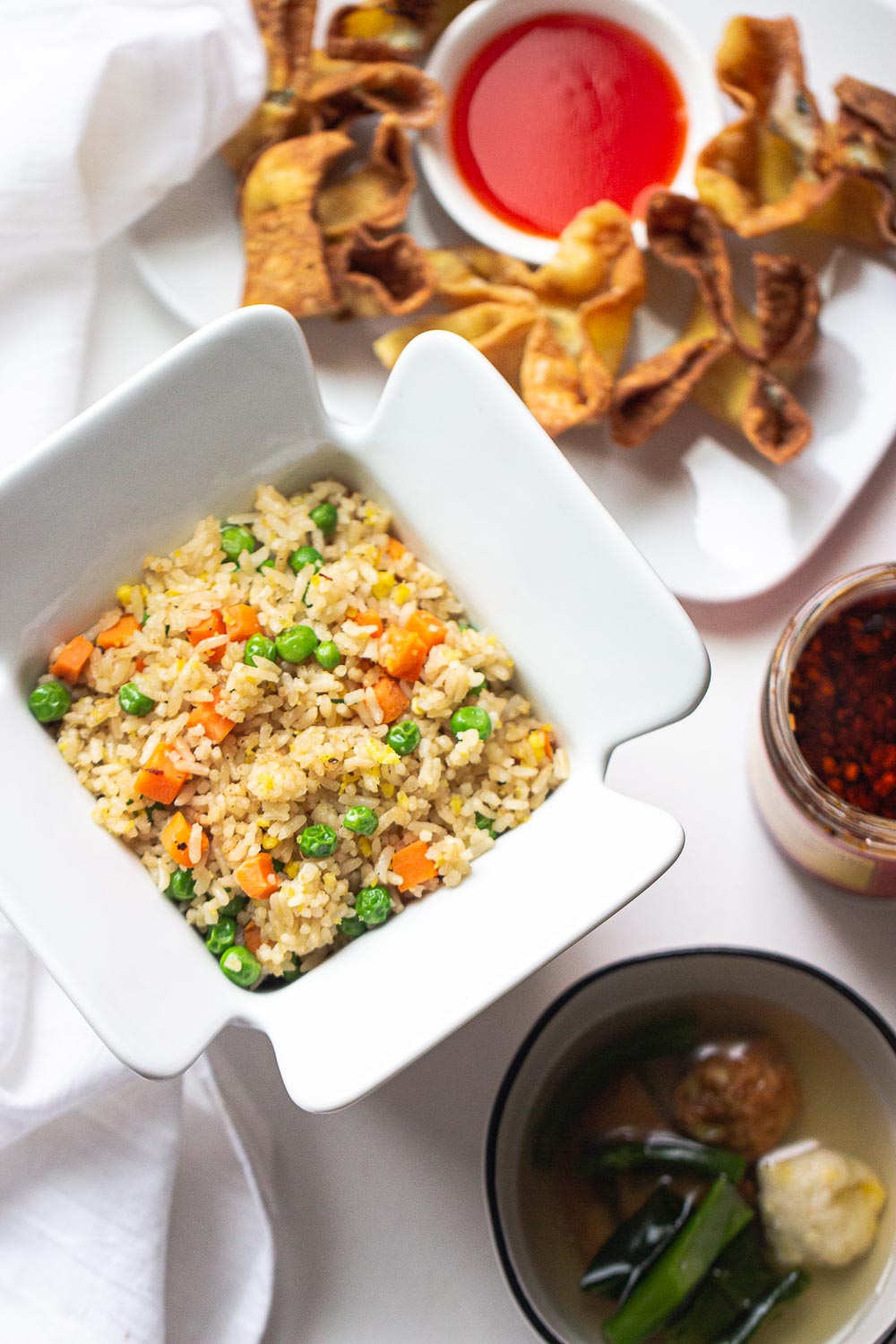 Hey guys! I'm digging back into the blog archives today to share one of my all-time favorite recipes with you again. And I really do mean all-time. Which also means fried rice.
Growing up in Indonesia, fried rice is not a foreign vocabulary especially since rice is a staple food there. We eat rice at almost any time of the day, including breakfast. And not just that, we also have lots of varieties when it comes to fried rice. Garlic Fried Rice, fried rice with sweet soy sauce, Shrimp Paste (Belacan) Fried Rice, Salted Fish Fried Rice, to Cheese Fried Rice. I am not sure about the latter one since people often modify the ingredients and name it something new. To be honest, some of them are not even valid.
Everyone loves fried rice! It is a quick and easy way to use up leftover bits in the refrigerator. The best is, of course, using day-old rice because it has dried out and is perfect for frying. There will be a morning when you crave fried rice for dinner. Well, I don't blame you for that. And that's why this easy fried rice recipe will be your new favorite.
Easy Yang Chow fried rice ingredients.
Yang Chow Fried Rice (扬州炒饭) (yangzhou fried rice) is fried rice that you often see on Chinese Restaurant menus. This is a quick way to use any leftovers in the fridge. I am using barbecue pork for this dish, just like the original; however, you can substitute barbecue pork with Chinese sausage or ham. You can also add a finely chopped lettuce that will add crispiness to this fried rice and make it more special.
The best way it cooks Asian dishes is by using high heat because that's how you get all the flavors to come out and since this is considered fast cooking, be sure to have your ingredients ready.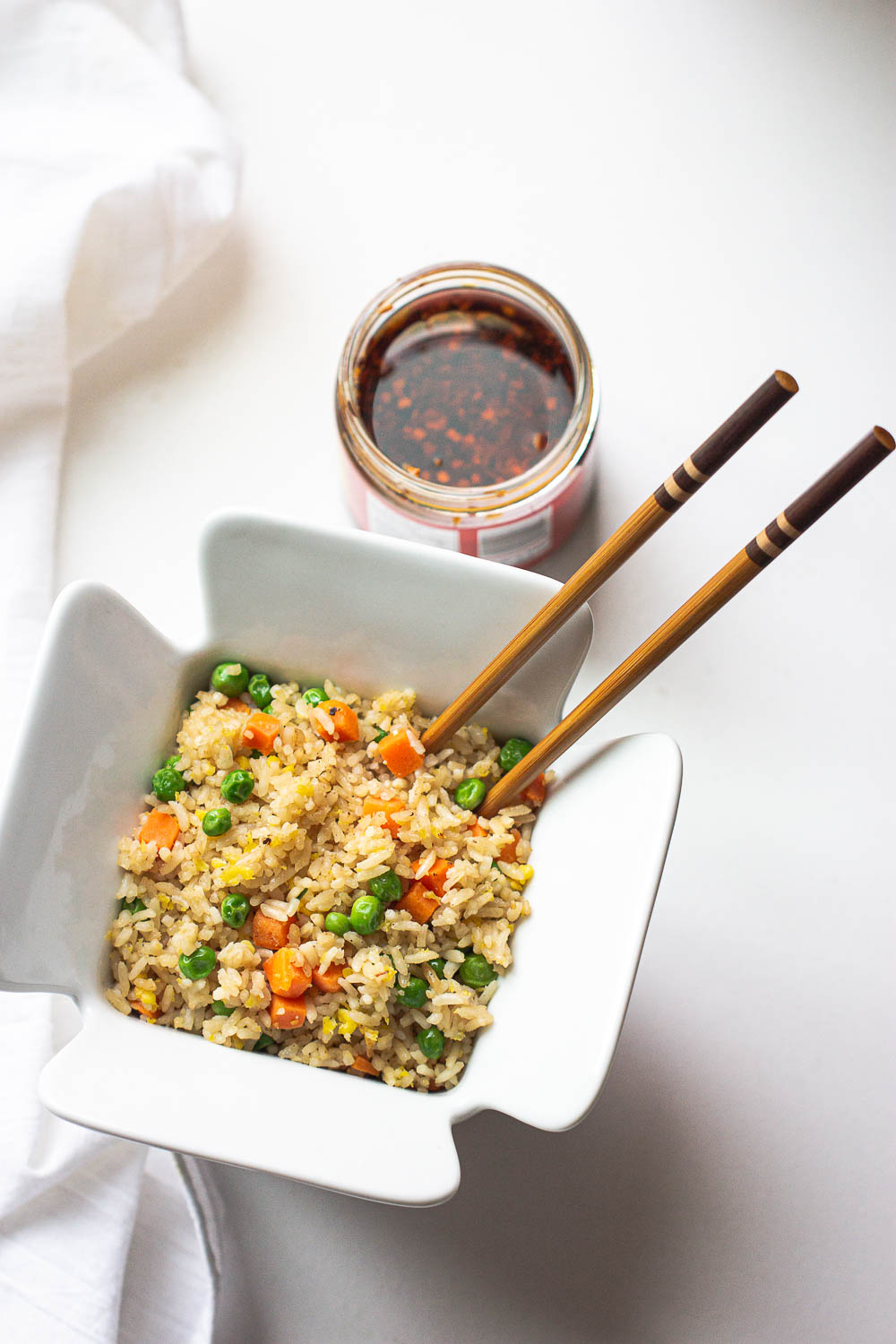 How do you cook rice for fried rice?
Rice variety plays an important role in every fried rice dish. Be sure to use non-sticky rice when cooking fried rice. There are two ways to cook rice. You can use less water when cooking your rice. Let's say cooking 2 cups rice, instead of adding 2 cups water, try adding 1.5 cups water. Another way is to make friends with your freezer to store any leftover rice. So make a batch of rice and spread it in a thin layer on a sheet tray, refrigerate it for 20 minutes, and move it to the freezer to make cold rice. However, you need to let the rice thaw before frying it.
Easy fried rice variations.
Fried brown rice. For a healthier twist, use brown rice instead of white rice.
Chicken fried rice. Skip pork and use diced rotisserie chicken instead.
Salted fish fried rice. Replace pork, peas, and carrot with salted fish. Be sure to reduce the amount of soy sauce in this fried rice.
If you like this easy yang chow fried rice, you've gotta try these recipes: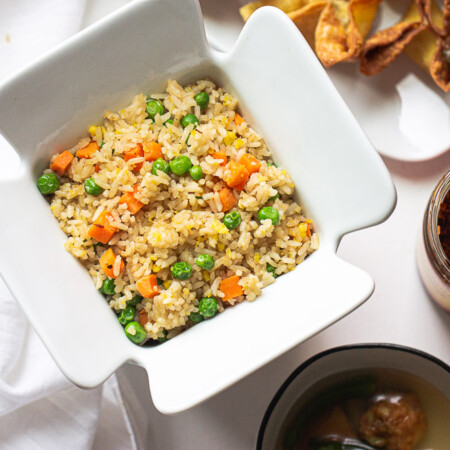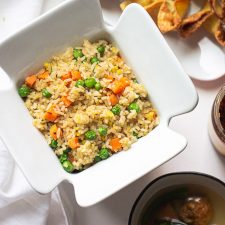 Yang Chow Fried Rice
This easy

yang chow fried rice (Yangzhou Fried Rice)

recipe is the BEST. It's quick and easy to make, customizable with any of your favorite mix-ins, and so irresistibly delicious.
Print
Pin
Rate
Ingredients
2

cups

cold

cooked white rice

3

tablespoons

oil

1

small onion

peeled and chopped

3

cloves

garlic

peeled and minced

1/2

cup

Chinese BBQ pork

diced, can be substituted with Chinese sausage

1/2

cup

sweet peas

thawed

1/3

cup

diced carrot

1

tablespoon

+ 1 teaspoon light soy sauce or tamari sauce

2

green onions

finely chopped

2

eggs

Salt

to taste

White pepper

to taste
Instructions
Heat the wok over medium high heat and add 1 tablespoon of oil. Add eggs, fold and scramble them gently. Set aside.

Heat the wok over high heat. Add another 1 tablespoon of oil, diced onion and garlic. Stir-fry until the onions are translucent. Next, add the pork and stir-fry for 2-3 minutes.

Add shrimp, green peas, and carrots to the wok. Cook for 30 seconds. Set aside.

Heat the wok and add the remaining oil. Add rice and stir-fry for 2 minutes. Make sure to flatten out and break up any remaining rice clumps using wok spatula.

Add the pork mixture and stir continuously for another 3 minutes until rice is heated through.

Add the rice and stir-fry for 2 minutes, bring sure to heat the rice uniformly.

Add the shrimp, peas, and carrots back to the wok, and stir-fry continuosly for another 2 minutes unil the rice is heated through.

Add soy sauce and adjust seasoning with salt. Mix everything to ensure the seasonings are uniformly incorproated. If the rice is a little dry, sprinkle in some water or a touch of sesame oil.

Add in the scrambled eggs, scallions, and white pepper. Mix and serve.