This Chicken Satay Bowl is easy to make and packs in a ton of flavor! Healthy and filling – all in one delicious bite!
You guys… have you watched Crazy Rich Asians yet? When I saw the trailer a few months ago, I was not actually planning to watch the movie, mainly because I haven't read the book yet. However, the idea of watching the movie really grew on me after listening to all the rave reviews of people around me and the critics. So we went to watch it… and I loved it! I could totally relate to every single song and it actually convinced me to go back and read the book.
Well, I'm not going to give any movie spoilers here, so you can keep reading without a worry. Then you can watch it yourself and enjoy it. The movie takes place in Singapore, a country close to where I grew up, so I could picture the emotion and action in each scene. Fair enough, I was a bit homesick after watching it. But luckily this Chicken Satay Bowl came to the rescue.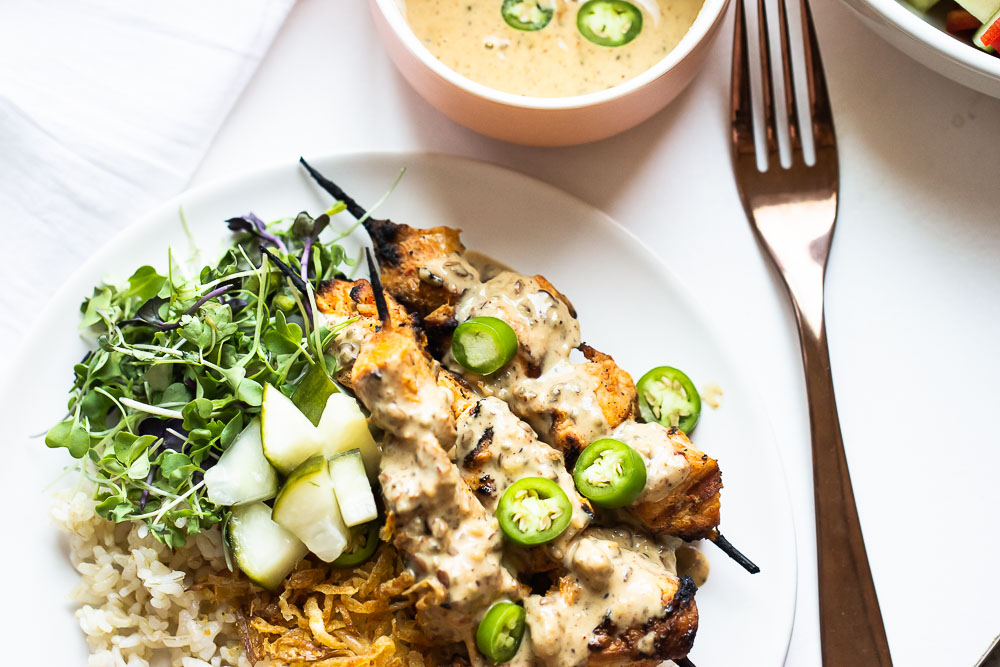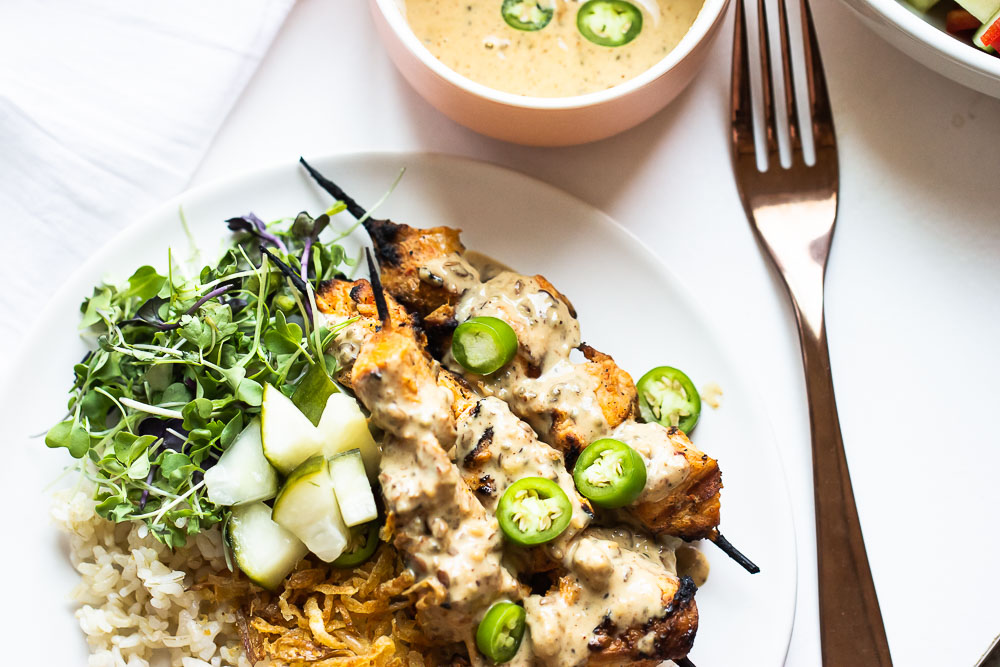 This recipe was lovingly grilled, photographed, and enjoyed within minutes. I do recommend that you use an outdoor grill, or a charcoal grill for the best result; however, an indoor grill will also work its magic.
This satay sauce can be made ahead of time and is a lifesaver on busy weeknights too! Simply add the sauce to your zoodles and top with shredded rotisserie chicken. The authentic satay bowl uses unsalted dry-roasted peanuts that are ground in a food processor or using a mortar and pestle. To save some time, I'm using a store-bought nut spread. Another thing that brings out the best flavor is this sweet soy sauce (kecap manis).

What is sweet soy sauce?
A soy sauce that tastes sweet? Sweet soy sauce is an Indonesian sweetened aromatic soy sauce, which has a dark color, a thick syrupy consistency, and a unique, pronounced, sweet, and somewhat molasses-like flavor that comes from the generous addition of palm sugar. It is a pantry staple in Indonesian kitchens when making marinades like for this grilled chicken skewer recipe or as a condiment. Sweet soy sauce is available at any Asian supermarket or you can get it online here.
Well, the weather has been a bit cold and windy lately in SF but that will not stop me from grilling more delicious skewers. Especially since summer is still around (most days). And it's a perfect way to enjoy a big bowl of this Chicken Satay Bowl while reading Crazy Rich Asians. Be sure to make an extra batch of this satay sauce – you will need it!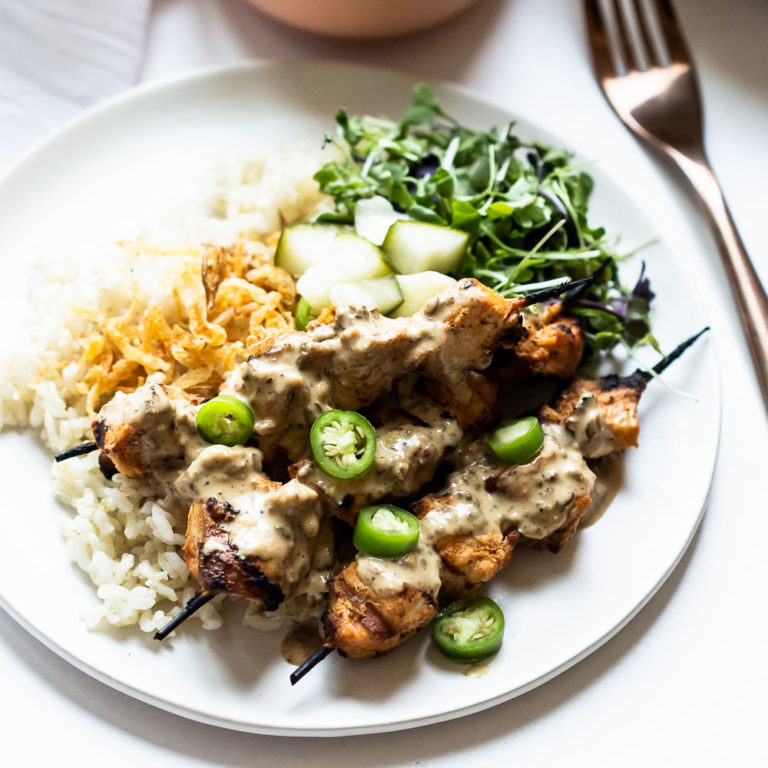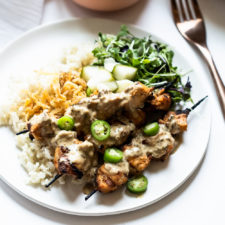 Chicken Skewer Bowl
A delicious chicken satay bowl with satay sauce – healthy and filling in one delicious bite. And the satay sauce is extremely addictive!
Print
Pin
Rate
Ingredients
2

lb

fresh chicken tenderloins

cut into bite size
Peanut sauce:
1/2

cup

almond butter

1

clove

garlic

grated or finely minced

1/2

cup

hot water

or more

3

tablespoons

olive oil

1

teaspoon

pumpkin seeds

1

tablespoon

soy sauce

2

teaspoons

honey

Salt

Sweet soy sauce

for garnish
Other ingredients:
Vegetable oil

Steam rice

Bamboo skewers

Lime juice

optional
Instructions
To make the satay sauce: combine all the ingredients. Add more hot water if the sauce is too thick. Continue stirring until you get smooth consistency and not too watery.

Add the chicken tender to a bowl. Pour 1/2 of the peanut sauce over the chicken in the bowl and stir until it's evenly distributed, reserve the rest of the sauce to brush on the chicken while it is grilling. Marinate the chicken for at least 1 hour in the fridge.

Soak the bamboo skewers in water for at least 30 minutes. Thread the chicken tenders onto the skewers.

Preheat your grill over medium-high heat. Brush the grates with oil. Place the chicken skewers onto to preheated grill and cook for 4 – 6 minutes per side, or until fully cooked.

Serve the chicken with satay sauce over rice. Garnish with lime juice.