Date-Apple Salad
A crunchy, fresh, and hearty "main meal" salad that will keep you full for hours! All tossed in a light honey mustard dressing.
The past two weeks, I've been doing some fun stuffs organizing my blog. The idea came up when this blog post went live and I realized this is a good time to declutter and organize my blog. I added a couple pages to my site, this cookbook section which has over than 40 insanely delicious healthy snack recipes, and this giveaway page. Speaking of giveaway, there are two giveaways happening right now and I want you to win this Ultimate Beginner's Photography Giveaway or this Blendtec 725 Giveaway. It would be nice to win both of them. I also cleaned up my Pinterest page but as always, I ended up spending lots of hours pinning. I think next time I browse my Pinterest, I will have to start using a timer because that site is addictive!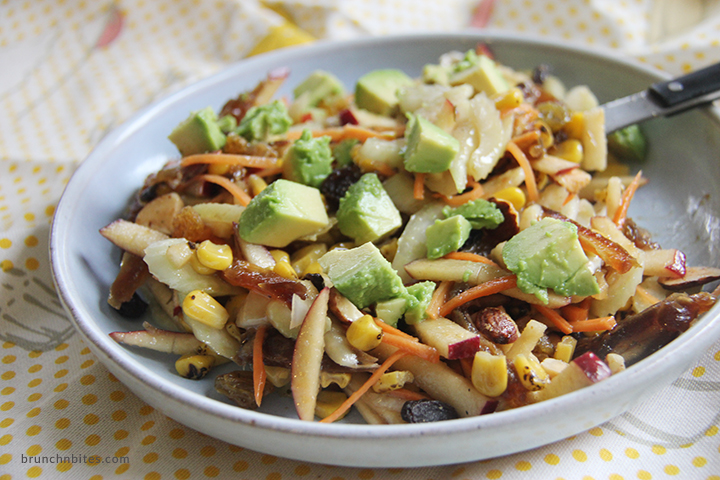 Speaking of decluttering and organizing, I hope you're still on the right track with 2016 goals and resolutions. I know it's only been 12 days but it feels longer than that already. In December, I started thinking about my one word for 2016 and started writing what I want to accomplish this year. This is a new habit of mine that I started in early 2015 and I feel that this works better compared to writing 10 New Year's resolutions. So, my word for 2015 were being 'thankful' and 'trust', and now, as I looked back my 2015 journey, I realized that both are the two things that I learned a lot last year. Being 'thankful' is not easy, especially when you're still lacking, and 'trust' somehow connects to that context. What is your one word for 2016 or what is your main goal this year?
Like most of you, we always begin the new year with something healthy and try to get rid of those excessive fat we gain during Thanksgiving and Christmas. Well, I might be late for my healthy recipes; but I've been forcing my husband and myself to a clean and healthy eating. It's not easy especially since we still have and receive chocolate goodies sent our way. That's too dangerous! So I stumbled upon this section as I cleaned up my Pinterest page and craved for a crunchy, sweet, refreshing salad, just like my favorite Persimmon Pomegranate Salad.
It did not take me long to whip a filling, tasty salad since I have all the ingredients I need. And I love using this salad dressing – so light and refreshing, perfect for this salad. However, if you're too busy to make this salad dressing, I have a solution for that, this honey balsamic dressing from Tessemae's that uses organic honey. Done, done, done. I was lucky to know Tessemae's team last year when I went to the PMA Summit. I love hearing about how they started the business and the products they have. Do you know their salad dressings are Whole 30 approved? Check out their website to learn more.
I literally can't stop eating this salad though the color might look bland, but the taste is exceptional and crunchy. Be sure to check the giveaway page and grab a copy of this 40+ insanely delicious healthy snack recipes.
Print
Date-Apple Salad
---
6

Medjool dates, cut into julienne strips

1

apple, core and cut into julienne strips

2

ribs celery, thinly slice

1

small hass avocado, cubed
Optional:

1/4 cup

matchsticks carrot (cut into julienne strips)

1/4 cup

roasted corn

1/4 cup

raisins and walnuts
Maple Vinaigrette

4

tbs maple syrup

1

tbs dijon mustard

2

tbs rice wine vinegar

4

tbs olive oil
Black pepper
---
Instructions
In a small lidded jar, combine the ingredients for maple vinaigrette. Tightly cover and shake hard to mix well.
Combine the salad and dressing in a bowl, and toss to coat well. Serve immediately.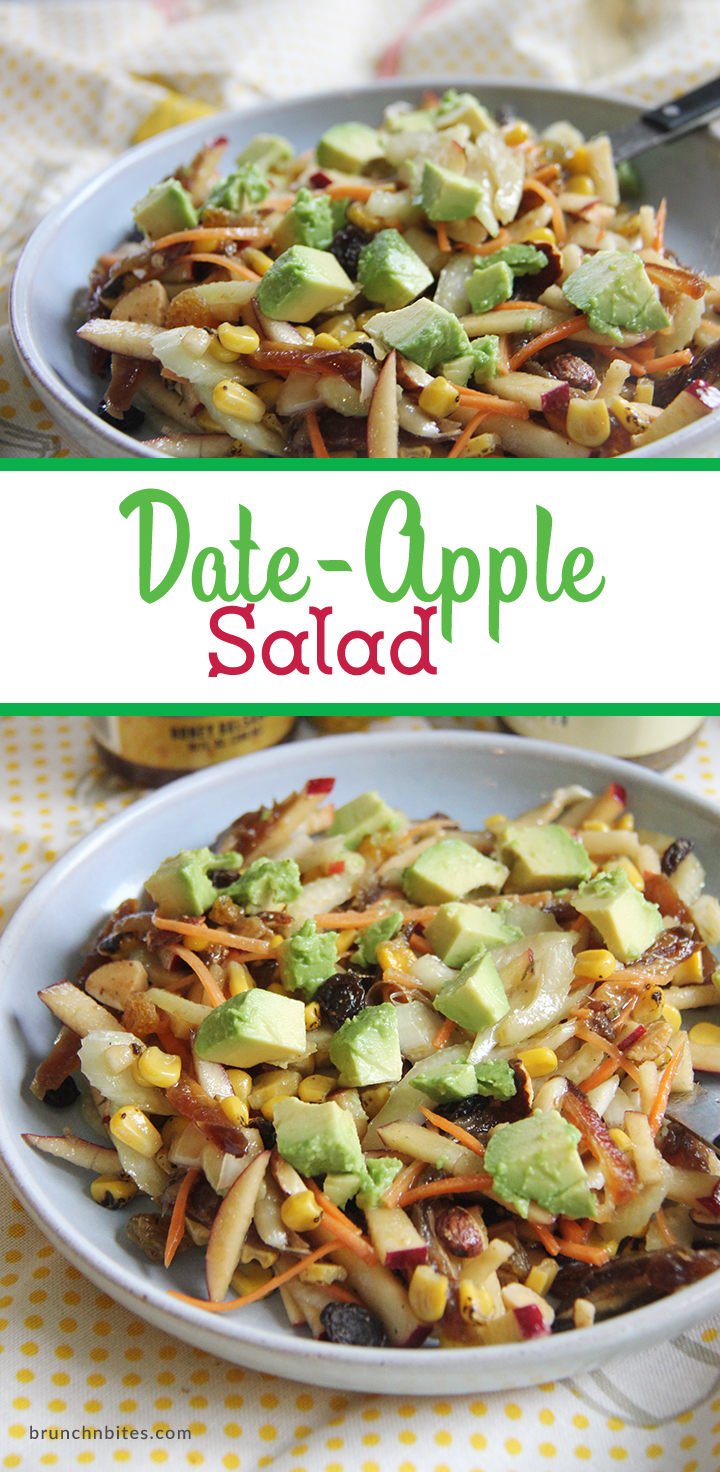 Disclaimer: This post is not sponsored.  The folks at Tessemae's were just nice enough to share their salad dressings with me!
Save