Takoyaki Cream Puff – mini, bite-sized eclairs pop with vanilla filling. A fun way to enjoy your cream puffs, with green tea and drizzle with white chocolate.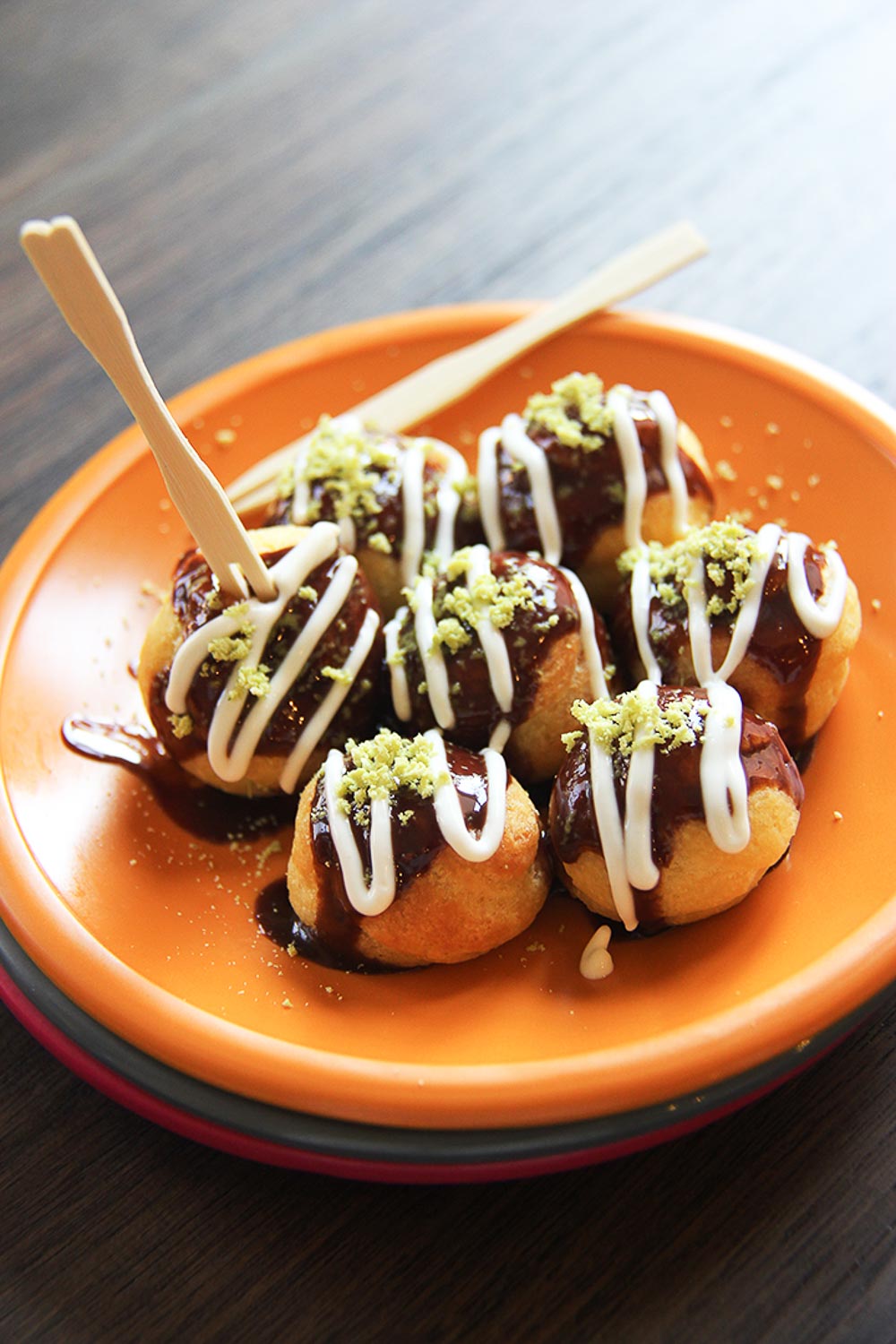 I forgot how old I was when I first entered the kitchen arena. I only remembered helping my mom when our house helpers went back to her hometown for holiday, and mom let me 'played' with her 'instruments' while watching her cooking. Afterward, I helped her with the dishes. And I still remembered reading through her cooking notes, which sometimes I refer to as her 'bible'. It's a thick 500-pages cookbook which she wrote herself, just like her own diary. She sometimes added clipped pictures or interesting recipes she found on the newspaper or magazines. I have no idea how many books she has collected to date, but she definitely passed the habit to me. Thankfully, we have a blog nowadays, so at least I don't have to worry about cluttering another corner at home.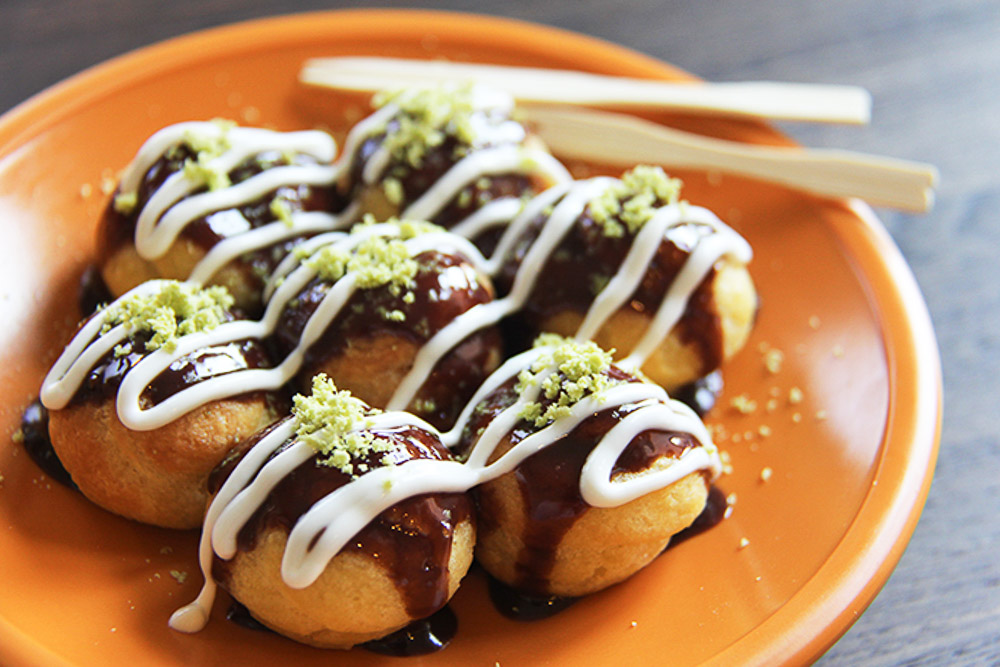 Speaking of recipes, cream puffs or eclair was one of the first recipes I baked on my own. It took me three or four tries before I baked 'perfect' cream puffs. At that time, I was less than ten years old. I remembered that my mom did not lend her hands in order to make me learn it all by myself and I could proudly call it my own creation. But she was there the whole time, gave me her support, answering any questions I had. It's funny that each time I failed she always teased me of spending too much of her baking essentials, lol. But she was impressed when it's all done – at least that's what I think.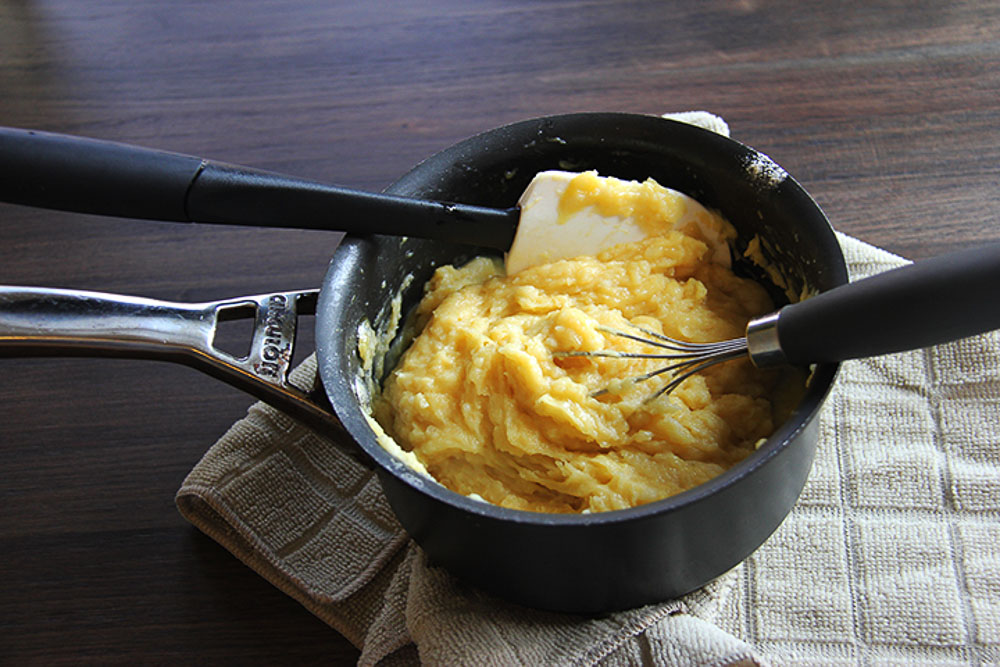 For me, the most challenging part of making cream puffs is to 'wait patiently' for the flour to cool down before adding the eggs. I failed many times, but I learned my lesson.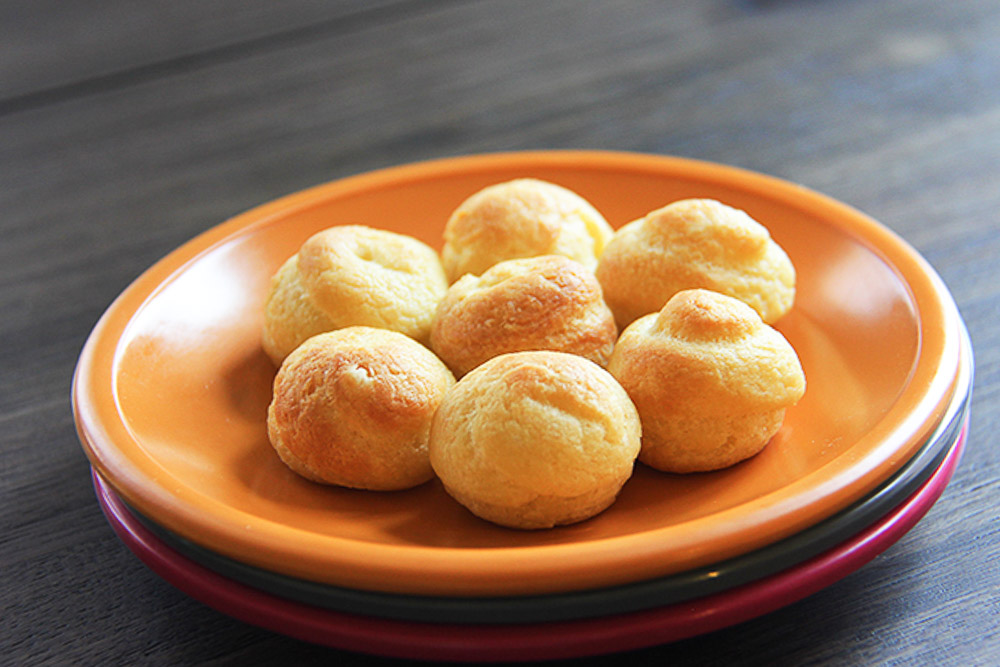 Since then, cream puffs have always been my favorite, simply because I love custard. Anything custard is always delicious. Here's a quick and easy recipe to make cream puffs… in the form of takoyaki. If the original shape of eclairs bore you, try this one.
Other dessert recipes you should try:
No-Bake Salted Caramel Oat Squares – these No-Bake Salted Caramel Oat Squares are heavenly. They are perfect for breakfast or snack and involve hearty oatmeal and chocolate. Win, win, win.
Raspberry Puff Pastry Tart – Puff pastry danish or raspberry danish pastry. Whatever you call this, this easy tart is sure to impress the guests on any occasions — crispy, buttery, flaky puff pastry tart makes an easy summer dessert.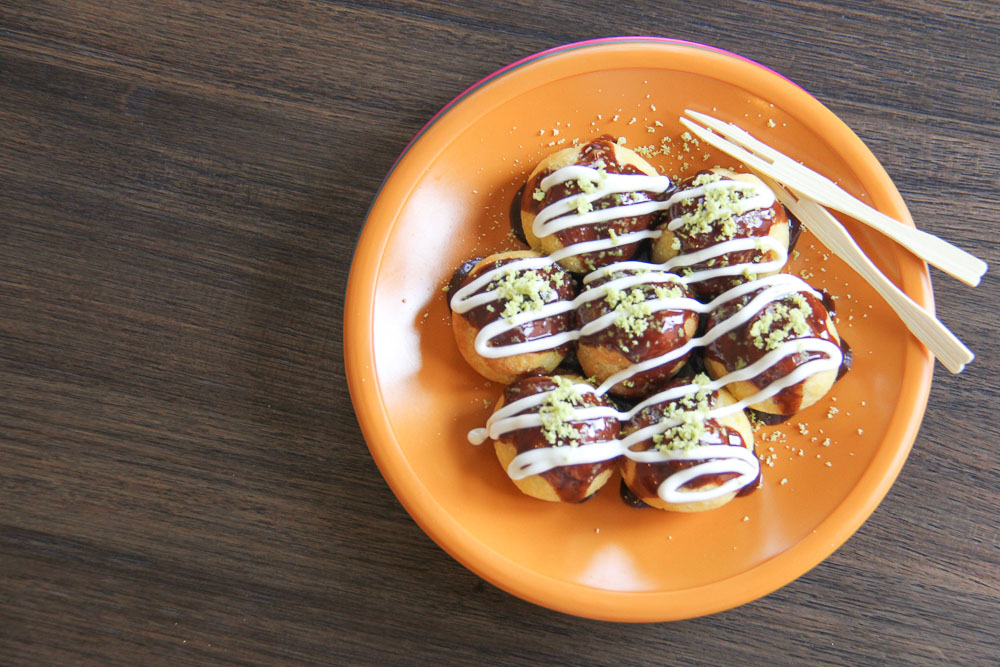 Print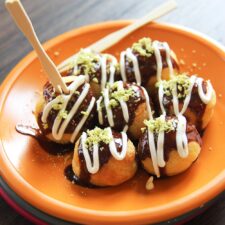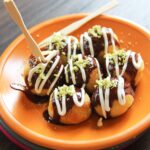 Takoyaki Cream Puff
---
Description
Takoyaki Cream Puff – mini, bite-sized eclairs pop with vanilla filling. A fun way to enjoy your cream puffs, with green tea and drizzle with white chocolate.
---
Choux Pastry:
100

gr butter

250

cc water

1 teaspoon

salt

130

gr cake flour

3

medium eggs
Vanilla fillings:
2

yolks

50

gr cornstarch

75

gr sugar

500

ml milk

1 teaspoon

vanilla extract
---
Instructions
Choux pastry: In a pot, combine butter, water, and salt. Add flour, and mix well. Let it cool.
Preheat the oven to 350ºF.
Using a wooden spoon or stand mixer, beat in the eggs one at a time, mixing well after each until the dough becomes sticky.
Drop by tablespoonfuls onto an ungreased baking sheet. Bake for 20 to 25 minutes in the preheated oven, until golden brown. Centers should be dry.
When the shells are cool, either split and fill them with the pudding mixture, or use a pastry bag to pipe the pudding into the shells.
Vanilla fillings: Mix cornstarch with 1/2 milk and yolk. Set aside.
In a pot, combine milk and sugar; then add the cornstarch mixture. Keep stirring until you reach the right (pudding thickness) consistency.