This Kimchi Fried Rice is so easy to make and a great way to use up your day-old rice. Make it a low-carb option with cauliflower rice for a healthy vegan dinner side.
Back in the days where school was our only priority in life, my friend and I, as much as possible, always cook all meals from scratch. We tried to avoid canned or semi-homemade recipes. However, we faced a big challenge when it came to kimchi. We tried many times, experience with different kind of seasonings, but we still couldn't figure out the perfect zing for kimchi, and at the end, we gave up.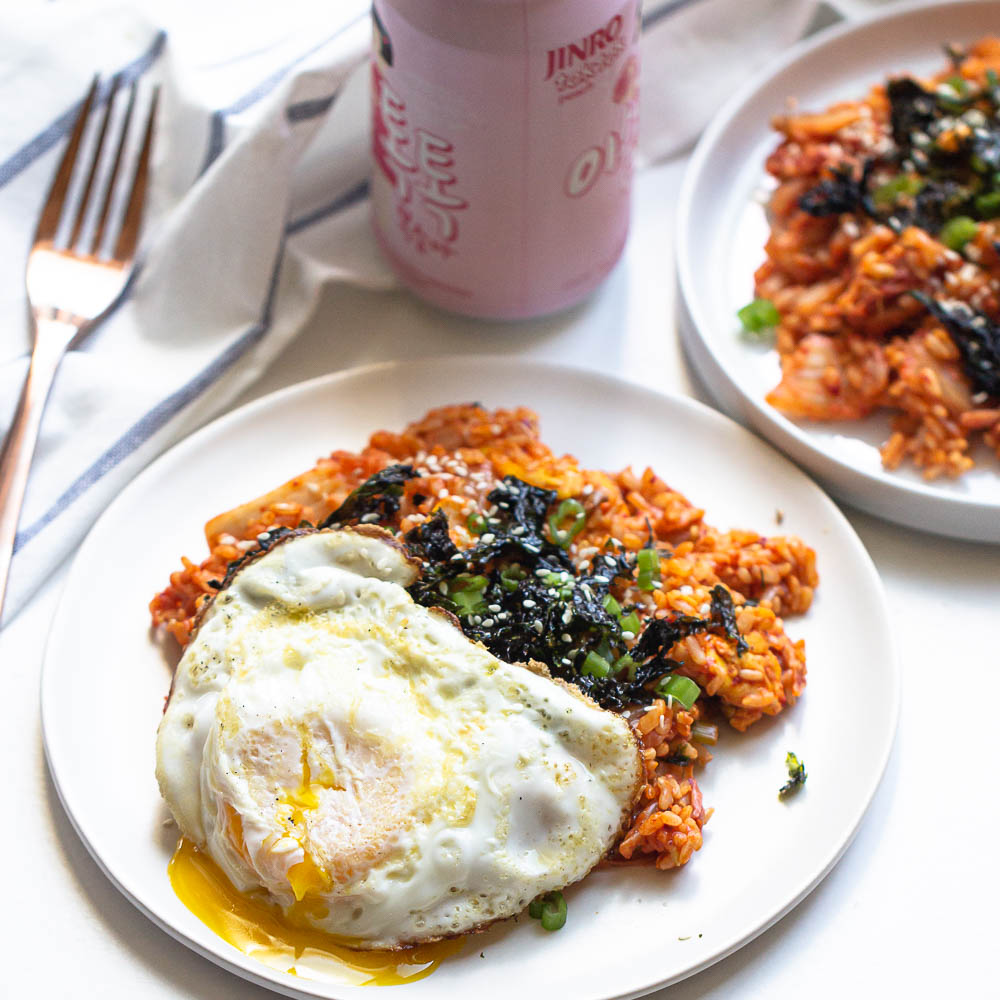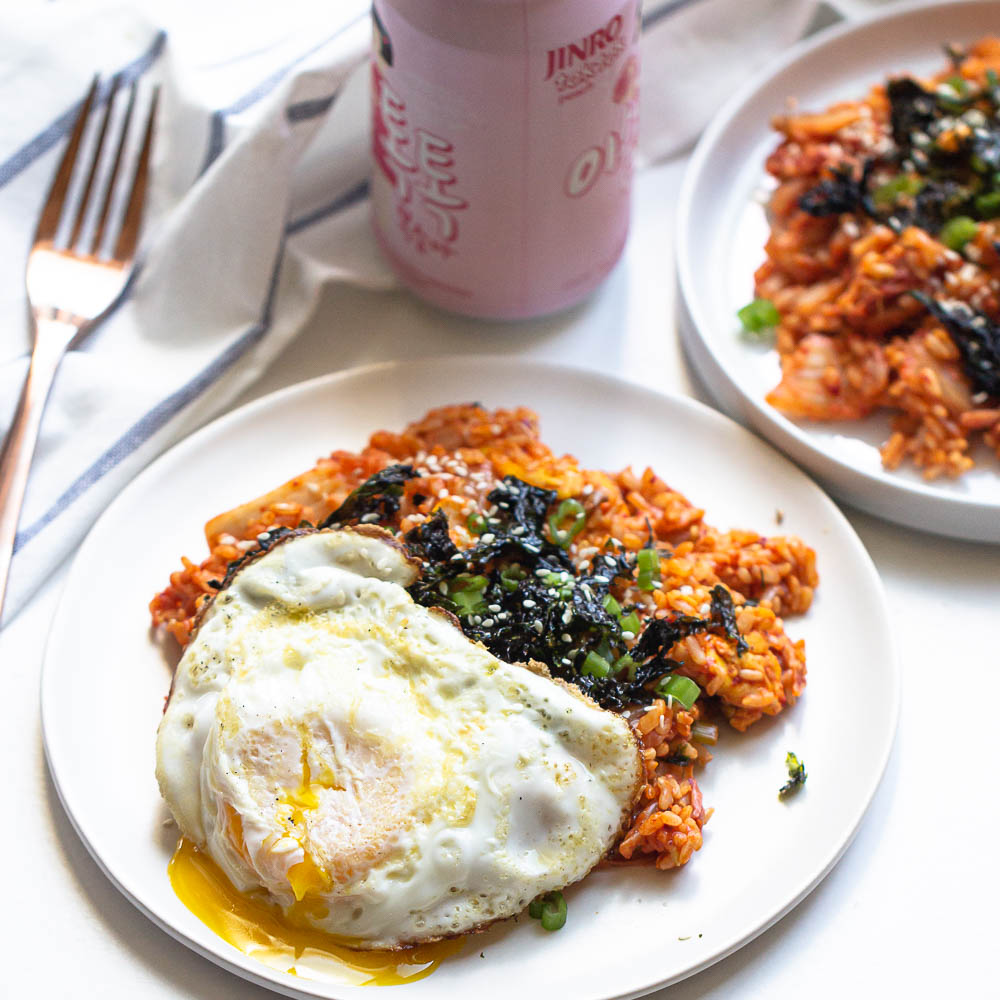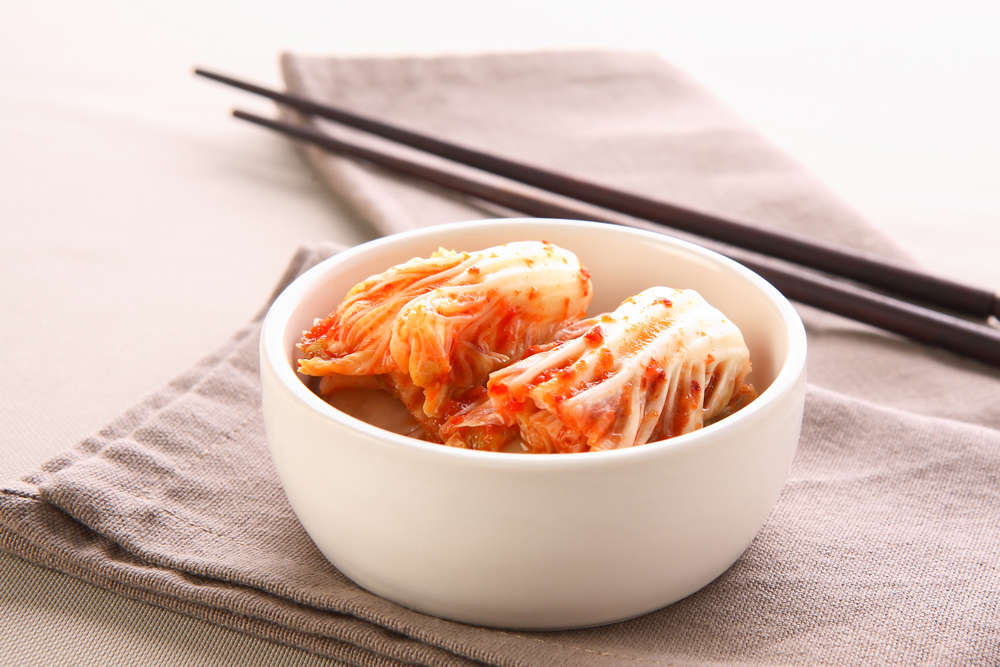 Last month, I went to a grocery store, after driving my mom for a haircut. It was a Korean grocery store, and its shelves are packed with all delicious Korean items. I always enjoy grocery shopping, especially in new places that I've never visited before, so I didn't mind at all to drive 1.5 hours for this store. It was Saturday and like many other grocery places, it was packed with lots of Korean ahjummas and ahjussis speaking in a language which I often hear in K-Drama only. I totally felt like I was in Korea, especially when I saw two aunties selling fresh kimchi. One of them handed a toothpick for me to taste the kimchi and they started talking to me in Korean. The kimchi was soooo delicious that I grabbed two right away and decided to deal with what to do with kimchi later.
I've been picturing kimchi pancakes, kimchi burrito, kimchi quesadilla, kimchi pizza, and so many more kimchi dishes in my mind; but at the end, I decided to make kimchi fried rice (kimchi bokumbop), instead. Simply because Frederick loves fried rice and he likes making fried rice for me, so kimchi fried rice is a good reason for me to relax (or giving instructions) while he's busy cooking. The mixture of fatty, salty meat with the spicy, acidic kimchi felt like a perfect way to dress up leftover standard rice.
Fried rice is a good way to clean up your fridge. Cook the rice at least a day ahead of time and refrigerate. This helps to dry the grains out enough to give your fried rice a good texture.
If you like kimchi, you will LOVE this fried rice! Heck, you might even like this if you don't like kimchi. Looking for more easy recipes?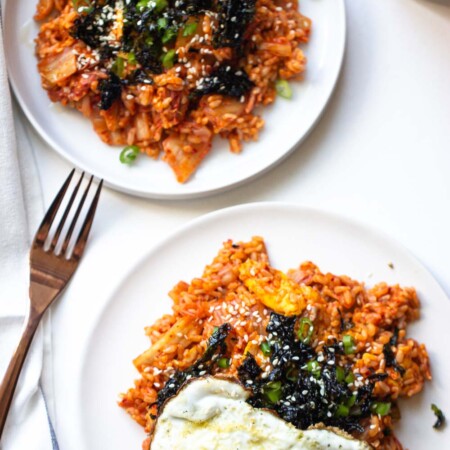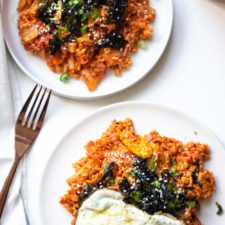 Kimchi Fried Rice (Kimchi Bokumbop)
This Kimchi Fried Rice is so easy to make and a great way to use up your day-old rice. Make it a low-carb option with cauliflower rice for a healthy vegan dinner side.
Print
Pin
Rate
Ingredients
4

cups

of day-old cooked rice

1/2

onion

diced

1

medium shallot

2

stalks of green onion

6

oz.

kimchi

4

eggs

1 egg for each serving

2

tablespoons

oil

salt and pepper to taste
Sauce:
1

tablespoon

gochujang

2

teaspoons

low sodium soy sauce

2

teaspoons

sesame oil

1 1/2

teaspoons

kimchi juice
Instructions
Chop kimchi into ¼" pieces (about 1 cm) to yield 1½ cup of chopped kimchi.

In a large pan or wok add the oil on medium heat. Add chopped kimchi to pan and saute for 5-10 min on medium heat or until kimchi is cooked completely.

Add the onion, shallot and sautee for 2 minutes.

Add the sauce and mix well. If kimchi starts to stick to the bottom but not cooked through yet, add a little bit of water or more kimchi juice. You can add more kimchi juice if you like it spicy. If you don't have kimchi juice, you can also add some gochugaru for more spiciness and red color.

Reduce heat to low. Add the rice and mix thoroughly. If you are using cold leftover rice, make sure you mix it until there are no cold lumps of rice and all the rice is warmed up. Let it sit on low heat for about 5 min.

Salt to taste and top with a fried egg and green onion to serve.
Notes
You can also add meat like ham, sausage, or spam; and replacing oil with butter.