This Baked Potato & Cauliflower Soup has a thick and creamy broth that's loaded with onion and bacon. It is the definition of comfort food that also makes a delicious winter-warmer soup.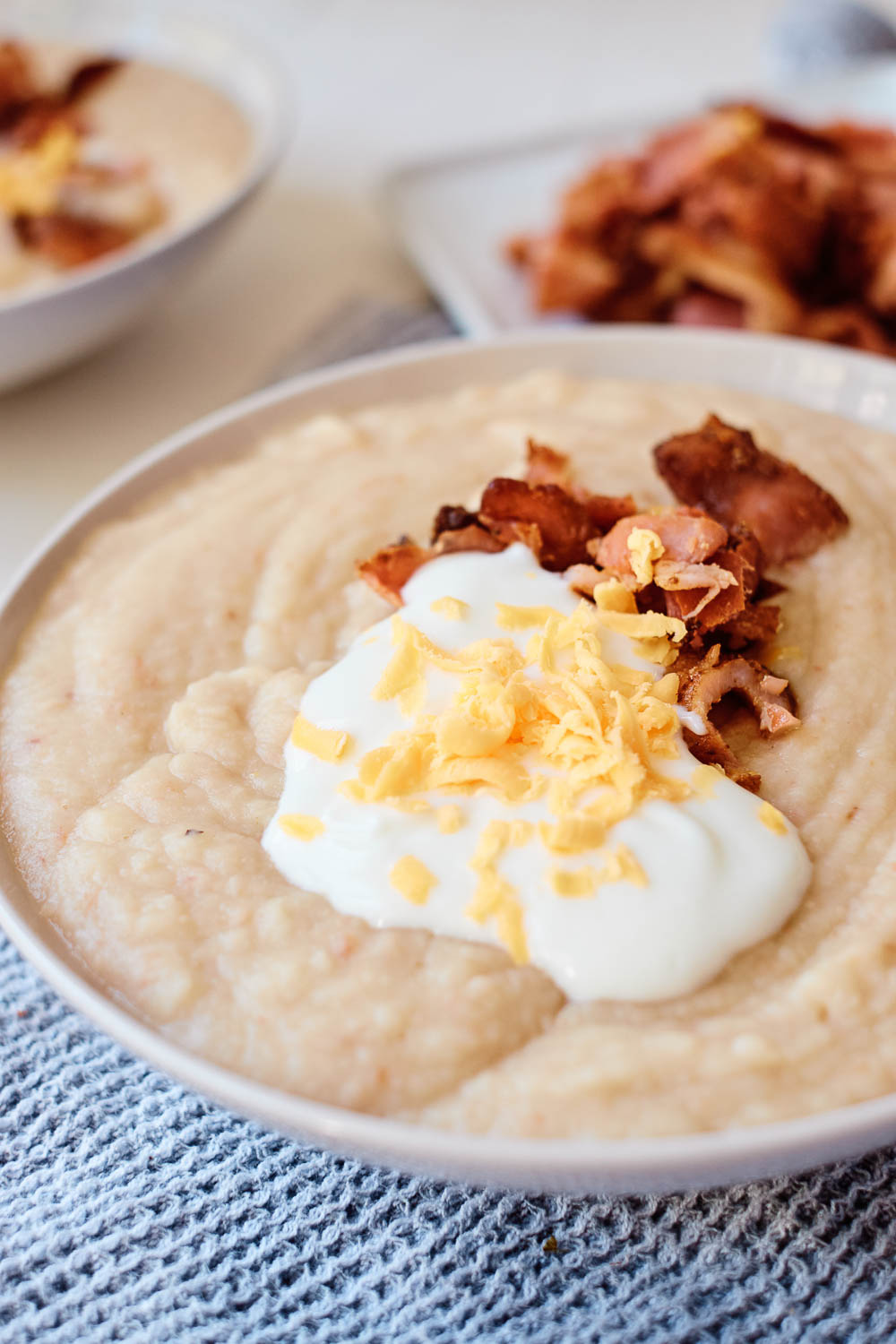 This soup is one of the most delicious winter meals around. Seriously, I mean it. This soup is souper yummy.
And better yet, this potato and cauliflower soup uses just five ingredients!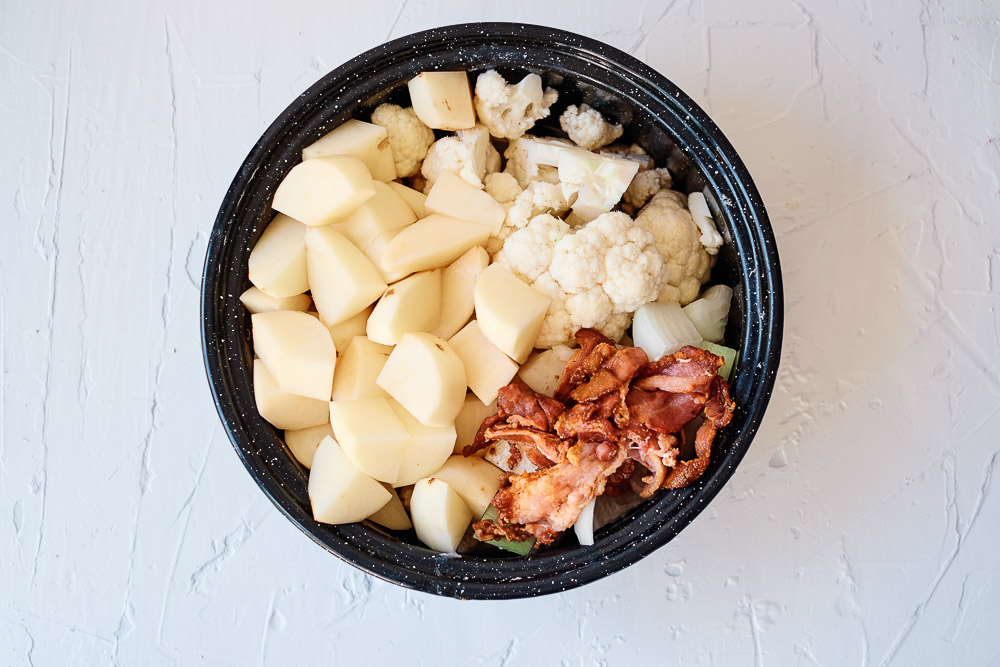 As I cleaned up my recipe bookshelves the other day, I realized something has changed. Quite a massive change, I must say. I'm all about healthy, energized, and refreshing meals… and a somewhat healthyish lifestyle. So when I got this book, Healthyish by Lindsay Maintland Hunt, I was jumping up and down and read it cover to cover. This book is pretty much my bible these days, and I just can't stop drooling each time I flip through the recipe pages. It's all so damn good and best of all – it's all healthy!
So today I'm here with one goal – to make you drool over this loaded baked potato and cauliflower soup. This soup pretty much sums up everything we need on these wintery, rainy days.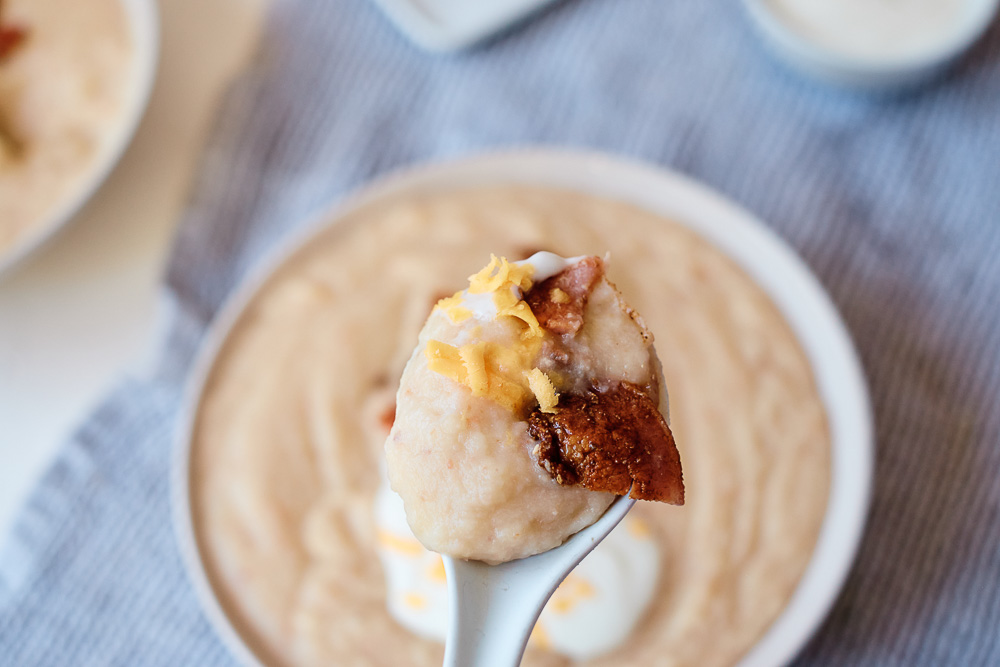 So, why do I love this soup so much?
It's NUTRITIOUS. You know it's hard to get back on track after the holidays, right? My holiday is way too long with the Lunar New Year celebration next month. It will be another extravaganza of meals over three days straight. So, this baked potato & cauliflower soup gives me a break while still giving me the nutrients my body needs.
It's EASY AND COMFORTING. How much simpler does it get than using five ingredients? I swear it's almost easier than making toast. And if you're a newbie in the kitchen – fear not, OXO has tools to help you make this soup. From the peeler to the knife, OXO has all you need to make sure your soup is easy to make. Here's a quick recap of the tools you need:
Pro 8″ Chef's Knife – Ideal for chopping, mincing, dicing, and scooping.
12″ Tongs – Sturdy and comfortable for effortless grabbing and flipping.
Wooden Corner Spoon – Made of solid, one-piece beech woods, its distinctive straight-sided shape allows better reach along walls and in corners of cookware.
Coarse Grater – Etched blades give the Grater a sharp surface to tackle soft cheeses, apples, potatoes, onions, and more.
Swivel Peeler – The Swivel Peeler's sharp, hardened stainless steel blade removes inedible outer layers with ease and leaves all the good stuff underneath intact.
Kitchen and Herb Scissors – Handy for cutting meat, veggies, twine, and more, the soft handles feature cushioned pads to absorb pressure.
It's NOT YOUR REGULAR PACKED LUNCH. Step aside, salad. I have something better to share, and this soup says it all. It has enough ingredients to satisfy your hunger, especially when crunchy bacon is your favorite. Trust me, you will never want a salad or sandwich again.
Other recipes you need to try:
Easy Butternut Squash Soup – This Easy Butternut Squash Soup is unbelievably creamy, satisfying, and so flavorful. Truly the best homemade butternut squash soup that you can enjoy all winter long!
Instant Pot Three Bean Chili – Three Bean Chili is a delicious weeknight meal and awesome as leftovers.
Seriously, what's more comforting than this soup?
Print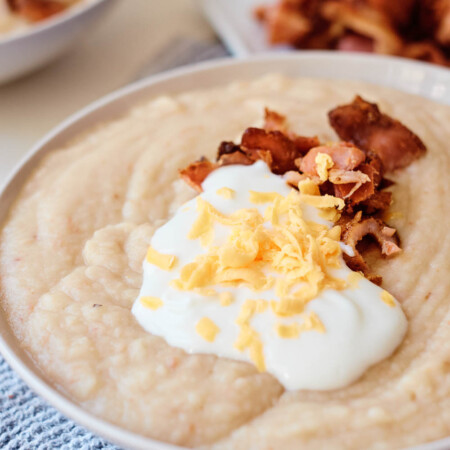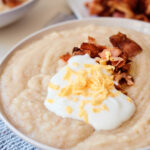 Loaded Baked Potato and Cauliflower Soup
---
Description
This Baked Potato & Cauliflower Soup has a thick and creamy broth that's loaded with onion and bacon. It is the definition of comfort food that also makes a delicious winter-warmer soup.
---
4

large slices (

8 oz

/225 gr) extra-thick cut bacon

2

onions (12 oz/340 gr), chopped (about

2 cups

)
Kosher salt and freshly ground black pepper

2

large russet potatoes (2 lbs/910 gr), peeled and cut into 1/2-inch (12-mm) pieces (about

5 cups

)

1

medium head cauliflower (11/4 lbs/570 gr), cut into small florets (about

6 cups

)

8 cups

(

2

l) chicken stock from whole poached chicken or vegetable stock
Sour cream, chopped fresh chives, and grated Cheddar cheese, for serving
---
Instructions
Heat a large soup pot over medium-low heat. Place the bacon slices flat in the pot and cook, turning a couple times, until crispy and most of the fat has drained from the bacon, 8-12 minutes total. Using tongs, transfer the bacon to a paper towel-lined plate, leaving the fat in the pot.
Add the onions, 2 tsp salt, and 1 tsp pepper. Cook, stirring often, until the onions are translucent and soft, 10 to 12 minutes.
Stir in the potatoes, cauliflower, and stock, cover, and bring to a boil over high heat. Reduce to a strong simmer and cook, stirring here and there, until the potatoes are very soft, 15 to 20 minutes.
Puree the soup, using a blender in batched or a handheld immersion blender. Taste and season with additional salt and pepper, if you like.
Slice or tear the cooked bacon into bite-size pieces and sprinkle it over bowls of the soup. Serve topped with sour cream, chives, and cheese.