French Onion Grilled Cheese Sandwich with melty Gruyere and caramelized onions make the best comfort food. It has all the flavors of a classic French onion soup, but quicker to make and portable! Your taste buds will swoon!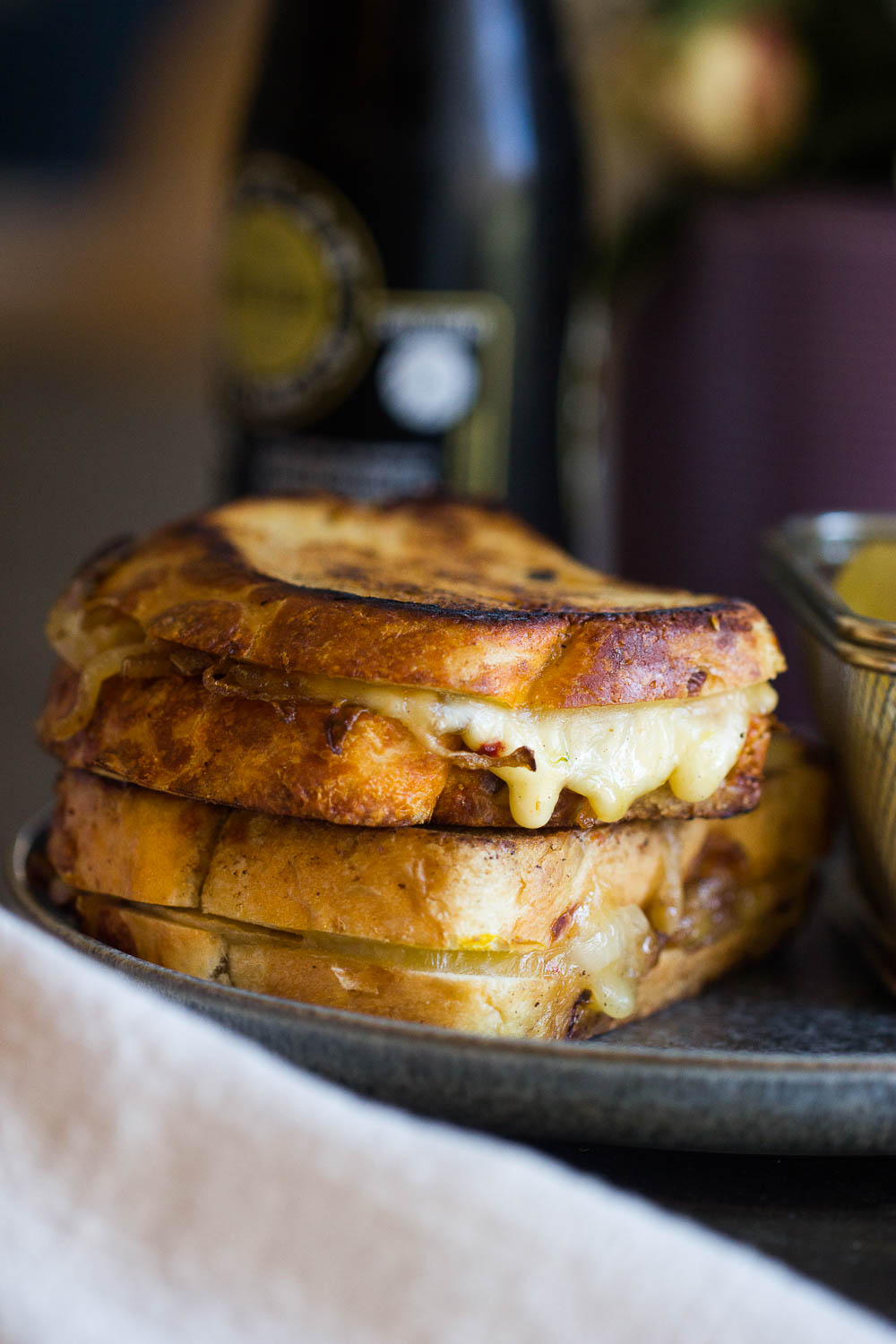 This grilled cheese with melty Gruyere and caramelized onions doesn't disappoint at all. And if you add turkey slices leftovers, it feels like an unending Thanksgiving celebration!
Well, hello, Thanksgiving leftovers!
But first, let's talk grilled cheese.
I rarely post anything cheese-y; however, I'm in love with this raspberry and chocolate grilled cheese combo and avocado toast with grilled cheese. If you haven't tried these recipes, then you should!
What kind of cheese is best for grilled cheese
A great grilled cheese sandwich can be made out of lots of different cheeses, and my favorites are:
Gruyère. It's rich, complex, and melts well in the heat. Plus, it's so creamy good!
Swiss. I like the unique nutty flavor when it melts; however, be sure to use a good-quality cheese
Cheddar. Not my first pick as it tends to get too oily but I like the way mild cheddar melts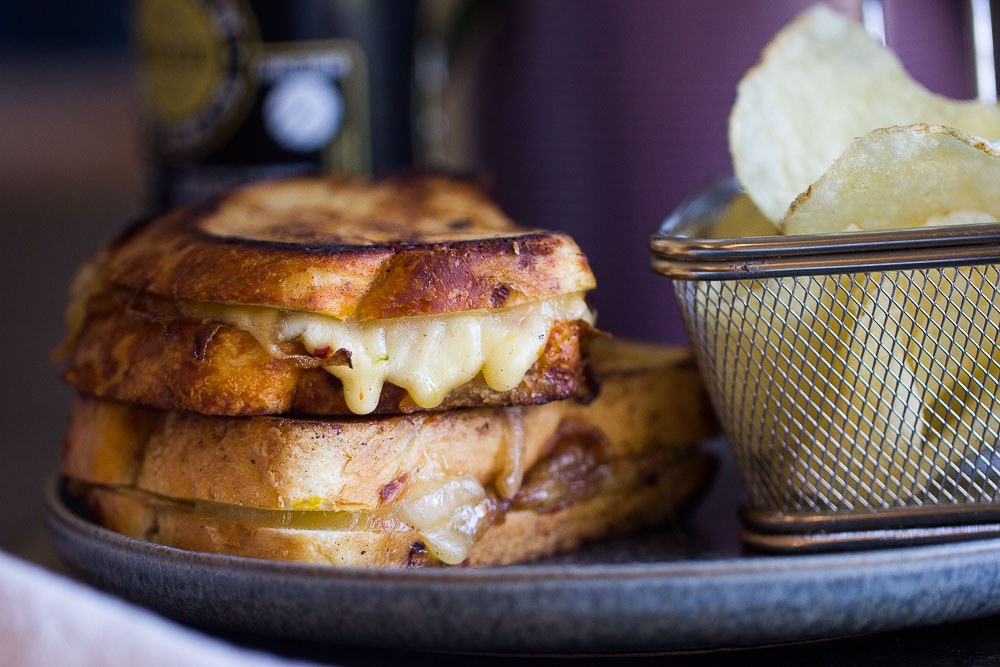 Ingredients
Gruyere cheese. This is the most important ingredient that you can't miss
Onion. Either one works; however, I like sweet onion
Bread. Either sourdough toast or any toast, and I suggest thicker slice
Beef stock or balsamic vinegar to moisten the onion and bring additional flavors. Another option is to use bourbon, marsala wine, or light beer
Salt
Thyme, whole-grain mustard. These are optional but they will add more flavors to the sanndwich
Butter, olive oil
How to make the best grilled cheese sandwich
Cook the onions until it gets caramelized, then sprinkle with a generous pinch of salt and beef stock
Spread the butter and whole grain mustard on one side of each piece of bread. Add turkey (optional), caramelized onions, grated Gruyere on the inside of the bread and top with second piece of bread that is spread with the butter and grain mustard
Melt butter in a skillet over medium until beginning to foam. Add prepared sandwich and turn heat on to low. Make sure that you aren't burning the butter and flip as soon as one side is golden brown and continue with other side. This process should take 8-10 min on each side
Kitchen tools
Making the best cheese sandwich doesn't require fancy kitchen equipment. And most of the time will need a skillet or cast-iron skillet.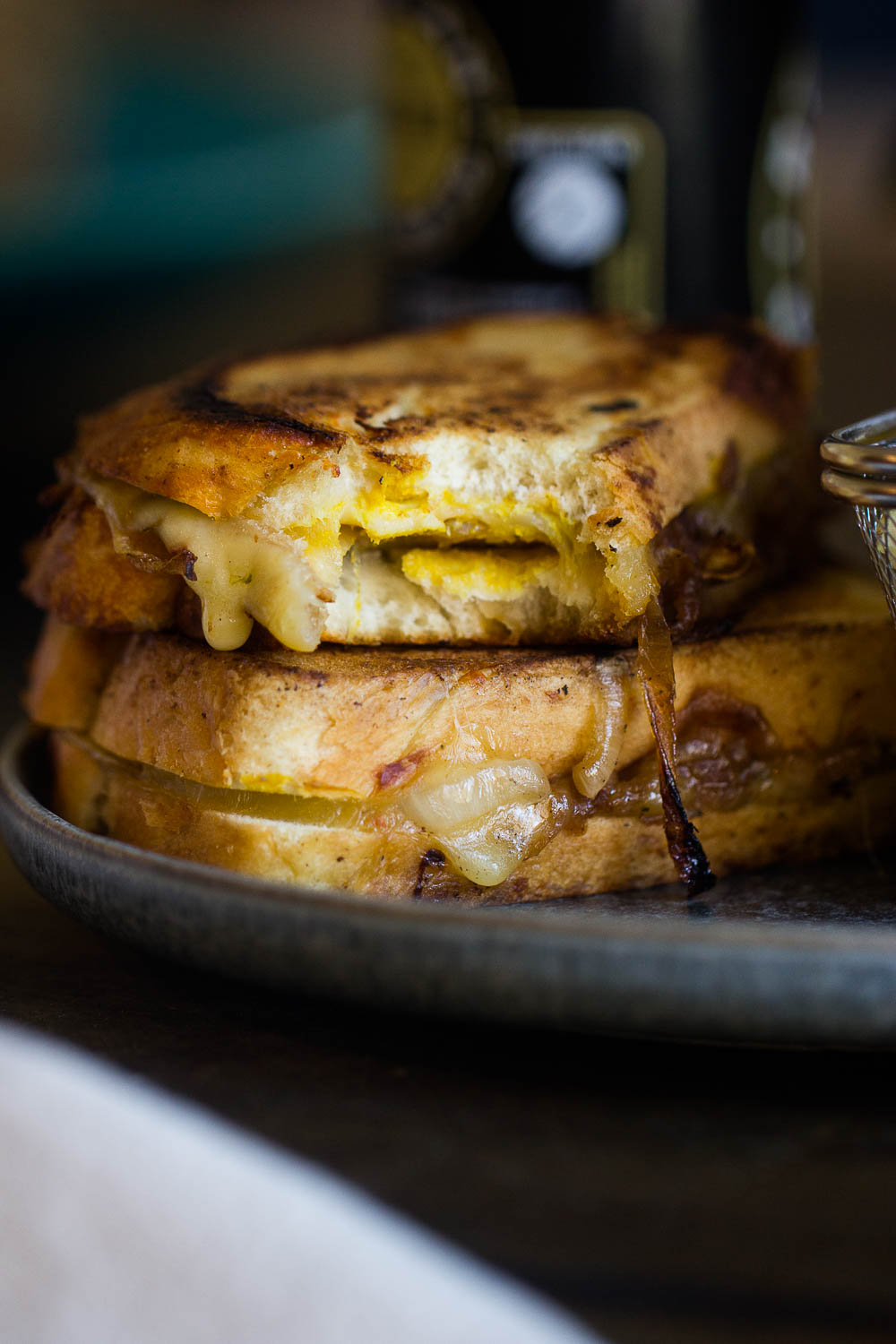 Kitchen note
Anyone can make grilled cheese, but not all grilled cheese is done equally. There are several keys and elements to make the best cheese sandwich.
Shredded is best so the cheese will melt evenly
Thick-sliced bread works better!
Low heat. Yes, don't rush the process or you will compromise the golden crust
Save some time and caramelize the onions ahead of time. Caramelized onions can be stored in an air-tight container for up to 1 week or in a freezer for up to 3 months.
Variations
It's possible to take this classic comfort food to another level. Here are some ideas you can try.
Make it a

Mediterranean grilled cheese sandwich

by adding feta, olives, basil, spinach, red onions and tomatoes

My favorite is adding jalapenos and make it jalapenos grilled cheese sandwich
Keep it simple but elegant with crispy prosciutto, melon slices, and arugula cheese sandwich
Or keep it classic with sloppy joe cheese sandwich
This French onion grilled cheese sandwich never disappoints; however, you can always go with the classic and make a turkey grilled cheese sandwich with the homemade cranberry-orange sauce.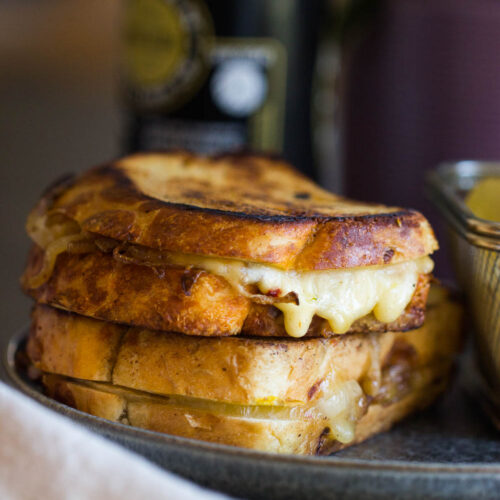 French Onion Grilled Cheese Sandwich
French Onion Grilled Cheese Sandwich with melty Gruyere and caramelized onions make the best comfort food. It has all the flavors of a classic French onion soup, but quicker to make and portable! Your taste buds will swoon!
Print
Pin
Rate
Ingredients
4

slices

sourdough bread or cheese bread

1

small

sweet onion

thinly sliced

2

teaspoons

whole-grain mustard

Generous pinch of

salt

1

teaspoon

fresh thyme

4

tablespoons

beef stock or balsamic vinegar

1

cup

grated Gruyere cheese

2

tablespoons

olive oil

2

tablespoons

unsalted butter
Instructions
Caramelized onions
Coat the bottom of the pan with olive oil and heat the pan on medium high heat until the oil is shimmering. Add the onion slices and stir to coat the onions with the oil. Spread the onions out evenly over the pan and let cook, stirring occasionally for 10 minutes. Sprinkle some salt and pour the stock. Continue stirring until onion caramelize into a beautiful deep golden brown. Set aside.
Grilled cheese sandwich
Spread the butter and whole grain mustard on one side of each piece of bread. Add turkey, caramelized onions, grated Gruyere on the inside of the bread and top with second piece of bread that is spreaded with the butter and grain mustard

Melt butter in a skillet over medium until beginning to foam. Add prepared sandwich and turn heat on to low. Make sure that you aren't burning the butter and flip as soon as one side is golden brown and continue with other side. This process should take 8-10 min on each side