This Red Wine Chocolate Bundt Cake redefines the definition of chocolate decadence and is simply irresistible!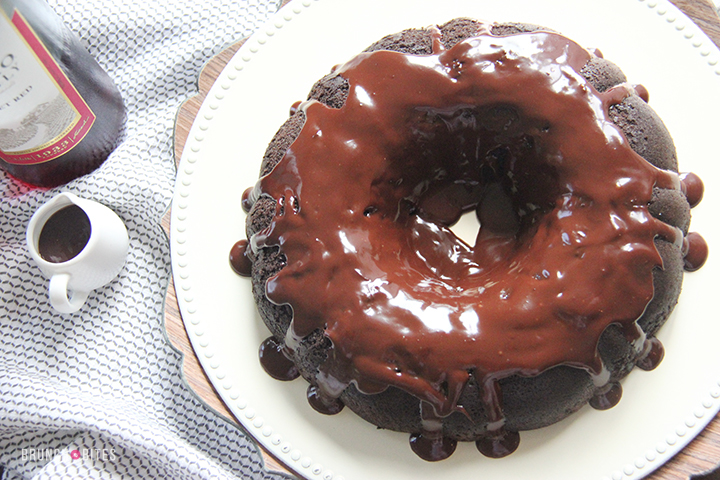 I'm getting all boozy on you today. But first thing first… if you happen to be in San Francisco this week, don't forget to stop by Farm to Table Food Festival this coming Sunday from 2-5pm in Palo Alto. It's a free fun-filled afternoon of learning and hands-on doing for the whole family in celebration of the Jewish Food Movement: local, accessible, healthy food; crafted by people who were treated equally, and grown or produced in a way that promotes a healthy, sustainable, and diverse environment. And I'll be on stage during the Home Cheesemaking Workshop with Louella Holl, so be sure to grab your free ticket here and say hello.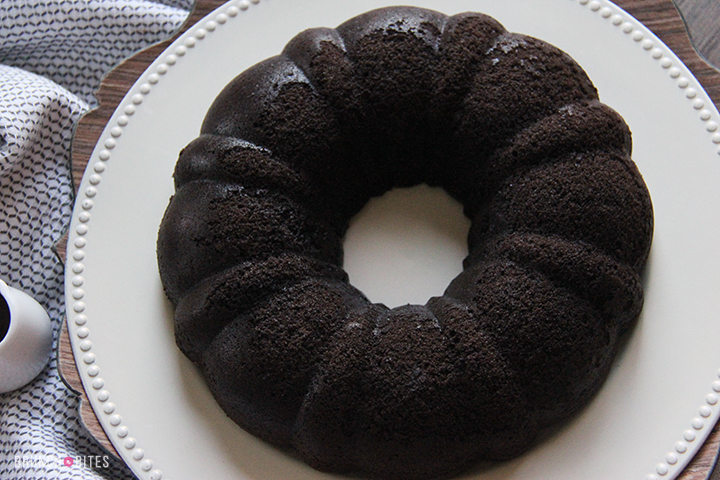 And now let's talk about cake. I love the third Thursday of each month because it's bundt cake time. This month's theme is beverages. Quite frankly, I rarely drink soda and my favorite drink has always been water, no ice. The closest to that is probably black tea, Baileys, and Moscato. But the hubs is quite the opposite when it comes to drink. He drinks water a lot, like… a lot! I often hide my water bottle from him, otherwise he would finish it in a split second. And his favorite drinks are bourbon and red wine, which are way too strong for me.
As he likes bourbon and red wine, he often buys some to keep at home. The funny part is… he rarely opens it so it's just sitting there in wine rack. And of course, our collection has grown over the years, and currently it's more than 40 bottles. Some were inherited from friends when they moved out to a different state, and some were bought during our Caribbean trip last Summer.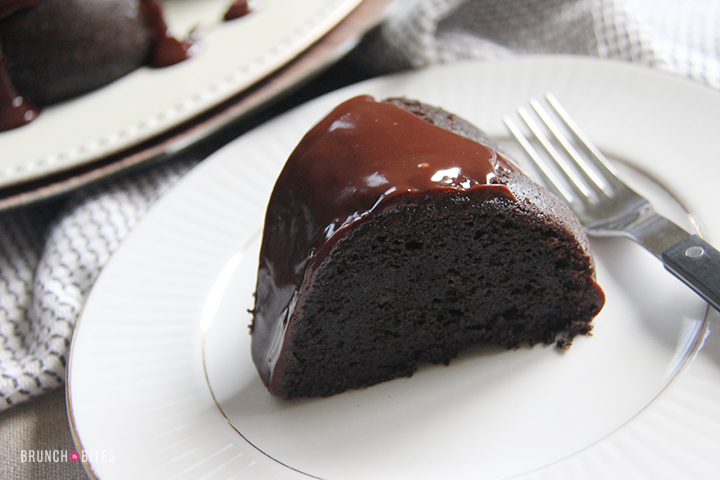 So I didn't want to waste those bottles, especially after I found out that the theme is all about beverages. So, red wine chocolate bundt cake, it is! Unlike any other cake, this one is super special… especially that ganache on top. My first thought is having chocolate as an optional ingredient; but I was wrong. Chocolate does make this Red Wine Chocolate Bundt Cake extra yum! So why not add a drizzle here and there, or perhaps cover the whole thing with chocolate?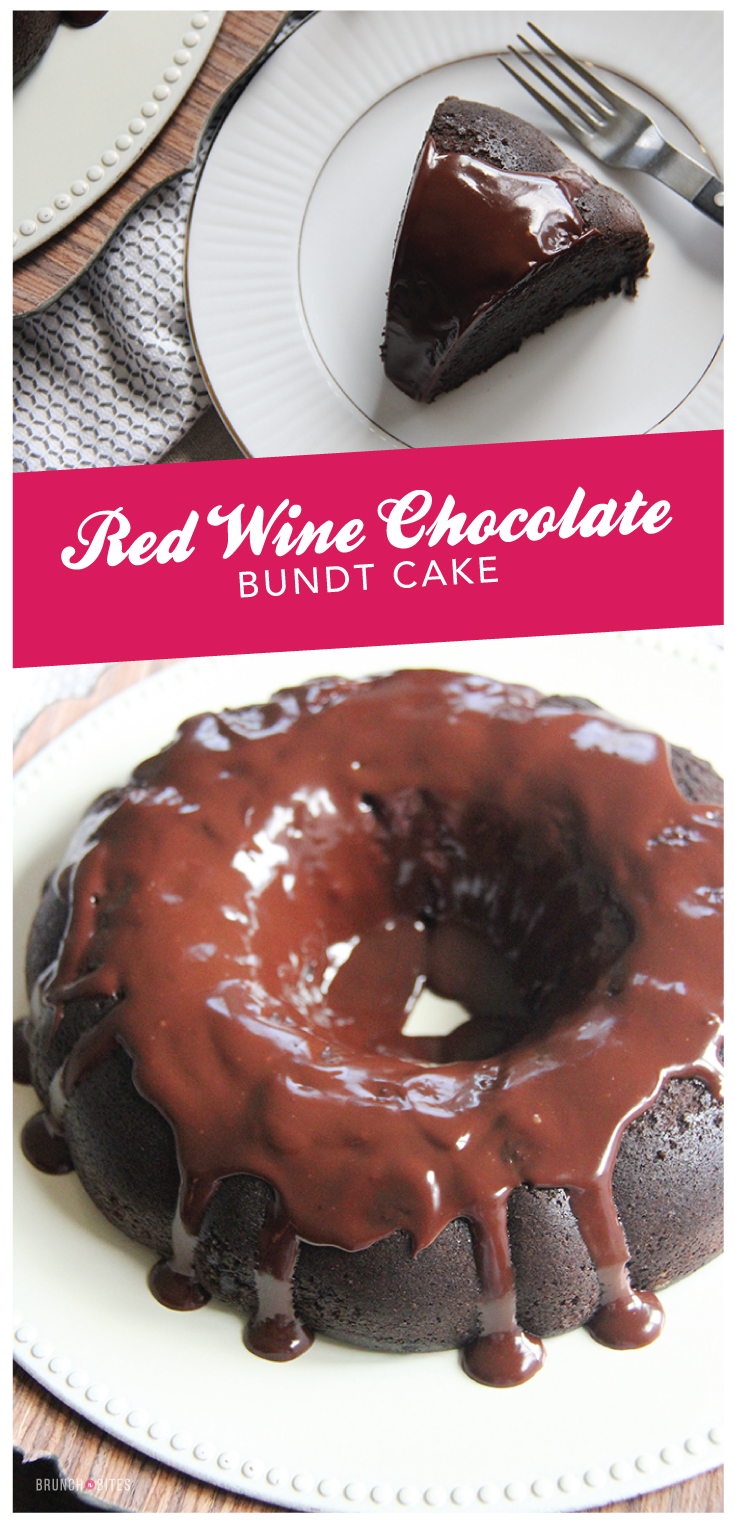 Red Wine Chocolate Bundt Cake:
Print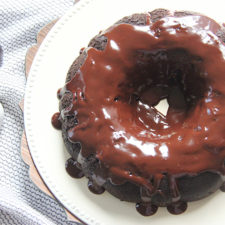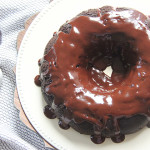 Red Wine Chocolate Bundt Cake
---
Description
This red wine chocolate cake redefines the definition of chocolate decadence and simply irresistible!
---
11/2 cups

all-purpose flour

1/2 cup

unsweetened cocoa powder

1 cup

sugar

1/2 cup

dark brown sugar

11/2 tsp

baking powder

1/2 tsp

salt

1 cup

unsalted butter, room temperature

1

large egg

2 tsp

vanilla extract

11/2 cup

dry red wine

2

tbs milk

Chocolate ganache:

8 ounces

semisweet chocolate, coarsely chopped

1 cup

heavy cream

1

tbs unsalted butter, room temperature
---
Instructions
Preheat oven to 350F. Grease a 12-cup bundt pan and set aside.
In a medium bowl sift flour, cocoa powder, baking powder, and salt. Set aside.
In a mixer bowl fitted with the paddle attachment, beat together butter, sugar, and egg on medium-high speed for 3-4 minutes until combined. Scrape down the sides and bottom of the bowl as necessary.
Add vanilla extract. Using a spatula, fold the flour mixture in 3 additions, alternating it with the wine in 2 additions (starting and ending with the flour). Add the milk and combine. Do not overmix.
Scrape the batter into the prepared pan and smooth the top. Bake for 45 minutes or until a toothpick inserted into the center comes out clean. Allow the cake to cool in the pan for 10 minutes on a wire rack, then turn it out and let it cool completely. Drizzle the cake with chocolate ganache.
Chocolate ganache: Place chocolate in a medium heatproof bowl; set aside.
Place cream in a small saucepan over medium heat and bring to a simmer. Pour over chocolate and let stand until chocolate has softened, about 5 minutes.
Add butter and stir until smooth. Let cool slightly before using.
Thanks to Laura of Baking in Pyjamas for hosting BundtBakers this month. Check out these delicious bundt cake recipes and don't forget to bake some.
#BundtBakers is a group of Bundt loving Bakers who get together once a month to bake Bundts with a common ingredient or theme. You can see all of our lovely Bundts by following our Pinterest Board. We take turns hosting each month and choosing the theme or ingredient. Updated links for all of our past events and more information about BundtBakers can be found on our homepage.
Save