Rujak Buah, an Indonesian fruit salad, is a scrumptious mix of spicy, sweet, salty, tangy, & crunchy textures all at once! This fruity & colorful salad is gluten-free and perfect for a crowd. This rujak buah makes a good dessert after enjoying beef rendang or ayam kalasan.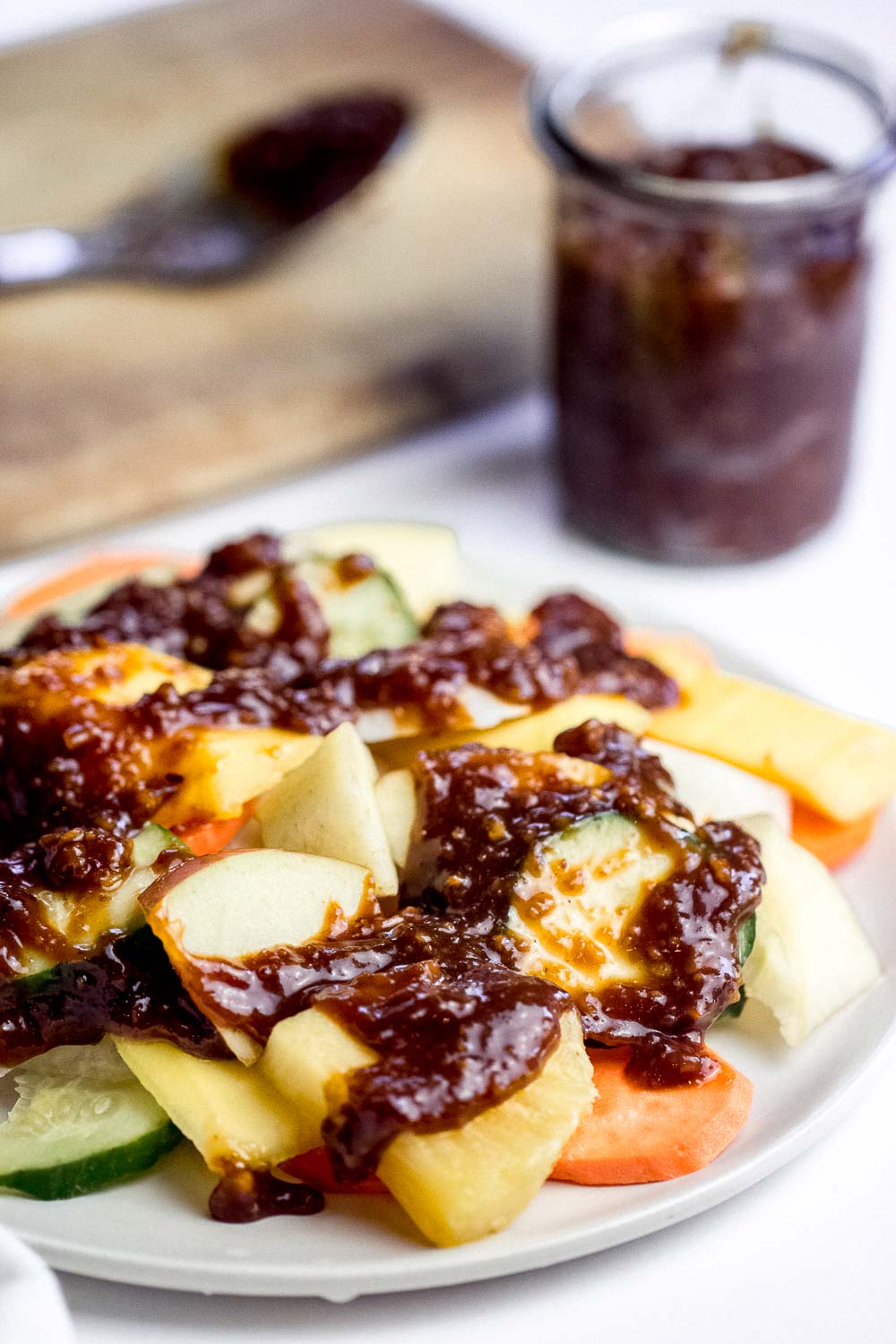 What a week!
Happy Friday! This whole week has been crazy bananas.
This week is already starting to be one of those 'where did the heck did the time go?' weeks. And just like that, Thursday is here again.
But I promise that I will share something awesome today, like Christmas comes early and you have a new toy to play with. First of all, I love fruits (hint: Indonesian fruit salad or rujak buah in the title) and we always have smoothies for breakfast and oranges for snacks. Not to mention avocado toast or an avocado shake when we're bored with our salad. In short, our home is always filled with fruits; however, there are fruits that go bad very fast, within 2-3 days. I always feel bad when fruits go bad that fast and always feel hesitant to buy them.
Thankfully, I have a new toy that I really like. Vacuvita is a food storage container that helps save food and money. Vacuvita is completely automatic and sustainable, and this system keeps your food fresh for up to 5 times longer! Vacuvita's vacuum storage system keeps your food away from moisture, oxygen, and anything else that negatively affects your food's shelf life.
The Vacuvita's Home Base, the system's main unit, is the ideal way to keep your food fresh without having to put it in the refrigerator. That's right – you can leave it out on your countertop without worry. You can also use it to apply vacuum power to bags and containers. This product also has plastic bags that you can use to sous-vide your favorite dinnertime meal while locking in the moisture.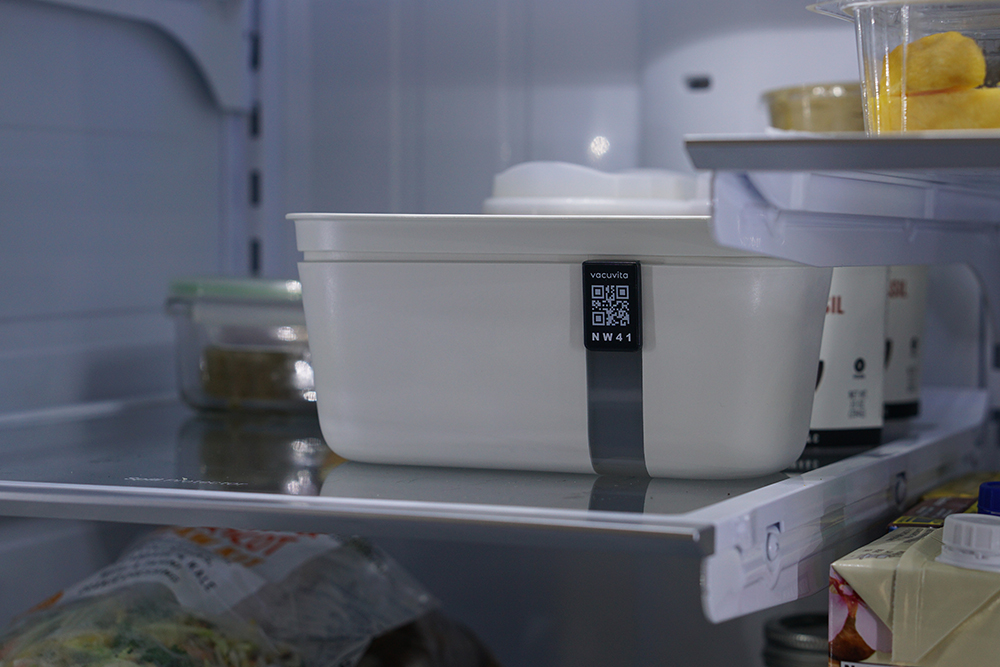 About Rujak Buah or Indonesian Fruit Salad
Since I have shared my sous-vide recipe here before, today I'm sharing my Rujak Salad recipe that I make from the fruits I keep using Vacuvita. Rujak (or rojak in Malaysia) is a traditional fruit and vegetable salad dish commonly found in Indonesia. There are many variations to rujak; however, the most popular one is rujak buah (fruit salad).
Unlike the fruit salads that most of us know, rujak is a spicy and tangy fruit salad. This is thanks to the hot, sweet, and spicy dressing made using palm sugar, peanuts, and ground chili pepper.
Ingredients for Rujak Buah or Fruit Salad
Indonesian rujak typically adds fresh fruits and vegetables. However, rujak in Singapore and Malaysia is influenced heavily by Indian elements and is mixed with crackers, fried tofu, cruller, and fritters.
There are lots of fruits you can add to rujak buah platter and the most popular fruits include jicama, pineapple, papaya, mango, cucumber, sweet potato, jambu (cashew fruit), and star fruits.
How to make rujak sauce
You will need roasted peanuts, palm sugar, and water as the main ingredients. Some rujak recipes might add shrimp paste; however, you won't need that in this rujak buah recipe.
Rujak is traditionally a vegetarian dish, but the tangy and sweet dressing does sometimes contain shrimp paste. Rujak in Singapore and Malaysia is often made with sotong (cuttlefish), and some Indonesian rujak recipes are made with meat or seafood, such as rujak cingur from Surabaya or rujak soto from Banyuwangi. And here is a quick and simple rujak buah recipe that you are bound to love!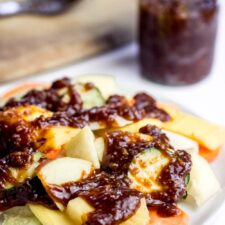 Indonesian Fruit Salad (Rujak Buah)
Rujak Buah, an Indonesian fruit salad, a scrumptious mix of spicy, sweet, salty, tangy, & crunchy textures all at once! This fruity & colorful salad is gluten-free and perfect for a crowd.
Print
Pin
Rate
Ingredients
Salad ingredients:
1

cucumber

1

apple

1

medium sweet potato

1

peeled mango

1

small peeled pineapple

1

peeled jicama
Instructions
Cut the salad fruit into slices.

With a mortar and pestle, grind the sauce ingredients until it is a smooth sauce.

Pour the sauce over the sliced fruits and toss well.
It's that simple!
And today, there's even better news. One of you can win this Vacuvita food storage system so you can start saving on food and money. No more food waste, peeps. Simply enter the giveaway here and good luck!
I created this post in partnership with Vacuvita. As always, all opinions are 100% my own. Thank you for helping support brands that I love!