Homemade fried rice is simple to make and healthier than takeout. This Scallop Fried Rice is easy, authentic, and a crowd-pleaser every time. Add this to your Chinese Lunar New Year menu and may this dish usher in happiness and good fortune for you this new year!
This recipe is sponsored by Riceland.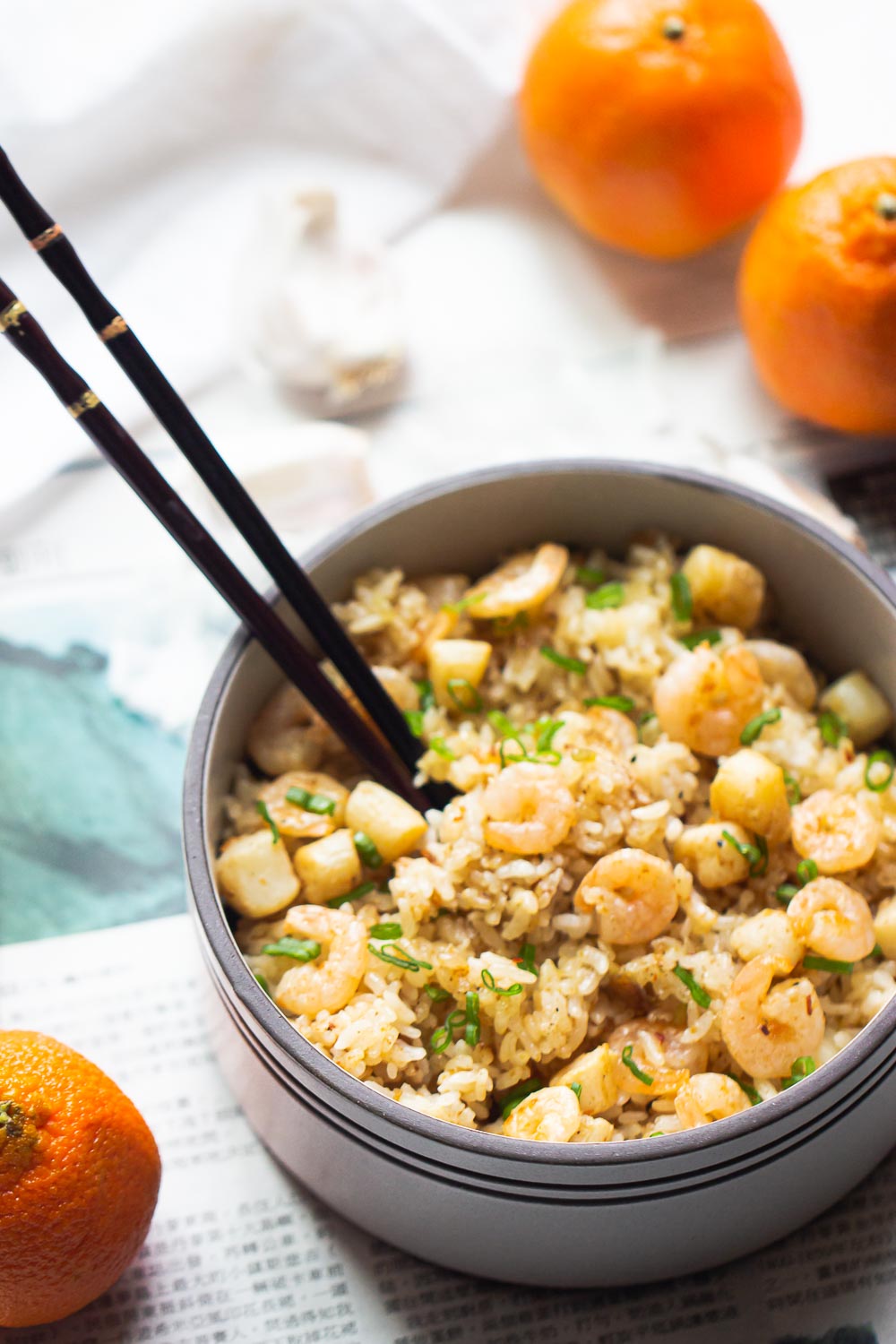 Chinese Lunar New Year is here and like my previous posts here and there, I'm already busy stuffing my face with all the goodies we have around the house. So today's recipe is extra special to me. Remember that XO sauce that I shared last week? Well, I'm here with a recipe on how to use that XO sauce in one of the most delicious ways. This Scallop Fried Rice with XO Sauce aka the billionaires fried rice.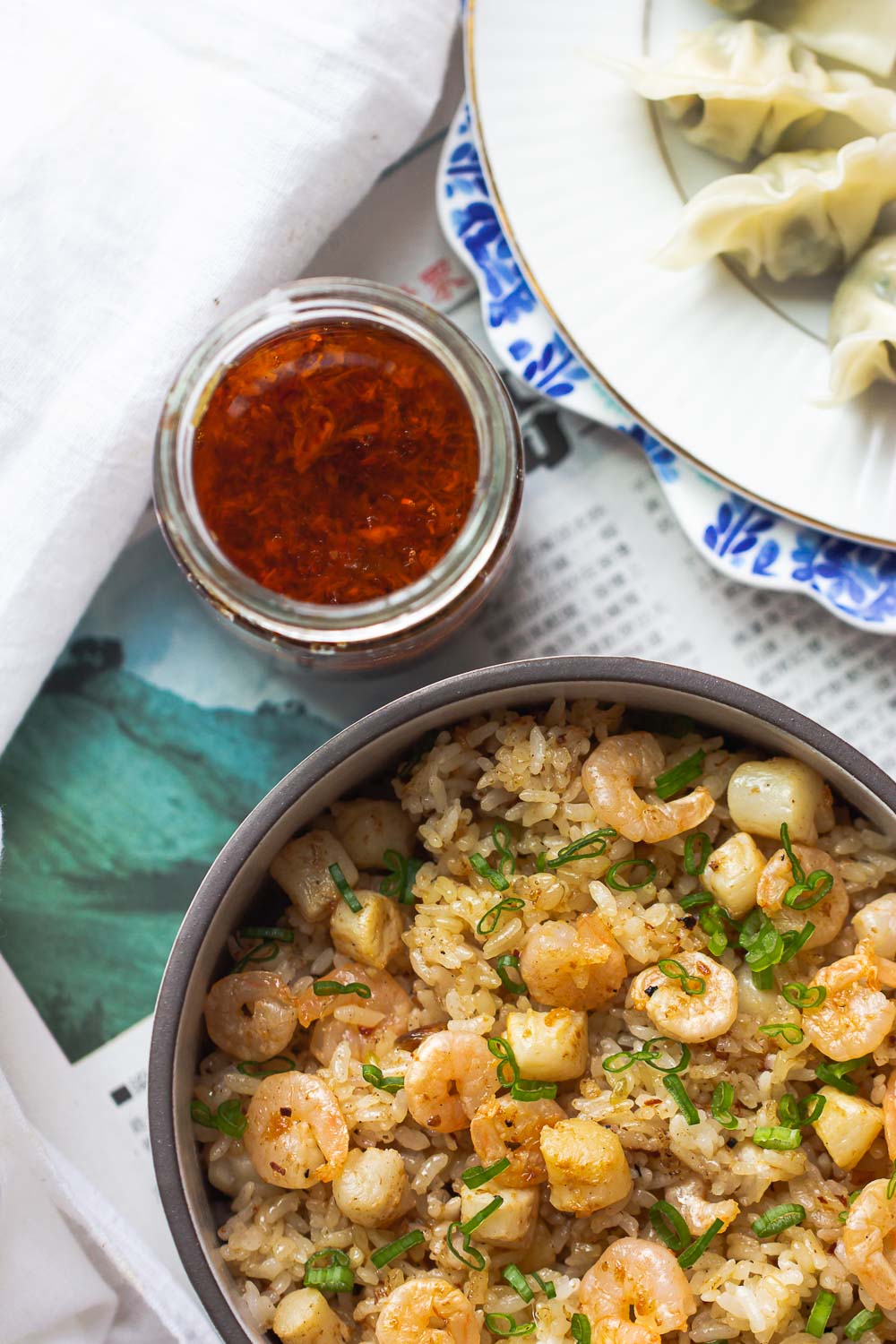 Why billionaires sauce?
As shared here, the name itself comes from fine XO (extra-old) cognac. It's a shorthand for high-quality, prestige, and luxury, such as all good high-quality seafood. You can imagine how delicious this fried rice is especially when combined with high-quality ingredients.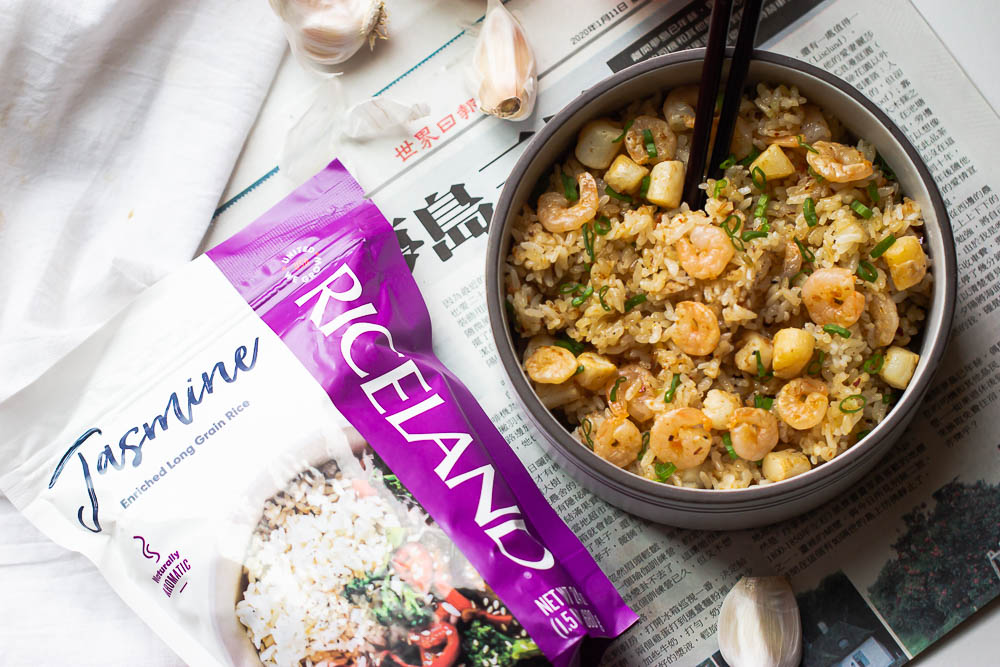 Scallop Fried Rice with XO Sauce Ingredients
Scallops and shrimp.

I use small bay scallops for this scallop fried rice recipe, but if you can rather use large sea scallops, then definitely do so!

XO sauce.

This magic sauce is da bomb. Seriously! The ingredients include dried scallops and dried shrimp, cooked into perfection with vegetable oil. You can use a store-bought version or make your own using the recipe here.

Cooked, chilled rice.

Any kind of white or jasmine rice will do; however, I use

Riceland

rice which has turned out to be ah-ma-zing!

Fish sauce and/or soy sauce.

Fish sauce adds an extra kick to this dish; however, if you're not a fan of fish, use soy sauce instead.
Note: Fresh rice is too soft and falls apart very easily. Use cold (overnight in the fridge) rice so the rice holds together and doesn't get mushy.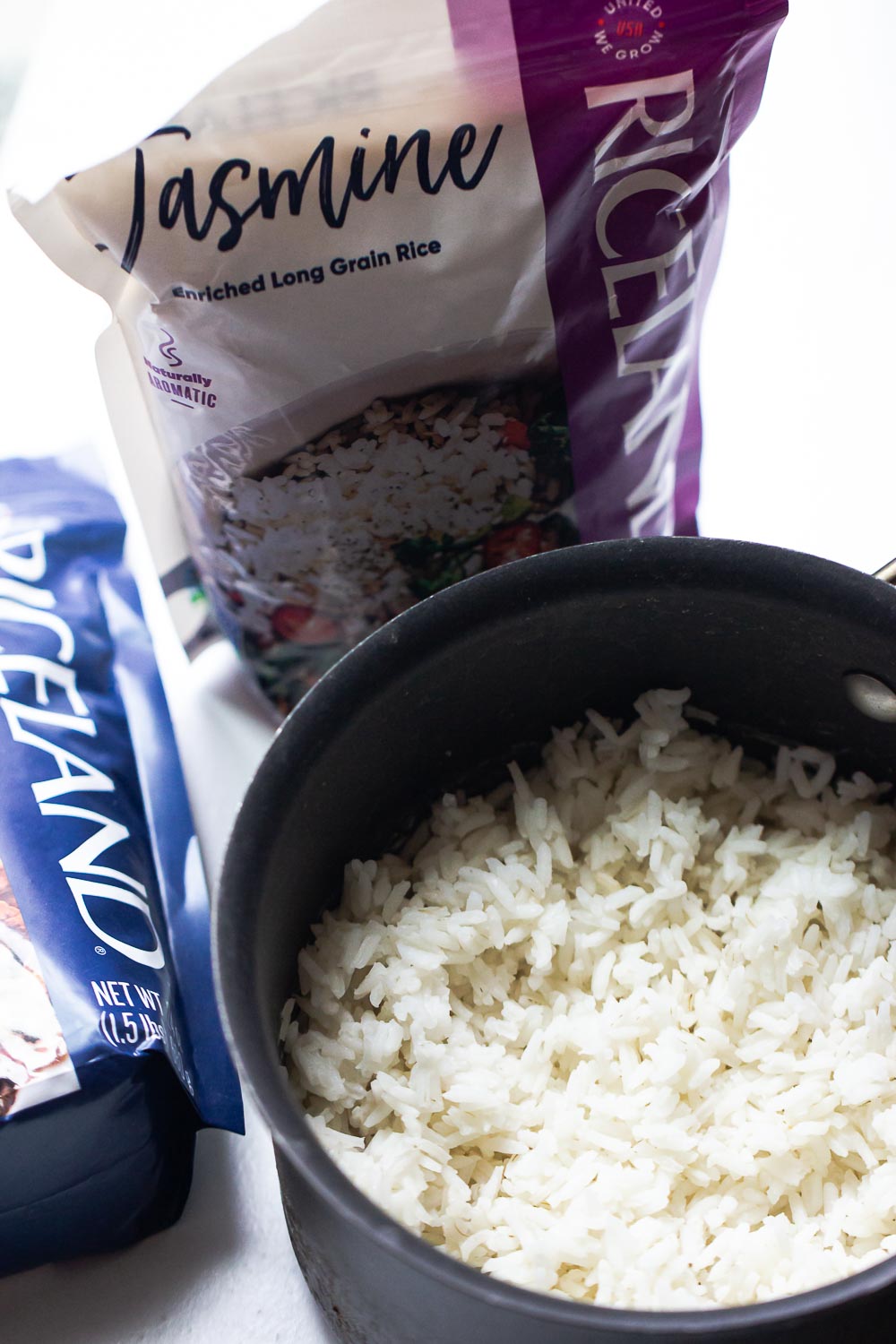 How do you cook rice?
I always cook rice in a rice cooker. But Riceland showed me a simple way to cook rice. There are 2 easy methods to cook rice:
Why Riceland Foods.
When it comes to providing nutritious, high-quality rice that is good for the land, your family, and the surrounding communities, Riceland is on it. How do they do this? By growing gluten-free grains that are naturally full of minerals and vitamins needed to sustain you every day. They are also using sustainable technology and research in the process of water and land conservation and the creation of renewable energy.
While you're here, you should check out their Pinterest or recipe page for more ideas. Riceland has many products from brown rice, Jasmine rice, basmati rice, to sushi rice. And not to mention, each product comes in different sizes. Click here to find Riceland at your grocery store.
This Scallop fried rice will blow your mind. It's not just the fresh bay scallops that make it a treat for seafood lovers… It's the XO sauce and of course, the quality of rice that takes it to another level.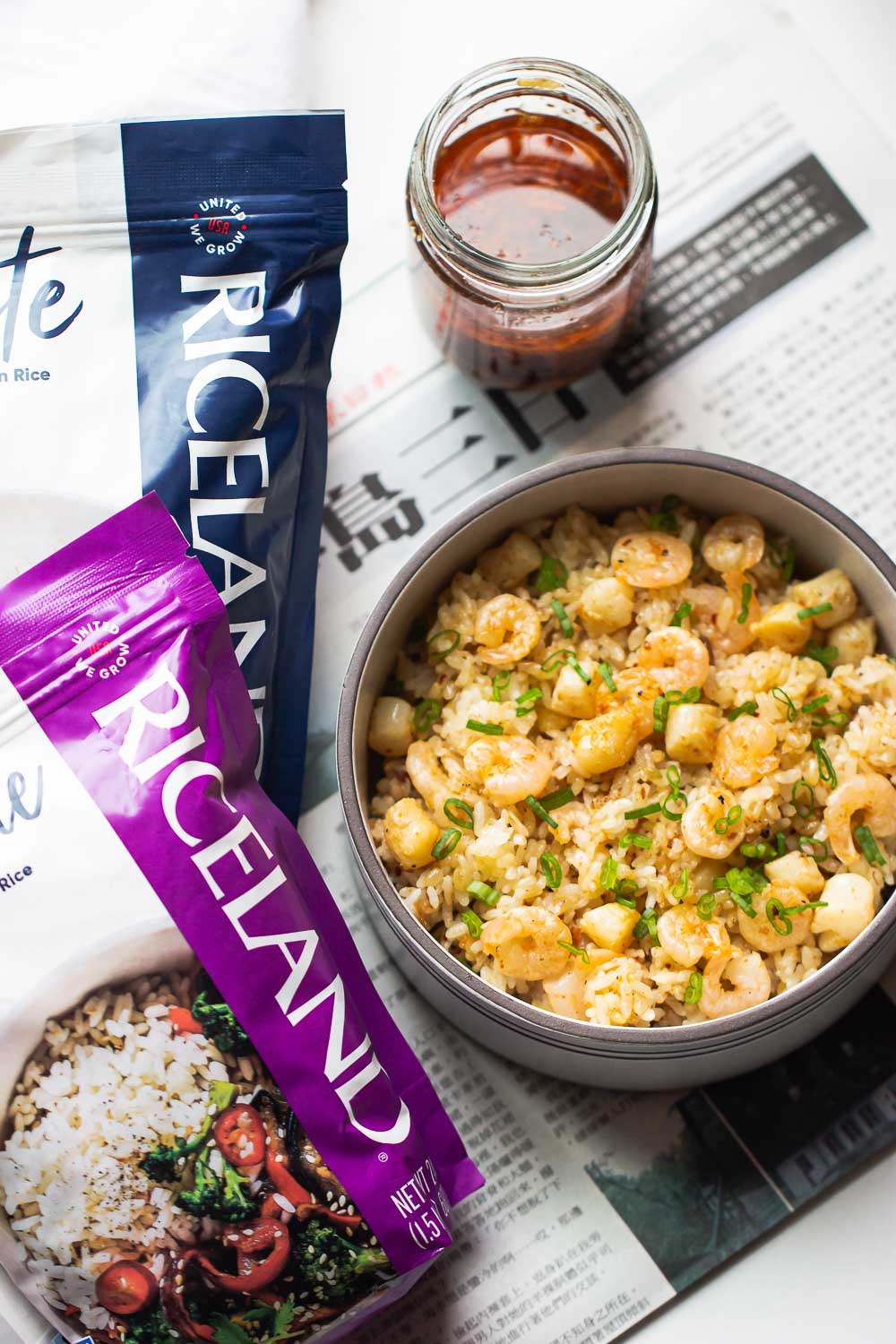 What to eat with this Scallop Fried Rice?
Pork and cabbage potstickers.

Homemade pork and cabbage potstickers (guotie, jiaozi) are more fun and you will never buy take out again after seeing the video on how these are made. Click

here

to learn how to fold potstickers in many different ways.

Crab Rangoon

. These creamy cream cheese and crab rangoons are so easy to make at home. A fake-out take-out favorite and perfect for snacking on game days or any celebrations!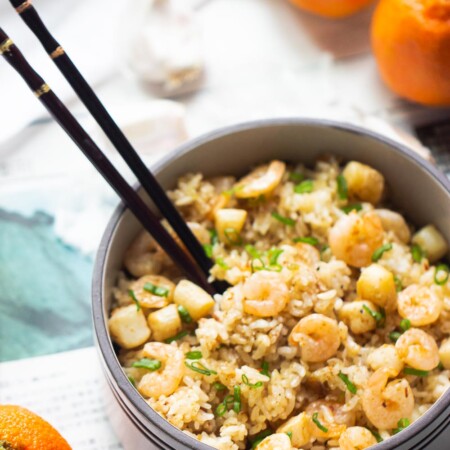 Scallop Fried Rice with XO Sauce
Homemade fried rice is simple to make and healthier than takeout.
This
Scallop
Fried Rice
is easy, authentic, and a crowd-pleaser every time.
Add this to your Chinese Lunar New Year menu an
d may this dish usher in happiness and good fortune for you this new year!
Print
Pin
Rate
Ingredients
3-4

cups

Riceland Jasmine rice

cooked and cooled overnight

3

tablespoons

XO sauce

store-bought or homemade

1/2

pound

shrimps

1/2

pound

scallops

rinsed and patted dry

1

tablespoon

fish sauce

2

cloves

garlic

finely minced

1

tablespoon

truffle butter

1

tablespoon

sesame oil

1

green onion

thinly sliced

Salt

to taste

Black pepper

to taste
Instructions
Melt the butter over medium-high heat. Add scallops in a skillet on a single layer and cook, flipping once until golden brown and translucent in the center. Set aside and keep warm.

Heat sesame oil in a skillet or wok over medium-high heat. Add shrimp and cook, stirring occasionally, until pink, about 2-3 minutes; set aside.

Add garlic to the skillet and cook for 1-2 minutes.

Stir in pre-cooked rice according to the instructions on the package, XO sauce, and fish sauce, breaking up clumps with a wooden spatula as you go along and tossing it with oil. Cook, stirring constantly until heated through, about 2 minutes.

Adjust seasonings with salt and black pepper. Toss for 30 seconds and add then add in scallions, shrimp, and scallops.