Check out our roundup of some of the Top 10 Grilling Essentials! While your grill is the most important thing, you need these accessories that could help make your summer barbecue easier and tastier.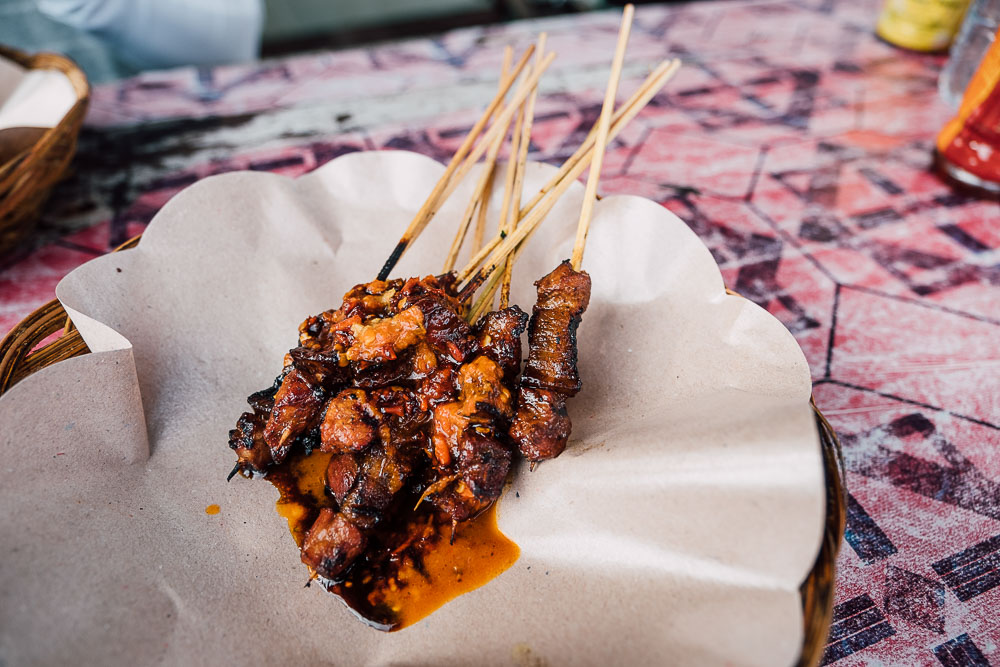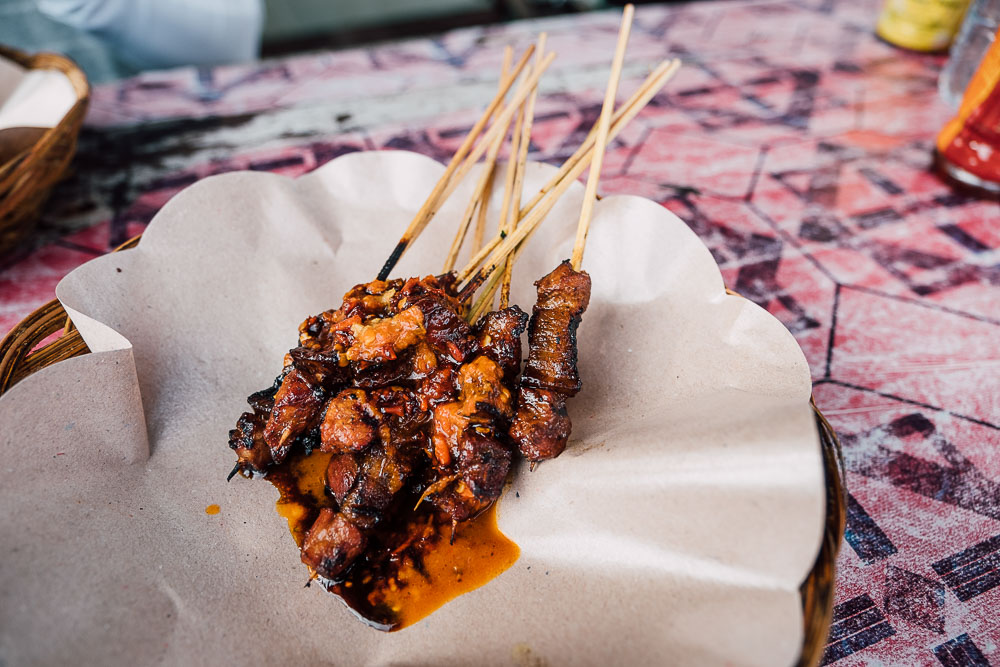 Now that warmer days are here, you're probably itching to break out the outdoor grill for everyone's favorite food like this Grilled Chicken Skewers, Vietnamese Grilled Pork Chops, Spicy Shishito Hotdog, or even this Bourbon Bacon Skillet Smores for dessert.  But no matter how great your grill is, the right tools can make or break a meal.
When it comes to the summer season many people think about grilling. Getting outdoors to grill up some delicious food for your family is a favorite pass time for many adults. Whether you think you have everything you need or not, I'm here to tell you that you don't. There are many more grilling essentials you should have handy during the grilling season to make your backyard grilling events even more fabulous.
Whether you're grilling for one or a crowd, here is a roundup of some of the top 10 grilling essentials you need to tame the flame.
BBQ Essentials Heat Resistant BBQ Gloves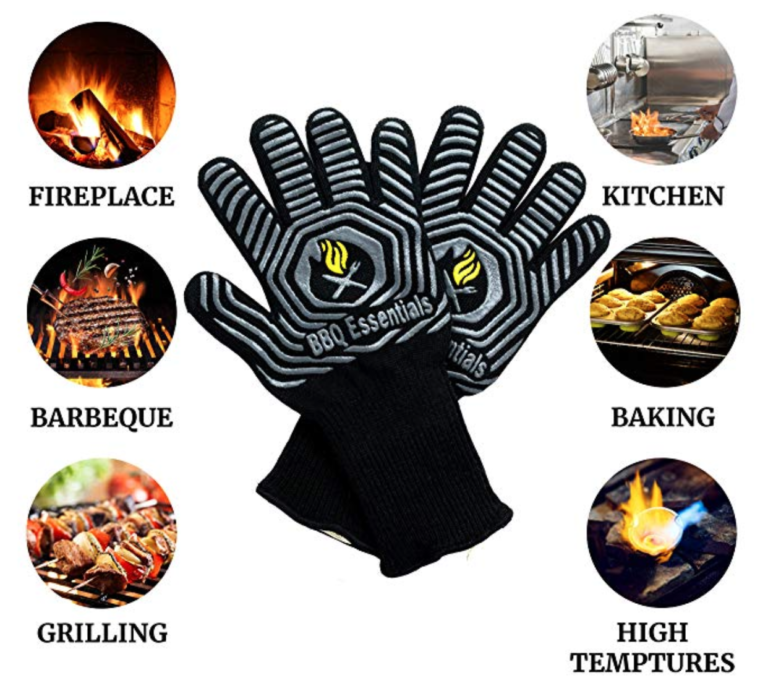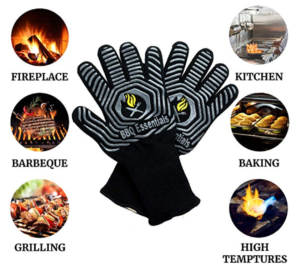 Introducing the Flexible Fireproof Silicone Based Gloves, brought to you by BBQ Essentials, the experts in must-have BBQ and cooking accessories. Show off your cooking skills worry-free with the Fireproof BBQ Gloves, that can certainly handle the heat in the kitchen. No more unwanted burns on your hands or wrists thanks to these lightweight and easy to use BBQ Gloves Heat Resistant Up to 1472°F With these BBQ Gloves on, you can grab a hot Skillet or Panhandle without the dangers of burning or scorching yourself. Thanks to the exclusive blend of silicone-based fibers, these gloves can withstand high temperatures and open flames, keeping your hands safe while you handle the BBQ. Use Anytime, Anywhere Whether you're in your kitchen cooking a pot roast, or on your deck hosting a BBQ with friends, or out camping with your family, these gloves are a must-have accessory. Perfect for the stove, the oven, open fire roasting, campfires, stoking the fireplaces, BBQ parties, or handling firewood, these gloves are lightweight, durable and easy to use. Click here to learn more.
POLIGO 19PCS BBQ Grill Tools Set Extra Thick Stainless Steel Barbecue Grilling Accessories Set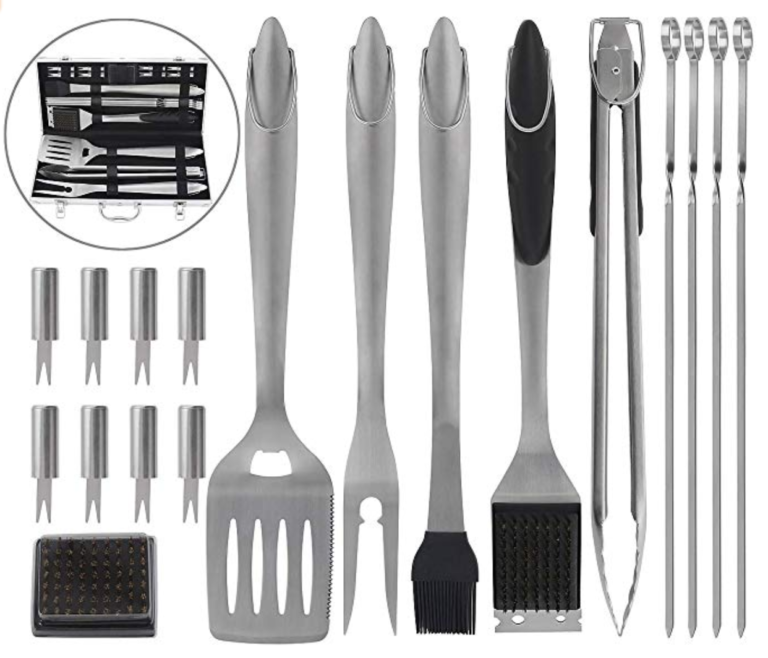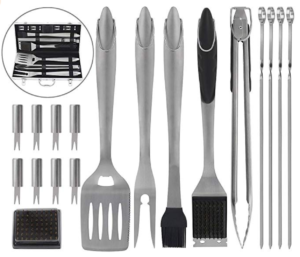 No doubt you like the BBQ because of its crisp, sweet and smoky taste. The meat stays juicy on the inside and crunchy on the outside. With the POLIGO bbq accessories set, you can organize barbecues in the garden or on the beach for your family and friends, you will experience pleasant and delicious barbecues with delicious food and enrich your life with unforgettable moments! That's why we offer this barbecue grill set of personalized and functional utensils, equipped with all the necessary grilling tools!
The 19 pieces grill accessories is a great bbq set that comes with all that you need to get right into grilling in one package. It is made with single piece top quality stainless steel and well polish finished. The extra thick stainless steel grilling set is sturdy and durable, that won't rust! Won't bend! Won't out of shape! Elongated handles with rubber grips keep your hands safe from the heat. Also in the sturdy aluminum case, all the bbq tools are neatly arranged thanks to the matching velcro tapes. Click here to learn more.
Grillaholics Grill Brush Bristle Free – Safe Grill Cleaning with No Wire Bristles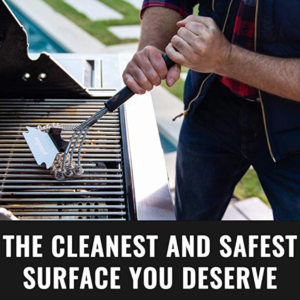 For the backyard warriors, the carnivores, the TRUE Grillaholics that live by the grill and die by the grill, the weekend is an opportunity to fire up the grill and get in the zone. It's about tasting the deliciously smoked meat and experiencing the freedom of grilling on the weekend. But simply grilling on the weekends is not enough…
We believe you should get to experience the freedom of grilling as much as you want. That's why we've made it our mission to create some of the finest grilling accessories for people like you. Our grilling tools are designed to make grilling easier so you can fire up your grill after a long day of work, ANY DAY OF THE WEEK.
The name says it all: Grillaholics. We're addicted to this stuff. Click here to learn more.
Amy Non-Stick Burger Press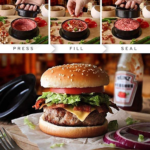 Nothing beats the freshness of a homemade stuffed hamburger. This burger press is the perfect companion for your home kitchen. Make the best burger you've ever tasted with our 3-in-1 hamburger press. Whether you're craving a melty cheese stuffed burger, a plate of perfect sliders or a good ol' fashioned regular patty. Made of heavy duty durable BPA-free nonstick plastic material so you can make burger patties instead of a mess.
Click here to learn more.
Stainless Steel-Heavy Duty, Shish Kabob Maker 6-Pc. Skewer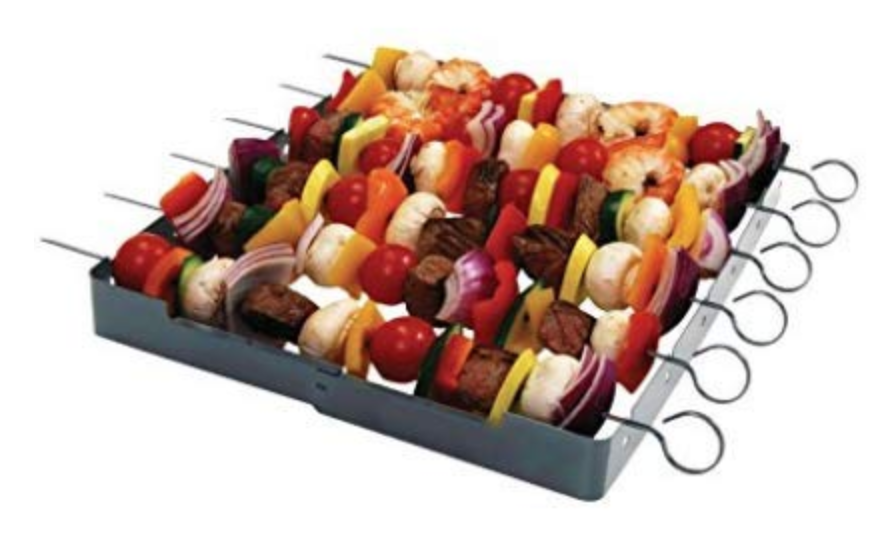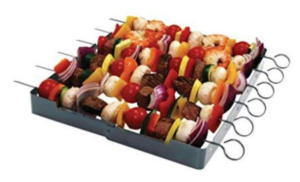 With More Cuisine Essentials Ultra-Premium Stainless Steel Shish Kabob Set Set you can finally grill like a "BOSS" and amaze your employee friends! ITS TIME TO RELEASE YOUR INNER GRILL MASTER!! More Cuisine Essentials Premium Shish Kabob Set is the first and only patented 'square locked' skewer grill set that interlocks and prevents food from unwillingly turning! Its high-grade design and cuisine compatibility allows for storage convenience, quick and easy utilization and ensures for extensive performance. Click here to learn more.
Marinade Meat Injector with FREE Bear Paw Claws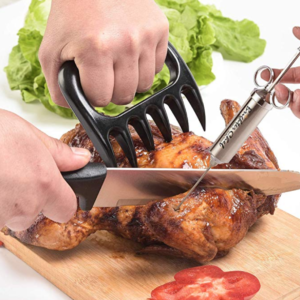 The Brighter Chef Marinade Injector is made of FDA approved 304 SS needles, they are super sharp so it's easy to penetrate through the toughest meat. The holes on the 12 hole needle are larger than similar-looking units, so there's less chance for them getting blocked by small particles. Both holes were placed right at the tip of the needle. It was specifically designed this way to draw the needle closer to the surface of the meat while still injecting. Similar looking units place one set of holes much further up the needle shaft, compromising its effectiveness. Spare silicon o-rings are included with the injector, so when the originals start to leak you can switch in the spares and keep injecting which will save you from the headache of hunting around auto parts stores for compatible replacements. We stand behind our declaration that our injector is food-safe for your complete peace of mind. Only the finger rings are a chromed cast alloy, but even this is still food-safe. Click here to learn more.
Trader Joe's BBQ Rub and Seasoning with Coffee & Garlic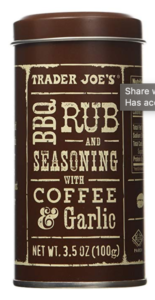 Here's the rub down… This is Trader Joe's brand BBQ Rub and Seasoning with Coffee & Garlic. Use it on ribs, pork, beef and anything your BBQ heart desires. INGREDIENTS: Coffee, Brown Sugar, Sea Salt, Sugar, Roasted Garlic and Onion Flakes, Smoked Paprika Flakes, Red Bell Pepper, Clemengold Rind, Paprika Oil (Color). Click here to learn more.
FIREOR Barbecue Grill Light Magnetic Base Super-Bright LED BBQ Lights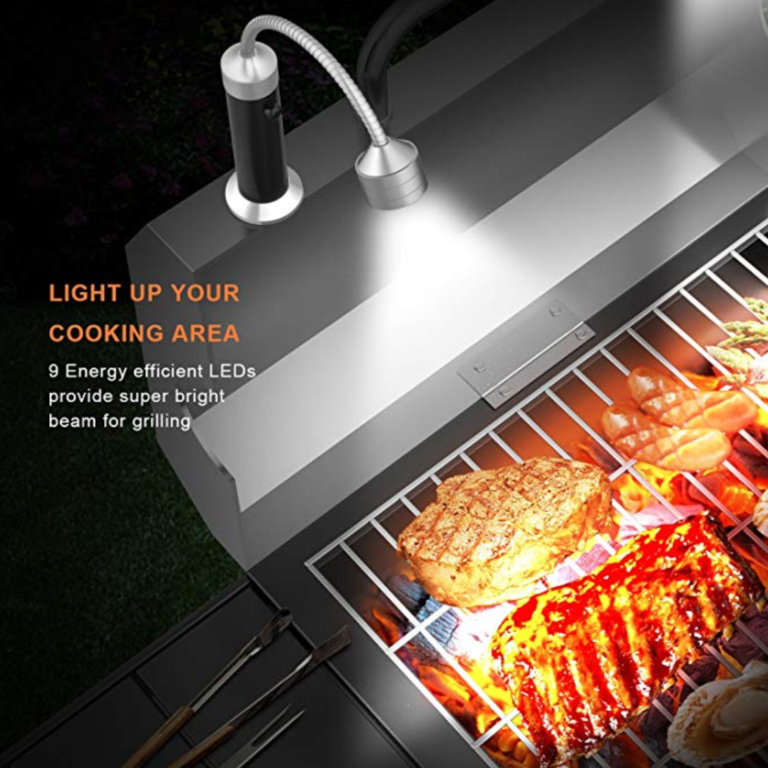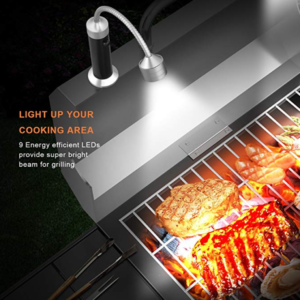 Are you still grilling in the DARK? 
Have you ever ruined some quality food on your grill after the sun goes down?
Our grill lights solve these problems by providing instant and bright light exactly where you need it. Now enjoy your nighttime grilling with the Barbecue Light! The 11cm flexible gooseneck can adjust 360 degrees, enabling you to orient light beam to exactly where you need it and illuminate every inch of your grill surface. The outdoor grill light is made of durable aluminum alloy that allows the light to withstand extreme heat, as well as harsh weather conditions, making it safe to leave outside in the rain or snow.
Click here to learn more.
Cuisinart CSS-33 Magnetic Grilling Spice Set, Silver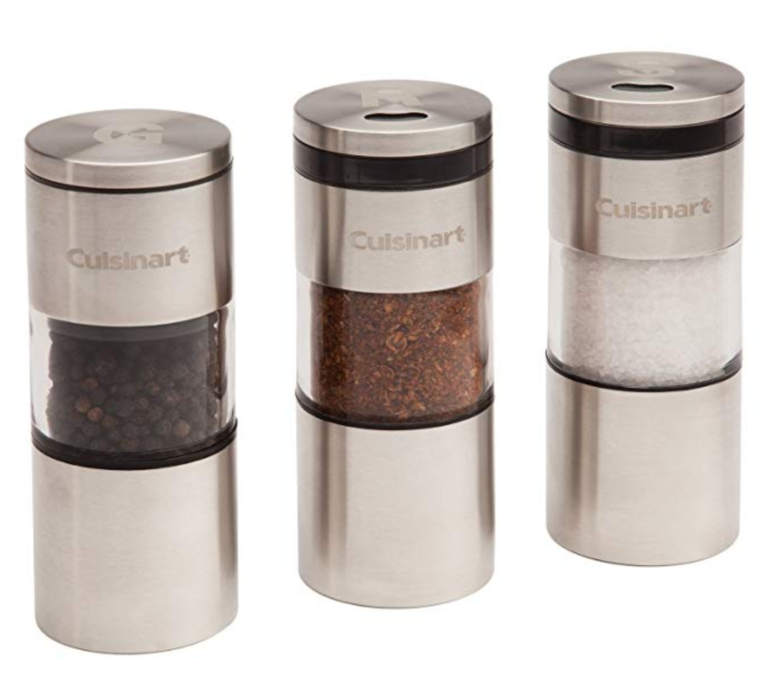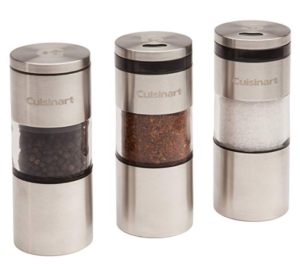 The Cuisinart Magnetic Grilling Spice Set is the essential spice set for every barbecue. With a spice grinder, a BBQ seasoning shaker and a salt & pepper shaker, you'll have everything you need for the perfect barbecue. Fill each of these containers with your favorite spices and rubs and attach them to any flat metal surface with the magnetic backing on each container. And with the clear chambers, you will be able to see each of your spices and monitor the fullness levels. These containers are large enough for any spices and they close shut to block out moisture. And of course, the stainless steel accented containers will look fantastic with any grill. Click here to learn more.
CDN IRM200-GLOW – ProAccurate Meat/Poultry Oven Thermometer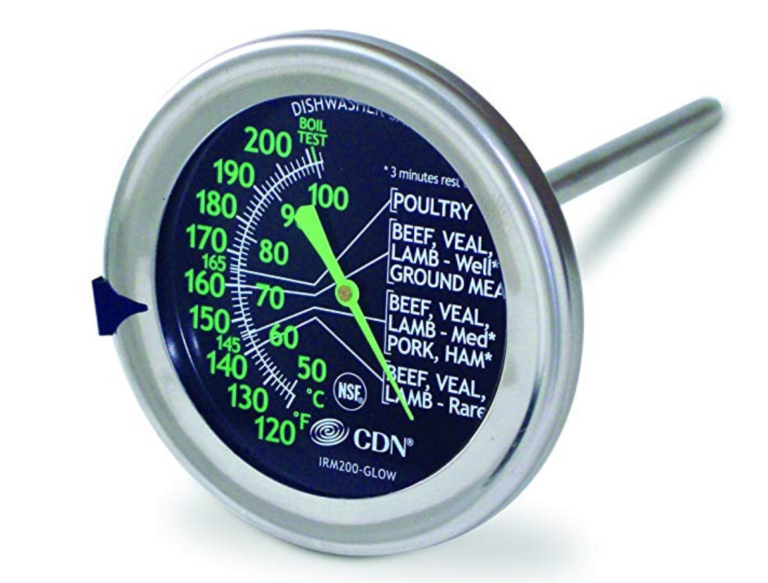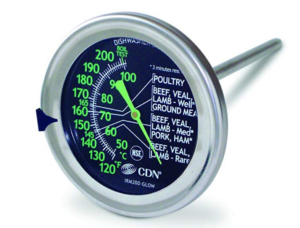 This will help you monitor the temperature of meats, poultry, fish, yeast, and bread, ensuring tasty results and food safety. Large dials and durable lenses are just some of the features offered. Essential for any kitchen, our thermometers accurately measure temperature from 0° to 220°F. Click here to learn more.