Cherry Blossom Cookies
An ideal treat to usher in the Chinese New Year, or a nice break to take you away from the day, these Cherry Blossom Cookies is a must during Lunar New Year.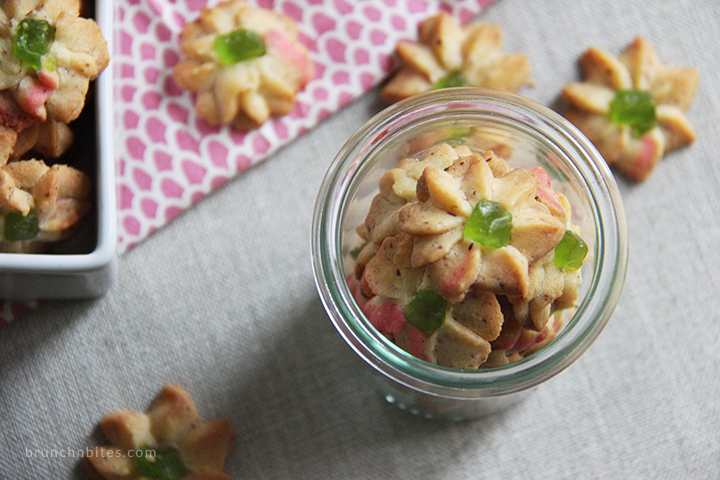 It's almost time to say farewell to the Year of the Goat and to welcome the Year of the Monkey. Yes, next Monday, February 8th, marks the beginning of a 16-day celebration for the Chinese New Year. Unlike Western calendar, the Chinese calendar is not predictable and kinda screwy. So, Chinese New Year never fall on the same day each year, as it depends on the moon cycles, although it never stray from January-February.
Chinese New Year is the time when families get together to enjoy dinner. So, most Chinese restaurants are fully booked on that day; however that should not be an issue for us since we (read: Mom) always celebrate the New Year at home. Our family has been discussing of what to cook and bring to our New Year celebration. Normally, we will have eight certain dishes during the Chinese New Year. Why eight? Eight (in Chinese: "ba") is a lucky number in Chinese culture, a homophone for various other words with positive connotations. After all, it's a good food-centric holiday, where family, friends and relatives get together to feast and spread goodwill for the year to come.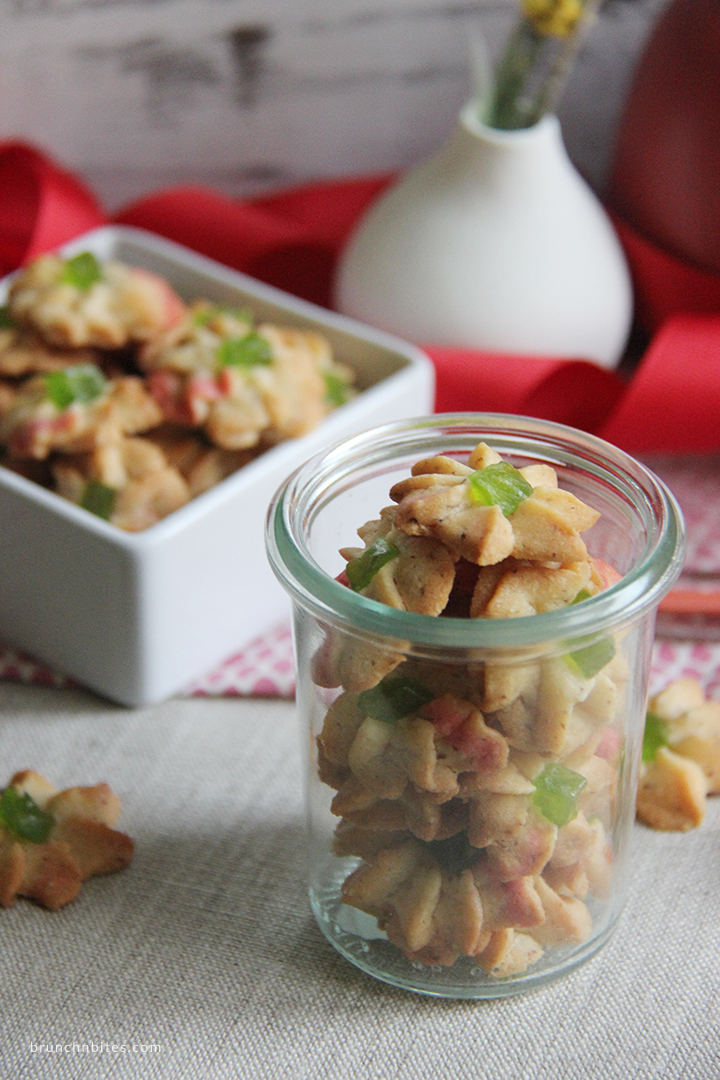 I may not have recipes for classic Lunar New Year dishes, but that doesn't mean we can't at least give a nod to tradition. A bunch of friends and I are here for a Chinese New Year Cookie Party and you are invited. Thanks to Christine of Vermillion Roots for organizing this virtual party. Chinese New Year is my favorite holiday that I looked forward to during my childhood, although mostly it's because of the red envelopes. But as I got married and I could no longer receive red envelopes (and have to give them instead), Chinese New Year have become something more than just being together. It's a sweet celebration with people who cares for you the most, and for me – that's my family.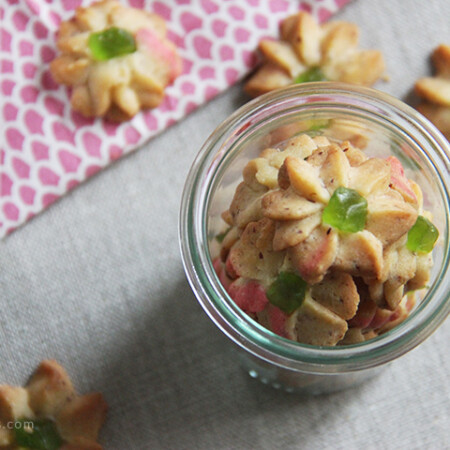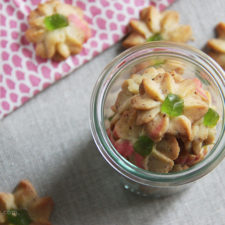 Ingredients
150

gr

unsalted butter

room temperature

50

gr

icing sugar

2

extra large egg yolks

150

gr

a.p. flour

50

gr

almond flour

20

gr

cornstarch

Pink food coloring

Green candied cherries

cut in tiny cubes
Instructions
Preheat the oven to 375F.

In a bowl, sift a.p. flour, almond flour, and cornstarch. Set aside.

In a mixer, combine butter and icing sugar until light and pale.

Add egg yolks and mix well.

Add flour mixture and combine until there's no lump. The batter can be very sticky, depending on your eggs temperature. Add few drops of milk and stir. Be careful not to add too much liquid.

Take 1/4 of cookie dough and add couple drops of pink food coloring. Fold the dough until you get pink dough. Add to your piping bag and flatten it a bit.

Add the rest of the dough to another piping bag.

Snip of a little bit of the end, then place both bags into the third piping bag with a large coupler and a star tip. Pipe some out onto a napkin until you get both colors, and then pipe onto the parchment paper.

Add candied cherries in the center and bake for 10-12 minutes.
In case you missed it, there are giveaways happening on the blog and hope you're one of the winners. And oh, no matter how you're celebrating the Lunar New Year, I invite you to join our party on social media channels (Instagram, Twitter, Facebook) with the hashtag #ChineseNewYearCookieParty and show us your cookie creations.