Simple and hearty, this crockpot caramelized pork noodle soup is classic fall comfort food. It is SO good that you'll want to slurp up the whole bowl right away.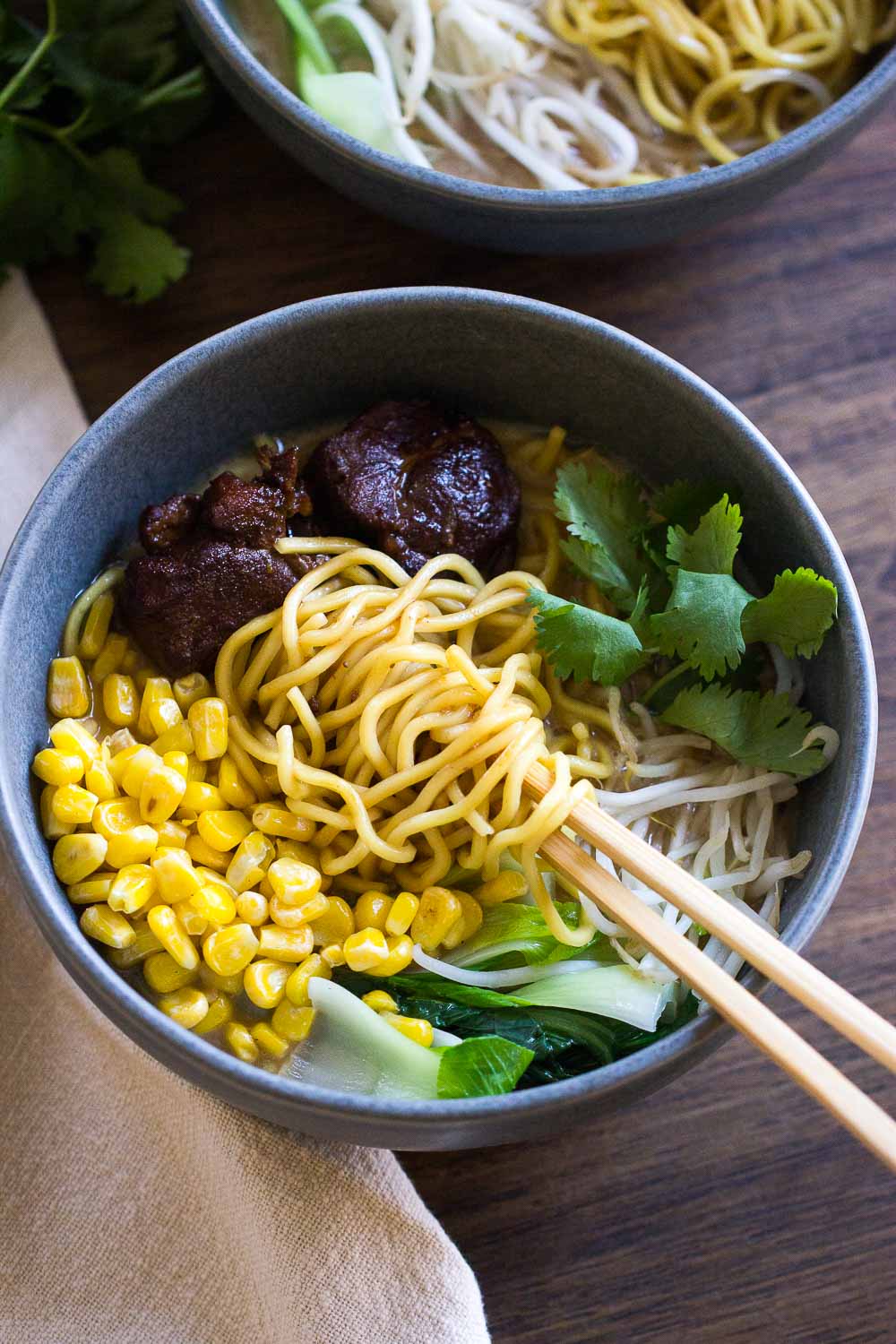 All of you out there… you must try this recipe! Period!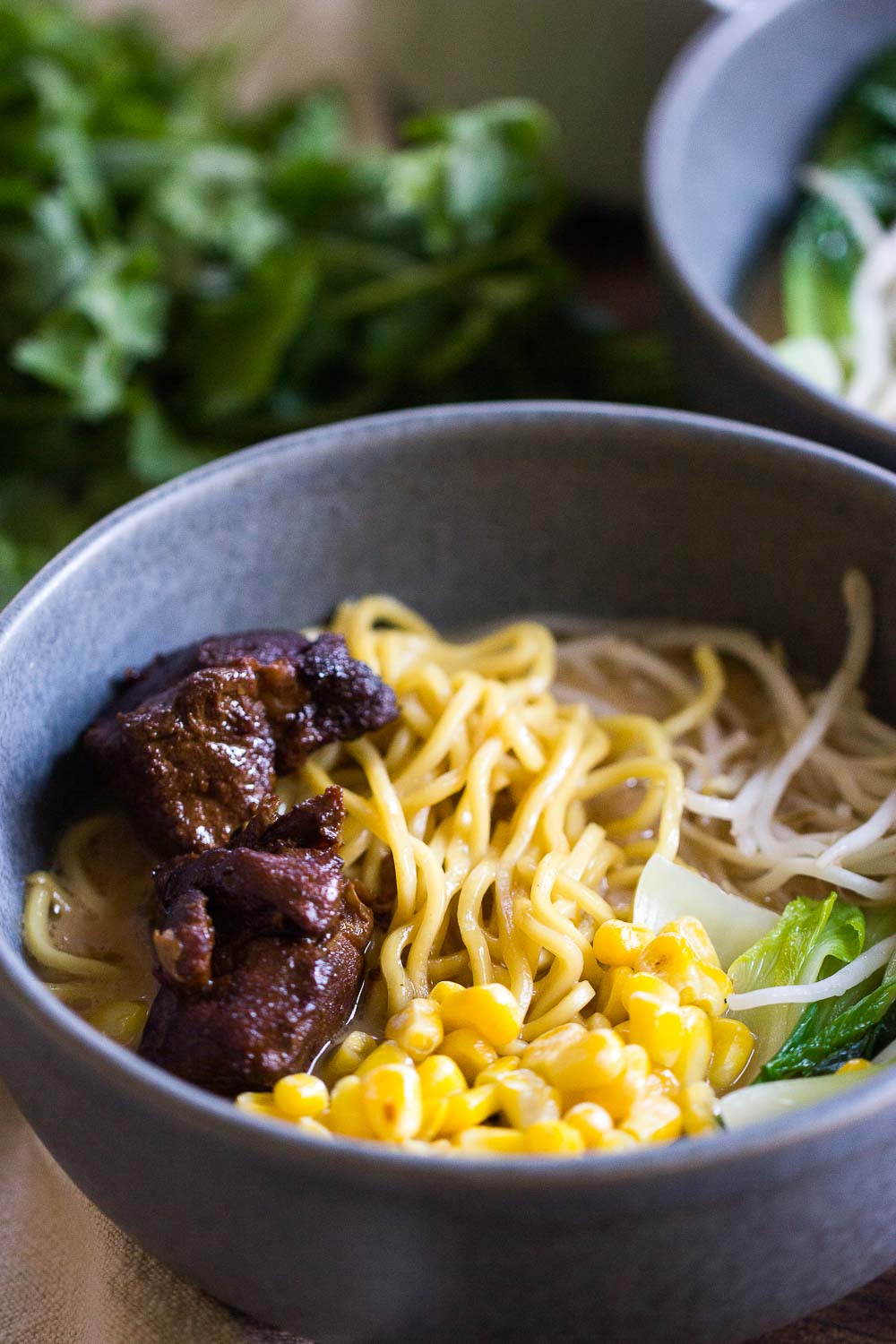 Few years ago, Frederick and I went to Portland during winter time to visit our friends who have just moved in several months before. As someone who always look forward for snow in California (duhhh…), going to Portland excited me so much and, although we would only stayed 4 days, I started listing snowy places to visit, which mostly consist of waterfalls and snowboarding locations. On the first day everything was fun and we enjoyed lots of delicious food. The next morning, we went to Pine State Biscuits for some good-lookin', puffy biscuit for our breakfast, which is to date still hovering in my mind. Later that day, we travelled to the outskirts of Portland for a misty and cold experience. It wasn't snowing at that time, and although the road was covered by ice, it was still okay to drive. We made a few stops to take pictures at the beautiful sceneries, just like the ones you often see on a screensaver. At one point (I forgot the name of the place), we stopped at a beautiful rest area, surrounded with trees and all things green. Maybe because he was so busy admiring the view and wasn't paying attention to the road, Frederick slipped over the black ice as he walked back to the car. I saw him when that happened but it was too late to warn him. As the road is super slippery, he couldn't manage to get up by himself and I was too weak to lift him. Thankfully, a bunch of strangers rushed and helped him standing up. Frederick couldn't walk and had to be assisted to the car. I asked him whether he needs to go to a hospital to treat his injured legs, but he said he was okay. We didn't speak and do much for the rest of the trip. As he couldn't move his legs, we had to search the town on New Year's Eve, looking for crutch. I remembered driving around town at night, because almost all stores close early, and our Portland experience turned into an adventure, hopping from one pharmacy to another in search for pain killers, crutch and ice pack on a beautiful snowy day.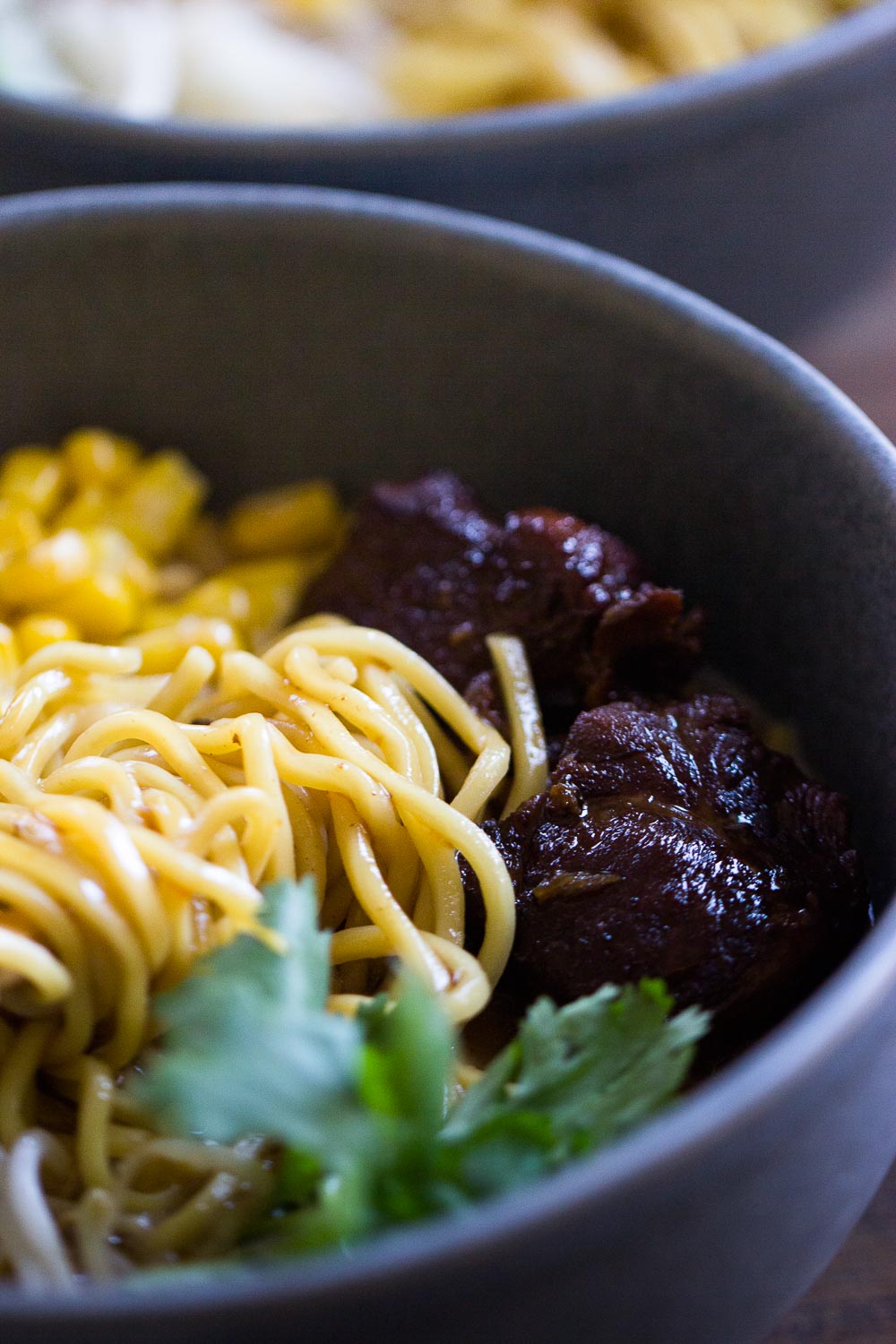 There's this one restaurant that I've been meaning to try – long before we decided to go to Portland – and I was happy that we managed to visit the place on day one. It's called Pok Pok and I'm sure most of you have heard this place or at least seen their book. We tried their famous kai yaang and other menus, which I forgot. But there's one noodle soup that I can still taste in mind. Although I can't quite remember the name, but I still remember its exotic taste, full of flavors and spices. Ahhh, how I wish there's a Pok Pok in town.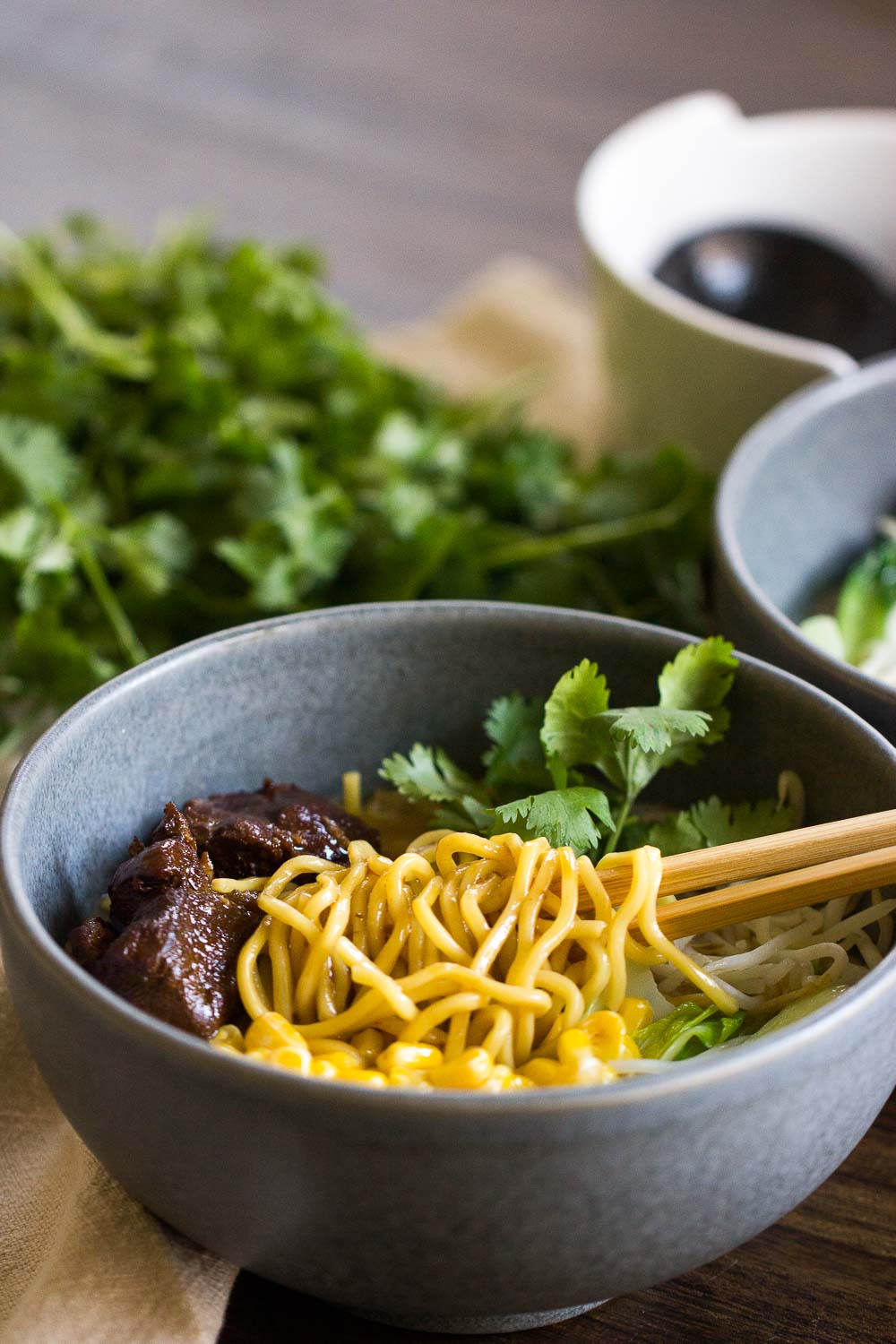 This week, Sunday Supper's theme is about slow cooking and I thought this is a good excuse to try this recipe, hoping that it would heal my cravings for Pok Pok. I got the idea from Half Baked Harvest, and have adjusted it to my taste. The result is AH-MA-ZING! Thick broth, full of flavors, I am sure that one serving of this will not be enough for you.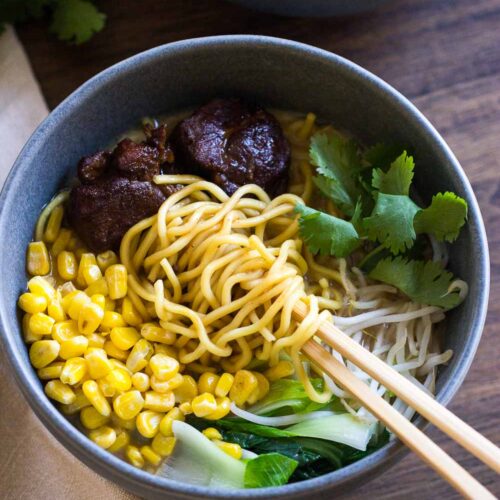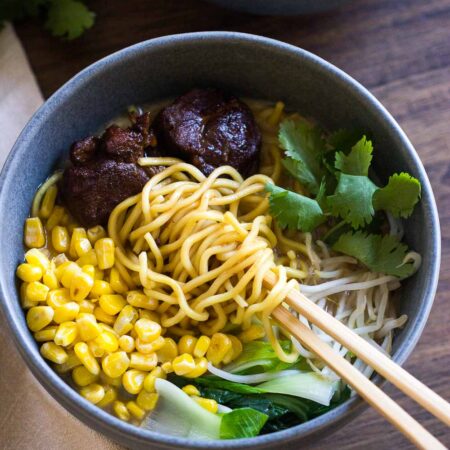 Ingredients
Soup

2.5

pounds

pork shoulder roast

or butt

4

cups

water

2

chicken stock cube

1/3

cup

low sodium soy sauce

1/2

cup

rice vinegar

1/4

cup

fish sauce

114

gr

1 small can thai red curry paste

2-

inches

fresh ginger

cut into four

1

tablespoon

sambal oelek

chili paste

Juice of 1 lime

1

tbs

Chinese five spice

1

tsp

black pepper

6

cloves

garlic

Caramelized Pork

2

tbs

sesame oil

2

tbs

soy sauce

2

tbs

rice vinegar

1/4

cup

+ 1 tablespoon brown sugar

2

cups

wild mushrooms

enoki or shiitake

1

5-ounce package noodles, prepared according to packing directions

Chopped carrots

sliced jalapenos, cilantro + green onions, for serving
Shoyu soft-boiled eggs:
4

large free-range eggs

3

tablespoons

soy sauce

2

tablespoons

dark brown sugar

1

tablespoon

water
Spicy garlic oil:
2

small shallots

finely minced

2

cloves

of garlic

finely minced

1/2

teaspoon

sesame seeds

1/4

cup

vegetable oil

5

Thai chilies

small dice
Instructions
Add the pork to the bowl of a crockpot. Pour the chicken stock, water, soy sauce, rice vinegar and fish sauce over the pork.

Add the thai red curry paste, ginger, sambal oelek, juice of 1 lime, Chinese five spice powder, black pepper and garlic. Cover the crockpot and cook on low for 8 hours.

When the pork is ready, remove it from the crockpot and add the mushrooms. Cover the crockpot and crank the heat up to high. Lightly shred the pork with two forks or your hands.

Heat a large skillet over medium heat. Add the sesame oil. Once hot, add enough pork to cover just the surface of your skillet, do not over crowd the skillet. Sprinkle a little brown sugar over the pork, add soy sauce and rice vinegar, toss. Allow the pork to caramelize, about 2 minutes. Stir and allow the pork to continue to caramelize, about 3-5 minutes total. Remove the pork from the skillet, repeat with the remaining pork. Keep the pork warm.

Cook the noodles, according to packing directions. Once the noodles are cooked, stir in only half of the pork. Ladle the soup into bowls. Top with extra caramelized pork and an egg. Add the carrots, jalapeños, green onions and cilantro if desired.

TO MAKE THE SHOYU SOFT-BOILED EGGS: Gently place the eggs in a small pot and fill it with water until the eggs are covered by it. Add a generous pinch of salt (not listed in the ingredient-list because it's more of a superstition for easy-peeling than anything…) and bring the water to a bare simmer on medium-high heat, then immediately lower the heat down to low (only enough heat to keep it at a bare simmer/or if you want to be anal, 212ºF/100ºC). The second the water reached the right temperature, set the timer at 4:30 min. Gently move the eggs around a few times during cooking. Once the timer goes off, immediately transfer the eggs into cold water and leave them to cool completely. Combine soy sauce, dark brown sugar and water in a small sauce pot. Warm up the mixture just enough to melt the sugar, then set aside. Peel the eggs then submerge them in the soy sauce-mixture. Turning them occasionally while marinating for 2~3 hours.

TO MAKE THE GARLIC OIL: Combine minced shallots, minced garlic, sesame seeds, salt and vegetable oil in a small pot and set over low heat. Slowly cook/stir until the garlics are crispy and lightly browned, approx 5~6 min. Turn off the heat and add the Thai chilies. Give the mixture a stir.