Very simple but delicious homey Chinese eggplants with ground beef that you can make in 15 minutes! Perfect to serve with a big bowl of rice!
I love it when dinner prep can be done in no time. Win, win, win. This time it involves Chinese eggplants and ground beef and a generous amount of onion and garlic. Easy peasy.
As with all 15-minutes dinner prep recipes, things are very straightforward and simple. The only thing you need to do is chop the eggplants, onion, and minced the garlic. Then let the magic happens in your work.
It makes for happy leftovers (which is kind of the whole idea when cooking extra) and if you get sick of eating it with rice (or cauli-rice for our low-carbers), it can be repurposed in a variety of ways. Think lettuce wrap, congee, burrito, and on and on.
Can I modify this meat sauce?
Yes! The original recipe is using ground pork; however, I am using ground beef since it is easier to get. And in this case, I trust Laura'sLean ground beef in making this recipe.
What makes Laura's Lean Ground Beef different?
According to USDA rules, beef can be considered and labeled "natural" as long as it contains no artificial ingredients and is minimally processed. This definition includes most grocery store-bought fresh beef. However, Laura's Lean product is unlike most other "natural beef". It's a "Never Ever" offering which means that it is sourced from suppliers who do not use added hormones or antibiotics to raise their cattle.
All of Laura's Lean products have to meet the strict USDA standards to qualify as being lean. Every 4oz serving must contain less than 10g fat, 4.5g or less of saturated fats, and less than 95mg of cholesterol. Additionally, Laura's Lean 96% Ground Beef meets the standards set by the American Heart Association's heart-check program and is classified as Extra Lean by the USDA standards.
You get the best of both worlds of taste and nutrition when you choose Laura's Lean products for your family to enjoy.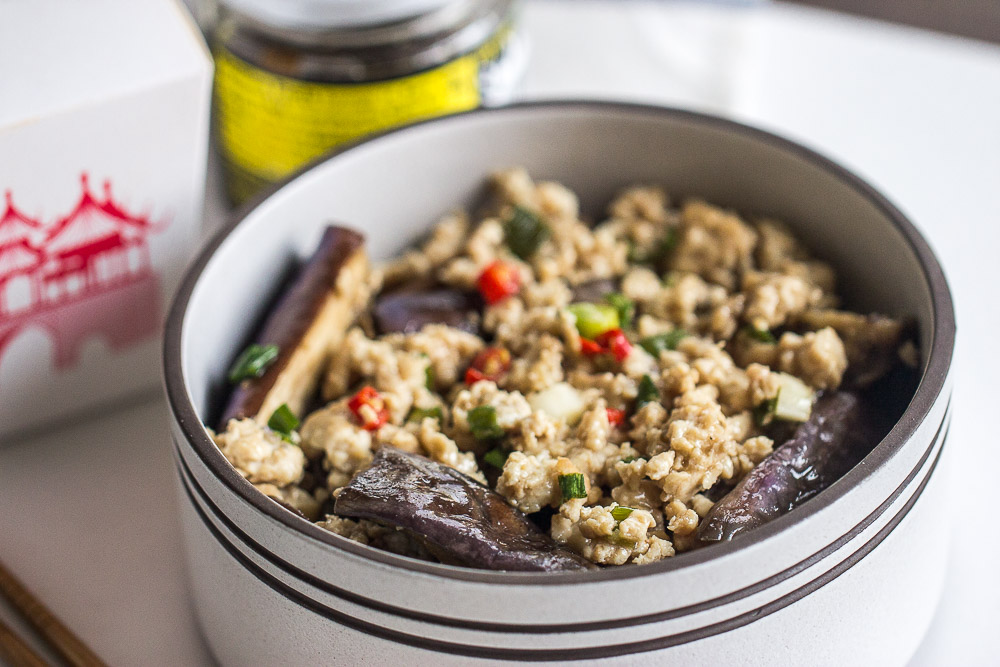 Care for more recipes using ground beef? Check these out:
Taiwanese Meat Sauce. Taiwanese meat sauce recipe (lu rou fan). This savory classic comes in aromatic Chinese five-spices and soy sauce in a simple braised form for ground or minced meat. The best part you can make this on a stove or in an instant pot.
Beef Curry Puffs. Siblings to samosas, each of these super easy delicious baked Beef Curry Puff is wrapped in golden flaky pastry. The hardest thing about making this is not eating everything before the guests arrive.
Chinese eggplants with ground meat is quite a popular and humble dish. It's simple, comforting, and delicious. That's it. That's all there is to it. Chinese eggplants with ground meat for a quick dinner and happy desk lunch win!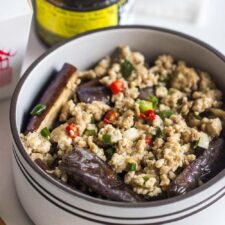 Chinese Eggplants with Ground Beef
Very simple but delicious homey Chinese eggplants with ground beef that you can make in 15 minutes! Perfect to serve with a big bowl of rice!
Print
Pin
Rate
Ingredients
2

long Chinese eggplants

1

pound

ground beef

1

thumb ginger

sliced into chunks

1

tablespoon

Chinese cooking wine

Shaoxing wine

3

cloves

garlic

finely minced

1

small

about 1 cup onion, diced

2

green onions

sliced

2

tablespoons

fish sauce

or more

1

tablespoon

rice vinegar

1

teaspoon

sesame oil

4

tablespoons

vegetable oil

Thai chilies

sliced, optional
Instructions
Remove the ends of eggplants. Cut the eggplant crosswise in half, then cut each half lengthwise into quarters. Soak eggplants in a pot filled with water and a pinch of salt for 10-15 minutes. Set aside to drain completely when done.

Heat 2 tablespoons of oil in a wok and fry eggplants for 5 minutes until they become soft and withered. Set aside.

Add 1 tablespoon of oil to a wok. Add in onion and chilies, and cook for 3 minutes until they turn soft.

Add in garlic and ginger, then cook for another 2 minutes. Add ground beef and use a spatula to break it into small pieces. Cook until beef is nearly cooked, about 3 minutes.

Transfer the eggplant back to a wok.

Add in Shaoxing wine, fish sauce, rice vinegar, and sesame oil. Mix well. Adjust the seasoning if needed.

Garnish with chopped green onion and serve over rice.