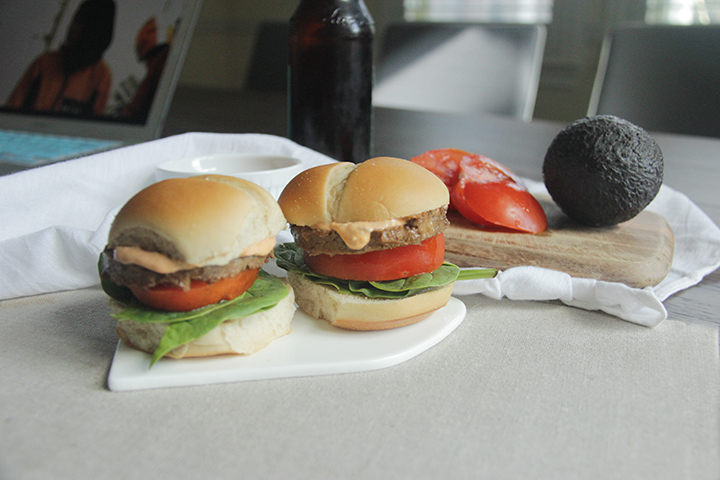 Living in California means only one thing and that is In-n-Out. Ever since I moved to California, I've always lived close to In-n-Out, within less than 20 miles to be exact. Since then, it has been a must-visit place when I go home after traveling or when I have friends from out-of-town or overseas.
Not sure if it's the experience or they really have good burger (sorry, shake shack fan) especially with their secret menu, animal burger. But In-n-Out is my comfort food, my go-to meal when I am feeling down. And you will rarely spot an empty In-n-Out. It's always packed even after 10pm.
Memorial Day is coming up and we've been discussing about BBQ. Obviously, it's the beginning of grilling season and there's a serious debate whether we should grill all the way or stick with our "diet" aka clean eating. I'm glad Gardein is the answer to this. I really love their products and stay on top of my list every since we started doing plant-based diet early this year. They are very passionate about helping the world eat less meat. In a simple word, it's comfort food with less or no guilty feeling. From their meatless meatballs to skillet meals, love every bite of it.
So here is my take for copycat In-n-Out burger. You start with the secret sauce which is a combination of mayo, ketchup, pickle relish and a little white vinegar. Next is a layer of caramelized onion or you can also go raw. Then toast your bun. As for the meat, I chose Gardein ultimate beefless slider, and add a combination of spinach and tomato for my veggies; however the original recipe uses lettuce.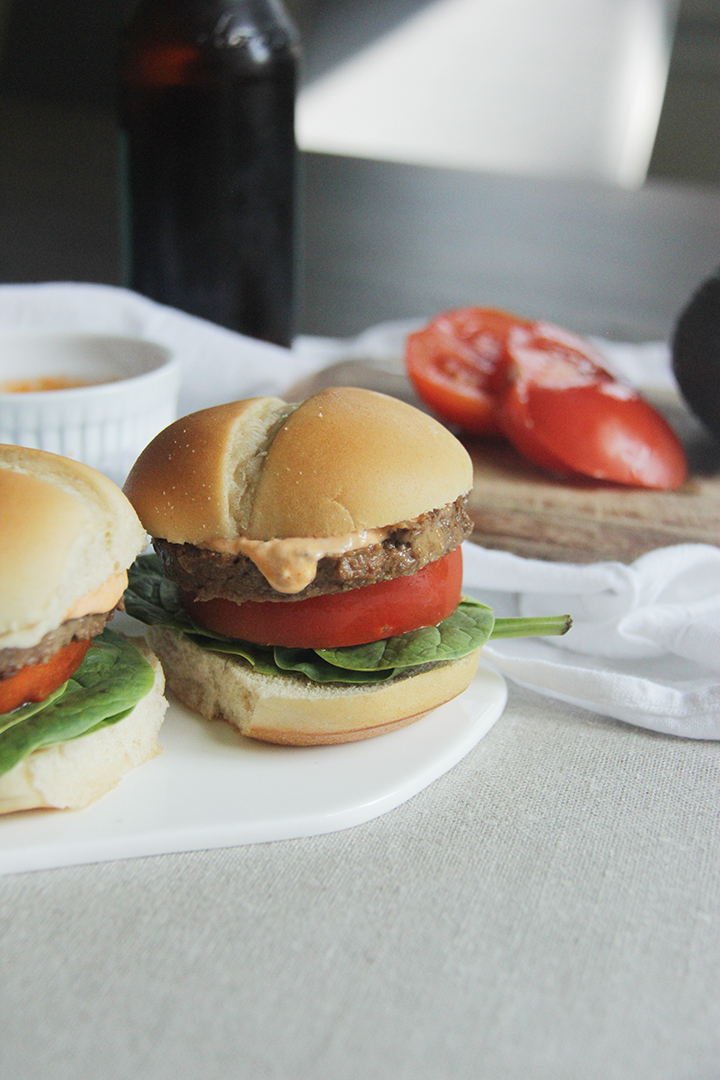 Now who is ready for grilling season?
Print
Description
1 package Gardein beefless slider
3 tbs unsalted butter
1 large onions finely chopped, about 1½ cups
1/4 cup mayonnaise
2 tbs ketchup
1 tbs sweet pickle relish
1/2 tsp white vinegar
½ tsp sugar
1½ tsp yellow mustard
2 lbs. ground chuck 60%
4 hamburger buns
pickles I left off
1 cup spinach
2 quarter-inch-thick slices ripe tomato
Salt and pepper
---
Heat

1

tbs of oil in pan over medium heat. Add onion and salt. Cook for

30

minutes or until onions begin to turn golden brown and caramelize. Once onions begin to sizzle heavily and appear dry, add 1 tablespoon water to skillet and stir. Allow water to evaporate. Set aside.
Add

1

tbs of oil to the same pan. Add beefless sliders and cook for

4

minutes on each side or until they're fully cook.
In a bowl, mix together the mayo, ketchup, relish, sugar and vinegar. Set aside.
Heat griddle and lightly brush with vegetable oil. Toast the buns on the griddle, split side down.
To assemble, spread 1 tbs of mayo mixture to a toasted bun. Top with spinach, tomato, beefless slider, and grilled onion. Top with top bun and enjoy.
---