This Rice Cooker Hainanese Chicken Rice is simple, flavorful, and satisfying, it's bound to become a weeknight tradition. And have I mention that this is a super easy one-pan recipe?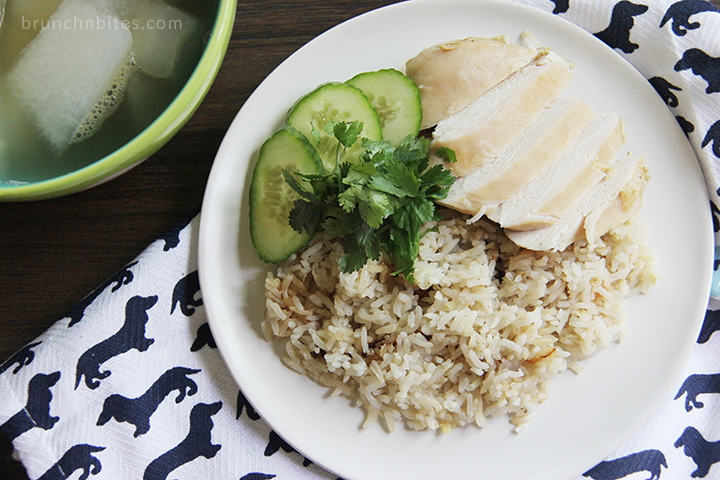 I learned one thing over the weekend. Living in a gated community is not as fun as I used to think. I ordered a pack of business cards and it was scheduled to be delivered a week ago but I haven't received it, so I checked my order status online, however it only showed "security gate". I had no idea what that means, so I called the printing company last Friday, and they told me to call the shipping company directly as they have shipped the order. Ugh ok… I was hoping the package was on its way since I had to have it for my weekend meeting. Well, guess what, the shipping company said that they have sent the package back to the printing company. And the reason? It's because we stayed in a gated community. Wait… what? I was so annoyed with their reasoning… as if it's my fault for staying in a gated community.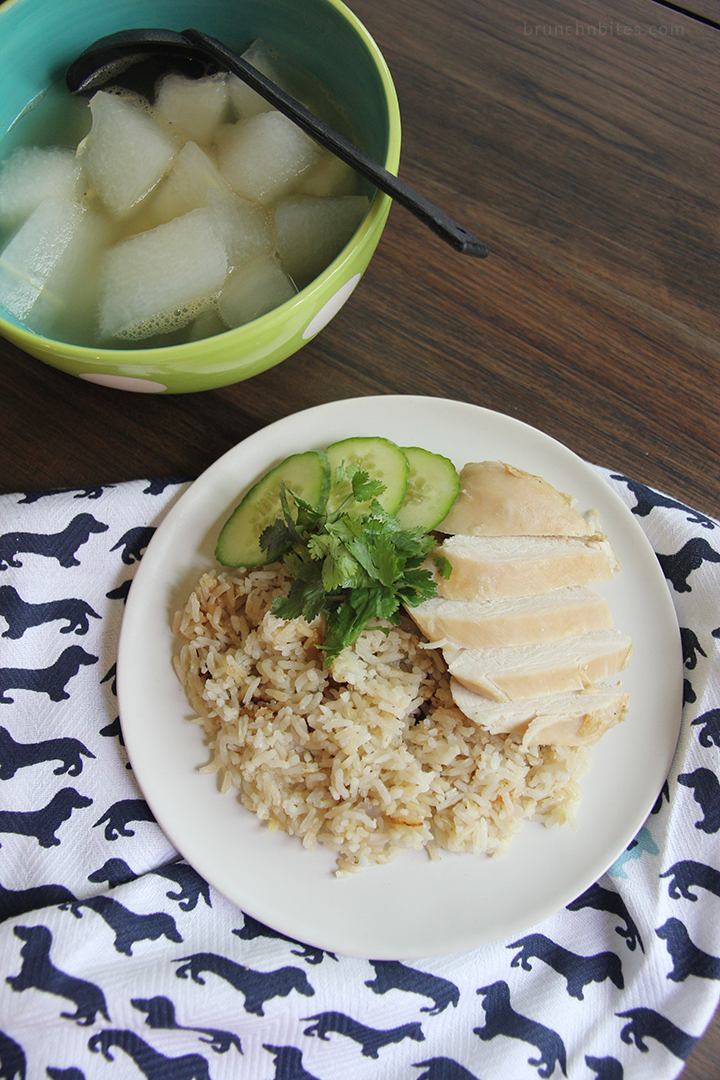 Sometimes I just do not understand the way other people think. For me, there are lots of walkways to go in/out our gated community, in fact, two of them are located next to the main entrance. It should be very easy for any visitor to reach us and our homes. In addition, if the visitor was too lazy to make the call in order to open the gate, they can simply call our landline using the directory phone. So I really couldn't understand their reasoning, moreover, as I've been working from home this whole month.
Earlier that day, my husband experienced the same thing. In October, he had subscribed to two daily newspapers, but to date he only received one. The other one was flunk because the driver declined to "step out of his car and walked in", that's his exact statement. I remember my own experience in delivering newspapers with my friend years ago. He basically did the delivery and I was just following him around. We started as early as 3am to grab the newspapers, fold them, and placed each newspaper in a bag to keep them dry. I remembered the weather was cold though it was Summer and we walked from house to house dropping the newspaper right in the front doors. That was very tiresome, but back then, we value customer service more than our own comfort.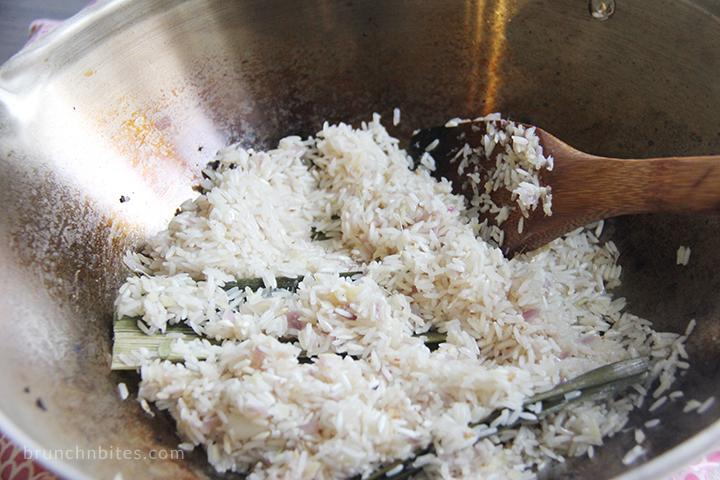 Anywho, I am glad this Hainanese Chicken Rice is not as annoying as dealing with the printing or the newspaper company. Thanks to the rice cooker, this Hainanese Chicken Rice is ready to eat within an hour. Hainanese Chicken Rice was originated from Hainan province in China, but it is so famous in South East Asia that it became Singapore National dish, so be sure to grab a plate the next time you visit Singapore.
And if you don't own a rice cooker, it's probably time to invest in one. Born in a Chinese family and spent my childhood in Indonesia, rice is a primary food. Don't be surprised if they serve you rice for breakfast in South East Asia countries because we eat rice like there's no tomorrow – for breakfast, lunch, dinner, and even as dessert, such as mango sticky rice. Hence rice cooker is a must in Asian homes or you can expect to get one as a wedding present if you don't own it yet.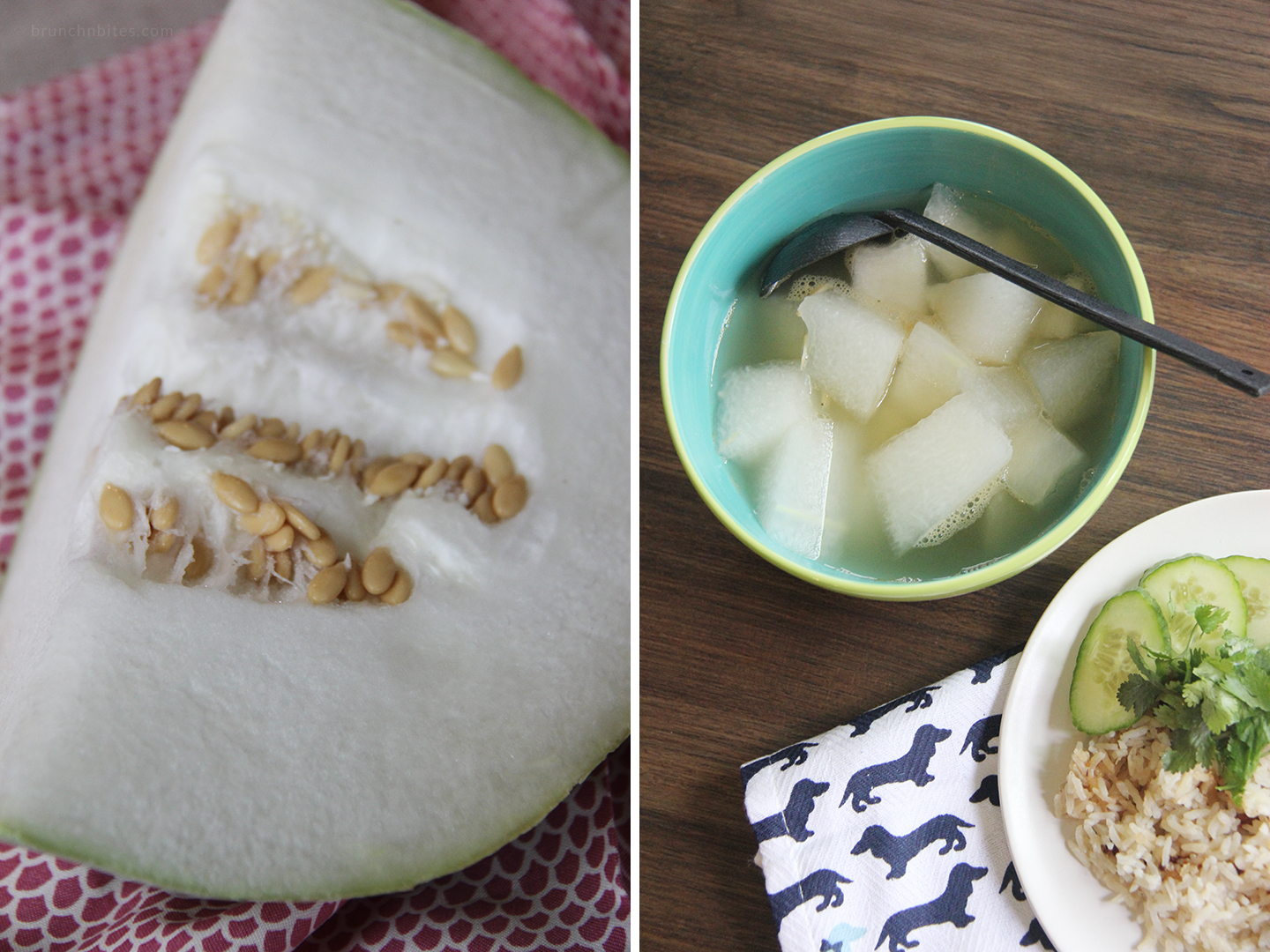 I like this dish for so many reasons and most of all because it is easy to prep, very convenient, and so tasty. I add winter melon 冬瓜 (dōng guā) soup, the ever-nourishing and soothing soup that we always have with Hainanese Chicken Rice. Winter melon is a long food staple in China and often dried, sweetened, and eaten as a traditional Chinese New Year celebration candy. I suggest cooking this with chicken bones to get the broth, instead of using chicken bouillon or canned chicken broth. That way you'll get the sweetness of both the chicken and the winter melon.
Print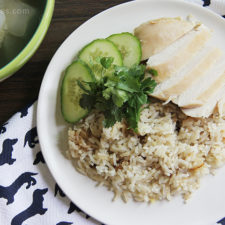 Rice Cooker Hainanese Chicken Rice
---
Description
This Hainanese Chicken Rice is simple, flavorful, and satisfying meal, it's bound to become a weeknight tradition. And have I mention this is a super easy one pan recipe?
---
Scale
Ingredients
Hainanese Chicken Rice:

6

chicken drumsticks

2 cups

rice (rice cooker cups), rinsed and drained

2 cups

chicken stock (see notes section)

1

inch ginger

1

medium red onion

5

cloves garlic

3

pandan leaves

1/2

tbs lite soy sauce

1/2

tbs sesame oil

2

tbs oil
Salt
Scallion for garnish
Winter Melon Soup:

5 cups

water

1/2

cube chicken bouillon

1/4 cup

fish sauce

1/4 tsp

dried shrimp

1

(2-lb) wedge winter melon
---
Instructions
Rub the chicken with salt and let it rest for 30 minutes.
In a food processor, blend ginger, garlic, and red onion into a paste.
Heat oil in a wok then add the paste, rice, and pandan leaves. Cook for 3-5 minutes then transfer to a rice cooker.
Add chicken stock to rice cooker, and chicken on top (skin side facing down).
Add soy sauce and sesame oil, and turn on the rice cooker and let it cook. When done, keep warm for 15 minute, then serve rice with chicken and garnish with scallion.
Winter melon soup: Combine all the ingredients in a pot and cook under medium-high heat. When water starts to bubble, turn the heat to low and cook until winter melon becomes soft and in translucent color.
---
Notes
If you don't have chicken stock, simply add 2 cups of water and 1 cube of chicken bouillon.
For your convenience, here are ingredients I use:
Save