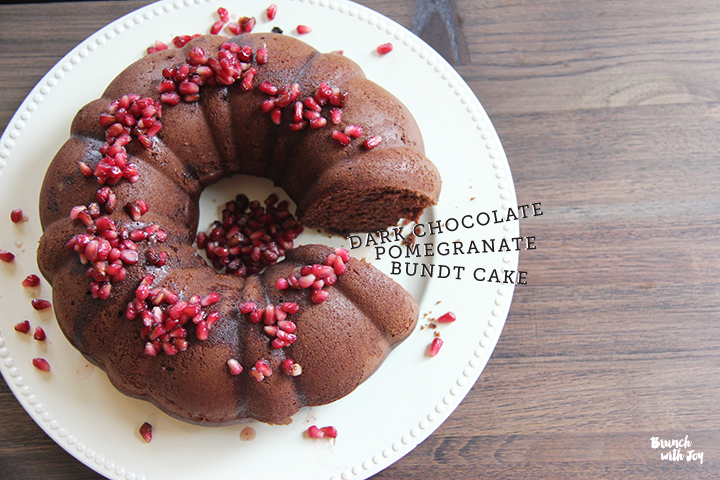 Today we're celebrating the Lunar New Year and I've been watching my clock for a thousand times. I just want to escape from work and get ready for dinner.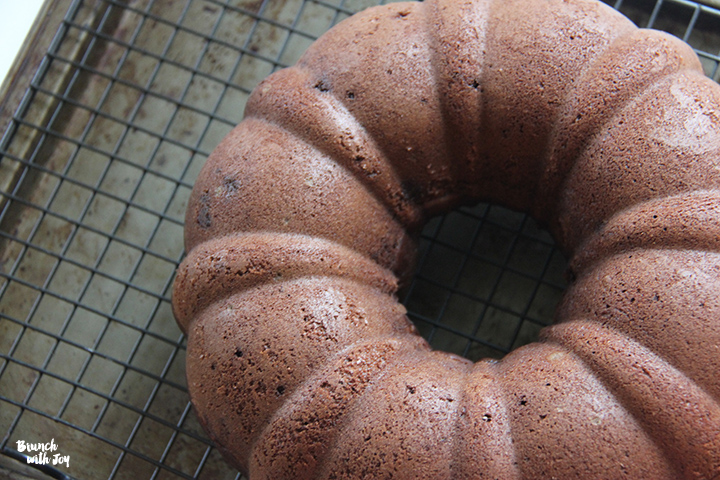 Today is the day where we get together with my side of the family. We did not plan anything fancy as it falls on a weekday but Mom has been telling me about all the delicious meals she prepared for us. As for me, I'll show up with these eggrolls tonight.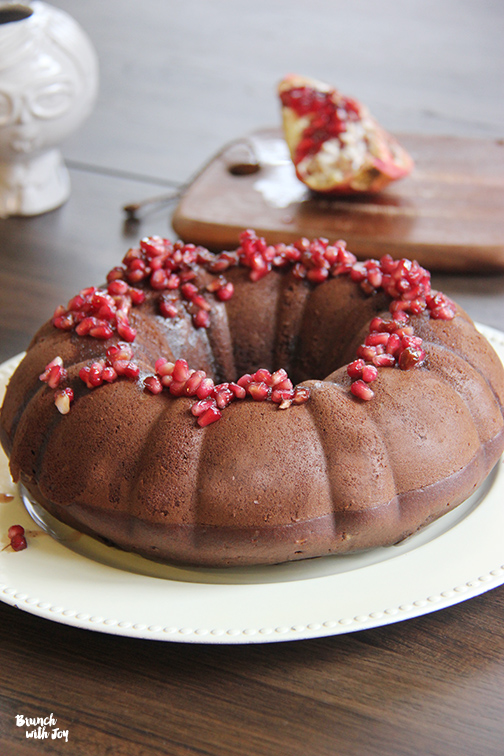 Well, bundt cake is back. I've been keeping this secret for a long time and I'm glad I can finally let it out. This dark chocolate bundt cake is da bomb! I made this a while ago when I had huge cravings for chocolates (I take that back because there's no day that I don't crave for chocolates).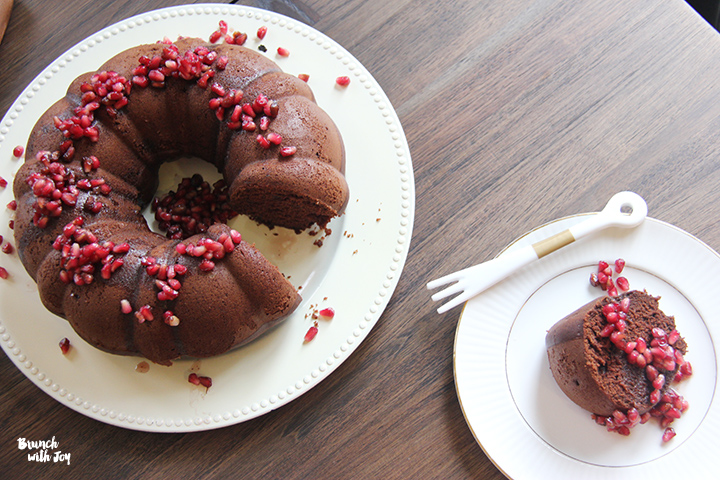 This bundt cake puts a big smile on my face. It stays so moist even for this the next day. Its rich chocolatey texture along with the pomegranate syrup adds extra crunchiness and sweetness. It also enhances the presentation. And big thanks to Tanya Gal of DessertStalking Blog for hosting this month. Be sure to check their site for some awesomelicious sweets recipes.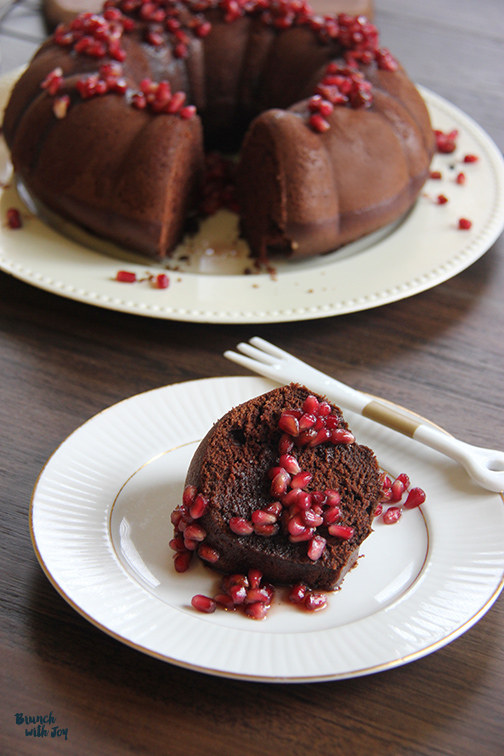 …and don't forget to add me on Instagram for more stories of BYB 2015!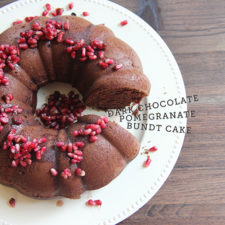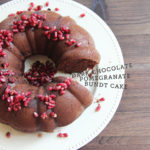 Dark Chocolate Pomegranate Bundt Cake #BundtBakers
---
Scale
Ingredients
Bundt Cake:

1/2 cup

canola oil

1/2 cup

dark chocolate chips

1/3 cup

sugar

1/2 cup

brown sugar

1

egg

2 cups

flour

1/3 cups

cocoa powder

1

tbs baking soda

3/4 tsp

salt

1 cup

liquid coffee

1 cup

milk
Pomegranate Syrup:

1/2 cup

brown sugar

1/2 cup

pomegranate seeds

1

tbs water
---
Instructions
Preheat the oven to 350F.
Generously greased and flour a 12-cup bundt pan.
In a small saucepan, melt the chocolate over low heat, stirring constantly. Scrape the chocolate into a medium bowl and let cool slightly.
Whisk in the oil and sugar until smooth, then whisk in the egg.
In another bowl, whisk the flour, cocoa powder, baking soda, and salt.
Add half of the flour mixture to the chocolate mixture, followed by 1/2 of the coffee and 1/2 of the milk. Whisk until smooth.
Add the rest of the ingredients until well combined.
Bake in the oven for 45 minutes. Let the cake cool on a rack for 10 minutes, then turn it out and let cool completely.
Pour the pomegranate syrup the cooled cake.
Pomegranate syrup: In a small saucepan, add the brown sugar and water over high heat and keep swirling. When it begins to caramelize, lower the heat and let the syrup thicken for 5 minutes before you add the pomegranate seeds.
---
#BundtBakers is a group of Bundt loving bakers who get together once a month to bake Bundts with a common ingredient or theme.  Follow our Pinterest board right here. Links are also updated each month on the BundtBakers home page.
We take turns hosting each month and choosing the theme/ingredient.
If you are a food blogger and would like to join us, just send Stacy an email with your blog URL to [email protected].
Here are February's Chocolate themed Bundt Bakers: