Well, today is a very special day because I have Lokness on the blog. In case you have not met her, Lokness writes an awesome inspiring blog called The Missing Lokness where she shares easy everyday recipes. While I am busy eating my way through Asia, Lokness is here to share one of her favorite dishes that will make you book a one-way ticket to Hong Kong.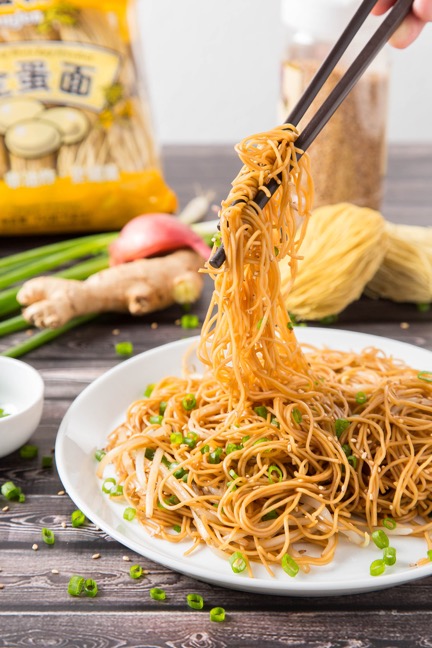 Hello there! My name is Lokness and I am the blogger behind The Missing Lokness! I'm very excited and honored to be here today to share with you one of my favorite childhood breakfast dishes!
Growing up in Hong Kong, my typical breakfast was Cocoa Krispies, white toasts with butter and jam, and baked BBQ pork buns. But every once in awhile, my parents took my sister and I out for congee. Normally for kids, congee isn't the most exciting food, but we always looked forward to this one side dish my parents would ordered. These savory soy sauce pan-fried noodles. My sister and I would take a few sips of the congee, then quickly changed our focus to these irresistible noodles. We loved the noodles so much, that we could easily finish it all ourselves.
A couple weeks ago, these noodles suddenly popped into my head and I've been craving them ever since. Now, living in Los Angeles there are plenty of Chinese restaurants around town. But it's not always easy to find all the specific dishes I know and love. And if I really crave them, my best bet is to recreate them at home.
So what are these pan-fried noodles? Thin al-dente egg noodles which are stir-fried with crunchy bean sprouts, ginger, shallot, and green onion. Next, you let the noodles soak in this simple and savory sauce made up of dark soy sauce, plain soy sauce, sugar and water. Lastly the noodles are served and finished with a sprinkle with sesame seeds and fresh green onion. Every bite is delicious! They sure make the perfect breakfast or lunch!
If you are a noodle lover, give this recipe a try and I hope you enjoy these noodles as much as I did!
Ingredients
Ingredients:
7

ounces

bean sprouts

salt

6½

ounces

dried egg noodles

2

tablespoons

vegetable oil

divided

2

ginger slices

peeled and smashed

1

medium shallot

peeled and cut into quarters

3

green onions

cut into 1½-inch pieces

1

teaspoon

ginger

minced

1

green onion

finely chopped

sesame seeds
Sauce:
¼

cup

plus 3 tablespoons water

¼

cup

dark soy sauce

¼

cup

sugar

1

tablespoon

plus 1 teaspoon soy sauce
Instructions
For the bean sprouts, remove the roots and leaves with fingers or scissors. Rinse the sprouts under water and drain. Set aside.

Bring a large pot of water to a boil. Add the dried egg noodles. With a pair of chopsticks, loosen the noodles while cooking. As soon as the noodles have separated and softened, drain and rinse under cold water until cool. Set aside.

In a small bowl, combine the sauce ingredients. Mix well.

In a large pan or wok over high heat, warm the pan and add 1 tablespoon oil. Add 2 ginger slices and cook for a minute. Add the shallot and green onion pieces. Stir and cook for another minute. Add the bean sprouts and a pinch of salt. Stir and cook for about 2 minutes. Transfer to a fine mesh sieve and drain. Remove the ginger slices and shallot.

In the same pan or wok, quickly clean with paper towel. Over medium-high heat, add 1 tablespoon oil. Add the minced ginger and cook until fragrant. Add the noodles. Stir for a minute and add half of the sauce. Mix well and cook until the sauce has been absorbed mostly. Add the bean sprouts and stir to mix well. Taste and adjust with a few more tablespoons of sauce if needed. The finished noodles should not be completely dried. There should be a little sauce at the bottom of the pan. Transfer the noodles to serving plates. Top with the finely chopped green onion and sprinkle with sesame seeds. Serve immediately.
Notes
Dried egg noodles can be bought from Chinese supermarkets, like 99 Ranch Market (https://www.99ranch.com) or from Amazon (https://amzn.com/B00B5HMH4E).
Dark soy sauce is very different from regular soy sauce. It is darker and sweeter. You can also get it from Chinese supermarkets or Amazon (https://amzn.com/B0001EJ4CU).
If you like spicy food, you can serve the noodles with Sriracha sauce.
These noodles make great leftover.