Sticky, a touch spicy, juicy and so tasty! These Slow Cooker Party Meatballs make the perfect party appetizer or quick family dinner. Bonus: you can also make these meatballs on a stovetop or Instant Pot!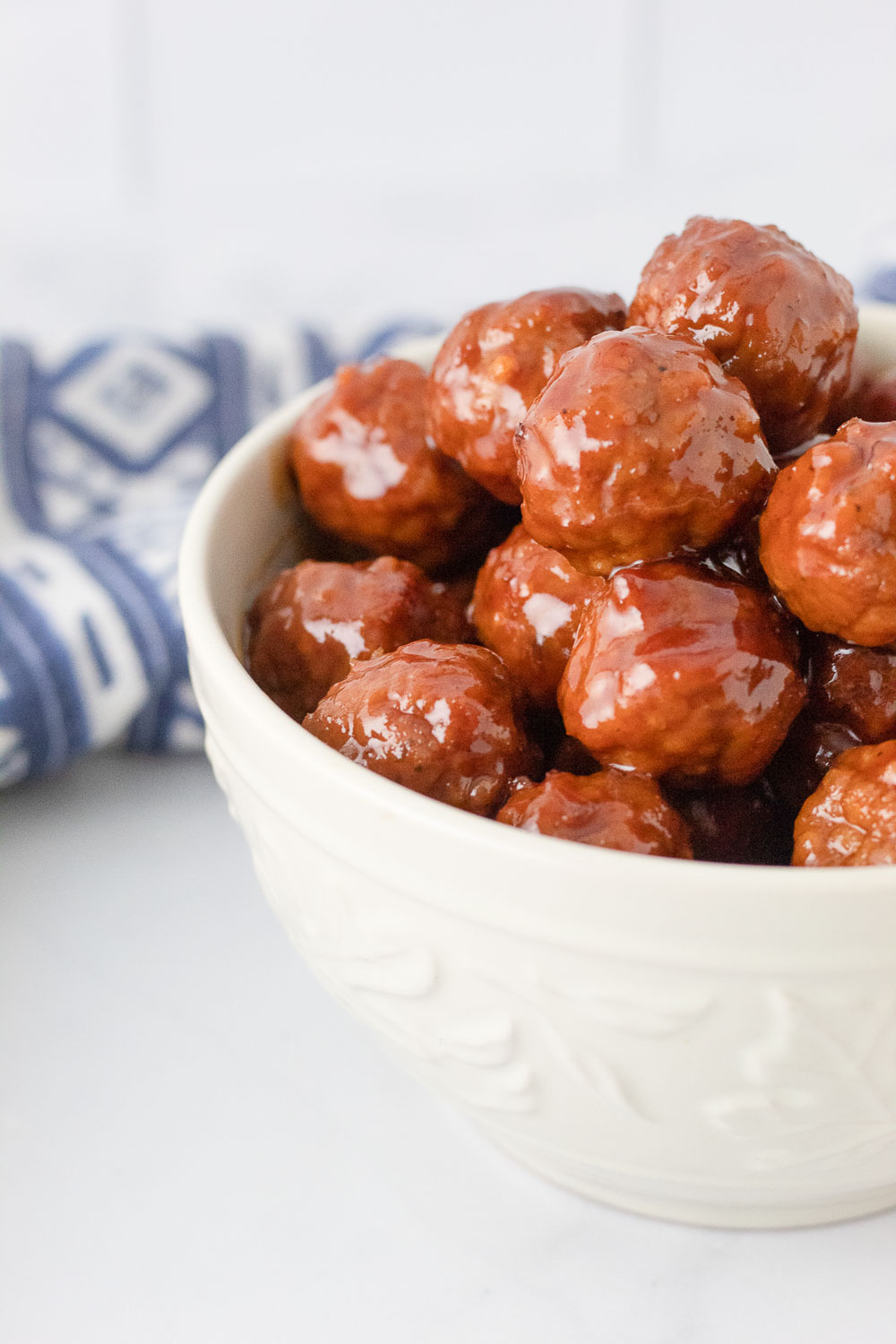 So yeah, I'm late in the game. It's November and this is my first slow-cooker recipe this season. But, you'll forgive me once you've tried this super easy slow cooker party meatballs recipe.
Sweet and spicy party meatballs? Slow cooker? Four ingredients?
This! Totally yummy! Slow cooker party meatballs are my go-to dish each time we have a small gathering or potluck. And here's a list of why you should try this recipe:
Super easy and only requires four ingredients
Family-friendly dish. You can omit spicy sauce or change to teriyaki sauce for a different flavor
Super affordable
Easy prep, easy cleanup
Set it and forget it. Isn't it the reason why we use a slow cooker?
A perfect recipe for a crowd
Tasty!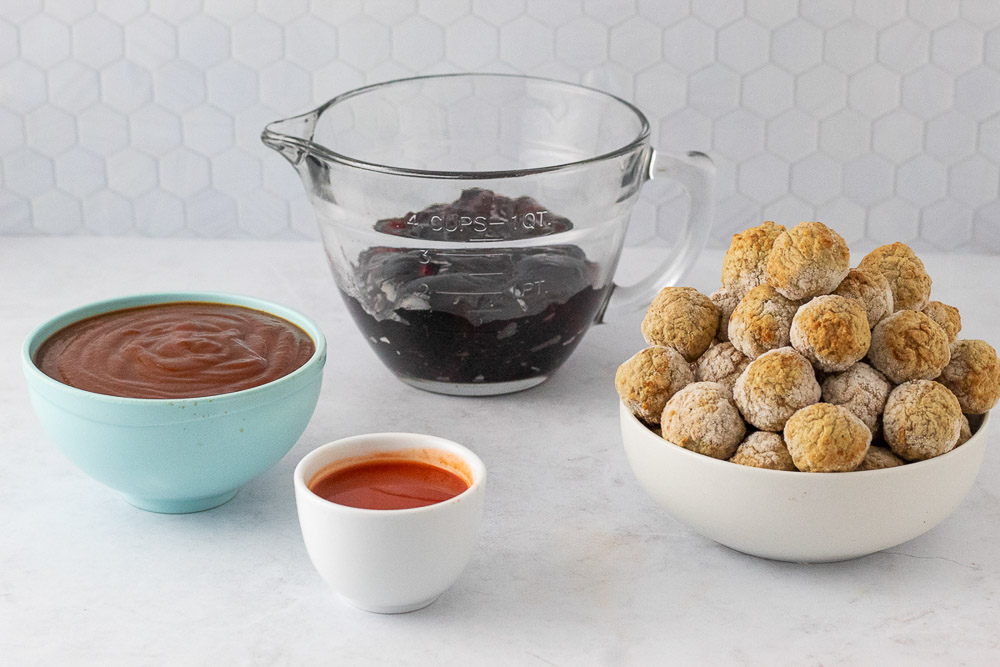 Here's what we're working with.
I almost always have all these ingredients in my pantry. I'm guessing you do, too. And if you don't, it's time to stockpile.
Frozen meatballs
Grape jelly
Barbecue sauce
Louisiana hot sauce
I don't like spicy things. Can I skip it?
Though the recipe is called for something sweet and spicy, you are welcomed to make some twist and that's the beauty of this recipe. It doesn't limit you to use specific sauce, so go ahead and play around with it. After all, it's a slow cooker party meatballs.
Can I add ______?
Short answer, yes. You can add jalapenos for an extra kick or pineapple chunks for something sweet and tropical.
I don't own a slow cooker….
Easy! Use a stovetop and cook meatballs and sauce in a large cooking pot. Bring it to a boil and reduce to medium-high heat, then cook for 30-45 minutes.
Always double the sauce if you plan to cook more than 32 ounces meatballs for an extra juicy sauce.
What about using an Instant Pot?
Using an Instant Pot is always a good idea and a shortcut version to cook these meatballs. In an Instant Pot, place frozen meatballs, then add all the sauce. With a manual setting, set the temperature to high for 10 minutes, and natural release.
Can I freeze these meatballs?
Yes! Let your meatballs cool completely when they're fully cooked. Then transfer to an airtight container and freeze in the fridge for up to 2 months.
Will you need to make a double batch? Will you need to memorize this recipe? Not to be bossy, but COME ON ALREADY! YES! And with Thanksgiving in a week, this slow cooker party meatballs is a must-have dish on the table.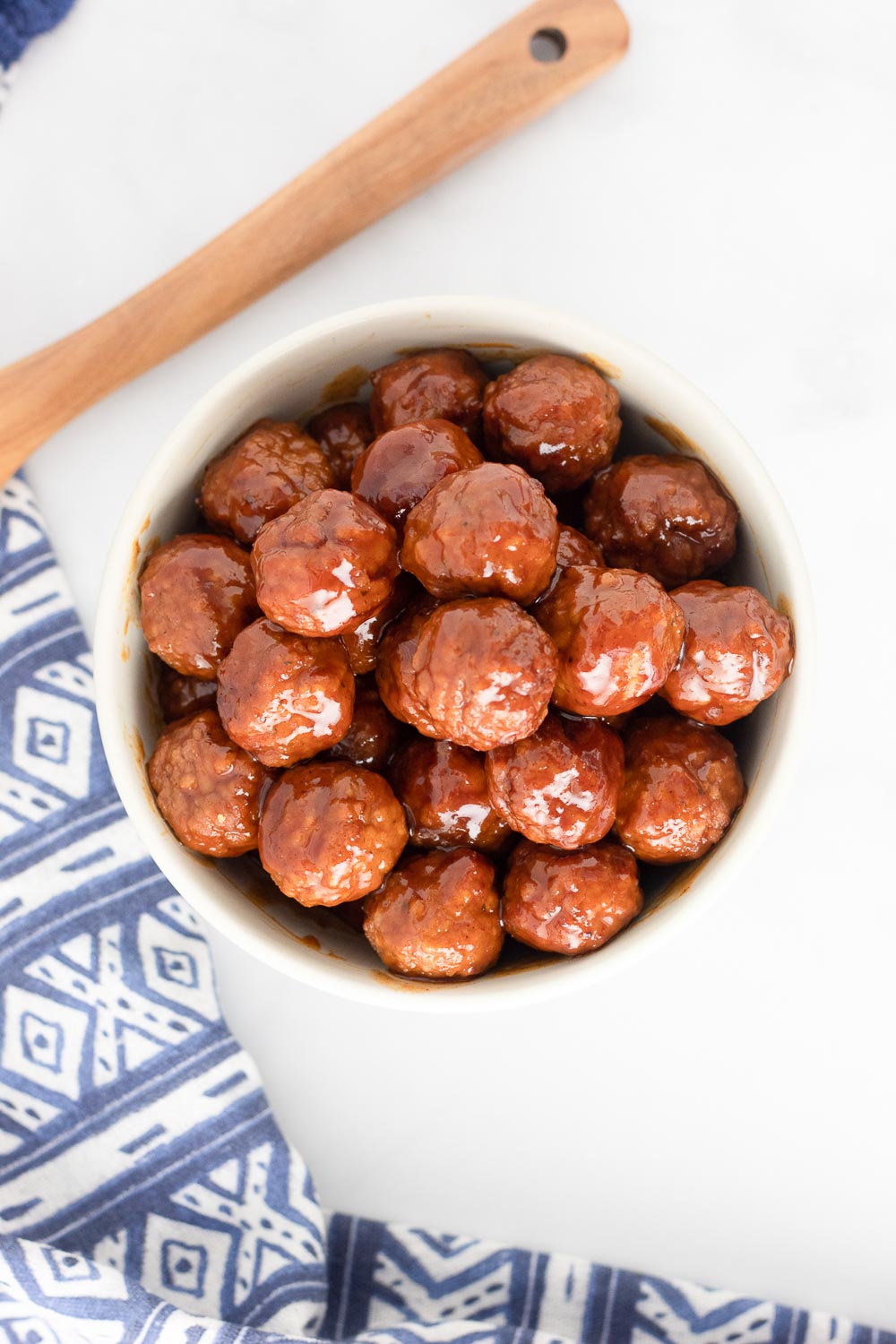 Check out other recipes to try this week:
Every recipe you need this Thanksgiving – Cooking Thanksgiving for your family does not have to mean a ton of work! With these recipes, you can still enjoy all of the flavors of Thanksgiving without having to sacrifice any of your time! These recipes are all easy to make, and even though there is prep work involved, it is pretty easy to work.
Sauteed Garlic-Butter Mushroom – In addition to their wonderful complex taste, mushrooms are packed with good-for-you nutrients. They are the perfect addition to soups, stews, and even cooked rice, but they stand alone very well, too. In this easy recipe, mushrooms are sautéed in garlic butter with a hint of herbs and make an easy, healthy side dish that you'll want to make with every single meal.
Glazed and Flaky Apple Tart – If you're the type who prefers fruit desserts that go heavy on the fruit, this flaky, crunchy, juicy apple tart's for you.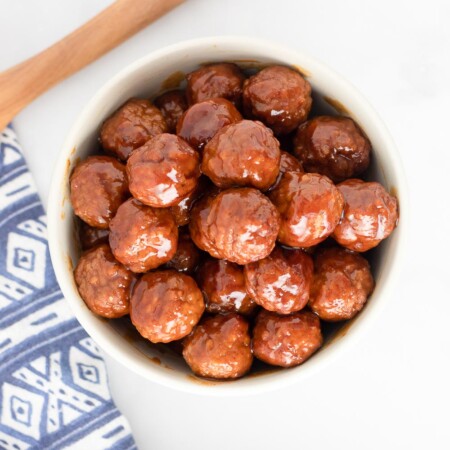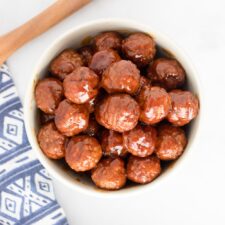 Slow Cooker Party Meatballs
Sticky, a touch spicy, juicy and so tasty! These

Slow Cooker Party Meatballs

make the perfect party appetizer or quick family dinner.
Print
Pin
Rate
Ingredients
1

bag

32-ounces frozen meatballs

1

18-ounces jar of grape jelly

1

12-ounces jar of barbecue sauce

1/4

cup

Louisiana hot sauce

or your favorite hot sauce
Instructions
Place frozen meatballs in a slow cooker. Add the rest of the ingredients and stir to combine.  Cover and cook on low for 4-6 hours or on high for 2-3 hours. Serve hot.