These Thai Spring Rolls are quick & flavorful, and filled with fresh vegetables.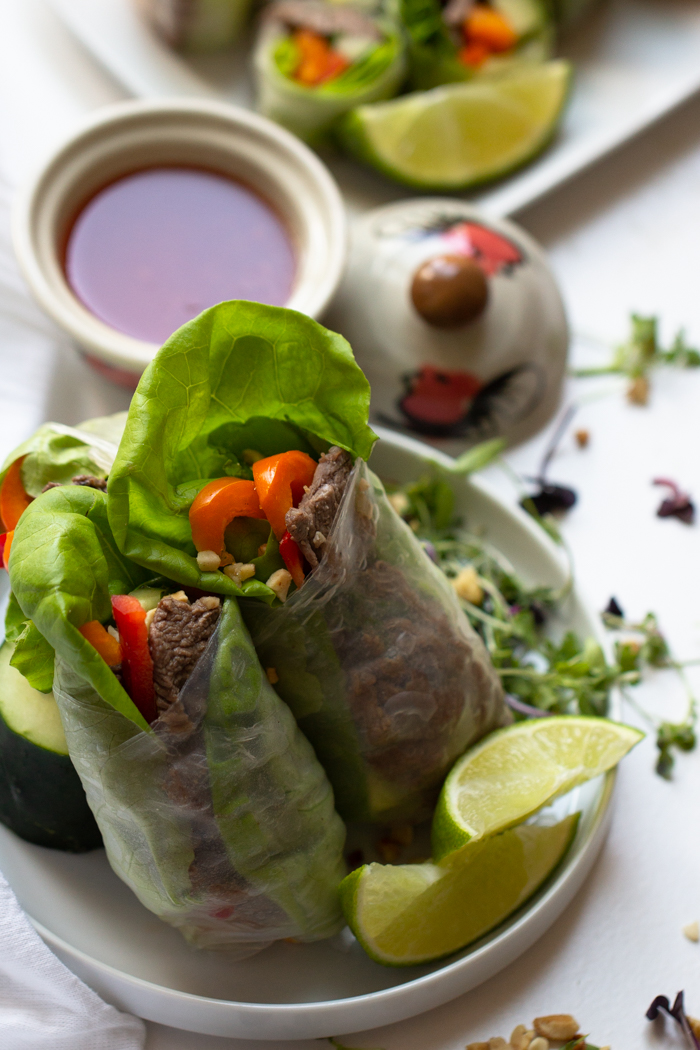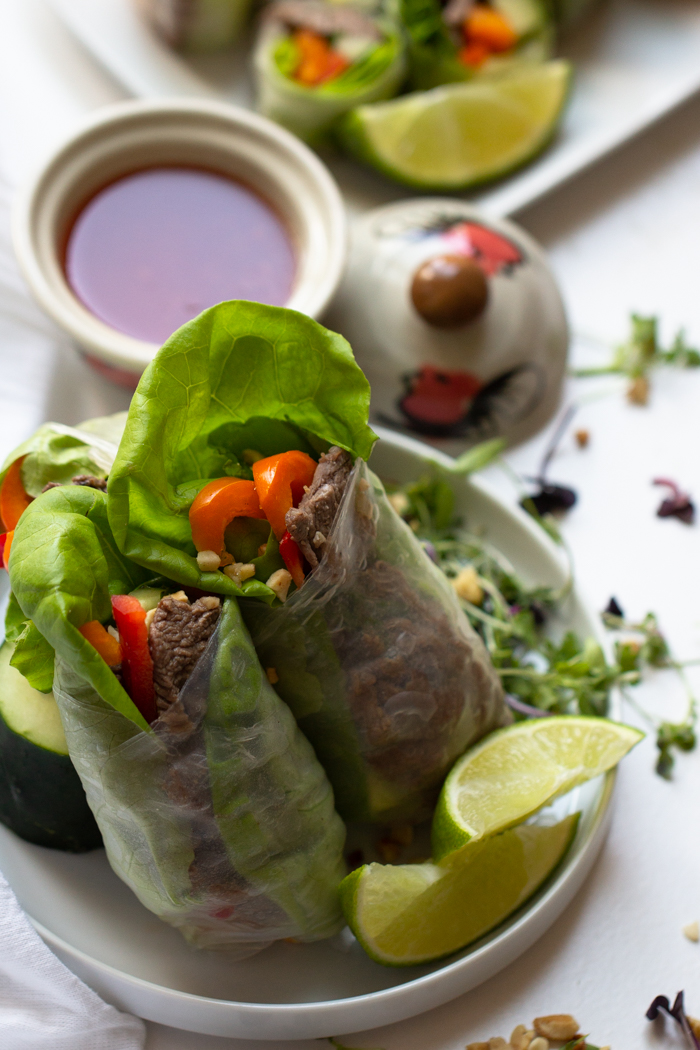 Well hello and welcome to Simply Healthyish blog. It's a big move to change from brunch to simply healthy-ish, but I have to admit my lifestyle has changed slightly as well. For the better, of course. It all started few years ago when the hubs and I start carpooling to work. With the long commute to and from work, there's no way we can have dinner on time (seven on the dot) at home. Nearly impossible. So I need to be smart and make a quick dinner. I'm talking less than 30 minutes.
However, the challenge is not just that. It has to be fresh ingredients and few to no canned products. And once I started that routine, I started falling in love with it. I do still have brunch on weekends, but I look forward to dinner and leftovers for lunch the next day.
So, that's a glimpse of how it all started; and I hope you will enjoy it as much as I do. Rest assured, I will still post non-dinner recipes, and even a travel post or two. And, please say hello to me on social media on @simplyhealthyishrecipes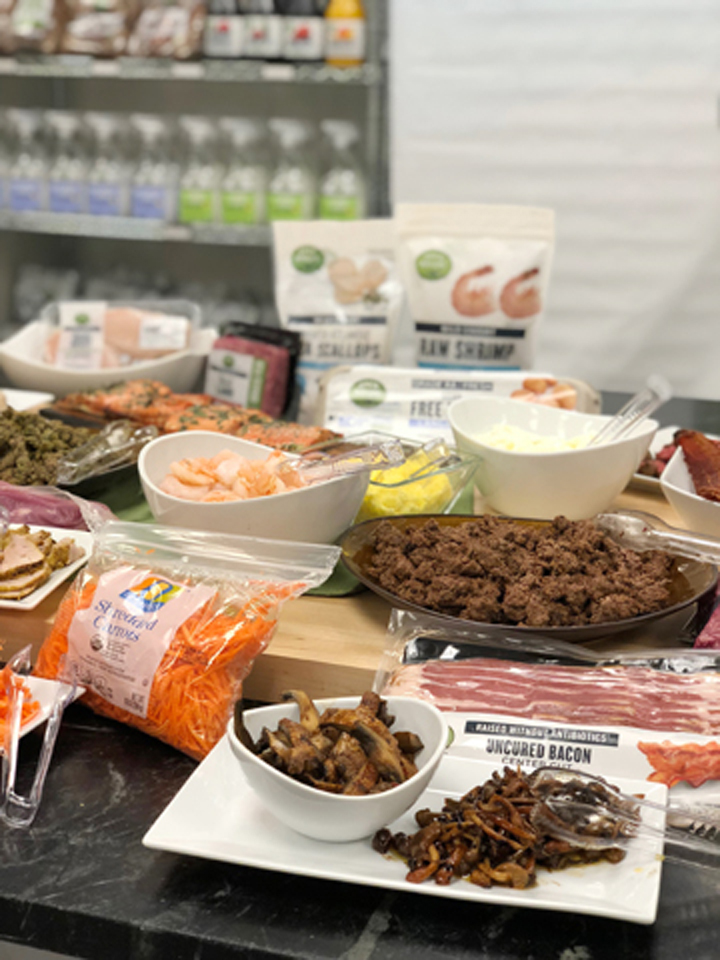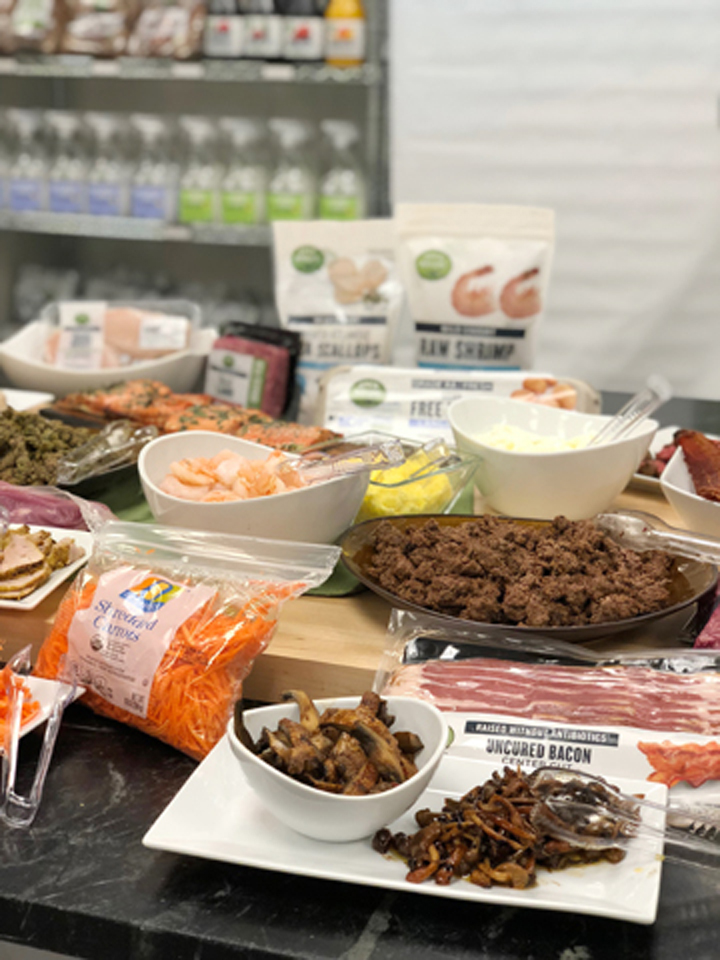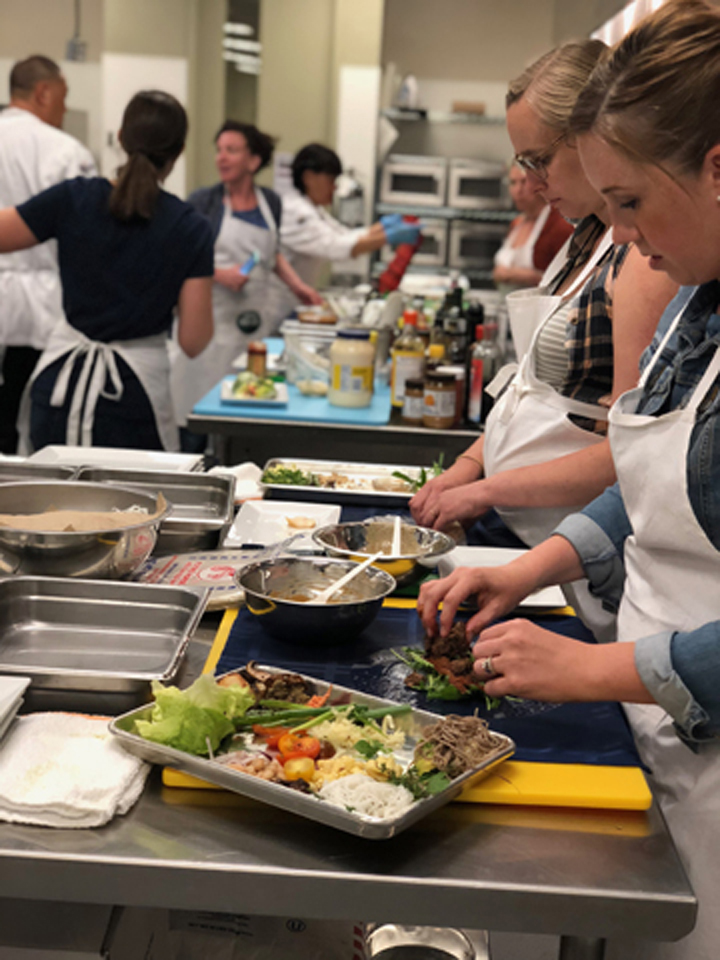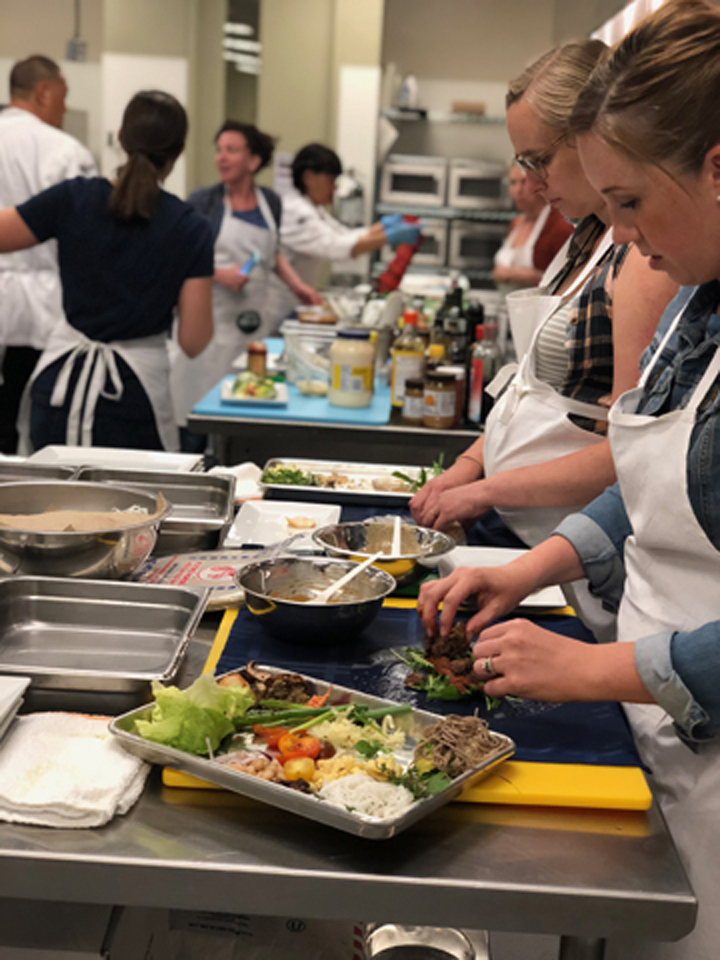 I had a chance to visit Safeway Kitchen during Blogger Tour a month ago. And I was left swooning! Not only did I learn about how awesome their products are, but also how each product is being carefully tested. I had the opportunity to see their kitchen when they test each and every recipe in different equipment, check the quality of their meat, make ice cream… which BTW, you should try Scandal Less Ice Cream (what a sexy name!) and Indian Cardamom Pistachio Ice Cream, plus so much more, including Open Nature products. I literally came back with complete confidence for using their products and I've been secretly evangelizing my friends about them. You gotta share the good news, right?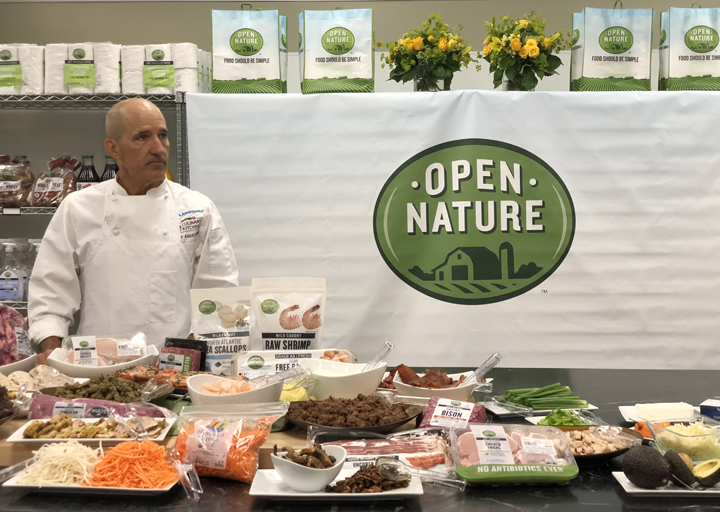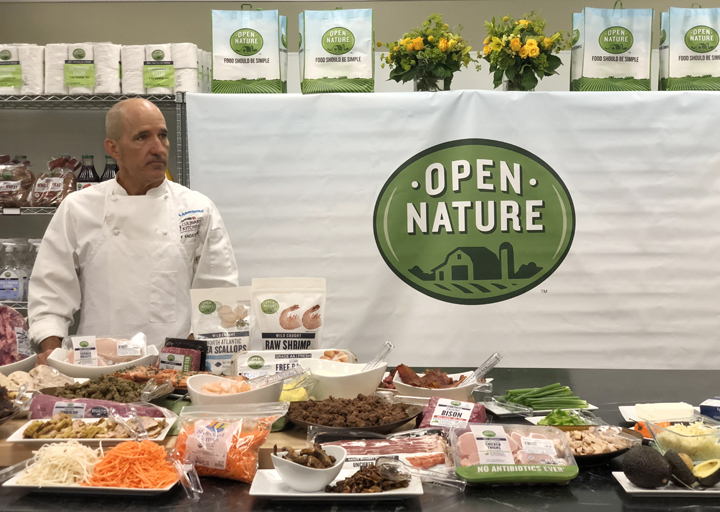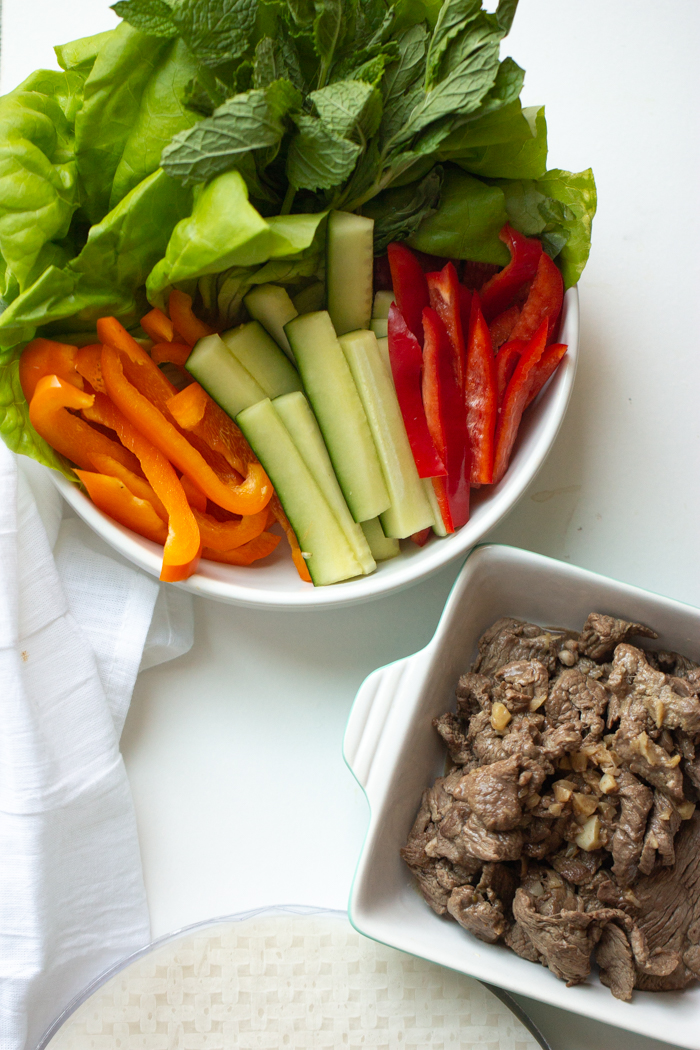 Like these Thai Spring Rolls. I love having these for dinner because, like tacos, you can build your own at the dinner table while catching up with your family. The recipe here is very easy to follow because I am using fresh ingredients. You can also incorporate your favorite ingredients in this recipe, such as rice vermicelli (which I don't use), grilled chicken, or even pan-seared scallops. The possibilities are endless.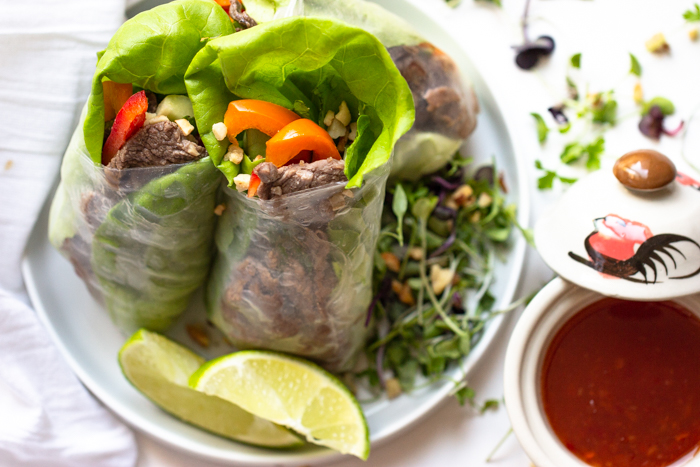 Okay, YES. It was so good. These spring rolls were:
not intimidating to cook
perfect for sharing with friends
EXTREMELY TASTY. Rockin', some might even say.
And if you're planning for a potluck or a small gathering, simply cut these into smaller bite-size pieces and voila… you just made yourself Thai Spring Rolls Sushi for your partay.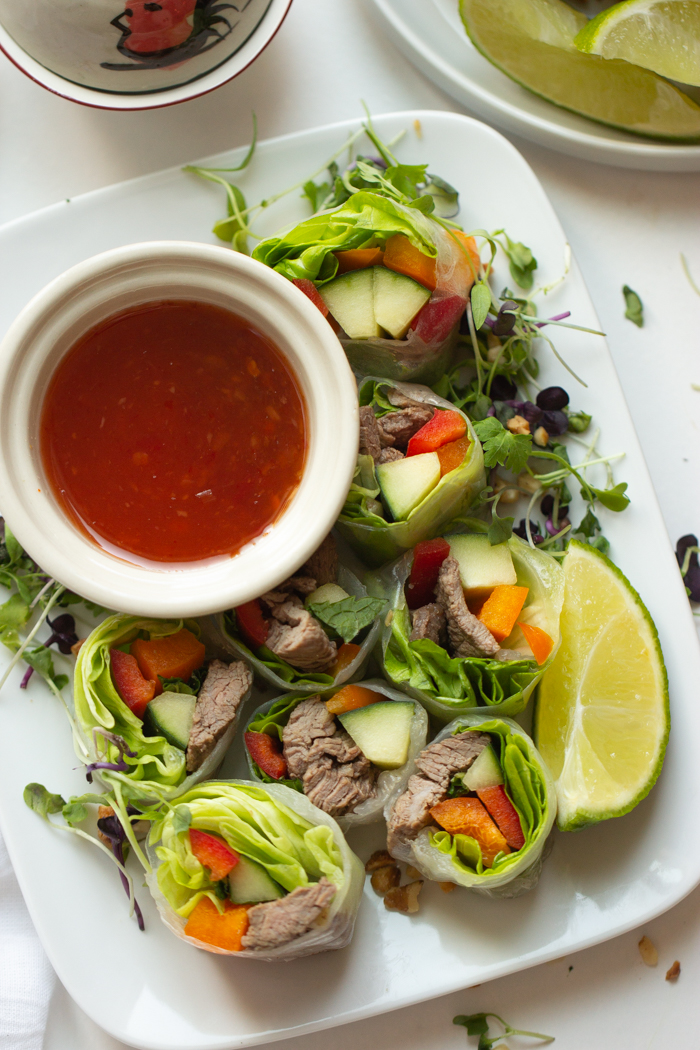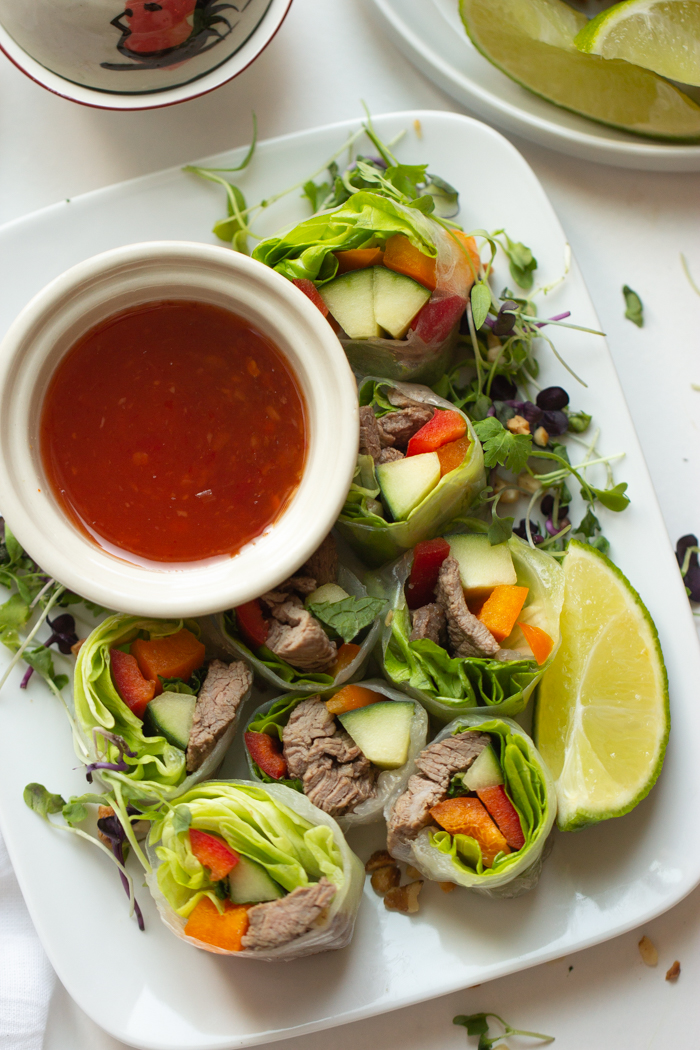 P.S. this post is not sponsored by or affiliated with Safeway. I just really love it.
Print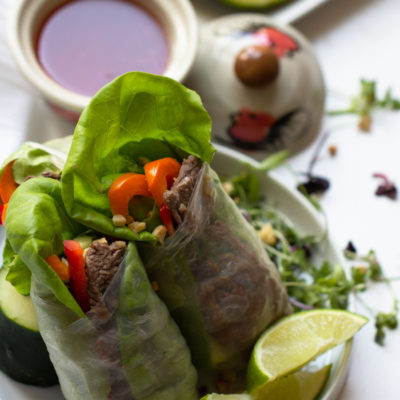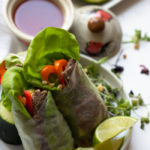 Thai Spring Rolls
---
Description
These Thai Spring Rolls are quick & flavorful, and filled with fresh vegetables.
---
1

pound grass-fed Angus beef chuck roast boneless, thinly sliced

1 tablespoon

olive oil

2

cloves garlic, minced

1 tablespoon

soy sauce
White pepper
Rice paper
Butter lettuce
Bell peppers, thinly sliced
Cucumber, cut into matchstick
Mint leaves
Lime, cut into wedges
Store-bought Thai dipping sauce
---
Instructions
Add the oil on a skillet over medium-high heat. Add the garlic and cook for 2 minutes. Add the beef and cook for 3-5 minutes. Add in the soy sauce and cook until there is no more rare/pink meat. Add the white pepper and set aside.
Fill a large bowl with warm water. Soak one piece of rice paper for 5-10 seconds until the paper becomes soft and easy to to mold.
Place butter lettuce, vegetables, a spoonful of beef, and mint leaves in a line on one side of the wrap, leaving an inch on each side of the wrap. Fold the bottom over the vegetables, fold in both sides of rice paper. Then roll tightly to top. Repeat until you have used all the ingredients.
Serve with Thai dipping sauce and sprinkle with lime juice.