This viral TikTok Air Fryer Egg Toast uses only four ingredients and is delicious in every way! Plus, you can make this for a crowd.
If you're a breakfast lover and a social media enthusiast, chances are you've already heard of TikTok Toast. This trendy recipe involves making a delicious and Instagram-worthy breakfast using only a few simple ingredients: a slice of bread, an egg, a pinch of salt, and a pinch of pepper.
Whether you're a seasoned breakfast pro or a novice cook, this trending recipe is the perfect way to start your day on the right foot. Grab your frying pan, gather your ingredients, and get ready to experience the deliciousness that is TikTok Toast!
Why You'll Love TikTok Toast
It's quick and easy to make. With just a few simple ingredients, you can whip up a tasty and satisfying breakfast in no time. Perfect for busy mornings or lazy weekends when you want something delicious without much effort.
It's customizable to your taste. TikTok Toast is highly customizable, whether you prefer sunny-side up or over-easy eggs, like a dash of hot sauce or a sprinkle of herbs. Mix and match toppings and spices to fit your preferences and create a unique breakfast.
It's perfect for social media. Let's face it, we all love taking pictures of our food and sharing them on social media. TikTok Toast is not only delicious but also highly Instagram-worthy. With its vibrant colors and attractive presentation, your breakfast will get tons of likes and comments on your social media feed.
Ingredients Needed
Slice of Bread – The foundation of TikTok Toast, this ingredient provides the perfect canvas for your culinary creativity. Please choose your favorite bread type, wheat, sourdough, or something gluten-free, and slice it up to your desired thickness. Toast the bread until it's lightly crispy on the outside but still soft on the inside.
Egg – The show's star, the egg, provides the protein, healthy fats, and nutrients you need to start your day. Crack an egg into a small bowl and carefully slide it onto your toast. Fry the egg to your desired level of doneness, whether runny and yolky or firm and golden.
Pinch of Salt – Salt is any recipe's most basic and essential seasoning, including TikTok Toast. A pinch of salt enhances the flavors of the bread and egg, giving them a little extra kick.
Pinch of Pepper – This spice adds a subtle warmth and depth of flavor to your breakfast. A pinch of black pepper is all you need to complement the other ingredients in TikTok Toast without overpowering them.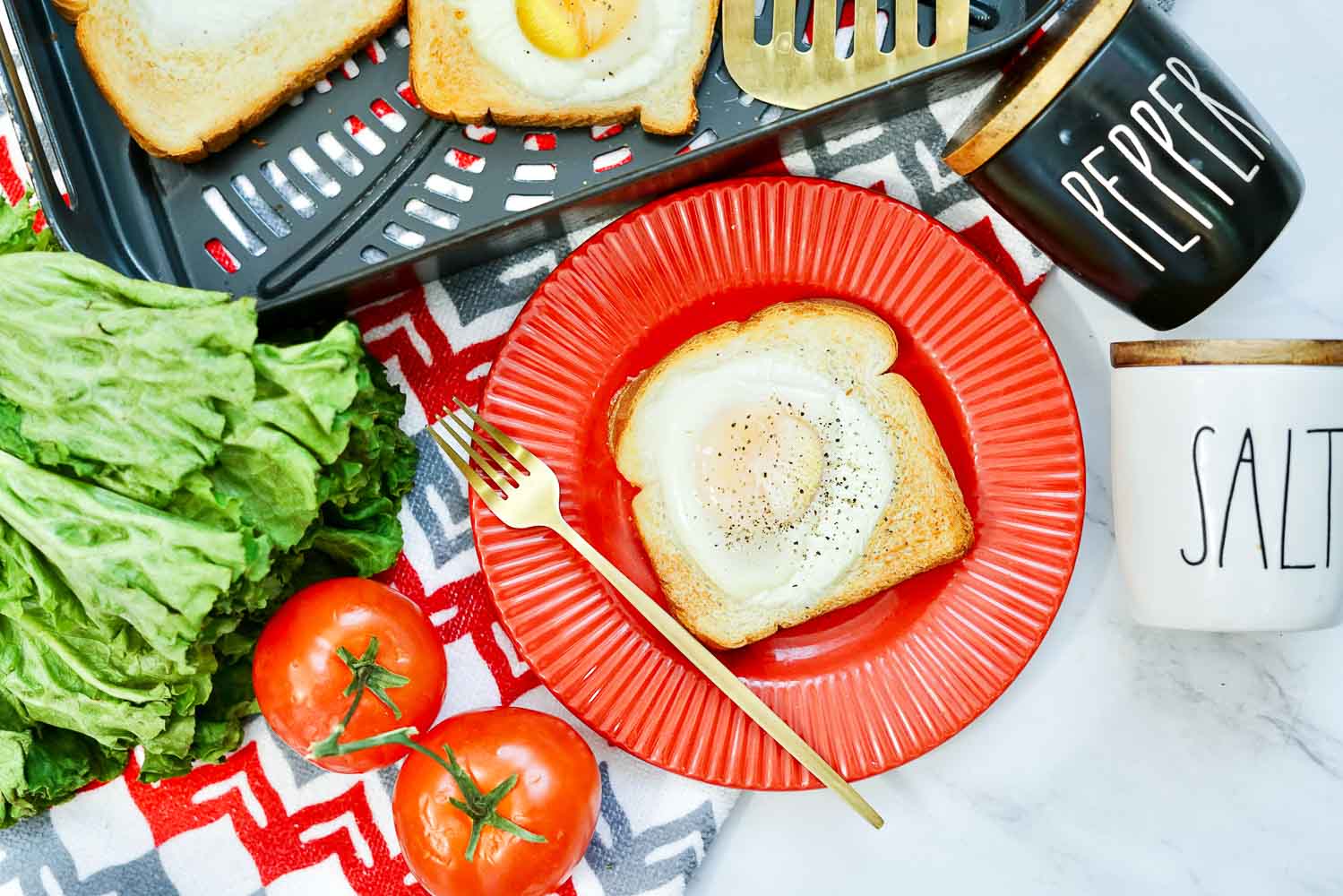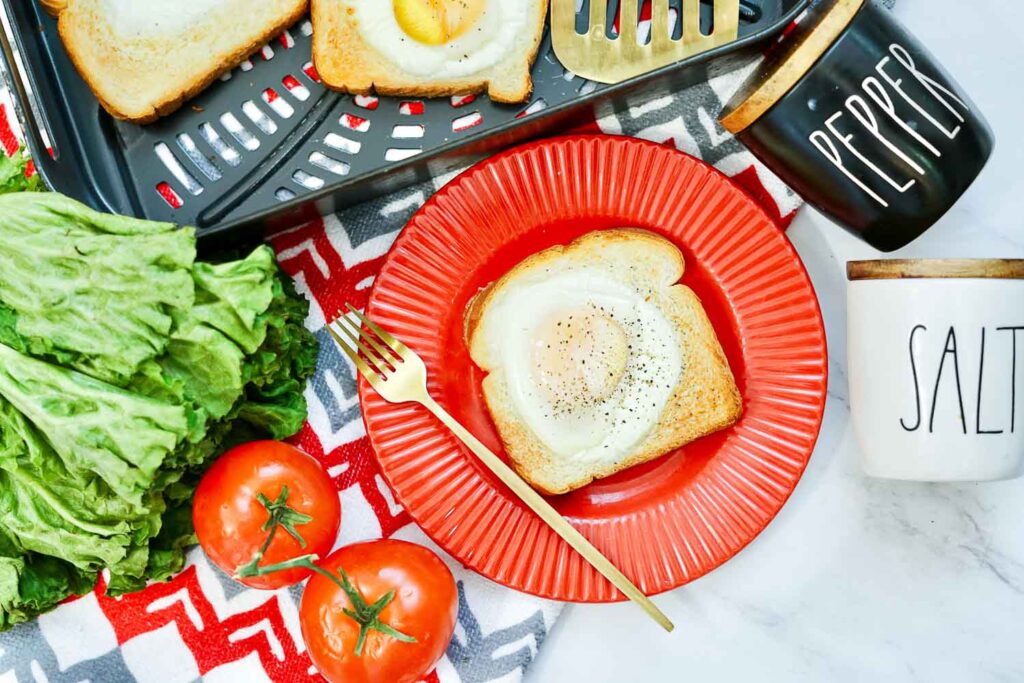 FAQs
What is viral TikTok Toast?
TikTok Toast is a viral breakfast trend that involves making a delicious and Instagram-worthy breakfast using just a few simple ingredients—a slice of bread, an egg, a pinch of salt, and a pinch of pepper.
How do I make air fryer egg toast?
Start by toasting a slice of bread, then fry an egg and place it on the bread. Finally, sprinkle a pinch of salt and pepper on top. You can add other ingredients and toppings to your taste.
What are some popular toppings for egg toast?
Some popular toppings include avocado, bacon, cheese, ham, spinach, and chili flakes. However, you can use any toppings you like to make your breakfast personalized just for you.
What type of bread is best for TikTok Toast?
Any bread will work for viral TikTok Toast. Some people prefer sourdough or wheat, while others choose gluten-free bread. Choose your favorite bread and experiment with different types and flavors.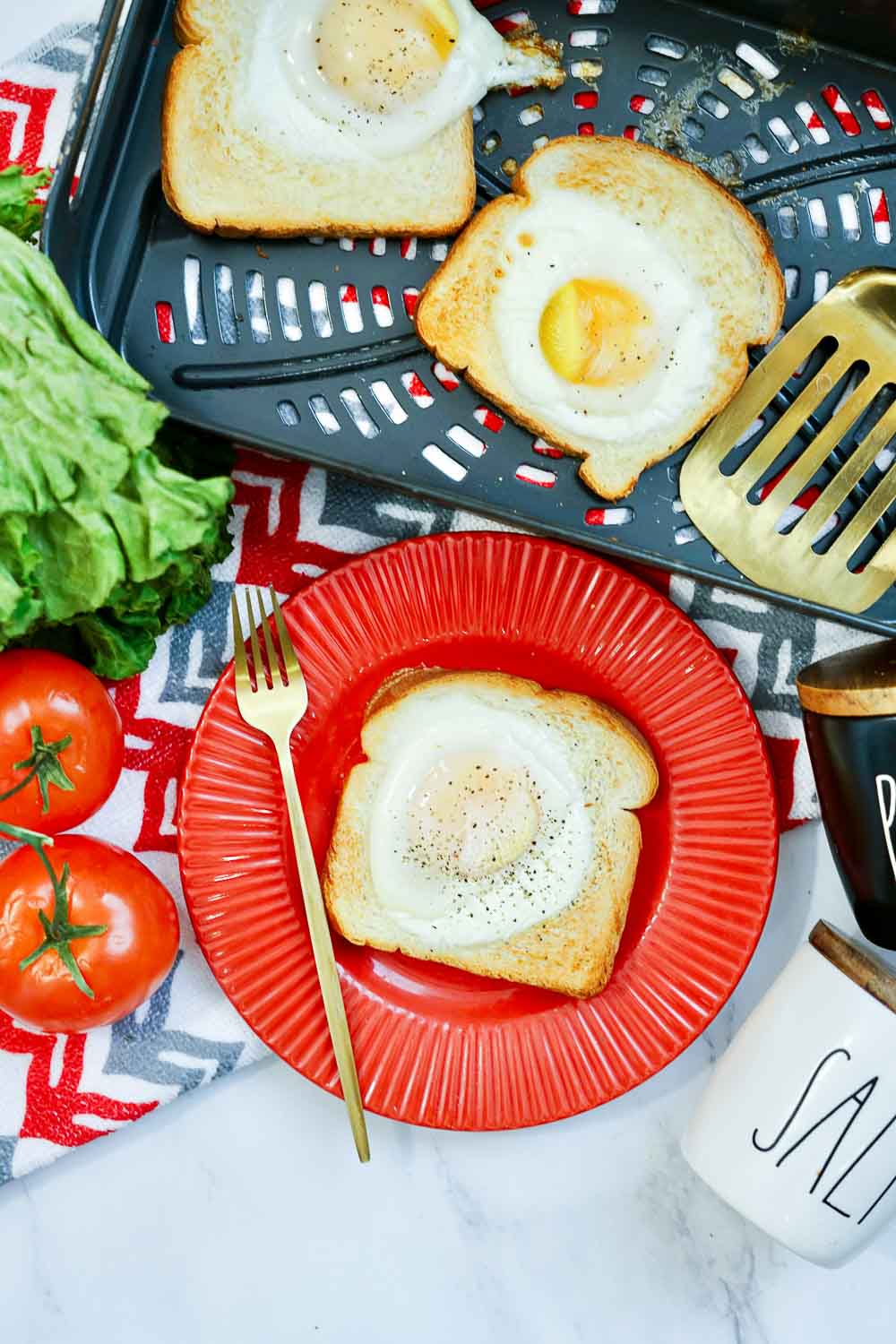 How long does it take to make egg toast in an air fryer?
This air fryer toast is a quick and easy breakfast recipe that takes only 5-10 minutes to make, depending on how you like your eggs cooked.
Is air fryer egg toast healthy?
This viral toast can be a healthy breakfast option as it's a good source of protein, fiber, and healthy fats. However, the healthiness of your breakfast will depend on the type of bread and toppings you choose.
Can you put yogurt on toast?
Yes! You can put yogurt on toast, but it is more sweet than savory.
Best way to enjoy this viral Toast
If you're into coffee, this viral toast pairs well with Vietnamese yogurt coffee, avocado Dalgona coffee, or vanilla sweet cream cold brew.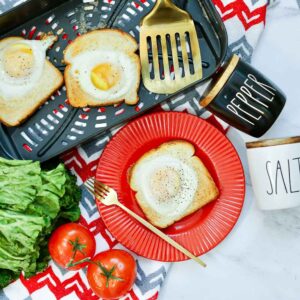 Viral TikTok Toast
This viral TikTok Toast uses only four ingredients and is delicious in every way! Plus, you can make this for a crowd.
Print
Pin
Rate
Ingredients
1

Slice

of bread

1

Egg

Pinch

of salt

Pinch

of pepper
Instructions
Pre-heat air fryer to 360℉

Place the slices of bread into the air fryer basket.

Carefully crack an egg on top of each slice.

Air fry for 6-8 minutes or until the egg is fully cooked.

Sprinkle with salt & pepper to your liking.